KOO KA CHOO - The Ultimate 70's Glam Rock Tribute Show Band & 80s GOLD - The Ultimate 80's Tribute Show

Here, Digger talks to Keith of Koo Ka Choo who pay tribute to two of the greatest eras of popular music - the Glam and disco of the seventies and the electropop and power rock of the eighties.
---
Digger: Good afternoon Keith.
Digger: Can you please tell us about your musical background?
Keith: Yes. I've been 29 years in the business. I started when I was fourteen. I've been in various bands.
Digger: Who were your inspirations Keith?
Keith: Queen and The Rolling Stones and stuff like that.
Digger: Oh, so quite a wide range?
Digger: What about the other members of the band? How did you form?
Keith: Well, the line-up has changed over the years.
Digger: And so I suppose you've been the rock - the one who formed the nucleus of the band?
Keith: I have for the last fifteen years or so, yes. Band members have come and gone on the cabaret circuit.
Digger: That seems to be the way many bands go with quite a high turnaround of personnel.
Digger: A touch of the Spinal Taps?
Keith: Yes, I suppose it is a little bit with us. And what we do is all a little bit tongue-in-cheek too.
Digger: You've got two bands focusing on the seventies and the eighties?
Digger: Do you get very different types of audiences coming to those?
Keith: Generally the audiences vary - if they're booking a seventies band, then they're usually from the seventies themselves and they're now hitting their fifties.
Digger: You're not getting many youngsters?
Digger: I thought there might be some youngsters who are trying to find out all about the seventies and the eighties?
Keith: Some of them do, especially when it's a private function and then it's a bit of a free-for-all. And then with the eighties, obviously, the same again. But people do tend to book seventies and eighties because that's when they grew up.
Digger: Is it a moving target in the sense that people will soon be looking to book nineties shows?
Keith: I don't think I'll be bothering covering the nineties stuff.
Digger: Good for you.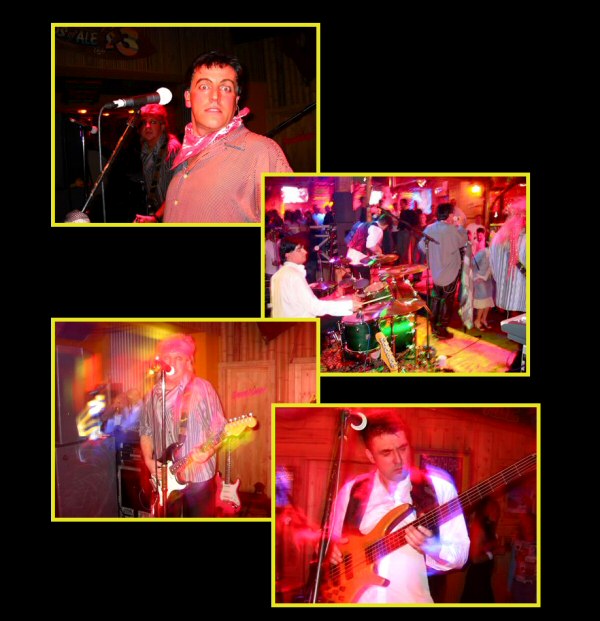 Keith: We'll just keep on going with what we do. We're currently working on a seventies disco set as well.
Digger: Okay, will that be The Bee Gees and all that sort of stuff?
Keith: More Kool and The Gang, Earth Wind and Fire and all that kind of thing.
Digger: Excellent. I grew up with all of that. Why is the seventies and eighties such a big thing in people's lives?
Keith: I just thing that at the time there was an image to go with it, wasn't there? Fashion and image were a big thing.
Digger: I can't put my finger on what the nineties or the noughties would be in terms of a tribute. I can't think of anything, can you?
Keith: Nothing that's got any retro fashion or style that goes with the pop music, no.
Digger: You were just talking about setting-up another strand to your acts in the form of a disco show so you'll actually have three completely different shows. How hard is it to reproduce these different sounds?
Keith: We use a backing track so that helps - I suppose we cheat a little bit.
Digger: That sets the mood.
Keith: Yes, and then we play with the bass, guitar, drums and the vocals with the backing track creating the right sound. And the lads have been playing for years so they just adapt.
Digger: All pretty good musicians then?
Keith: Yes, the drummer's a pretty good drummer because he keeps time with a click track. The guitarist before this one was with us for fifteen years...
Digger: He didn't explode?!
Keith: No, he just retired!
Digger: What feedback and comments do you get back from the audiences?
Keith: We get loads of people saying that they love the show and had a fantastic time. Good value for money and so on.
Digger: How far do you travel?
Keith: All over the country.
Digger: So long as the price is right you'll go anywhere?
Digger: What is the biggest buzz you get from playing in these retro tribute bands?
Keith: I enjoy playing the bigger venues, like the centre stage at Butlins and places like that. I do like a big audience.
Digger: Do you do all the Butlins venues?
Keith: Yes, we do. Bognor, Minehead and Skegness.
Digger: What plans have you got for the future? More of the same for 80s Gold and Kookachoo and also this other band as well?
Keith: It's going to be under the banner of Kookachoo but it will be a Kookachoo disco. So the option is they can have a bit of Glam Rock and a bit of disco or they can have one or the other.
Digger: Sounds pretty good. That should make you even more busy.
Digger: Best of luck then Keith.
Keith: Cheers David. I'm off rehearsing now.
Digger: Do you rehearse once a week?
Keith: We try at least once a week with this new stuff we're doing.
Digger: Well, the very best of luck with the new set Keith and everything else you're doing.
Keith: Thanks David.
---
www KOO KA CHOO
Set list includes: Rock n Roll Part II Glitterband, Mama We're All Crazee Now Slade, Ballroom Blitz Sweet, My Coo Ca Choo Alvin Stardust, Shang-a-lang Bay City Rollers, Bye Bye Baby Bay City Rollers, Blockbuster Sweet, Get It On T.Rex, Make Me Smile Steve Harley, Stuck In The Middle Stealers Wheel, Spirit In The Sky Norman Greenbaum, Wig Wam Bam Sweet, Hi Ho Silver Lining Jeff Beck, Radar Love Golden Earring, Rockin All Over The World Status Quo, Play That Funky Music Wild Cherry, 2468 Motorway Tom Robinson Band, Hey Rock and Roll Showaddywaddy, Under The Moon Of Love Showaddywaddy, Grease Lightning John Travolta, Tiger Feet Mud, Don't Stop Me Now Queen, Queen Medley (We Will Rock You, Bohemian Rhapsody, Hammer To Fall, Tie Your Mother Down) Devil Gate Drive Suzi Quatro, Dancin On A Saturday Night Barry Blue, Tell Him Hello, Juke Box Jive The Rubettes, Teenage Rampage Sweet, Hellraiser Sweet, Schools Out Alice Cooper, 20th Century Boy T.Rex, Cum On Feel The Noize Slade, See My Baby Jive Wizzard, Jean Genie David Bowie, Saturday Nights Alright For Fightin Elton John, Leader Of The Gang Gary Glitter, Timewarp Rocky Horror, I Love You Love Me Love Gary Glitter, Dynamite Mud, Action Sweet, Love is Like Oxygen Sweet, Metal Guru T.Rex
www 80s GOLD
Duran Duran, Spandau Ballet, Simple Minds, OMD, ABC, Huey Lewis, Men At Work, Van Halen, Tears For Fears, Wham, Frankie Goes To Hollywood
For more Information contact:
or Livewire Promotions on 07801 274166