Mawgan Porth Airstream Holidays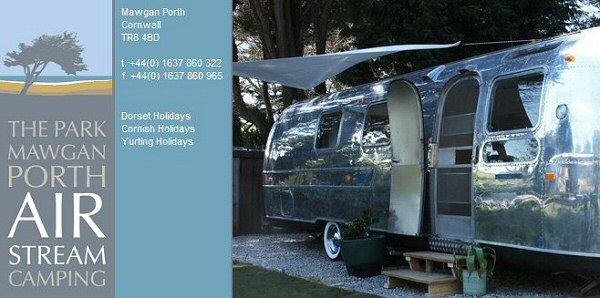 Here, Digger talks to John Hutton about his creation - The Park Mawgan Porth in Cornwall. This is an eco-friendly and totally new kind of holiday experience for people of all ages. The park features Vintage Airstreams and Yurt tents, among other forms of accommodation. All located in a beautiful woodland setting just a stone's throw from the sea and with all the modern facilities and comforts one would expect.
---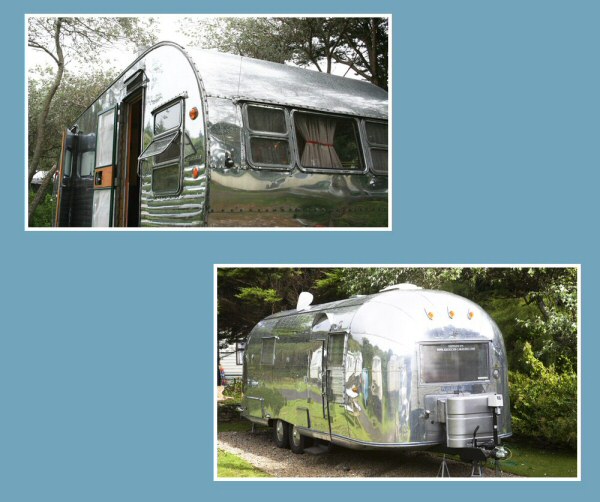 Digger: Hello John.
John: Hello David.
Digger: Can you please tell us the background to the park and about your passion for these Airstreams?
John: Yes. In terms of bringing the Airstreams in from America, we wanted to have something that had some character associated with them. The site that we're in at the moment did have a number of static caravans. And while they're completely different, they're rather soulless. We're building a park that has got character and individuality associated with it. The Airstreams, certainly from the outside, look gorgeous, and what we did was decide to change the retro feel on two of them. So we've got two of them that are retro and two of them that are 'boutique' if you like in terms of the inside finish. It's more about trying to create a feeling of individuality on the park. Something that is more akin to the standard of timber-framed accommodation that we've got here - that's also something very different.
Digger: Are you tapping-in to a feeling there is around – a retro and nostalgia vibe?
John: No. I think we're tapping-in to what we see as a slightly different type of holidaying. I can't say we want to go down the retro route – we have got a couple of the Airstreams laid-out in a retro style, because I think they do look kind of nice that way.
Digger: Yes, I've seen them used as diners, recording studios...
John: Yes, of course, I mean really what happened was that the two which we brought in complete were just such a mess that we really had no option but to gut them and re-weld them. We had to re-weld the bases and we put an aluminium layer all the way through the inside as well, which they don't normally have, because we wanted them to have that metal feeling inside.
Digger: They're called a monocoque design, aren't they?
John: Yes, that's right. So we were forced to do that and the other two we got from this country – from Sarah-Jane, I don't know if you know her?
Digger: Yes, I do.
John: She and her dad will lovingly restore and repair the original retro feel and so those aren't too bad at all. So we've got one which is a Yellowstone and one which is a Route 66 and they're very retro but they kind of work.

Digger: They look gorgeous. So what options are there for Airstream caravanning at Mawgan Porth?
John: We don't have caravanning so we're not a caravan park, as such, where you bring a tourer. We are a holiday park that already has its accommodation in situ – we have the four Airstreams and we are what we describe as en eco park. So everything we do has to have a sustainable air and feel to it. All the way from trying to use sustainable heat and energy mechanisms, such as solar thermal systems, all the way through to using reusable furniture. We'd rather buy old furniture and re-cover it.
Digger: Do you have those eco loos that you see at festivals?
John: We don't have a lot of those eco loos because they're a bit impractical. We're open all year round now. We have some solar showers which we use if the weather's nice. It all has what we describe as an 'eco-practical approach' to it. You can't be too eco because it's too expensive and you can't be fully sustainable but we go as far down that route as we can.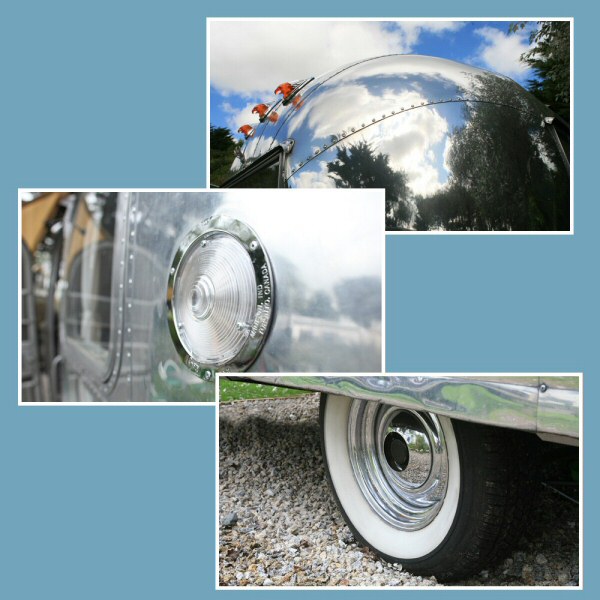 Digger: While being pragmatic from a business point of view?
John: Yes, exactly and in addition we've got a yurt village and you probably know about the Mongolian yurts?
Digger: Yes I've seen them at the festivals.
John: We've got those and if you're talking about retro – that's a very retro way of living but it's rather glamping-esque. It's not roughing it – you've got oak wooden floors, you've got insulation, you've got a communal yurt which laid-out in a really lovely way, proper beds, a communal kitchen which is nicely fitted-out etc. etc. There's a lot of thought and effort that's gone into making the park into a park with a difference and not a traditional holiday park.
Digger: There's a shop – is there somewhere to eat there as well?
John: We've got a café restaurant. We've got some guys that we've known for a long time that I've brought down here and they're brilliant. She's front-of-house and he's the chef and he had worked at Hambleden Hall and is a proper trained chef. And we've got a vegetable growing area so we use as many of our own vegetables and fruits and so forth as we can depending on the time of year. And he'll use as much local produce as can possibly be sourced.
Digger: You're in a great geographical location there as far as green credentials and the environmentally-friendly movement are concerned, aren't you?
John: Yes, Cornwall does have a reputation for that which is also assisted by the planning departments in this area being much more helpful – further east, for example, we've got another site in Dorset which is much more difficult to do creative eco-sustainable things. Just north of Dorchester at Greenwood Grange.
Digger: Can you describe the Airstream Camping experience compared to traditional parks?
John: I think, first of all, we'd like to think that certainly the two that we have renovated are very individual. They're very detailed inside and it's unlike anything you're going to see anywhere else. You've got a wooden floor, a log burner specifically-designed for them, a home-made wooden kitchen, a wet room which is beautifully-tiled, a man-made bed at the top, flat screen TV. It's very luxurious, five-star accommodation in a caravan.
Digger: Wow.
John: But with attitude and with character. So I think the term glamping kind of fits, although I don't necessarily like it, it's a boutique hotel experience in an Airstream caravan.
Digger: What are the best things about what you're doing down there? It sounds like a very dynamic environment.
John: I think it's different and when you come here you'll enjoy it. The experience is second-to-none and I can honestly say, hand on heart, there's nothing like us. I think we've got an interesting environment that you wouldn't find anywhere else – we've got an indoor pool and a café/restaurant designed to a pretty high standard. The indoor pool's important, especially in Cornwall as it does rain and blow a lot here. So we like to think that we've created a new kind of holiday experience and it's not just for families, it's also for couples or for people from the older generation.
Digger: For older gits like me?!
John: I'm no nipper myself and we like to cover all kinds of angles. We are marketing ourselves to niche sectors and you're a niche sector. We are marketing to Saga, then niche sectors like walkers, poetry sessions, painting workshops – all these kinds of things will help us with the down months of the season.
Digger: Yes, a great idea. Because you're open all through the year so obviously you'd like to fill it through the year.
John: I think it's just a dynamic experience and you really have to come here to feel it and 'get it'. By going onto the website you don't get the full idea.
Digger: Are these Airstreams insulated?
John: They are insulated. Between the aluminium inner and outer layers there's an insulation layer using the material they developed and used for spacecraft. The people at the end of the marathon wrap it round themselves to keep warm - you may have seen them?
Digger: I know, I have that in my stable office here to keep me warm.
John: They're insulated to a very high level and we have an electric heater. If people don't want to light the log burner but if they light the log burner then you're down to your shorts.
Digger: I'm not sure how long you have been going there John?
John: A couple of years.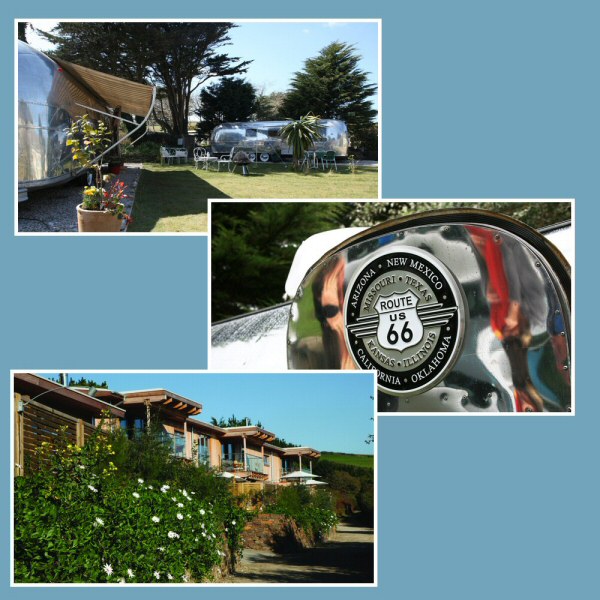 Digger: So what sort of comments and feedback have you been getting?
John: Positive. As long as people come along to see us we get good reviews. I think they are probably more akin to a one-bed accommodation, even though you can fit four people in them if you like. The front area in the two Airstreams we have done converts the table into a proper sized bed and the one at the back is fixed. The Yellowstone is a similar configuration and the Route 66 can actually take six people. But they're quite small, so they're not that spacious. They're not as spacious as a cottage or a yurt or a static caravan for that matter. So that's probably one of the things that people need to understand – that they're going to sleep in something that's characterful and different. When it rains you're going to hear the rain against the aluminium.
Digger: And if you weren't friends before then you will be afterwards?!
John: Yes. (Both laugh) Absolutely, absolutely. But then they're not sited in a way that takes away your privacy. They're sited cleverly – we're in a very interesting location because we're 400 yards from the beach and yet we're in a woodland setting, so that's odd. It also creates character for the Airstreams and the park.
Digger: Has the Internet had a big impact on the business? I mean in terms of awareness and bookings?
John: Yes, we bought the site here about three years ago and we've spent about two and three quarter years working our socks off to try and develop the site into a way that we want the site to be. We've just about got there and we've just got the last house accommodation about to be nearly finished in a couple of week's time.
Digger: Do you have a good relationship with your bankers?
John: They're still talking to us and they still like us. We've done very well and we're paying the interest. We've probably grown twice in the space of a year in terms of the number of people that come here. So it's doing well.
Digger: What are your plans for the future John?
John: There's three phases to this really. One is to find the park, the second is to develop it and the third one is to make it profitable. We are now embarking on the third phase – ask me that question a year's time and then I'll tell you. At the moment we're just focusing on making this work properly.
Digger: It sounds lovely. We visited the north coast around St Ives last time we were down there but the next time I come down to Cornwall I'll look you up.
John: Please do. This coast is lovely – you've got some gorgeous bays – Mawgan Porth the local one, of course, Watergate Bay, Harlem Bay, Fistral Bay, Booby's Bay – the small bays north of Mawgan Porth are the nicest ones around and it's untouched and they're lovely. It's the Atlantic coast, which means the beaches are very clean. And because of the tide you can take dogs there which is also a nice thing. In my mind, it's probably nicer in the low season that the high season.
Digger: Thanks for letting us know about your new holiday experience at Mawgan Porth John. It sounds really different and exciting.
John: Many thanks David.
---