There is a huge Betty Boop fan-base out there in the world of The Internet.
Here, Digger talked to Matthew Savage who identified early on a worldwide market for quality Betty Boop collectables.
Matthew has owned a Gift Shop called MOSS for almost 20 years that started to specialise in Betty Boop with their first web presence in 1998. With the addition of its online shop called Betty Boop 4U, Directors Matthew and Chris provide a highly-informed and friendly service covering all aspects of Betty Boop.
---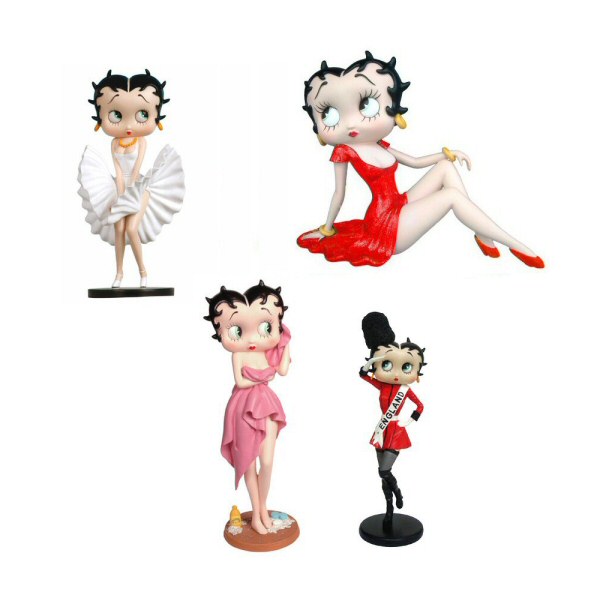 Digger: Hello Matthew, how are you?
Matthew: It's a typical Friday David. Suppliers sending us items in late and couriers turn up with pallets late in the afternoon. Just the usual!
Digger: It's seems to be the age of last minute-ism now, doesn't it, and everyone expects instant gratification too?
Matthew: Yes, that's true.
Digger: You could turn them away, but it would just make more work for you.
Matthew: Yes.
Digger: I had a delivery the other day and I was on the phone, so a bit distracted. I just got to him in time as he was offloading some radiators and a boiler destined for number three two streets away! Honesty was the best policy. (Both laugh) Can you please tell us a bit about your background and the background to BettyBoop4u?
Matthew: We were already a gift shop and were getting quite a few enquiries for Betty and I didn't know a lot about her then. So I started to research her and found out she had quite a following. Then it went on from there and grew. We were the first to do a dedicated website and I'm going back some twelve years now. We were fairly pioneering at the time with The Internet.
Digger: Yes, there wasn't an awful lot going on back then was there?
Matthew: No, there was a fan club site but nothing too commercial. Since then we've had people try to copy us and replicate what we're doing. And failing miserably!
Digger: That copying was a compliment in a way.
Matthew: Yes, in a way. For me I just look on it as an annoyance when people jump on our bandwagon - they don't really know what they're selling. This is where we've had to get very au fait, because the fans are very knowledgeable and fussy people. I suppose, from my respect being a bloke, it was not the sort of thing I could really get into. But she does grow on you!
Digger: Ah! I was going to ask you if you were a fan now.
Matthew: I wouldn't necessarily say I was a fan, but as a male with my other interests, if I had a partner who wanted to collect Betty I'd understand why.
Digger: I was talking to your lady wife and told her that I am back in touch with my youngest daughter, who, for reasons I won't bore you with, I'd not been in touch with for a number of years. And when I went to her house a month ago I was delighted to see she has a collection of Betty Boop. I didn't know she collected it. She's 24.
Matthew: Ah! Our demographic is from Seven to 87.
Digger: Quite specific then?! (Laughs)
Matthew: Yes right across the board with people from all walks of life and I have met a few characters I can tell you. So it does encompass a very broad fan-base.
Digger: What's the continuing appeal?
Matthew: I think there's that bit about fashion and sex appeal. Men collect Betty Boop too and when they get hold of Betty or Betty gets a hold on them should I say they become really avid fans. I think its because she's got that sex appeal. Did you know that Marilyn Monroe copied her pose, funnily enough? The cool, breezy, blowing dress was all from Betty. So if someone like Marilyn locked onto her and thought she was the business... The iconic following was as a result of clever licensing by Fleischer and they made sure that the product was out there in all different guises. If you were a fashionable type you may buy a handbag with a Betty attachment if you didn't like the figures.
Digger: Does it go from inexpensive T-Shirts to really expensive figurines?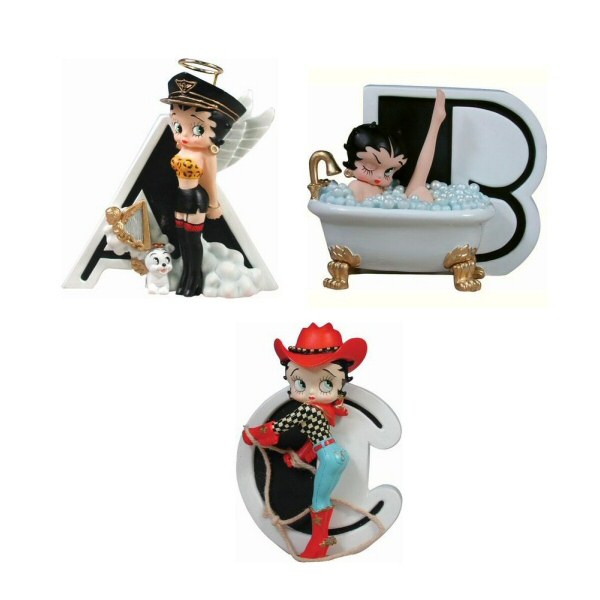 Matthew: Yes. We do everything - handbags, hairbrushes, figurines, furniture, jewellery, clothing - some of the figures we do can cost up to £300-£400.
Digger: What is the most popular stuff that you're shipping out every day?
Matthew: I would say the figures are the most popular. We've probably got the biggest range, that's why. Followed by initial mugs - they're very popular, cards and keyrings.
Digger: Is this all coming from abroad?
Matthew: Yes. I'm racking my brains to think of anything made here. I'm developing an idea for a very new Betty Boop product range and that will be partly made in the UK. It's all a bit hush-hush because I don't want anybody to grab a hold of the idea before I get past the licensing aspect. It's a bit scary. (Laughs) With Betty in particular, it's very competitive, very strict and there's a lot of controls. Fleischer have got it all bagged and tagged really. And I'm all for proper licensed products because when you get a genuine collector then you don't want rogue product in the arena because that collector is going to pick it up. You do get collectors who don't give a damn if things are well made but usually the rogue stuff isn't well made and not accurate to the Betty look. With the figures, for example, the eyes have a certain colour and they have to be that colour. So identifying rogue product is quite easy for someone who knows what they're selling.
Digger: They don't bother to replicate it that well?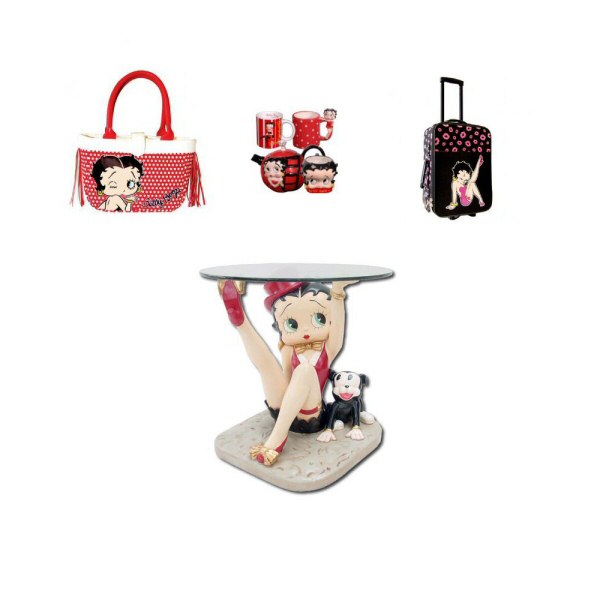 Matthew: No, they just bang it out. (Laughs)
Digger: Are you shipping coals to Newcastle? Do you get a lot of American customers?
Matthew: We're just now literally going into Europe. We've been dealing with UK/Ireland for a long time and I resisted simply because of cost to ship it. A CD or something like that is not a problem, but when you've got a Betty figure or something like that to insure and ship. It's not like you can just chuck it in a box and off it goes. You have to be aware of where it might get damaged. We've got a great track record for that as well and we get glowing reports from our customers on our speed of service, our knowledge and, indeed, even our packaging. A lady emailed me just the other day saying how beautiful the packaging was! She was referring to how we sent it. (Laughs)
Digger: So you're doing business with Europe?
Matthew: Yes, we just tied the deal with UPS and we're going to be promoting in Europe soon. It's funny, because we get enquiries from all over the World. We've found there's a fan-base in Australia that we're trying to tap into at the minute. For us that will be a real feather in the cap if we can get that sorted out - the only trouble there is the cost of sending it. That would be our furthest destination!
Digger: That's the blessing and the curse of The Internet really, isn't it?
Matthew: Indeed. We were talking about it today. The horrible bit about The Internet is that fraud is on the upturn and the banks and PayPal really don't protect the genuine seller in any shape or form.
Digger: No, on eBay, when I was dealing in movie memorabilia, 99% of autographs were fakes and eBay had no control over it nor did they seem particularly bothered.
Matthew: I think that's the real bad part of The Internet and why I resisted it as much as I could even though my background included it. I love that one-to-one and that face-to- face with the customer. We still do get it in a way - we have a lady who has now become a regular customer and this is down to Chris - she knows everything there is to know on Betty and tends to guide people if they phone up. You do get guys who call and are not too sure - their wives or partners are collectors and they might know a little bit about what she's got. And that's where Chris's knowledge comes in with the one-to-one with customers.
Digger: Chris has got that good friendly chatty style as well which is exactly what you need.
Matthew: Yes, I think from our respect there are a number of sites out there that you can't even phone. There's no contact number and maybe a mobile that you ring between 10 and 2.
Digger: Yes, and all communication is via the dreaded email. I'm not impressed when a business dictates to the customer how they should be communicating.
Matthew: It's very impersonal. And with us we're transparent - you can come along to the shop if you want and you can phone us up when you want. We don't hide from doing a deal and if we've sold you something, we're here.
Digger: What are the best things about what you do and what are your retro passions?
I've always had a passion for films, pretty much everything but Sci-Fi and Old Black n Whites are my favourites, because my father was a chief projectionist and so it was instilled into me. I would go along at weekends and sit in the projection room watching the big screen through the little spy window high up.
Digger: Wow! What a wonderful way to grow up.
Matthew: Yes, it was.
Digger: I don't suppose you have a hoard of the old movie posters do you?
Matthew: A few. At that time it was more going in to watch things like Flash Gordon and I used to do the ABC minors - the J Arthur Rank thing. My dad was visiting other cinemas and making sure that everything was being done right and if there was a break in the film there was a certain time allowed to put it together and get it back on the screen. He was passionate about that and Rank actually wanted to promote him up into a suit but he turned it down. He shouldn't have done that because we would have been very well heeled. But I take my hat off to him because his words were "I don't want to be a stuffed suit, I want to get on with the job." So I had that film bug built in.
Digger: And everything has led to this.
Matthew: Yes, because we have the MOSS247.COM website which aims to reflect the whole of the current shop. Betty is one of our strong arms followed by the film items like Harry Potter, Star Trek, Star Wars and some of the more popular collectable stuff like Alien, Predator, Halo and so on...
Digger: Are you thinking of 'doing a Betty Boop' with any of the other icons?
Matthew: There's a small concern - if you walk into our shop we've got 3,200 stock items generally on display and there's fourteen double display cabinets full up to the brim. Putting the MOSS247 site up which we have only just started doing is a mammoth task... The idea is that we replicate the shop with the MOSS247 site. We did think we might set up a couple other dedicated sites like Betty Boop 4U - but I've decided to get the two main sites up and running before that. We are 185% on last year on our website and I think that's simply because I've given my attention to sorting out the web and increasing the range of products. There's a part of me that kicks myself and says "Why didn't I do that before another shop and all the other stuff?" But having a shop I truly believe gives you so much credibility and makes you stand out from the rest.
Digger: A lot of people don't even have physical premises anymore apart from somewhere to store the stock.
Matthew: I think that our shops will be a bonus for us in the long-term. There are a lot of dodgy traders that don't even give an address or a landline telephone number so you don't know who they are!
Digger: That's a big plus.
Matthew: It is. The bottom line to us is we've had a solid background and providing we have a bit of good luck ...
Digger: Well, you're riding the economic storm which is good.
Matthew: One of our bank managers popped his head in and said hello and he actually said "Matthew, you're still out there and a lot of them are going." I'm pleased to say I do have a good relationship with my bank. Banks are banks and they're all the same but this individual attention is encouraging. I go along and say "I'm going to do this and that" and they say "Yes, okay Matthew." We do seven days a week, twelve hours a day, so it's not the sort of thing where we're just putting our feet up.
Digger: Where would you want to be with the business in five years' time?
Matthew: Retired mate. (Laughs)
Digger: My window cleaner came round the other day - he knows what I do and he asked me if I was going on holiday this year. I told him "I can afford a holiday, they're actually quite cheap, but I can't afford the two weeks of not being here and the work not being done." His mate replied "Why don't you just take your laptop with you?" And I said "Okay. I'm sitting on a beach in Tunisia with a drink by my side and the sun beating down and my girlfriend by my other side. And I've got a laptop in front of me and I'm sending and receiving emails, updating the website, doing interviews, sending invoices and chasing payments and making a stream of sales calls or receiving enquries all day from 8 in the morning to 6 in the evening." "Oh, I see your point" he said.
Matthew: Yes, not really the right thing to do. Chris and I have only had a couple of days off in the last four years and we're about to try and change that this year. I don't know how.
Digger: You just have to make it happen. I make sure I have a few long weekends.
Matthew: A busman's holiday is not really a break. My health is an issue and I want to get to a point where I can say "Take a seat." I've worked since the age of fourteen. I haven't stopped, been there, done that, broke the mould.
Digger: I've got a good feeling about this business. I think although you and I are both a little bit cynical about The Internet, because we come from that sort of background, I think you've got a winner here. Although The Internet is having a bad impact on traditional retail, what you've done is chosen a niche and it's a good one. I think you could do extremely well out of it.
Matthew: I'm confident, David, that I've done it right Betty Boop is Timeless - Her popularity never wanes.
Digger: You're a trier. There are so many people who think about doing things and they don't get off the mark. You have, and that's the difference.
Matthew: I think, as well, if you're of that type, then you press on and get on with what you want to do and it's no good in thinking after only five minutes that it's not happening. You've got to chip away and make it happen and it's hard work.
Digger: You are so busy and I understand that. These days we're being torn in so many different directions as businesses and that's why I appreciate how hard it has even been to arrange this chat. It's your business and it's up to me to try to help you schedule it in.
Matthew: I also have very good relationships with the reps of companies I deal with because they know how often to hassle or nag me but also that I haven't really got the time. They balance it right and they don't say "He can't be bothered so I won't be bothered." Then they wouldn't get the orders. You've only got so many hours in the day and we work twelve of them and every so often I say to Chris "Enough. Let's go and get something to eat and drink."
Digger: It sounds like a great business Matthew and I'm confident that after all the hard work and energy you've both put in to this you'll be retiring to somewhere exotic before too long. Thanks Matthew for talking to us.
Matthew: Thank you David.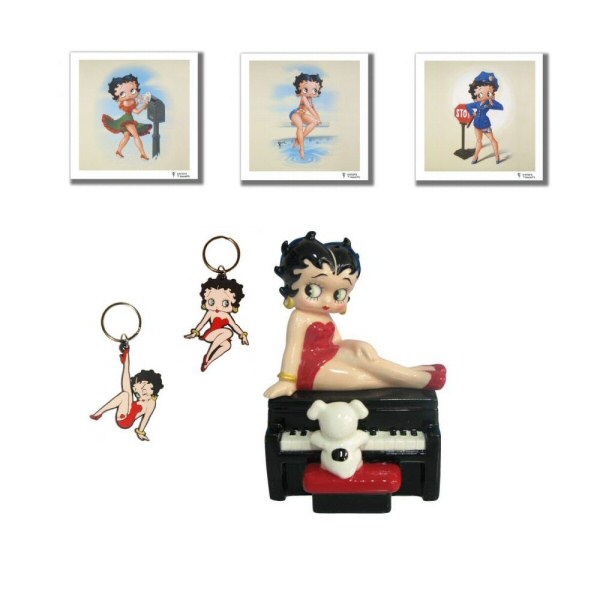 ---
Our buyers choose products from all over the world and we endeavour to offer the best possible value for money. Please Note: We only sell Genuine Licensed Betty Boop products. Wherever we can, we offer the best price and sometimes the cheapest you will find on the internet. Remember unlike some internet traders, you can visit us in normal hours without appointment.

BettyBoop4U.co.uk is operated by MOSS Enterprises Limited.

Shop Opening Hours: Monday to Saturday 9:00am till 5.30pm
Customer Telephone Number: Shop & Web Enquiries 0117 9082308

Postal Address:
Betty Boop 4U
278 Wells Road,
Bristol.
BS4 2PU
England