Digger: Good morning Lorraine.
Digger: What is your background and can you please tell us how House of Francheska started and how the company has evolved into what it is today?
Digger: Sounds very impressive.
Digger: What a good idea. What year was that?
Digger: Yes, I know that book. In fact I can see it in my mind's eye now.
Digger: And I suppose since you have done all the SEO and so on?
Digger: Can you please give us an outline of the services and the types of Vintage Jewellery and other products that you offer?
Digger: I should imagine you're established now on forums and so on and have got yourself quite a reputation?
Digger: Are people happy to buy these items sight unseen, as it were? Your customers can be in the USA or Europe or wherever.
Digger: It's one of the world's best kept secrets - vintage costume jewellery. So probably now is the best time to get involved?
Digger: They wouldn't be so bothered if they were lost or stolen?
Lorraine: It would still cost them hundreds of pounds but it's better that than thousands.
Digger: What about your husband's involvement in the business? And I understand he collects music memorabilia?
Lorraine: He's got his own LP collection and is very knowledegable in music. He's music mad and you ask him anything on music and he'll know the answer.
Digger: That's a challenge! I'm going to send him some questions! A little quiz by email and I'll say it was your fault.
Lorraine: (Laughs) He won't mind. You've got to be so careful what you buy with music memorabilia. He does it for his own personal hobby.
Digger: He's backing you up with the web work?
Lorraine: Yes. And if anyone enquires and they want LPs cleaned then he can do that as he bought a big vinyl-cleaning machine.
Digger: It doesn't solve scratches or anything, just purely for stains and dust?
Digger: I see. That's clever.
Designer Erwin pearl double pink
and cameo necklace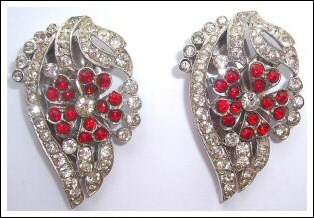 Alfred Philippe signed Trifari clip mates
Lorraine: He loves music and the hi-fi equipment so he knows that inside-out. He's always up-to-date with the latest gear.
Digger: I like it when people have got passions like that and anybody who likes their music is alright by me. Can you tell us what sort of customer feedback and comments you are getting?
Lorraine: I feel it's very important to treat clients on a personal level. Talking to them as a friend rather than a number. You know these big department stores? When you order online, it just comes back with an automatic email saying thanks for your order and that it will be despatched - and that's about it. There's nothing personal about it.
Digger: And often there's no way you can make contact with them apart from via email.
Lorraine: Sometimes yes, although you can check on how the order is progressing on some websites. But with mine, what I tend to do if I can is to have a conversation about the piece and build a bit of a relationship, on a personal level, as a friend.
Digger: That's so important from a business perspective too because they might give you a couple of clues about what they're interested in for future business as well. Or some leads to other collectors, or whatever.
Lorraine: Exactly. That's why most of my customers come back. They say "You were so lovely last time." Or "My husband was impressed with your service and friendliness." I get comments like that every day.
Digger: The website is very impressive. I assume that's a big passion of yours also?
Lorraine: You have to love doing the website side of things as well. It's a headache, because I code everything myself by hand.
Lorraine: Yes, in notepad.
Lorraine: All hand-coded. You've definitely got more control over the way it looks. With Dreamweaver and so on you're limited to what coding you can put on there. But with notepad, you can manipulate it to the way you want it to look. That's the good thing about it - it's time-consuming but it's the best way in my view. Also with The Internet you've got to have 110% dedication to it. You cannot set-up a website and just leave it there and hope for the best like a lot of people do.
Digger: That's very noticeable with some sites.
Lorraine: You have to market and promote your site 24/7 or good enough.
Digger: You haven't got a physical presence there, have you?
Lorraine: No, I did try it and it didn't work out. You're right, there's no need for all the expenditure of offices and shops - no need. Obviously you have to have the stock secure and insured and you have to find a good storage facility.
Digger: I have clients who deal in paper ephemera and others in vintage clothing and therefore storage and stock security are big issues for them.
Lorraine: You have to make sure it's secure. It's law to have your address on a website now - you cannot have a PO Box if you're trading and it can be a bit of a worry.
Digger: What are the best aspects of running House Of Francheska?
Lorraine: I am able to work at my own pace and it's not a 9 to 5 job.
Digger: You've got your independence.
Lorraine: You have, but you've got to be dedicated.
Digger: A lot of people think that because we're running businesses from home that we're watching daytime TV!
Lorraine: Oh no. Far from it.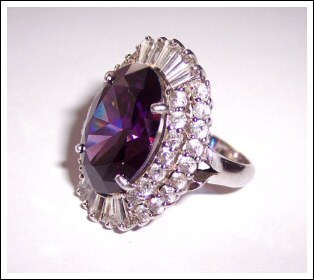 Jolie Gabor Sterling Siberian Amethyst
Cocktail ring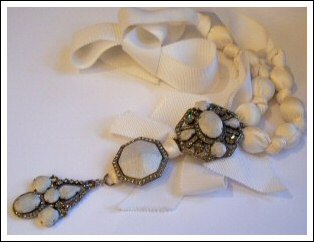 An authentic designer signed Lanvin
crystal and pearl necklace

Digger: Probably, like me, you're back in the office at the weekends and evenings as well?
Lorraine: I am up very early every morning, because I get emails from all over the world and I get 10 or 15 a day. So I like to reply before they start to accumulate.
Digger: And people do expect a very quick response these days.
Lorraine: I agree. So I work, then because of my health I have a rest and then come back and it goes like that around the clock.
Digger: It actually sounds a very civilised way to work to me - do a few hours and then sleep and then awake refreshed to do some more. That's good.
Lorraine: It works for me.
Digger: What are your personal vintage passions Lorraine?
Lorraine: I look at clothes, perfumes, hats and so many vintage items that are out there. There's a wealth of history to be discovered out there and it is becoming known now. Hollywood photographs...
Digger: Yes, I saw there were some Hollywood stars on your website.
Lorraine: Yes, I talk about how some of them used the designers I have on the website. Bette Davis, for example, she wore Hobe jewellery and Lana Turner always wore costume jewellery made by top designers. Mainly American. The US designers are the best, I feel. There are some in this country, although I haven't fully explored it in Europe and the UK as yet. I know we've got Chanel and Sphinx and Miracle and a few others but I am looking into Mary Quant. Apparently the V&A museum have some Quant items, so it seems to be becoming collectable.
Digger: And why not? She was important.
Lorraine: Exactly, and I like to look at current designers that will become future collectables, like Vivienne Westwood and all the others that are coming to the fore. I'm never, ever bored.
Digger: What are the most popular items and designers and what are the best investments?
Lorraine: I would say the most popular items are the early 1900s up to the 1950s and 1960s.
Digger: Are these affordable for people who are just starting to collect?
Lorraine: It depends. You can pick up some bargains, but it depends who you choose as a designer and it's best to choose a designer you like. Trifari, for instance - everybody knows that the materials and quality are excellent and that's a mid to high-range. You can start collecting 1990s because they're quite collectable but the early pieces can be quite expensive. Work up from what they're producing now and up to the rarer, older pieces. Does that make sense?
Digger: It does. And if you're a relative youngster in your twenties or thirties, these items will be on The Antiques Roadshow in twenty or thirty year's time.
Digger: So what about the future for House of Francheska then Lorraine?
Lorraine: I have got a huge, massive database of things that I've collected over the years so I'll be updating the website with more history and more rare and unique and unusual pieces. I'll also be training my son to do web design and hopefully he'll join the business in a couple of years. Also I want to get into the emporium side of the business and explore the private seller side as well and putting more things on there. If someone wants to go into vintage jewellery they can't just go onto the auction sites, buy some stuff and then put it on a website and make some money. It's not as simple as that, as anyone will see if they start doing this.
Digger: If people go on eBay they're usually looking for something on the cheap or at a discount anyway.
Lorraine: There are fakes for Chanel and Weiss and you've really got to do you research and know your product and then you'll know what are fakes and what are genuine. All my dealings are with reputable dealers and jewellery clubs and that's the best way to know you're going to get authentic pieces. I wouldn't trust what's on eBay. Most of our contacts are in the USA, I've known them for years and have built up relationships and trust. And the only way to do that was to buy items from them, get them, see what they're like and be sure they were genuine and then I was happy to do repeat business with them.
Digger: It's all about relationships.
Lorraine: It is. Can I just mention that I got a Barclays Award?
Lorraine: Because of my health, I entered the Barclays Trading Places Awards, because when you're disabled, instead of staying at home - if you put your mind to it you can really start something worthwhile as I hope I've proved. And I did win the Barclays Award back in 2008 for the south-west area.
Digger: That's great. I hope you rubbed that bank manager's nose in it!
Lorraine: (Laughs) It was a different bank but I'm sure the one that said that to me is aware of my website. And I'm on BBC2 and although they haven't given me an exact date it's supposed to air between July and August. It's The Antiques Masters quiz show. They used some of my items for the show.
Digger: Yes, I saw the last series. It's presented by Sandi Toksvig and Eric Knowles and there are members of the public who are interested in certain specialties within antiques. It's a good show. So they had to guess the most expensive, the oldest, the imposter and so on.
Lorraine: Yes, that's right. They wanted to use my costume jewellery for the show.
Digger: That's a nice bit of publicity.
Lorraine: I can mention "As featured on The BBC" on my website.
Digger: Yes, I'll do the same for you on my site. Thank you for talking to us Lorraine.
Lorraine: Thank you so much David. Have a good day.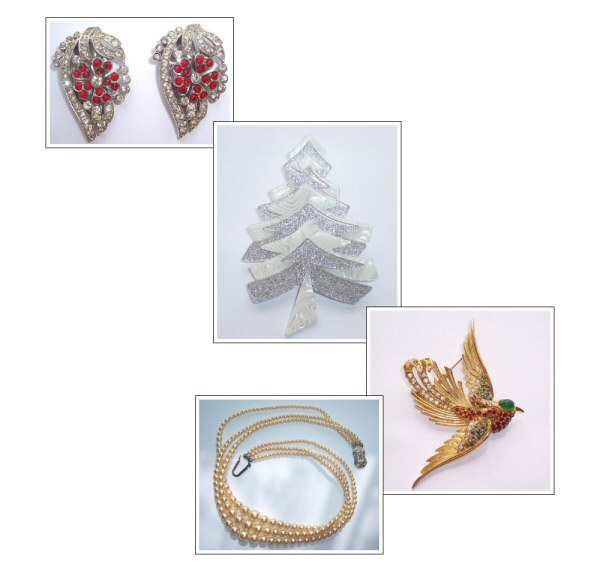 ---

House of Francheska are International Sellers Based in the UK. Specializing in Antique and Vintage Costume Jewellery and History

Since 2005 we have specialized in authentic, original, rare and collectable vintage, antique and estate jewellery from around the World. All vintage jewellery showing on the website are genuine and authentic and not modern replicas or reproductions.

House of Francheska
C/o Lorraine Evans
6 Grange Close, Stoke Gifford, Bristol, S Glos,
BS34 8RE, UK
Telephone: +44 01454 772803
www: House of Francheska