Digger: Can you please tell us a little bit about your background and the background to Camper4hire?
Adam: Camper4hire was set up three years ago by myself, following large demand for VW campervans and the ever rising prices of these vans, making it almost impossible for normal people to afford to experience the much loved VW Campervan.

Digger: The Campers having the 'Van' names and 'personalities' is a really fun twist and the campers are all quite individual. What sorts of packages are you offering?
Adam: With nearly all of our vehicles being over 30 years old, we thought it only fair that rather than treat them as a number or registration number. We explained to people a brief history of each van, and gave them a name to make the whole hire a little more of a personal experience.

Digger: Why is retro, and why are VW campers specifically, so enduringly popular?
Adam: I believe the whole image of a VW campervan represents Summer time freedom and relaxation to a lot of people, as it has done for 30 years. And no other vehicle will get you so many smiley faces and waves from passers-by as you drive down the road.

Digger: What makes Camper4hire special?
Adam: Apart from staying one of the best value hire companies in the country, we pride ourselves on offering everything you need to enjoy your experience all included in the price. With no hidden extras from knifes and forks to Drive away awning to attach to the vans. With our central location (Leicestershire), we are also handy for a lot of people, to pick a van up on route to there final destination, taking advantage of our unlimited mileage allowance.

Digger: What are the best things about what you do?
Adam: I think for all of us at Camper4hire, nothing can compare to the huge smiles on kid's faces when they turn up to collect the van, jumping up and down. (and yes... it is the same story for the adults.)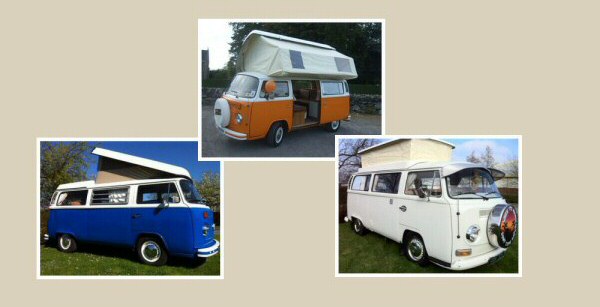 Van Percy, Van Morrison, Van Outen

Digger: What sort of feedback are you getting from clients and where are they coming from?
Adam: We actually find that in addition to local customers, a lot of our hirers travel from all over London, Wales and even Scotland to meet the vans.

Digger: What things should clients consider when booking a VW camper break?
Adam: As far as driving is concerned, the vans are old......they do not have servo-assisted brakes, nor power steering, so we just advise people to drive with extra care and leave more distance from the vehicle in front. We do also offer new VW T5 hire for not much more, catering for people who are looking for an easier driving experience.

Digger: Where do you see the future for Camper4hire and do you have any other 'Vans' in mind for the future?
Adam: When we put our most recent T5 VW Campervan on the site we ran a competition on our Facebook page asking for suggestions for his name...Van Dam got the most votes. We do realise that after 2 or 3 more vans for hire we will be struggling to find names, so all suggestions are welcome. We would like to expand our fleet of vans as quickly as possible and become the only name for Campervan hire in the UK, offering unrivalled service and a unique Campervan experience.

I would also like to point out that out New T5 van is available for European Hire too!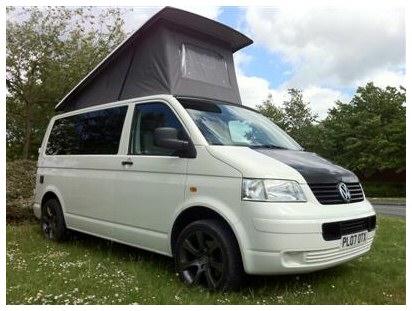 ---