Digger: Morning Neil. How are you?

Neil: Fine thanks David. You?

Digger: Very good thanks. Shall I dive in to the questions?

Neil: Yes. Please go ahead.

Digger: Can you please tell us about your background and the background to The Retro Caravan Company?

Neil: Well, I've always had a VW split-screen and the family grew and we had to have more space for the holidays. I thought I'd look for a caravan but English ones just didn't do it for me. Eventually I managed to find a Dutch one - a Mostard, and from that point onwards people kept saying "Nice caravan." And I thought "Hmm." That was about five or six years ago and since then I've sold quite a few of them and I've got a selection of my own that I just use for prop hire and so on. I store them down the road in a barn along with some vintage tents and vintage camping equipment. Windbreaks and chairs and that sort of stuff - all things to do with camping from the fifties to the seventies.

Digger: This whole retro thing is a really big thing now, isn't it?

Neil: Yes, I know and I was there early. So I managed to get some nice pieces and some terrific vans and some really stylish French tents.

Digger: So you have some Dutch caravans, some French tents...

Neil: Yes, I've got Dutch, Swedish and Belgian caravans and the tents are French and a few English ones.

Digger: So you're not into Musketeers or Alpines?

Neil: No. They just haven't got the shape. There's only a couple of English caravans that I'd go for and they're all too rare really.

Digger: There are some things that we do, or did, really well but caravans weren't top of the list, were they?
Neil: No, the Dutch seem to have the style and especially the Swedish. They were on the back of Bauhaus design.

Digger: My dad was quite a pioneer and used to take us over to Spain and France in the late sixties with a caravan. I can remember all sorts of great caravanning memories. It was unusual in those days but not so these days. Retro camping - it's a big thing now isn't it?

Neil: It is now, yes.

Digger: Please tell us about your passion for these fifties, sixties and seventies caravans and camping equipment.

Neil: I just love vintage stuff. My house is full of vintage and retro furniture from the fifties and sixties. My cooker's vintage sixties, my fridge is vintage fifties and the whole kitchen is from the late forties.

Digger: Keeping these things maintained and working - you must be skillful at that and finding the parts?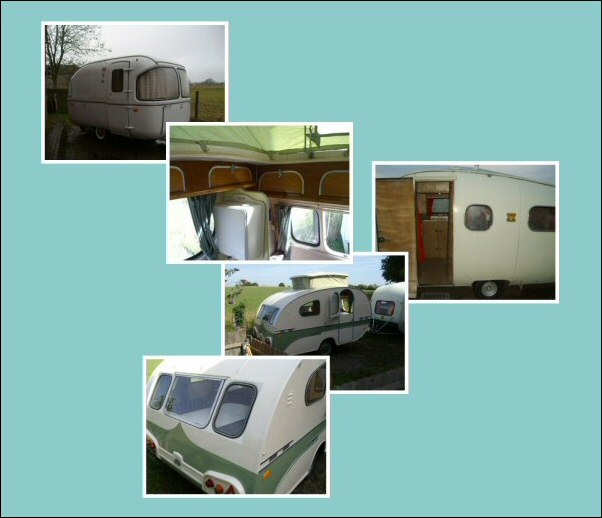 Neil: I'm a carpenter by trade anyway and I did sculpture at university so I'm handy with my hands. A furniture maker too, so I can turn my hand to most things. I'm a handyman now doing maintenance on about eighty buildings.
Digger: Why are we so nostalgic about those times and about Retro, even those of us who can't remember them?

Neil: If they didn't grow up with them themselves then they saw them didn't they? That's how I got the bug - my uncle had fifteen campers rotting away in his garden and I loved them. My mother was always going away in caravans and I spent a large part of my life in a caravan just travelling from farm to farm working for many years.
Digger: Eating from a pressure cooker?

Neil: Oh yes! Certainly did. I just think people like the shapes and what goes around comes around anyway doesn't it? It always does in music and design and style and everything.

Digger: Yes, which is good for us because there's always one decade that's in fashion.

Neil: Yes, and next weekend I have Paul Merton's artistic director coming down to see me to do a programme where we take him around in my camper van and a caravan and visit some very obscure artists and places and people I know. The meeting is to set everything up really.
Digger: It sounds good.

Neil: I might be going with Paul Merton - I don't know yet.

Digger: He's been around India and also he did that programme where he explores the silent movies and early comedy, hasn't he?

Neil: Yes, this one's called Paul Merton's Journeys - The Alternative Living.

Digger: He's been turned into a 'modern day' Michael Palin, hasn't he?

Neil: He's mad on Buster Keaton and so's my artist friend down in Dungeness who paints caravans. Every time someone comes down in a weird shaped caravan or camper he gets out there with his paintbrush and starts painting. He's a good, well-known artist and he's normally abstract and doing beautiful big boats in misty backgrounds. He lives in a railway carriage.
Digger: I guess this is one of the people you're going to take Paul to see?

Neil: Yes, definitely.

Digger: Please tell us what options are available with your company Neil?

Neil: We hire out to film and photo shoots and promotional events but we are now going into renting out to the public for weekends or for a few days so they can try one out before they buy one. And then I may be doing a search for them, so I'll find the caravan and if they like it then they can negotiate with the owner, wherever he is, and then they pick it up and I can get a fee for that.

Digger: That sounds like a useful service as it must be hard for those without experience or contacts to find what they want.
Neil: That's what we thought.
Digger: I sent you that link to my client who has a retro caravan park in The Pyrenees?

Neil: Yes, that looks good although I don't get down there that much myself- usually I go to Holland and Belgium. I've got a friend in Brighton who's got a campsite and he has got big woods split into little sections. He's got vintage caravans, including a couple he's bought off of me. He's got a double decker bus and a big Airstream and he's even got a 1950s vintage helicopter.
Digger: Good God!

Neil: He's turned them all into accommodation and it's a really wacky place for people to go and stay.

Digger: It sounds very unusual.

Neil: It's called Blackberry Wood campsite - you want to look him up.

Digger: Brighton is the cool place, of course.

Neil: Yes, and he's right up there in the hills.

Digger: What are the best things about what you do?

Neil: I love it with a passion and all of the attention is on the caravans and I'm preserving them.
Digger: And you get some reflected glory from that as well?!
Neil: Of course you do, absolutely. I also get to meet quite a lot of interesting people through it, including famous people which is nice. It really is a passion and I love to preserve them.
Digger: That's a word that crops up so often with people I'm talking to and that's really 99% of the battle, isn't it, if you enjoy what you're doing?
Neil: Exactly. Oh it's so nice to be able to do it as a job.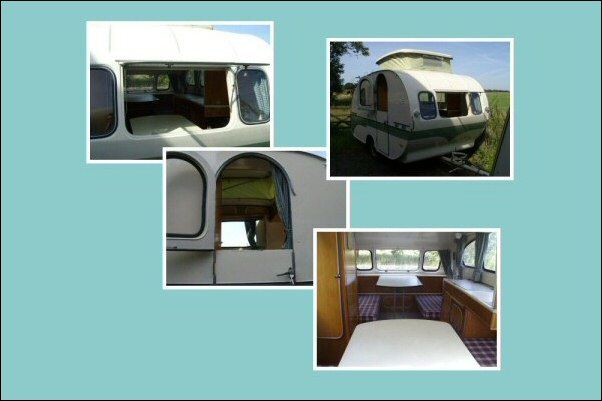 Digger: What sorts of comments and feedback are you getting from clients?
Neil: They send me more clients and more business. Good enough for me!
Digger: That is the best sort of feedback.
Neil: And they come back to me for awnings or repairs and so on. If they don't store them indoors they don't last that long without needing some attention. Most customers have got barns or something out the back to store them in so they're very clean.
Digger: The reality is that a lot of these items are only fifty or sixty years old yet they already have an iconic status as well as a rarity value.
Neil: Yes, I've only gone for the rare ones but if you look on The Internet, even the English ones are going for phenomenal, really stupid money. You could pick them up four years ago for a couple of hundred pounds and now they're a couple of thousand.
Digger: Are they still a good investment?
Neil: Oh yes. It still is a good investment. They're still going up - it's like the missing link between classic car and home.
Digger: What has The Retro Caravan Company got planned apart from this Paul Merton thing?
Neil: I am going to be doing Party In The Park for the BBC. I am not sure if I'm doing Goodwood this year on the South Bank. I actually got quite chatty with Lord March last year, he's the owner of the show. He's a really nice down-to-earth guy.
Digger: So onward and upward then?
Neil: Yes, onwards and upwards and eventually I want to have half a dozen all stored away, nice and clean and tidy and just expand it to renting out to the public. I'm just taking it steady.
Digger: The Retro Caravan Company sounds like a great business and as though it's doing really well. Just as importantly, you love it too.
Neil: I do. It's a nice way to make a living.
Digger: Thanks Neil.
Neil: Thank you David.
---