JSP Records - The home of Jazz & Blues

JSP RECORDS - the home of jazz & blues is an internationally established record company which strives to bring good music at reasonable prices to the world!
Here, Digger talks to John, the founder of JSP Records. John's experience and passion for the music is second to none and he offers the best in Jazz & Blues. Jazz Box Sets, Roots Box sets, Select recordings, Nostalgia & Roots and American Roots with some country and rock and roll for good measure.
---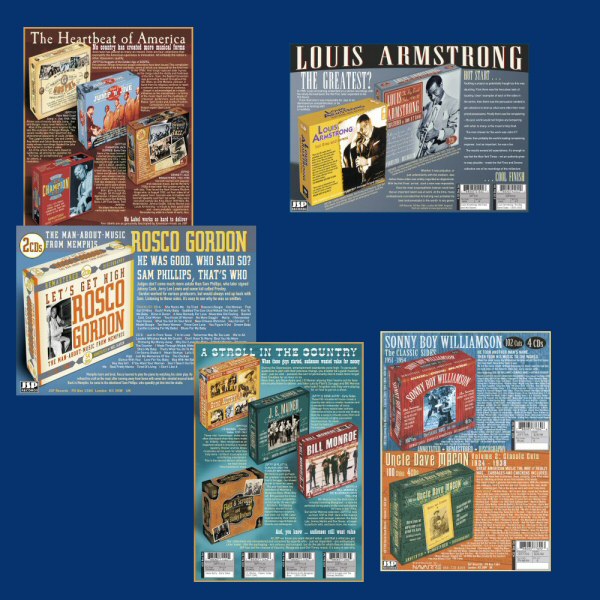 Digger: What is your background and can you please tell us about your love of Blues and Jazz? And how JSP Records started and how the company has evolved into what it is today?
John: I started in the music business in 1977 as an agent and promoter to bring in American blues and roots musicians. For many years I promoted concerts, club shows and tours. Very early on musicians would be looking for recording deals and it was also impossible to get promotional material from labels to support the tours. So it was very logical to start recording the artists I was dealing with. And so a label was born.
Then I started to record people who I wasn't touring. Buddy Guy, Illinois Jacquet, Jimmy Witherspoon etc. etc. Often those sessions would happen in the U.S. Sometimes an American session would be done so that there was already an album out to support a tour. It was at a jazz session in London that some one said to me-"I know this chap, John R.T. Davies who does amazing remastering of vintage jazz…"
With a connection to John R.T. Davies our interest in reissues commenced and many of his legendary remasterings were issued, first on LP and then on CD. The Louis Armstrong Hot 5's and 7's, Jelly Roll Morton, Mills Brothers etc. And those releases would later become the first box sets when we initiated that format in 1999.

Digger: How have you managed to bring together such a wide catalogue?
John: A belief that a label should release many different types of music and should have a varied approach to A&R policy.

Digger: Why is retro and nostalgia so enduringly popular?
John: Simply put, many people find that much of what the music industry produces today is synthetic in every sense. Personally, if a record doesn't have a real drummer on it I'm not interested… That's also why with our new recordings I look for a warm, real music sound to it whilst trying to also make it a contemporary statement of what's happening now.

Digger: What are the best sellers?
John: I always say-the catalogue is the blockbuster, not any individual item. I have to put together many small selling releases to make it all work.

Digger: What customer feedback do you get and where are they coming from?
John: The great thing about the internet is that real purchasers and fans can give instant feedback and reaction and also feed a label positive ideas.

Digger: What are your other Retro passions?
John: I tend to think the same about films as I think about music but love contemporary theatre in London.

Digger: What are the best aspects of running JSP Records?
John: The thought that I'm beating the system, selling products that the mainstream wouldn't touch and surviving.

Digger: What does The Internet mean to the JSP Records business?
John: It levels the playing field. People can find me now who before would have considered the label as some esoteric 'import label' if they knew it at all.

Digger: What are your plans for JSP Records in the future?
John: With the business as it is one year at a time…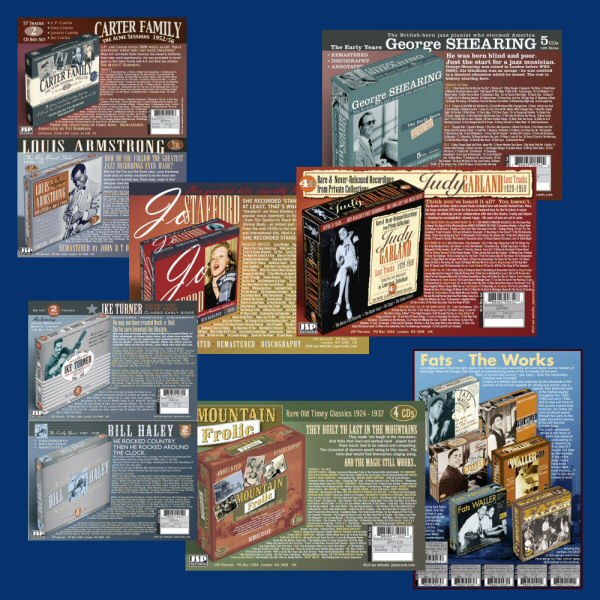 ---
The best in Jazz & Blues. Jazz Box Sets, Roots Box sets, Select recordings, Nostalgia & Roots, American Roots.
Includes the Fats Waller series, Ike Turner, Bill Hayley, The Carter Family, Louis Armstrong, Louis Jordan, Joe Hill Louis, Rosco Gordon, Jo Stafford, Hoagy Carmichael, Sonny Boy Williamson and many more.
CONTACT: john@jsprecords.com