In With The In Crowd - Stand out from the crowd in style!

Digger spoke to Melissa at In With The In Crowd about the vintage-style business she runs focusing on Mod and sixties designs. For an authentic Quant, Shrimpton, Deneuve, Twiggy or Hepburn look, Melissa has the styles that will suit.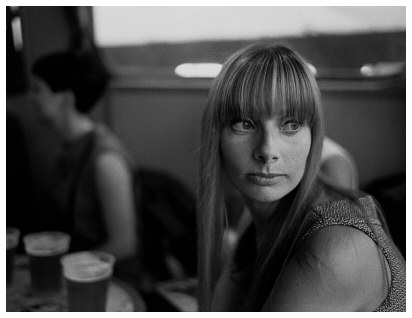 Melissa
(Photo "Horst A. Friedrichs - I 'm One 21st Century Mods")

---
Digger: When did the business start Melissa?
Melissa: I started "In With The In Crowd" in 2008.
Digger: Can you tell us what were your inspirations?

Melissa: I decided to design my own label after a long search for Womenswear to stock on my website and also, as a Mod myself, I struggled to find authentic style clothing and wore mainly original garments. But they are becoming increasingly difficult to find! I couldn't find a label producing a ladies range of Mod clothing that fitted what I was looking for - classic Mod style clothing with the all-important 1960's details. (There are quite a few "sixties" style dresses available but a lot of them tend to be a bit fancy dress!) It was important to me that the garments on my label are not mass produced, are affordable and made to a very high quality.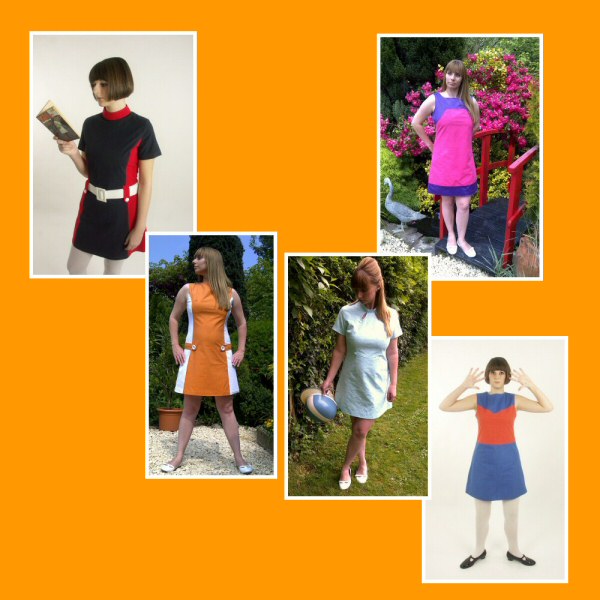 Images © copyright M. Poulton
Digger: What is it about the sixties that is so enduring?
Melissa. I love all things 60's.... to me, nothing compares to the iconic designs of the 1960's - it is recognised as the most important decade of the 20th Century for it's innovative and exciting designs. We have many original items in our home including a ball chair, G-Plan furniture, jukebox, record players, films, books, records and scooters.
Digger: That's amazing. I am jealous. I went to Portmeirion to see where The Prisoner was made and stayed the weekend but I don't think I'd fit into a ball chair these days!
Melissa: Between my husband and I we have a collection of thirteen 1960's Lambrettas and Vespas! And, of course, not forgetting the clothing, it is the details that make the item. A Mod wants to look sharp, stand out above the rest and in my opinion can never be over-dressed! Our two daughter's names are 'Paisley' (taken from the classic 60's pattern/design) and 'Biba' (taken from the 1960's popular and iconic London fashion store) so, as you can tell, my husband and I are nothing short of fanatics on the decade!
Digger: Yes, 'obsessives' springs to mind! It's a great look. What are your favourites?
Melissa: My personal favourite from my collection is the 'Hopkirk' shift dress and matching jacket. I love the material (which was inspired by an original dress I have), the covered buttons and 3/4 length sleeves give it that classic stylish 60's feel.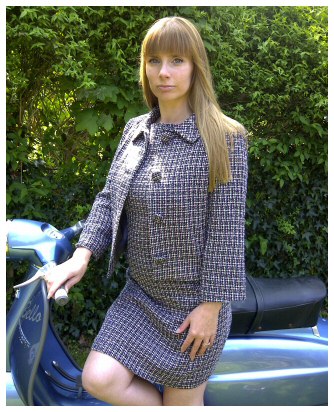 Images © copyright M. Poulton
Digger: Where are your customers coming from? I presume The Internet is very important to the business?
Melissa: My label is currently only available online, but I have sent items worldwide and am looking for stockists both in the UK and abroad.
Digger: For the uninitiated, can you please tell us where did the company name come from?

Melissa: To be in with the 'In Crowd' meant you were accepted by the top 'Faces' on the scene...you wore the sharpest clothes, went to the best parties, and were respected by other Mods as being the top of the game. Overall who everyone would strive to imitate and love to be! I therefore chose the name "In With The In Crowd" to suggest these are the kind of people to wear my clothing!
"The In Crowd" is also a 1965 song first performed by Dobie Gray (covered by many artists including Brian Ferry, Petula Clark & The Mamas & the Papas) the lyrics of which were seen by the Mods of the time as a depiction of their own lifestyles.
Here's a link to the song on You Tube
---
We specialise in Mod, Skin, Retro
& 1960s-inspired clothing & accessories.

Tel: 07541 294795
Email: the-in-crowd@hotmail.co.uk