Here, Digger talks to Bob Harrop whose figurines company has established itself as the market leader for iconic Collectable Figurines featuring favourites from TV, Comics and Film as well as their famous Doggie People range.

Digger: Hello Bob.
Bob: Hello David.
Digger: How are you?
Bob: Not too bad.
Digger: What is your background, can you tell us how Robert Harrop Figurines started and how the company has evolved into what it is today?
Bob: I came into this because I was making my living as a show jumper/trainer.
Digger: That's an interesting change.
Bob: I had a back injury when I was 29. I'd been trained and got my qualifications in three-dimensional design and ceramics at Liverpool and then Wolverhampton Art College. I then went into the family business, which was breaking and making horses – in other words training horses. That carried on until I was 29. I was doing bronze work alongside my equestrian activities. Bronzes of Arkle and Mill Reef and on the jumping side Penwood Forge Mill. We would buy horses in Ireland every year.
Digger: My family are from Kerry and Cork.
Bob: I used to buy them all over. I love Kinsale and I'd go out fishing there – some amazing catches. That was the life. We would buy half a dozen horses, drag them over to England, clip them out, break them and make them. Twelve months later our aim was to have qualified them for Wembley and The Horse Of The Year Show. And in those days, for six of them, I would pay £1,000. It just shows how things have changed since the early seventies. These were well bred horses. We would ideally get them qualified for fox hunting which is the first rung on the ladder for a decent show jumper. Or they'd go off eventing or point to pointing. Last but not least they'd go hunting, but the reality was we'd aim to buy for £200 and sell for £600 so we could turn a profit in the middle. That was my job. We jumped all over the place. We won a competition with a lovely horse I had in Vienna called Calder and they were big jumps in Europe – the fences were always higher on the continent because they worked with big slopes rather than the walls. That's what I did before and when I had the accident it was just, touch wood, a back injury that stopped me from riding professionally. I then coincidentally got involved with the people who owned Red Rum. It was at the time that The Grand National was under threat – the family that owned Aintree wanted to sell it for housing. We formed a limited company called Red Rum Limited and we did some sculptures and we did bronze work that was auctioned off at the prime northern and midland racecourse hotels. The Adelphi in Liverpool and others. Red Rum was probably the most commercialised horse.
Digger: Yes, if you ask 100 people to name a horse, particularly people of a certain age, 95% of them will say Red Rum.
Bob: Yes. And we took him everywhere. We took him to open the first spring fair and it had moved from Blackpool to Birmingham. Anne Diamond got the idea of riding Rummy into the piazza and she was such a tiny little thing. That was a nice bit of publicity and then we got involved in the trade, selling my pieces and other things. I had a commission from a charity to do a limited edition bronze of a Labrador. We were based in Shropshire where one of my connections was with Weston Park and the Earl of Bradford. We used his old Labrador as the model for this particular piece and while I was doing it I did some working sketches where I combined the man and the dog. That was how the dogs started. Initially they were called The Country Companion because when we did the Labrador, it needed a companion so I matched it with a spaniel and it went on from there. And then we were doing county shows and National Trust properties with half a dozen to a dozen pieces that I would cast and Margaret, my wife, would paint and off we went. This was all cracking fun really. An old RAF fellah called Tiger Davis was an agricultural and country clothing salesman out in the southwest and that's where we originally sold into those sorts of shops. Tiger did the southwest and we had another couple of lads who we met at the county shows that did various other places in the country. That's how we get involved in the giftware trade.
Digger: How did it develop into the range you have now Bob?
Bob: In the mid-eighties we had full production and we took a little unit in Shifnal. And we went on from there. But as we got further into the gift trade we were expanding and thought we needed something typically English. The dogs were very English. That Englishness attracted a lot of interest from abroad and we wanted to complement that. And, coincidentally one afternoon, I just thought –"What is English?" and somehow I thought of The Beano and why it came into my head I don't know.
Digger: Ironically that's published in Dundee in Scotland.
Bob: Yes I learned that as we went on. I rang a man called Peter Clark who was the licensing manager at the time and the rest is history. That was 1994 and we started producing them in 1996 – that was a lesson in itself as to the licensing trade and how long it took to get things done.
Digger: Copyrights and trademarks and so on?
Bob: Oh yes. So off we went from there and that took us into the noughties.
Digger: It must feel as though it's all a bit of a blur because there has been so much going on?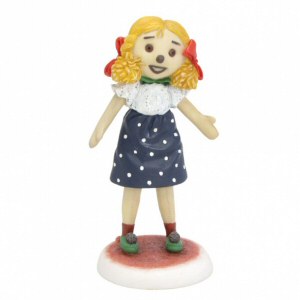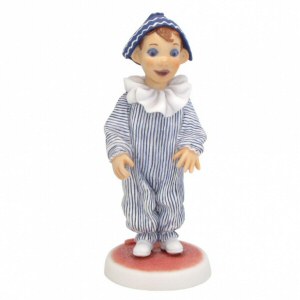 Bob: It does. The dogs have always been very popular and are niche but nicely niche. They keep finding new markets because you've got the double meaning for the dogs. One is to the breed owners and if you look at the bulldog policeman as an example, we sell equally to bulldog owners and to policemen. And so on. But then we've added various other licenses. The main thing is keeping within the same genre and what we have is childhood memories and nostalgia and the one followed the other. So we got Beano and as we went along we then went on to the PG chimps which were still being shown at that time. They were, again, very nostalgic and there are a lot of anecdotes because the chimps were ostensibly caricatures of the Carry On gang. Most of the voices were from the Carry On team.
Digger: I can remember Irene Handl and "Coo-eeh, Mr Shifter…"
Bob: That's the one. And Bernard Bresslaw was in that. No-one knew that but we did. As we got further into the project it got very interesting. Then I was offered a deal by a girl called Kirsty Wood who worked for a company called Link Licensing. She came to see me to try and sell me Percy The Park Keeper. It was far too contemporary for us at that time.
Digger: A bit like a poor man's Postman Pat?
Bob: Yes, we didn't go with that but she'd got a portfolio and in there she'd got Camberwick Green and I literally bought that out of my back pocket.
Digger: Pugh, Pugh, Barney McGrew, Cuthbert, Dibble and Grubb.
Bob: Oh, everything. We have an archive and you ought to come up here David.
Digger: I will.
Bob: We have an archive of the whole history. 1,500 items in a beautiful gallery in an eighteenth century mill alongside the river. And this is where our collectors come to. So then we got involved with Camberwick Green - this was 1997. Once we got into that then we added more properties to our portfolio by virtue of being approached by licensors themselves.
Digger: It's nice when people start coming to you, isn't it?
Bob: I think that the theory of doing these characters is one thing but the actual reality of doing justice to them and getting a fanbase is another. With the licensor's themselves they're actually enjoying what we're doing and that's very satisfying. When you have gone beyond approval and have gone to satisfaction and enjoyment and trust. And this is why our partnerships have lasted so long.
Digger: You must have been coming up to the time of The Internet around about then. When did you come online - I'm supposing it must have completely changed your business model as well?
Bob: Yes, I think the reality is if we go back to the turn of the century up to about 2002 then it was virtually Internet-free. There were little bits of involvement and we had a catalogue online and the site just showing various bits of information, it wasn't an ecommerce site. Initially we didn't supply anybody who was etailing to protect our customers, but in the main they have some online presence, mainly because of high street rates and rents and lack of competitiveness. I think there wasn't one particular issue, but everything at the same time. Of course, the first thing was offshore production where our ceramics industry was decimated because of the Chinese manufacture and that caused confusion. This was almost like a smoke screen that allowed the Internet to establish itself. In about 2002 we had 100 outwork painters and 40 manufacturing staff and that was a big part of the value of the company. With the combination of The Internet and offshore production, you had people coming into the business that didn't need establishment, if you know what I mean?
Digger: Yes, they could be in a shed in their garden.
Bob: Well, they could do it and it was a very damaging thing because you'd spend years creating a brand, training, developing skills and then suddenly overnight they're not that important
Digger: It's like making it a level playing field for allcomers.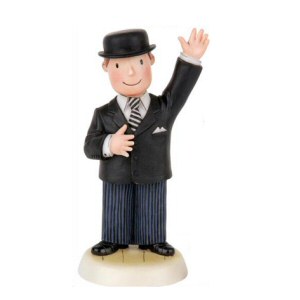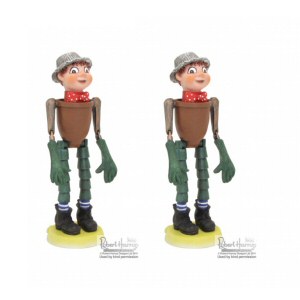 Bob: And then experience, skill and ability didn't matter and it downgraded the whole industry. At the time I'm talking about you'd got good companies like Richard Cooper with his Country Artists and then John Hammond with Border Fine Arts. They'd built-up to a point where they had hundreds of painters and extensively equipped premises and their retail and distribution and then that was severely compromised In a very short space of time.
Digger: You're clawing it back now because you have the contacts, the licenses, the reputation and the collectors.
Bob: Yes, but what it does is it changes things. What I'm saying to you is I wouldn't say "Great" and celebrate The Internet. Far from it.
Digger: That's what a client who does Vintage Drums was saying to me yesterday. He saw The Internet as a real force for harm to shops and traditional service where the lowest price wins even if it means shipping items backs and forward across the world. He prefers people specialising in a product or a geographical area and providing face to face service rather than be a "box-shifter".
Bob: I would say The Internet's not a professional tool. When we used to have a business model that was very straightforward - we would go to the International Spring Fair every February with new products and we would have an acid test on the first Sunday of February. Within the first four hours you would probably know whether you'd got a winner or a loser. Very straightforward and you geared your year around that. There were target retailers that you wanted to be in and they were the big multiples. We were selling to Royal Doulton, to House of Fraser, to Debenhams and all these people were heavily into collectables. These were targets that became partners and they, of course, had got the distribution and the network. Not only that, they had the professional approach and studied the product, did their homework, they took and offered the range whether it be Camberwick Green or The Beano or the dogs. They would do it in depth. So they would have 20 different items from our range and order 20 of each as a starting order at the NEC. Then you've got a professional way of doing business and you knew they were getting into places that you couldn't get into because they'd got 100 stores and this, that and the other. Their stores had high street prominence and it was another very strong partner who could do what we couldn't do. We were designers and manufacturers of figurines. It was a simpler time and in many ways better. Our foreign distribution used to be marvellous and we considered we had the best distributor in Europe, Warnecke, who first found us at the ISF. It was the same with the USA, Australia and many other parts of the World. Things changed with China and The Internet and so on. People gained access to product images and there were a lot of complicated legalities - it compromised the whole retailing sector.
Digger: You've got some great collectable figurines there from many of the most popular TV, film and comic characters. What are the best sellers and what customer feedback do you get about them?
Bob: The best sellers are Camberwick Green, The Beano and obviously we have Wallace and Gromit and of course the perennial Doggie People.
Digger: What about the Gerry Anderson stuff?
Bob: It's good but very niche. We have a good relationship now with the Granada people which have taken over the license. It's nice and settled and that's started to come into the successful niche items in our range.
Digger: What are your retro passions?
Bob: It would probably be Oliver Postgate. I always use the rule of thumb that when you were a kid, what were the ones you dashed home from school for? My dash home from school was Noggin The Nog. The Collection I am most proud of has to be Roald Dahl, Our Creative Director, Matt Buckley achieved the impossible by capturing the fantastic, but extremely sketchy illustrations by Quentin Blake in 3D form. We were obviously not alone in our opinion because that year we were presented with The Gift of the Year Award by Miss Ruby Wax at the Giftware Association "Oscars" held at The Savoy Hotel, London. Matt and his brother Dan Buckley (my stepsons) are the past, present and future of the company, Matt In Design and Dan on the Marketing side.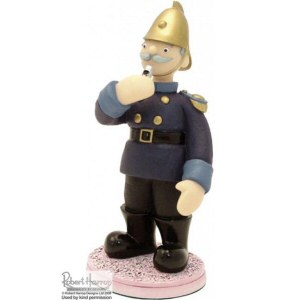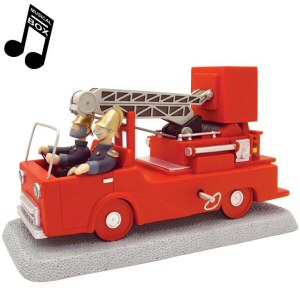 Digger: Dahl is fantastic and I love the way he is so dark and describes rather rude stuff that kids would giggle at.
Bob: He goes to areas that nobody else would go to. It's a good involvement and we're very involved with the Foundation.
Digger: Why is Retro and Nostalgia, and these characters in particular, so popular in so many people's lives?
Bob: I just think it's like when people come here. I mentioned about my dash home from school and I'd throw the same back to you and you would have one, wouldn't you?
Digger: Yes, mine would be The Prisoner TV series. I had to get back to watch that.
Bob: Ah, right.
Digger: I went to Portmeirion a couple of years back for a weekend and it was lovely. One of the few places that look better in real life than on TV.
Bob: Yes, we walk in that area quite a lot. It's not too far from here. The reason why Retro and Nostalgia is so big is that they always tick a box. When people come to our archive, or gallery they will always find something. Camberwick Green, The Beano, Supermarionation, Bagpuss and The Clangers…..
Digger: It's an impressive range you've amassed.
Bob: Oh, superb. That's the true reflection on the company. We've taken these projects on and we've achieved them. What we have is a collection that is pure nostalgia.
Digger: Any that you didn't do or weren't possible because of the technical execution?
Bob: People always expect you to do Postman Pat or other iconic areas like that. But there are certain items that are good for reproduction and figurines and there are other items that are not. We did The Wombles and we learned a very important retail lesson, if I asked you to name eight Wombles would you be able to do it?
Digger: I could probably name four.
Bob: Exactly. That's the point because Elisabeth Beresford was advised that there weren't enough pieces in the range so they then came up with a Chinese Womble, a West Indian Womble...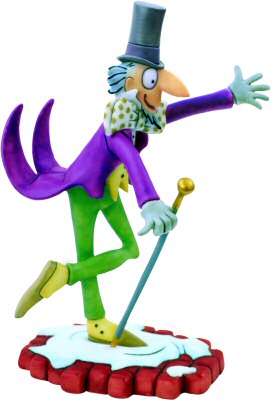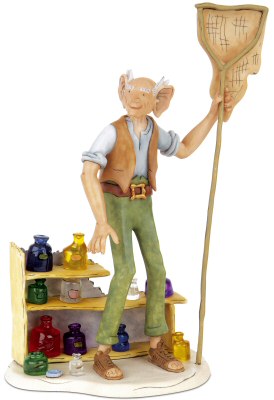 Digger: (Laughs) A gay Womble.
Bob: They didn't quite get to that but we got a Brazilian Womble. The problem was that everyone knows Uncle Bulgaria and Orinoco and Tobermory. But they don't know these obscure characters that were just created for commercial reasons. From the retail point of view, if you sell the retailer ten items he has to sell ten to make money off the last two. If half a dozen of those aren't recognised by the public then he's left with the stock. It wasn't clever to expand the range, it was better to rationalise it and keep it strong.
Digger: What are your plans for Robert Harrop Figurines in the future Bob?
Bob: The next two years are sorted out with new films for Wallace and Gromit and new characters. There's two new films coming out and we're meeting them very soon to discuss that. Developments on the Supermarionation front too - we're going back into the origins of it with Four Feather Falls.
Digger: I did an interview with Nicholas Parsons who was Tex Tucker.
Bob: Yes, he was. Fireball XL5 and so on. That will all be very interesting and then we're looking at other possibilities which are probably confidential but we've got plenty going into the studio. We've also got a collective of sculpture-based pieces which is going more into 'statemental' work. We are involved with a bronze foundry and a pewter foundry and we're working with other materials. The future is a telephone call away in the sense that you never know what the next call might bring.
Digger: Can we expect to see your figurines on The Antiques Roadshow one day?
Bob: I certainly think that the classic icons which are of their time will be on there. I would say it would be Beano, Camberwick Green, Dahl that would be of their time. Because we have done them in a way that is admired by the original creators as well as by the public then that is enough to make them special.
Digger: Well, thanks Bob for sharing the history of Robert Harrop Figurines and your passion for these great characters.
Bob: Thanks David.