Digger: Morning James.
James: Morning David.
Digger: Please tell us something of your background and the background to Over The Moon Tents.
James: My background was pretty standard really. I did the usual things that you're told to do when growing up. Get your GCSE's, get your 'A' Levels, get your degree and go to college. Somehow things would work out and you'd get a decent job. So I followed that route but never really knew what I was doing. I ended up falling into a recession coming out of University in 1993. The beginnings of IT were just kicking off so I started to get small temping jobs. The 90's went on and we all had PCs and I contracted in IT.
Digger: What sort of IT?
James: I started off in Peterborough at Thomas Cook – one of the three big employers there along with Perkins Diesel Engines and also EMAP Magazine Publishing. I worked at all three of those in the time-span between leaving education and starting Over The Moon. I was just a graduate trainee at Thomas Cook and they paid a small amount along with income support and you got a chance to work. A problem at the time was that loads of graduates came out, the work wasn't there and employers would ask "Have you got any experience?" to which the answer was invariably "No." Because nobody would give anyone a chance with an Arts degree.
Digger: It's the old Catch 22.
James: Yes. Unless you were lucky enough to get sponsorship or work experience in University it was hard to get that first step on the ladder. It is a bit dispiriting – you've done what you were told to do. And the graduates now must be facing exactly the same situation and there's more graduates now than when I came out.
Digger: They say that youth unemployment is 20% although I'm not sure what their definition of youth is.
James: I got into the web design side of it and that pretty much lasted up until I got into contracting. And then I was doing that for Cambridge Assessment, where they do all the exams. I got an offer to go permanent at a web design company in quite a high flying company and just as I joined they were going through a whole management upheaval and (laughs) the guy who hired me just after I started was fired!
Digger: It's like an Alan Partridge moment.
James: Low and behold about four months later I got the bullet too. I thought "Right, that's put the brakes on things." It was the summer and I had the impetus to start my own company – being out of work sometimes makes you think about things you've always talked about doing and maybe getting on and doing them. I'd never liked working in offices and had always liked the outdoors. And the other thing that was running parallel to that during the whole period of being in IT - I'd also been into music and DJ'ing and partying and loved all that culture. I'd started putting on our own nights and got quite a taste for organising and promoting and doing fliers and websites for those too. That had always given me a lot of pleasure. For the millennium we bought a big old army marquee and that was in 2000, of course. When I got made redundant that very same summer we were asked to provide the marquee for a wedding. As luck would have it someone we knew – a friend of a friend down in London who was a City financier. He hired lots of other things in and we were asked to provide a dance tent for them. I went to do that and while we were there I met another company called Bedouin Tents who specialise in providing Bedouin-style tents and décor. We helped them and the guy said "I don't suppose you fancy coming and working for us?" I was out of work and looking for a job so said "Yes." And that was the epiphany moment. Actually, he was working for some very affluent people, travelling around to some lovely places in the country and putting up tents in very trendy people's gardens. Being outdoors and doing a physical job in lovely surroundings and a lot of travel and variety and I thought "This is the life." The two things came together and the push and the pull of those made me realise that being made redundant was the best thing. Although, as is often the case, I didn't think so at the time. It was a real punch in the guts to where I thought I was going but a lot of people find in life that these seemingly traumatic events are actually the death knell for one part of your life and the birth for a better part.
Digger: It was the impetus for a great career that really suits you.
James: Yes, very much so. I modelled this business a little on how those guys were doing it but we then researched the market. We went to The Showman's Show, where you can see suppliers of tents and others related to that, and we started to look around. We picked up on the Tipis – there's been this whole growth since 2000 particularly in styles of tents, people camping, how they want to camp. More people wanting to camp. A lot of it's been driven by the BBC coverage of Glastonbury and people wanting to go to that. There's always been Tipis at Glastonbury. There's just this whole thing going on at the moment.
Digger: There's lot of other opportunities for you like historical events, the medieval and wartime events, anniversaries and celebrations.
James: We did the medieval because there wasn't anybody else really offering them for hire. So I took a bit of a punt and each tent lends itself to a particular style, theme or type of event. We've just tried to make our USP that we have a range of them. There's guys that just do Tipis or just do Yurts. We already had the military and then we added medieval and the army tents aren't actually called that anymore – they're now called 'Vintage Military'. That helps a lot because there's a big vogue for this whole Vintage thing now. It picks up on a lot of what you're commenting on within your site - that both socially and culturally there's a lot of it going on at the moment.
Digger: It's huge, Retro and Vintage. It's got so much bigger since 2001 when I started doing this.
James: Yes, it has indeed. I went to a Vintage Wedding Fair on Sunday in Leamington and had a gauge of what people were offering there and was just chatting to them. Quite a lot of the suppliers are doing crockery and cakes and many of them started up within the last year. Three or four of them I spoke to. And they all seem to be doing quite well. It's very vibrant and very 'now', isn't it?
Digger: Yes. Why do you think there is such a huge interest in retro, Vintage and nostalgia?
James: I heard on the radio some quite interesting folk music on Radio 2 on a Wednesday night. They were commenting on the popularity of folk music as a form of popular music these days – Mumford and Sons and so on, and they had someone else from another band talking. He said "I don't think it's just folk music, there's just a trend in the UK at the moment for all things, whether it's fashion or music, the whole Vintage/retro thing. He linked it to Globalisation and perhaps people looking back to the past because in times of great change in history people always look back to the past. That's going on at the moment – looking back to the war years and the wartime seems a good old period of when we were still very uniquely British. And we look back to a time when things seemed more local and comforting. These are things that have seeped into us as we have grown up, aren't they? Particularly the war generation loomed large over us. Even with me being a child of the seventies I still was buying the war commando comics.
Digger: Yes, I had lots of Action Man and other such toys and we all grew up with those classic war films.
James: Yes, it's always been there and these people growing up now are all buying into it and are well aware of what happened.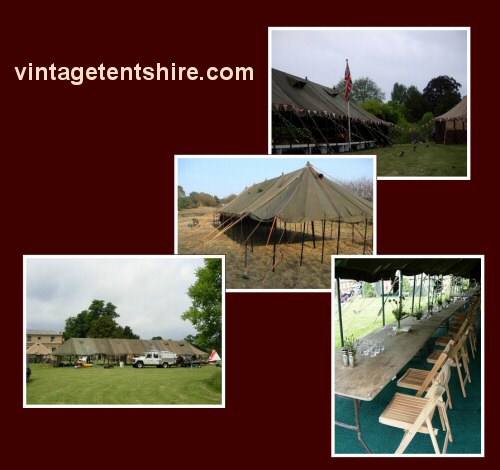 Digger: We're fixated as a nation with the war. There's always something on TV about the war, another anniversary or documentary or war film.
James: What always comes across is our spirit of who we were as people – not just fighting the war but the character of the people. There's a lot of pride for our grandparents or people from our youth that we might have met and that whole kind of nostalgia. The other thing that's going on is the imperative to recycle and reuse. There was a woman at the Vintage Fair and she said "They call them 'Vintage Fairs' now but we used to call them Jumble Sales when I used to go with my grandma."
Digger: Yes, rebranding and a posh name.
James: They've given it a posh name but it's current because people are being forced to be more thrifty these days. That's the trend, change and being told that we should be better at recycling.
Digger: I went to see the proprietors of Retro Bazaar last week in Milton Keynes and they take old TVs and telephones and clocks and furniture, often in major need of repair, and refurbish and renovate so they're as good as new. They get people coming in, normally of a certain age and they'll say "I threw all this out in the seventies." And they say "That's why it is rare and valuable and valued now, because so many people threw it out as worthless. You didn't appreciate it but now people do." They've made a really good business out of it.
James: A few years ago a friend wanted an old GPO telephone and they acquired a bakelite classic one that was wired up to work on modern systems. My dad has an old jukebox which has been restored to original working order. Vintage is everywhere.
Digger: A lot of the people doing phones and jukeboxes are customers of mine. Who are your typical customers James?
James: 60-70% are wedding days, tending to be the lady proactively organising the event and who has got the vision. The remainder is public or community events – music festivals and corporate training days or marketing days. The core is very much around the weddings.
Digger: Is there a bit of one-upmanship, particularly at festivals, where people try to get something that nobody else has got?
James: Yes, there is very much a fashion at the moment for tents at festivals particularly.
Digger: At the Bestival we had a VW camper and a big American camper and we walked through the fields with tents and I couldn't believe how close they were all together and how people could work out which one was theirs.
James: Yes, they're all higgledy-piggledy in there. This whole Vintage thing and how much the old bell tent has made a resurgence in the last three or four years. They are the better tent for camping in the UK rather than the plastic mountain-style ones which became ubiquitous in the 80s and 90s. But we've gone back to a tent that you can stand up in and you can air and canvas. They're so much more popular now.
Digger: Do you remember a comedy called Nuts In May with Alison Steadman?
James: No.
Digger: Please check it out. It was 70s and they were a very early 'green' couple – it's very funny. They go camping in their Morris Minor and basically upset a lot of people with their pompous and priggish attitudes .
James: Okay. I'll look out for it.
Digger: Nuts In May. What gives you most pleasure and satisfaction about what you do?
James: Most pleasure is the travelling around and meeting people. Trying to work with people with ideas which are sometimes vague and nebulous. The whole creative process – with some people you get a broader remit or they're open to suggestions. They're the fun ones where you're sketching it all out and adding colour and putting ideas in their heads. That's where photos and the website can help because you can show people ideas. Mixing and matching and that creative process. And then getting a lot of good comments or emails after an event when people say "That was brilliant, we got what we wanted and were really pleased with the service."
Digger: I bet you get a lot of referrals as well?
James: We are starting to now, we are in year five and that's happening more and more. We have one client who we have worked with every year but word of mouth is the most powerful. It takes the most time to get up and running really. People are saying they were given our name from someone else.
Digger: What is it about the British, tents and the great outdoors James?
James: You mean the desire to do more outdoor stuff?
Digger: Yes, I mean apparently we've even got more sports cars and soft tops in the UK than Italy, Spain and France combined. Now considering our inconsistent climate it must mean we love the outdoors and fresh air?
James: I think we're blessed with a very beautiful country and we've got a lot of diversity packed in a very small area and it perhaps seeps into our characters. We only get brief moments to enjoy it. We dearly hope when we organise our events that we get the glorious weather for it but it doesn't stop us trying!
Digger: You notice how quickly we change when there's a bit of sunshine in this country? We almost become Latin.
James: Yes, that was so noticeable last week, wasn't it? The gardens were teaming. It does lift everyone - when winter is so dark and grey and without much sunlight and the switch is switched on and "It's spring!" and everyone goes mad. (Both laugh)
Digger: I suppose if we went back the geography and climate change would have meant this part of the world was basking in the sun like the Mediterranean is now.
James: Yes.
Digger: What should people consider when thinking about hiring out your tents and accessories or planning an event with your services in mind?
James: Well... they need to focus on what they're trying to do for the event. They are normally looking to do something different but we need to tease out of them what that difference is. It could just be that they want a certain tent and that's all we need to provide. The questions I then usually ask are "What's going on in the tent? Is it dining, dancing, a mix of the two?" It's learning what the function is. If they do have a vision of how it all links up and are maybe looking for a variety of tents or decor or bands or other accessories then, from our experience, we have to guide them on what works for a particular tent. The size and shape is important for the type of event, what people are doing in it and the number of people. This may seem obvious but we have to got through that process. Often people haven't got a clue. Then we have to match their requirements with their budget. Sometimes it's not possible to do what people want to do because of the size of their garden or the shape won't really work. For example, the army tents can get a fair number of people in but they're a standard width and you just keep adding sections on until you get to about 100 feet. Well, that has the effect of a very long, narrow tent like a corridor and if you have a lot of people in it that then dictates how it would work for spreading out after the meal. You need to make people aware of the advantages and limitations of the option they go for.
Digger: That's the expertise that you bring.
James: Yes, listening mainly. And being able to show clients photos and examples of previous events. It helps so much going through the galleries.
Digger: What are the most unusual events you have done and what have been the most challenging?
James: For me, one of them was a childhood dream come true when we got to the Sainsbury's TV shoot and it was filmed at the George Lucas soundstage at Elstree where all the Star Wars movies were filmed. That was an army tent and we rigged it all inside. Do you remember their 100 years anniversary and they did a series of ads featuring the 20th century and one was a WWII setting? We went there and watched all these guys going to a huge amount of effort for seconds' worth of footage, for example creating a brick wall. It was staggering and a thrill to be where Star Wars was filmed.
The most challenging was working on the Stretch style tents which were pioneered by our partners in South Africa and they work on tension. They have the ability to 'hang' off of the side of buildings and they're not what you would call traditional. We did one off of Shoreditch House, a private members' club. They have this steel terrace around the building and we then rigged-up the tent over a swimming pool. We had a terrific view of the 'Gherkin' and the City of London rising above us. That was a strange combination of putting a tent in an urban setting and on the side of a building, so that was probably the most challenging and unusual.
Digger: It beats being in an office in Peterborough.
James: It's those 'pinch me' kind of moments that are the thrill these days. Those days of gazing out of the window and wishing I wasn't there are over!
Digger: What about the future James?
James: It's trying to pick up on the Vintage market, which is really starting to go well now - we have the army tent and we are listening to clients who seem to want the Vintage thing too.
Digger: And keep an eye on the technology which moves so fast.
James: It does. I'm able to get off the ground by using a lot of the knowledge I gained in IT and web work, so none of that is wasted. Also I'm lucky that I have friends still working in the web industry who keep us informed and up-to-date. We really punch above our weight there. We knew we could knock spots off a lot of the bigger guys because their websites were rubbish. So the company is primarily an Internet business and has ridden that ability to sell and market that way.
Digger: It's a bit ironic that it is an Internet business seeing as it's such a physical entity.
James: Yes, it is. It's a marrying of the two. I'm now using Twitter and I use a Blog and all these things to very much keep abreast. SEO and web promotion is important because my sales team at the moment is predominantly the website. As the business grows I may be able to take on more sales people but at the moment the website is there doing the silent sales for me. And the good thing these days is that gone are the days of expensive web designers and online shops - there are services that are very affordable for all of the off-the-shelf features you might need to run an Internet-based business.
Digger: It's good to have content and stories about what you're doing because Google, and therefore people, pick up on that and the fact that it's happening at the moment.
James: Yes, and it's also very 'now'. People who go to festivals are our clients and we're all part of what's going on at present. My friend, who I hadn't seen for a while, had bought a Zoot Suit when I went round to see him the other day. He has started to go to events and so on. And I said "I didn't even know you were into this sort of thing." It's everywhere now. It's a good time for Vintage stuff.
Digger: Thanks James. It was great talking to you and it's a real success story, both personally and professionally. So well done.
James: Thank you. If I come across any Vintage events that you'd be interested in, I'll let you know.
Digger: Thank you James.
---
Over The Moon Tents and Vintage Tents