The Original Collarless Grandad shirts evolved from the traditional Indian Kurta shirt. Popularised during the 1960s by the Beatles and numerous other Pop groups who found the guitar strap sat much better with no collar on the shirt. Today we have thousands of customers including numerous guitarists and groups buying our shirts, the collarless grandad shirt has now become a timeless classic. Worn by both men and women of all ages, this casual shirt can be worn with a jacket to give smarter individual look. Who needs a tie? The Original Grandad shirt is destined never to be out of fashion.

Kaboo Trading, is a family business. We have been marketing collarless shirts by mail-order, and now the internet for more than 25 years, and many of our satisfied customers have been with us almost as long. Once you buy your first Grandad shirt from us we are confident you never need to look anywhere else.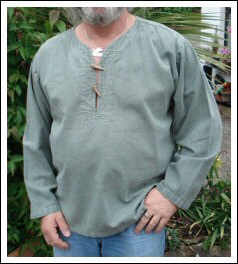 As well as providing a first class product we also pride ourselves in providing customers with a top class service. We know that once you have ordered and paid for your shirt you want to receive it ASAP. Orders are processed and posted on the same day up to 3pm. And all UK orders are always dispatched by 1st Class Post .

All of our shirts are made from 100% crimp cotton, which provides warmth and yet is cool in the hotter climates. We have over the years sourced the very best in material and production standards. You can also be assured that all those involved in the manufacture of our shirts are paid fairly and that working conditions are good.

The proven quality and durability of our shirts is now well known by customers worldwide. You may notice that we use the Collarless Shirt Company label and the Kaboo Trading label in our shirts.

We began selling the Original half button traditional Collarless Grandad shirt way back in the early 80s, it is still our best seller today, and the backbone of our business.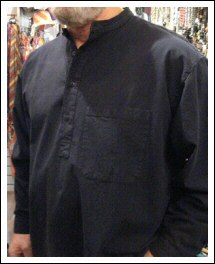 As you will see from our website we have added to the range since then. As well as a Button through version of the Original Grandad we now produce a thicker stonewash cotton which is almost indestructible during normal wear.

You will notice that we have a Moroccan Kurta in this weight of cotton also. This style is popular all year around. From time to time we will introduce new styles or colours to compliment our existing range. We may occasionally email to let you know about our clothing, but unlike many websites we do not constantly bombard you with advertising.

We are confident that you will be delighted with our shirts. We also welcome any feedback from you, as we are always looking at ways we might improve further our products and service.