---
Digger: Hello Simon. How are you?
Simon: Yes, very busy.

Digger: That's good. Can you tell us a bit about your background and the background to the business please?

Simon: Yes. David, has a love of restoring things mechanical and when still at school restored a combine harvester. He then decided to try something smaller and bought an old jukebox. He became fascinated and started collecting old jukeboxes. When I met him in 1974, he already had several dozen. I was into amateur stage lighting and sound and had started to build discotheques with another engineer and bought my first jukebox from David as a joke for Christmas. After Christmas, one of the DJs suggested we could install it in a local college and that's how I got into operating. David qualified as a pilot that year and so had no involvement in the operating business.

Digger: So you became an operator of all machines?

Simon: No, initially I operated jukeboxes in the evenings and weekends, then Space Invaders came along and we expanded rapidly. But it only lasted a few months, so I made the decision to swap all my non- jukebox equipment and concentrate on jukeboxes. So, over the next 30 years I built up a specialist workshop and a dedicated team of engineers and without doubt we created the best restorations available.

Digger: Did you see much of David?

Simon: He was hardly ever around, but he continued to collect jukeboxes around the world, initially in out-of-the-way places in the UK, but as they dried-up North America and then South America and Central Africa. He got carried away a bit and at one point we could easily say that we had the largest stock of old jukeboxes (pre-1962) in Europe. It's probably possible to still say it because I doubt if anybody is as foolish as us to still have as many as we've got! We've got a 4,000 sq ft store which we are now slowly clearing out. At one time it was so full, if you wanted to get to the back you had to body surf across the top!

Digger: Packed together like they do in car showrooms?

Simon: Closer. Now we are clearing these jukeboxes out and we are putting spares on our website. There's a lot of bits and only David knows what he bought.

Digger: I think just by their nature jukeboxes are glamorous to people. The look of them, the sound, the lights, the moving parts and they are evocative of a time past.

Simon: Good engineering is a real joy. The machines that built the channel tunnel or the shuttle are just as beautiful, its just that you can't really collect them in your living room. At the peak, in perhaps 1956, the jukebox industry was the world catalyst in electronics, just the same as mobile phones, PCs and games machines over the last 20 years. I came into it as an engineer and to me it's a piece of kit that I work on. David is the lover of jukeboxes.
Digger: What happened to the restoration business?
Simon: Well, as the pubs started to close, turn into restaurants or blocks of flats and even Tesco, jukebox operating started to die and then it all turned into computers and MP3s. So there was no point in having a staff of mechanical engineers to support the jukeboxes in the pubs. I tried to run the business just doing restorations, but it made a loss. The last mobile engineer we had has set-up on his own.
Digger: What's his name?

Simon: Paul Thornley, he serviced the pubs we supplied in the Midlands for us for three years then did a couple of years working on cruise liners.

Digger: Cruise liners?

Simon: They employ fruit machine engineers, but once the ship is at sea they end up mending anything the Captain asks them to do, so they become very competent engineers. He really enjoyed it and they had him repairing cigarette machines and coffee machines, you name it! The captain rang him and said "The washing machine's gone wrong." Or the roulette wheel or the tills. He's a lovely guy and is doing very well.

Digger: I didn't know they did that.


Simon: It's good money and a lovely life and they get to see the world. Paul did several trips on the cruise ships, before coming to London to service vintage jukeboxes for us.

Digger: People seem to love Retro and Nostalgia. Why do you think that is?

Simon: Well, people like good food, a nice view, a beautiful painting, they all conjure up thoughts and feelings, the Oxo Building a Singer Sewing machine or a red telephone box.

Digger: And jukeboxes?

Simon: In their day, the jukeboxes were at the forefront of design. There are some really exceptional jukeboxes - the Seeburg V200 or the Rock-Ola 1475 or the AMI Continental all designed within a few years. As far as amazing design is concerned, get a chance to see a Chantal Meteor or Seeburg Trashcan.

Digger: Aren't there people who were growing up in the seventies and eighties who wouldn't have a clue about the vintage jukeboxes? They would prefer the sorts of machines you were putting into pubs in the seventies and eighties, wouldn't they?

Simon: Have you seen an NSM Prestige ES160-2 or City 2? They were made in the 1980's but hit all the right spots, style, size, reliability and best of all they are wood and plastic...brilliant, real design icons.

Digger: I suppose that everybody gets some sort of exposure to the 1950s classic jukeboxes because of cinema and TV.

Simon: Yes. We get waves of interest encouraged by things like the movie 'Ghost' which everyone quotes. That movie had an AMI Continental in it. Also 'Happy Days' where the title sequence actually features three jukeboxes, so when people say they'd like a jukebox like the one in Happy Days it's actually a long shot of one jukebox and the working parts of a completely different jukebox. Did you ever see the penultimate TV programme 'The Prisoner' or Cheers? We have supplied quite a few jukeboxes for film and TV over the years and even had a horror film made in our warehouse.

Digger: My favourite is the one where the turntable platter comes up to the disc rather than the record being selected and brought down to the turntable. It looks like it shouldn't work, but it does!
Simon: The 78 players used to work like that. Rockola and Wurlitzer managed to infringe each others' patents in a big way.

Digger: What advice would you give to somebody thinking about buying a jukebox?

Simon: Always see the jukebox working and always make sure the owner of the jukebox is not standing close enough to the jukebox so he can fiddle with the jukebox while it's supposed to be working.

Digger: That comes from experience.

Simon: That always has been a common one – people say to me "I bought a jukebox and it was working fine and took it home and it didn't work." And the answer is "How did the guy make it work?" And eventually you establish that he did that by pushing and poking at the right moments. I can make a jukebox supposedly work without even touching it.
Digger: The old Fonzie thing!

Simon: But the real proof is it should work from a standing start.

Digger: Ah!

Simon: If the jukebox is sitting in front of you, you should be able to walk up to it and select A9 or whatever record you want, play it and then the jukebox should be able to 'park' all on its own. And if it doesn't do all that on its own then there is something wrong with it.

Digger: You're not doing repairs these days?

Simon: I like to keep my hand in on NSM, but mostly we are clearing out our stock. The stock that we've got is very specialist stuff which is mostly going into the trade. So we are supplying things from our stock to restorers. I still say on the website we have the biggest stock in Europe and that is probably still the case although I don't know if other jukebox dealers are hanging on to stock waiting for rising prices. We are slowly either selling them as complete non-workers or we are selling them as parts.

Digger: What are the best sellers Simon?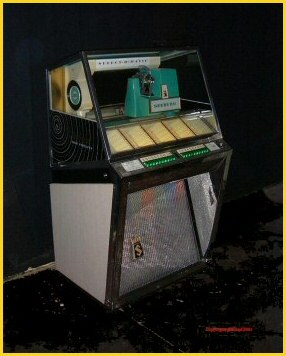 Simon: The Wurlitzers, which have all gone. People go for the name - in engineering terms they are definitely not the best, now it's either Rock-Ola or AMI. It's Wurlitzer first, Rock-Ola and AMI next and Seeburg next which is, in fact, the reverse of how it goes in America where I understand that Seeburg is the most popular. Seeburg are the best-engineered - apparently they had a head start on the others as their factory was used for manufacturing electronic equipment during the war, so they had a ready supply of technical engineers.

Digger: Are you getting enquiries from all over the world?

Simon: Yes, we are although packing and shipping is difficult – the value of the pound helps in Europe now, it was against me for over ten years.
Digger: What about customer comments and feedback?

Simon: The stuff that we sell goes out to the specialist trade so collectors of old jukeboxes and restorers will come in and buy maybe one every few months off of us and restore them and sell them on. So, it's a specialist source of old jukeboxes for those that have got the time. It's a nice little retirement project for somebody. If someone who's been in engineering all their life and retires and has maybe £1,000 to spend which could potentially convert into £4,000-£5,000, then we have that sort of stock available. They've got to be skilled, so that is the main side of our business that really needs pushing.

Digger: What are the best aspects of running the business?

Simon: The fact that when I've sold the final jukebox I can retire. (Both laugh)

Digger: What's the plan for the future then – to go to the Algarve?

Simon: There's a long line of jukeboxes and it will take a long time to sell them all.

Digger: I used to have a mate who was a mini-cab driver and he was building a house in the West Indies. Every mile he drove he would say was another brick for the house. But he got there.

Simon: Oh really? Very good.

Digger: He ended-up taking a boat around the islands for the tourists. Do you plan to stop?

Simon: I did engineering at Kingston Poly and worked for a good old British company then did a couple of years working for an American one, before the Space Invaders came along. I'm not sure I was ready to run my own business, so it took a long time to earn much, but the 90's were very good. I've stayed in contact with several friends from college and quite a few have risen to quite senior jobs and done very well. I'm not sure any of us need to pay brick by brick for our retirement homes. I'm lucky though now because I don't have to officially retire, I plan on just working a bit less each year.

Digger: Oh, good for you. That's great.

Simon: Yeah, it's possible. So the answer to your question is that the end-game for us is, not so much myself but David my partner - he is the collector of old jukeboxes and he loves them. But as mechanical objects and likes the challenge of getting a dirty broken one and cleaning it up and making it work. So he's got a stock of what must be approaching 300 now. The mix was Wurlitzer, Rockola, AMI and Seeburg – he loves these jukeboxes. And he is an airline pilot but as he gets older and as the airline business is in a bit of the doldrums he's got more and more time to be doing these things up. I specialised in NSM, which is the much newer entry, and is a post–war product. I had an engineer who was working for me who was absolutely brilliant about 20 years ago and NSM approached us and said "Would we like to work for them?" And we first started servicing them and became a distributor and distributed for the best part of 20 years. That finished when CD jukeboxes finished, which is eight years or so ago now. I now still do NSM so as an engineer I'm doing NSM jukeboxes for customers and I can continue to do those until my spares run out. And I've got a big box of spares. In fact, I manufacture some bits to keep these machines going. So there's the two sides of the business, me and then David with the large stock of jukeboxes he's bought over the last thirty years. He's turning them out either on eBay or through the website. We're working on building up our website so people can see what we've got, although that takes time and selling jukeboxes makes money. There's a great tendency to spend more time on selling them than growing a decent website.

Digger: The website is often the poor relation but it is your shop window to the world. It's something you need to keep up-to-date.

Simon: When we started it was a actually a very good website because nobody else had one at all but as time has gone on several people have chucked a few thousand quid at theirs and had commercial websites built with bells and whistles. But their product is basically a different product, because most of them are simply buying jukeboxes up and selling them on again whereas we've got a raw stock of raw jukeboxes. So the big interest to anybody in the world at large is they're looking for the perfect jukebox as a project.

Digger: What are David's Retro passions?

Simon: Definitely the AMI Continentals and the Rockola Tempos and Tempo II's. The 1475s, the V200s. In theory David can find more because he's an airline pilot so he knows where in the world they are. He's got a lot to sell first and at the rate he's selling them it's going to take many, many years to do. People should come in and see what David's got.

Digger: Is it always advisable to see them 'in the flesh' as it were?

Simon: Yes, always send David an email first and then he'll send you some photographs and you can check that it's what you want. Then come in and see it.

Digger: By appointment?

Simon: Yes. You need to physically climb over the stuff and put your hands on it and work out what you've got. It's definitely for specialists though - we're not selling now to the public at large.

Digger: Rod Argent has a jukebox with all of his hits on it and all the songs that inspired him. It's great.

Simon: Yes, he has had his jukebox repaired by us.

Digger: Any other famous clients?

Simon: Well, I like to keep these things confidential, but one of the stars who is always having his photograph taken next to his jukebox, of course, is Cliff Richard. Somebody told me that he officially announced that he's not in the UK any more and we recently moved his box to his vineyard in Portugal. When it arrived it didn't work, so David jumped on an aeroplane and went out and mended it. When he played the jukebox to test it Cliff mimed along with the record! He stands right next to you and it's a bit unnerving with him miming along. I met Cliff at Wembley when we were delivering a jukebox for The Hit List.

Digger: Do you attend The Brighton Jukebox Show?

Simon: No. I've generally avoided the shows more recently – I did them when they started and I couldn't really escape because Kempton Park is literally down the road from me. A mile and a half from my house.

Digger: The Jukebox Madness Show isn't going any more.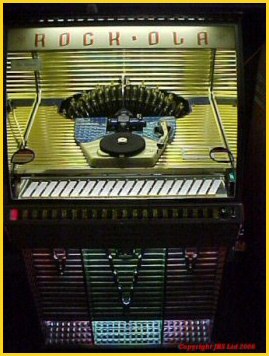 Simon: No, well if that had happened a few years ago that would have been a blessing to me because it's so close – it was far too close for comfort! So I took jukeboxes, I couldn't ignore it although it was never a commercial success for me.

Digger: So there's only the Brighton Jukebox Show now.

Simon: Yes. I went to Copthorne a couple of times but never exhibited there.

Digger: Is there much competition for spares?

Simon: We've got a lot of spare parts and original parts. There's Leon who's selling a lot of spare parts and what he's selling is stuff that's coming out of garages of operators who are packing up now – guys in their late sixties who want to sell up. He goes down with a lorry and clears them out, so it's all Rockola 470 and 469 and AMI Cadets and things like that. That's all too new for us - the stuff that we've got is from 1955 – 1962 and we've got a lot of it.

Digger: A very small window actually.

Simon: Yeah. But the best. They changed in 1962 and that was the definite watershed because AMI were sold to Rowe at that point and they seemed to go for smaller jukeboxes and everybody else seemed to follow suit. I'm not sure who led and who followed.

Digger: I was talking to Mark, who runs the Ace Café, and he said people come to visit who would have been there in the fifties or sixties and they say "That's not the right jukebox. not the one I remember being there." And Mark points out that the jukebox would have been changed every once in a while

Simon: One of our older engineers used to maintain the jukebox at the Ace Café. He tells me that when he worked there it was plated in steel – all the corners, so basically it was a jukebox in a steel box because it used to get kicked so much. I ought to get him to write down what he remembers because I'm sure that would be one of the most nostalgic stories that anybody has.

Digger: I wonder if you could get hold of that jukebox it could command a big price because of all the groups that passed through the café and would have used it. A bit like that urinal in the New York club that sold for several thousand dollars just on the fact that numerous rock celebrities were bound to have used it.

Simon: I mentioned I went to Kingston Poly and I didn't know why at the time and it never really dawned on me at the time as being strange. But we used to have a band playing every Saturday night and I've actually spent a little time researching and should research it more - and I hadn't realised that the reason was because the Eel Pie Island had just burned down. We had Status Quo, Thin Lizzy, ELO, lots of others too. This was '70/'72 and I believe the Eel Pie Island went in '69/'70. I used to turn up on a Saturday night, turn the lights on and get them working and it meant nothing to me. I remember The Crazy World of Arthur Brown came and they created a big stink because they needed their own electricity supply. And every Wednesday I used to go over to the Art College annex, because they had a folk club, and the regular players there was Peggy Seeger and Ewan MacColl. I didn't realise that they were famous. Kirsty and the other children used to appear with him on stage when they were young. I used to do the lighting on my own – I don't remember anything about the shows at all! Even today I'm still an engineer and much more interested in the technical side of it.
Digger: Thanks Simon for your experiences and for letting us know about these great vintage machines.

Simon: Thanks David. Bye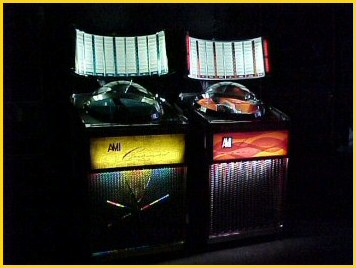 ---