GLAMD - an all live tribute to the Glam Rock era of the 70's.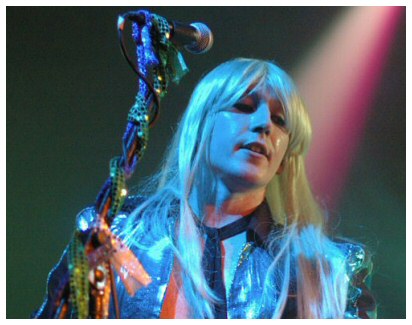 Andy

Based in Scotland, GLAMD are the best seventies review band available, playing songs by Sweet, Bay City Rollers, T. Rex, Slade, Abba, Queen. The ultimate party band!
Here Digger talks to Sandy who founded the band about life in a glam rock tribute band.
---
Digger: Can you please tell us a little bit about your background and the background to GLAMD?
Sandy: GLAMD was formed in 2005 by myself and a bunch of like-minded local musicians as a bit of a one-off show and we are still doing it in 2011!
I was thinking about the ABBA phenomenon, the popularity and longevity etc. and why it worked. The key factors were all apparent in Glam - great songs, dressing up etc., but hadn't had the revival that ABBA was enjoying. We just took the elements and created an era tribute, something five blokes could do that entertained people and wasn't being over exposed.
I was born in 1969 so was really too young to remember the Glam era but one of my best friends had introduced me The Sweet in about 1986 - Ballroom Blitz, Fox on the Run etc. Loved it from then on.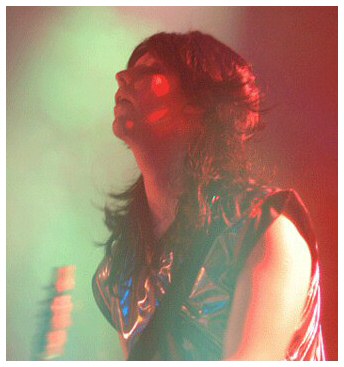 Paul


Digger: Why are the groups and songs of the sixties and seventies so enduringly popular? And is retro here to stay?
Sandy: Great songs, happy, party stuff. Also popular music was still being invented, so it was all new and exiting.
We play in a few different retro tributes - The Jam, Clash and a Rock n Roll trio. It's amazing the age range of people that know the stuff we play. A lot of the audiences we play to are early 20's. They know the songs better than I do! So yes, retro is here to stay!
Digger: What is so special about Glam Rock and what makes GLAMD stand out above most other groups?
Sandy: Glam Rock is about the show, visually extrovert, but also backed up by great songs.
I believe GLAMD takes the best bits and applies a live energy to it. Our frontman, Andy is a great audience communicator and gets them involved from the start. I think this is our strength.
Digger: What are the best things about what you do and what are your retro passions?
Sandy: We do what we love doing, playing and entertaining and get paid for it! Basically this is our social life as well as a job. Can't really beat that!
Digger: Can you give us an idea of the sorts of material that you typically cover in an evening and does this vary from gig to gig?
Sandy: With GLAMD there is a lot of Sweet and T.Rex, a bit of Slade & Wizzard and Suzi. Although from a purist sense not really true Glam rock we do the Bay City Rollers, MUD, Queen and even ABBA, the one the guys sing! So we are mainly Glam Pop I suppose. Our set is based on what the punters enjoy.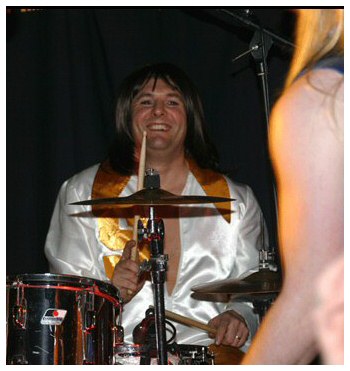 Sandy
Digger: How hard is it to reproduce an authentic sound covering so many different groups and how much practice and rehearsal goes into this?
Sandy: We set out to reproduce the sounds as close as possible, however due to the great vocal differences of the original artists and the influence of our own playing styles, specially when the live energy is there, I think we've kinda created our own live version of the songs. I see GLAMD as a mixing pot of all the acts rather than a tribute to any. I suppose we'd be classed as an Era Review act now?
We put a lot of rehearsals in at the start, with a different singer, that didn't work out and Andy (Bass player) stepped up to the mic with little or no rehearsal. From then it's been easy just learning the odd new song as demand comes in.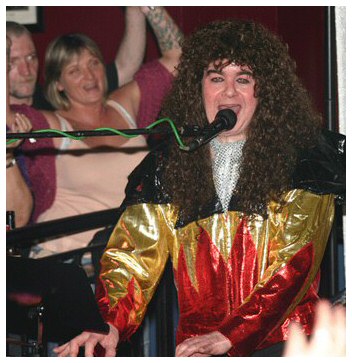 Bruce
Digger: What sort of feedback are you getting from clients and audiences?
Sandy: We have amazing feedback from all our audiences. We try to put over the energy etc. on video so people can see what they are going to get if they book us, however it never ceases to amaze people when we do perform how much we put into it.

Digger: Where do you see the future for GLAMD?
Sandy: Due to a few personal commitments we are taking a bit of a breather in 2011. The other acts, The Cats, Snap! & Tommy Guns are all busy and I feel that a bit of freshen up for GLAMD would be good. I am looking to create a touring theatre show based on what we do in GLAMD for 2012. We are still taking bookings though! Sometimes it's good to step back a bit and make sure what we do is relevant for the future...
---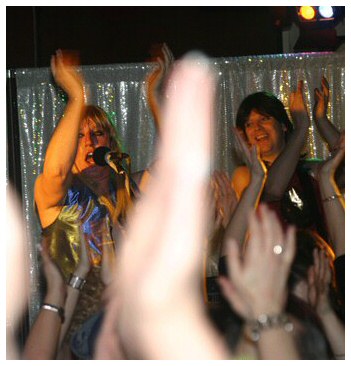 1970 to 1975…Glam Rules!…from its subtle entrance in 1970 with Ride a White Swan to its garish demise in 1975, Glam was big, shiny, loud, brash and most importantly fun!
Three decades later, five seventies kids are suddenly possessed by the phenomenon that was Glam…the four on the floor tribal beat, long hair, outrageous clothes and stupendous platform shoes...they have been GLAMD!
The musicians in the band are all experienced, well known names on the live music circuit. Their obvious enjoyment and on stage chemistry translates into a fantastic stage show.
On the night, GLAMD can provide a 70's style silver back drop to transform any room, lighting and haze where appropriate. They also use a pro pa system with BIG bottom end to get those flares flapping if necessary!

Phone: 07732 106985/07793 631109
Email: info@glamd.co.uk
Myspace: www.myspace.com/glamd
WWW: GLAMD