Family Heritage Video™
by OpenSpace Films

Everyone has a story.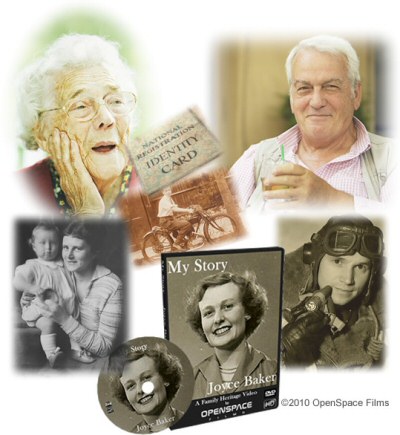 Your life stories are part of your Family Heritage...
Whether it's your grandparents, your mum or dad, or an aunt or uncle, don't you love to hear them tell stories about their experiences, the people they have known - and what life was like when they were young?
Here Digger talks to Mike Page about his Family Heritage Video production company that offers a perfect way to capture those family memories and stories for all time.
---
Digger: Hello Mike. How are you?
 
Mike: (Laughs) Rushed off my feet! I must learn to delegate more! But as far as the videography is concerned, I can pull in other cameramen, lighting and audio people and so on. But it's the admin tasks that I must learn to delegate. I'll write it up on my board in big letters!
 
Digger: It is a difficult one. I used to be in charge of a team of fourteen people and I did delegate but I was always having to check their work and often it didn't come up to my expectations. So I ended-up thinking I should have done it myself... Can you please tell us about your background?
 
Mike: Prior to launching Open Space Films, I had been involved in online marketing since around 2000, using lots of different media, techniques and methodologies. I've invested massively in my own online marketing education over many years and I've also taught a lot of other people those skills too. Mostly independent business people who struggle to get their heads around how to leverage the Internet to further their business goals. I've travelled to various countries around the world to be with some of the top people in the industry as far as Internet marketing is concerned. I'm a serial entrepreneur – I've had several businesses, including software development companies and Internet services, so there aren't that many business models that I haven't been exposed to. After I'd been involved in online marketing for a few years, I realised that I'd started to do quite a lot of video – starting off by using 'Prosumer' equipment. I was interviewing people in different countries, some very well-known speakers at various conferences and events who'd gone there to inspire the delegates and give them some education. So I'd come back and edit the footage and it would often form part of an online video marketing campaign or a short documentary. One day, I realised that I was becoming pretty good at doing this and thought "Hmm, this is crazy. Why don't I set up a separate business to offer professional video production, together with video marketing and make it affordable for small business who have a need for marketing that generates real results! Shortly after I stumbled across the website for The Institute of Videography (IOV) and I thought "Ah, this is interesting." I could see I could get a lot of education, I could learn all of the skills I was trying to use and apply to the business in a marketing sense and I could become much more professional. So I studied like crazy – joined initially as an 'Ordinary Member' at first - then I studied a complete modular course to become an 'Associate Member'. That involved understanding camera craft, lighting, audio, post-production and the business side including the legalities and health and safety and so on. I was considered by some of my peers to be something of a "rare breed" having gone from Ordinary Member to Associate member inside a month.
 
Digger: Wow!
 
Mike: Well, that wasn't really enough to say that I'd learned videography skills sufficiently to launch a new video production company. So I then wanted to go on and become a 'Master Member' which required making a fifteen minute or less film to demonstrate that I had properly learned the technical and creative skills from Associate Member course. I produced a film and submitted it for assessment by the IOV Assessment Panel and gained my accreditation after the second attempt. The standards are extremely high but the whole point of it is that the IOV is the trade association whose members are committed to a code of practice and to strive to maintain the highest levels of production competence and professionalism in their work.
 
Digger: People do like to see that you belong to a professional body.
 
Mike: Yes, they do. So when OpenSpace Films was born, the intention was not to film 'weddings, christenings and bar-mitzvahs' – but to focus on commercial video services like promotional videos, corporate events and training films, of which I've done loads. Also infomercials, web adverts and generally videos for websites. Although documentary has always been a passion of mine.
 
Digger: Good. Quite a variety there, isn't there?
 
Mike: Yes quite a variety but it really has focused down into the promotional stuff for businesses and I'm absolutely determined to make this affordable for the small businesses out there. I'm launching a new service this week –just completing the final edits to a promo film that shows small businesses that they can and must really apply video to their website in order to gain a competitive edge.
 
Digger: I installed a Youtube video into one of my pages for the first time yesterday.
 
Mike: Well done.
 
Digger: It's not difficult, of course.
 
Mike: No, it's not difficult. However, what is a bit more challenging is, knowing how to help people to actually find your video easily – the actual people who are searching for your type of product or service and who will watch that video and hopefully end up on a particular landing page on your site where you can continue the story, capture their details and then continue to market to them.
People don't generally buy straight away – that's very, very rare and in fact without video 90% of people will leave your website within a few seconds anyway!

Digger: Are you talking about videos that launch automatically so the viewer doesn't have an option to play it?
 
Mike: The point is this – when people go to a website, even if they're searching for something they think you might have and they find you high up there in the ratings and click on your site – if they see a load of text and a couple of images these days people just can't be bothered. They no longer want to read loads and loads of text. They want to watch something! - and this has been proven through the massive success of TV advertising. That's now found its way onto computer screens and there is really very little difference between watching stuff on TV and on a computer screen. In fact the two technologies are merging together.
 
Digger: I'm already used to watching a lot of TV on iPlayer.
 
Mike: And also when people can see the whites of your eyes and see you talking to them and putting over a message and giving some examples and maybe customer testimonials...
 
Digger: Unless your name's Gaddafi and you're talking for three hours without stopping. (Both laugh)
 
Digger now asks Mike how "Family Heritage Video" became part of the OpenSpace Films service.
Mike: Well, my passion for storytelling and documentary made me realise that we didn't have a product to offer to the general public. And one thing I've always felt is that, as we get older in life, we start to realise the value of family and of the stories that our parents, grandparents and relatives have told us over the years and a lot of these wonderful stories, told in their own wonderful way eventually disappear. Having photographs is great but they don't really show that person's character and personality. I knew there must be a way to capture all this and, of course, there is. So we started to work on the idea of offering a service to people who want to retain these precious stories and family history. We launched a service which is all about making a personal video biography of people, in a documentary style.
 
Digger: You offer different packages?
 
Mike: Yes, there are several packages according to the customer's budget and requirements. They can be tailored to suit individual needs and are usually based on the amount of material that they have to pass down to future generations of their family. It could be a very personal film that only family members are going to see or it could be something more open, that they feel could be part of their legacy. 

Digger: It's almost like an archive.
 
Mike: Yes, it is. So that's how Family Heritage Video became part of our service. And, in fact, it may even become a separate site completely so I can style it and have it designed in a way that it reflects that whole concept.
 
Digger: You say 'might', I would probably say 'will'. (Both laugh)
 
Mike: It's more likely than not, indeed.
 
Digger: I had a day out with my youngest daughter last Saturday and we weren't in touch for nine years. I realised that there was so much she didn't know about my growing up or her grandparent's history. It's a good point and some of these things need documenting before they're lost forever.
 
Mike: Yes, absolutely. Audio recording of people's stories has been around for a little while but video does take a mixture of skills and not all videographers want to do it. First of all you must be a people person.
 
Digger: What about people who are a little but shy? You obviously need skills to bring them out and coax them to relax and open up.
 
Mike:  You have to like people and be interested in people. And when you start to ask people some key questions and the floodgates start to open – because people always generally like to tell you stories of what they've done and things that have happened to them.
 
Digger: Is it usually the good stuff that they focus on?
 
Mike: At first, yes, but with a bit of gentle digging... you need some social skills here and sensitivity and almost to be able to anticipate when something's coming up that's going to create an emotional response. You can tell straight away. What we do now - my wife Kathy is a very sensitive woman and is extremely good at making somebody feel very comfortable during the interview. Part of this comes from her nursing background. She's a very gentle and understanding person, who also knows how to help people express themselves freely. So she's a natural when it comes to interviewing people – particularly where past experiences are involved.
 
Digger: And read the signs?
 
Mike: Yes, last Friday was a good example. We were filming for a Family Heritage Video in Eastbourne, where our client was talking about a lot of factual things that happened in his life. We knew he'd been married twice and that he'd lost both of his wives to cancer, which must have been… well, you have to think what that must be like to lose the wife - with whom he'd had three children - to cancer, and then to marry again after three years a long-term friend - and within four years of that marriage she'd gone the same way. It was tragic. The impact that must have had on him and of course those emotions did come through during the video interview.
We weren't there to try to dramatise and to get some tears. That's not the purpose of this at all. There is drama, but it's a natural drama, and it's their film so they'll talk about what they want to talk about. If they feel they cannot or don't want to or it's not helpful to delve into certain things, then they don't. And we don't pressurise them. We're there simply to record what they want to say as part of their legacy and as part of their Family Heritage Video.
Next, we edit that down to produce the absolute best production along with all the other material, which will include lots of photographs, maybe documents. The gentleman on Friday even had a school report from the age of seven, many pieces of family history in various printed media. So we create the story. We've got certain questions which we use as appropriate, and sometimes we go back to great-grandparents - if they have any recollection of their great-grandparents. We bring out the personalities and all the things they got up to when they were kids. Who was their best friend? What games did they play? Or did they just gather around the radio, as so many families did during the war years. How did the war affect them?
And as we gets toward the end part of the film they're often very comfortable talking about the things they've learned in life. Lessons that they'd like to pass on. How they look back on their life, what's the worst thing that's ever happened to them, what's the most wonderful thing that's happened to them. Very often they like to leave a very personal message to their grandchildren and great-grandchildren, some of whom they know and some who are yet to come into the world. To be able to get a DVD out and be able to SHOW your children what their great, great grandparents was like is very special experience!
 
Digger: Yes, you see these documentaries from way back and there's uncle in the trenches or great grandma as a Suffragette or something and that must be strange enough but to see something actually recorded by them must be incredible.
 
Mike: Yes, absolutely, so in order to package that up really nicely we can offer High Definition on Blu-Ray discs as well as Standard Definition on DVD. The disc itself is overprinted with a picture of the subject, maybe in the interview situation. It comes in a personalised DVD case. They will get a number of discs, depending on what package they go for, to give out to family members. And, of course, they can purchase more. Knowing that customers may have family overseas, we also offer a service where we will upload the film to our web server. We give them a special code for the video so that only the people they give the code to are able to view it online. This is a new service which we hope people will find useful.
 
Digger: What sorts of comments and feedback are you getting?
 
Mike: Very positive! We have been advertising full page in magazines and we've had some good results. Although we soon realised that it's probably the more - dare I say - affluent people who are the most likely customers for this service. Our prices naturally reflect the huge amount of work involved in producing a quality video of this kind. 30 minutes of viewing time is actually quite a long time and that requires a full day's shoot. First we go and visit the customer and explain what we do and how we do it. We explain they don't need to be an actor or feel intimidated when the filming equipment comes into their front room.
 
Digger: And does it mean a lot of equipment or is it micro?
 
Mike: No, it's not micro. There aren't many micro cameras that can offer the quality that we need. The main camera is a Sony digital HD camera – not a big shoulder-mounted type, but large enough to require a tripod most of the time. The audio is recorded using a wireless microphone fixed to the person's shirt or top. The audio is already synchronised with the footage as it happens. We normally use what's commonly known as a 'three-point lighting' system to light the subject. We sometimes also use some creative lighting. It's nice to film in the subject's home, where they will feel more relaxed and we also do some outdoor filming in the garden if they want. After the introductory discussion, we begin the research process where we start to pan out the story. We'll take away photos and documents to be scanned and then the third session is the actual shoot itself which is likely to be a full day. When that's done we go away for a couple of weeks and go into post-production and do all the editing which is many hours slaving over a hot computer (laughs) and integrating the images and doing colour correction, putting titles in and transitions from one scene to the next and adding music. I produce a rough cut and go back to the customer with that so we can watch that and maybe make some changes. It's very unlikely we'll do more filming unless there's something critical that wasn't included that needs to be added. The rough cut won't have all the frills in and it's not going to be as pretty as the final product by a long stretch. But it enables us and the client to agree on the final content. Once the final cut is completed, we produce the customised DVDs.
 
Digger: And then their friends and family will see it and also want one.
 
Mike: Yes, the hope is that others will see it and will find out that the film that Auntie agreed to having made about her amazing life was so easy and relaxed and the video production people that came were very nice, sensitive and understood what she wanted. They came, they did the job, and there was no pressure as they produced this wonderful film. And if that gets out then it's our hope that we'll get referrals and recommendations that way.
 
Digger: I think you will.
 
Mike: That's a great way to find new customers.
 
Digger: It's a kind of repeat business.
 
Mike: It tells you that you're doing a good job and offering something that people want. Being straight and genuine with people and being interested in what they want to talk about. It's a no-brainer for us.
 
Digger: It sounds corny but you almost end up being friends with them.
 
Mike: Well, you do, because you know so much about them and at the end of the day friendship is based on mutual understanding. Very often that will happen. We're not there to talk about us. We're there to talk about them. But inevitably there are things that they've done that you've also done and you might say "Ah yes, I went there too, wasn't it wonderful?" So you develop this rapport and because these customers are nice people who understand the value of life's stories they want to pass them on. And so, the cost of producing the video is soon is superseded by the value that the client sees that we are delivering.
 
Digger: Yes. There will be people that don't recognise that value and think all you do is point a video camera at someone and start filming. And they're probably the sorts of people who would be happy with the results of just that.
 
Mike: Absolutely. And, as digital video cameras and iPhones became more popular, plus the massive popularity of websites like YouTube, suddenly everyone became an instant "expert". A quality video isn't simply a case of just 'point and shoot' but nonetheless they'd have Uncle Bert filming the wedding anyway – only to be disappointed when the result was a rubbish video resulting in a heartbroken bride. But by then it was too late!
 
Digger: There are many skills that are required to get a quality result and you obviously have them. What's the future then Mike?
 
Mike: In five years from now I would like Family Heritage Video to be a household name and the place where you go to get your personal video biography or legacy video produced and you'll be able to have it done anywhere in the UK. We may have a franchise opportunity where we'll teach people how to do this properly and put them through the same IOV training as we went through. We want to maintain high standards - that's very important to us. We really would like it to become very well known as the service provider of choice and a brand in itself. We're just taking it step by step at the moment.
 
Digger: The franchise thing sounds as though it would work very well.
 
Mike: Yes, and we could provide coverage throughout the UK or, indeed, the world. Who knows? We'll get better at it and add other angles to it – whatever people want we will do our very best to give them and I think very often if a product or service is customer-driven that's the best way to go.
 
Digger: And you'll need to keep a close eye on technological developments.
 
Mike: My personal view on that is that I always buy the very best and most up-to-date equipment that we can. Computers here don't usually last more than two years, because we want the best and the latest. And it's the same with cameras. It's a big investment in equipment so people are going to get stunning results, up-to-date skill sets and people who understand their needs. And that's what gives us a certain degree of uniqueness.
 
Digger: It gives you an edge?
 
Mike: Yes.
 
Digger: That's good. Sounds great. Thanks so much for your time Mike.
Mike: Thank you David
---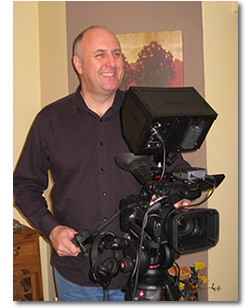 Whether it's your grandparents, your mum or dad, or an aunt or uncle.
Don't you love to hear them tell family stories, in their own unique and wonderful way?
Shouldn't future generations of your family be able to enjoy these life stories too?
Now they can - if you preserve your family history with a personal video biography.

Call Mike Page today on 01892 576510 or visit our website for more information.

t: 01892 576510
e: mike@openspacefilms.tv
www: Family Heritage Video website
OpenSpace Films
The Studio
1 The Acorns
Stonegate
TN5 7EY