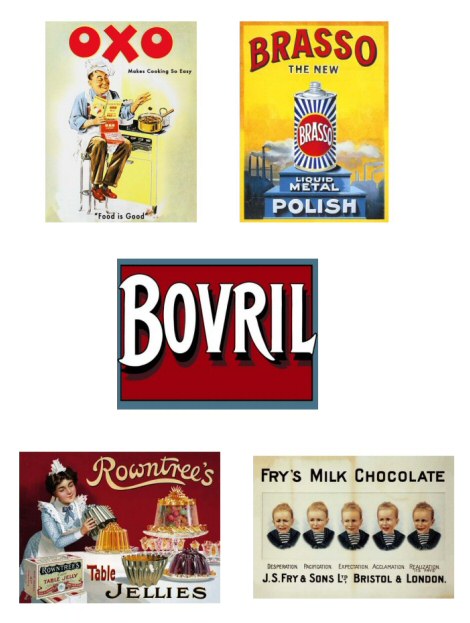 Tin Signs
Digger: Please tell us about your background and the background to The Heritage Store.
Leanne: Philip started the business about six years ago.
Digger: Does it come from a hobby?
Leanne: He does restoration work and so it started from him restoring old buildings. Itís slowly grown from that and weíve added to it as the years go by.
Digger: Thereís a big portfolio of products that you offer now.
Leanne: Yes. We started off with the building materials Ė the cast iron, the lime mortars and things like that and now we have incorporated the indoor stuff like the signs and the clocks and paints.
Digger: Thereís a physical presence and a web presence?
Leanne: Yes.
Digger: How important is The Internet to you?
Leanne: Thatís the main part of it. We do supply local builders with lime mortars and so on but the majority is Internet business all over the country.
Digger: I need lime mortar for our house because itís made of Northampton stone and where theyíve used ordinary mortar it doesnít let the stone breathe and it starts to crack.
Leanne: Yes.
Digger: You may get an order from me at some stage. I just donít know what sort of ratio I need for the mix.
Leanne: Philís the one for all the technical stuff.
Digger: Can you tell us what sorts of people are buying your products and what are the most popular ranges?
Leanne: It completely varied. Quite recently the enamelware has been very popular.
Digger: Thatís a recent introduction?
Leanne: Yes, within the past year. I think itís because Jamie Oliver is a bit of a champion of enamelware and so with that being on TV everyoneís wanting to buy it.
Digger: People follow their heroes? Thatís good that they can be relied on like that. (Both laugh) Why is there such an interest in heritage, the traditional and nostalgia in your view?
Leanne: I think itís keeping the traditions and thereís a lot of older buildings that still need the upkeep. And people nowadays are more willing to look after them.
Digger: Weíre very lucky here actually. With the terrible climatic and other events that seem to happen overseas all the time these days they donít really have a tradition of maintaining old buildings because so much of their infrastructure is temporary.
Leanne: Yes, they donít have as much heritage as we do. Everyone here is restoring old items and re-using them. A lot of people are asking for second-hand things nowadays. Itís a lot to do with the economy as well; people would rather buy second-hand for less than spending a fortune on first-hand.
Digger: Well, you donít even get the quality when buying new compared to a lot of the older stuff. That was made to last.
Leanne: Yes. Definitely and itís a lot cheaper.
Digger: And greener too?
Leanne: Yes exactly.
Digger: What sort of client feedback and comments are you getting?
Leanne: It varies. A lot of people like the old-style things for a bit of a change rather than just new stuff. We sell a lot of the tin signs.
Digger: Are these people from all over the world?
Leanne: Yes, we do get quite a lot of people from America buying our things. Places like San Francisco, they tell us itís a lot easier and cheaper to buy it in the UK and then get it posted out to them. And itís something different as well because they canít get these items over there.
Digger: Itís wonderful the opportunities The Internet has opened up, isn't it?
Leanne: Yes, you can go anywhere in the world with it.
Digger: Itís such a small world as a result. Truly a global village.
Leanne: Exactly, and you get a bigger range of clients coming in.
Digger: What are the things that make The Heritage Store stand out as a business?
Leanne: We try to have a bit of everything so if someone has an old home they can come in or view online and pick up everything that they might need for a period property.
Digger: Thatís important, isnít it? Get it all in one place.
Leanne: Weíre like Tescoís for older properties. (Both laugh)
Digger: Where do you see The Heritage Store business heading in the future?
Leanne: Weíre just hoping to grow and currently weíre working on a new website. We want to make it easier for our customers to go on and find items. We want to grow and sell as many things as possible. Things that people can't pick up in the ordinary high street shops.
Digger: Yes, you also have to keep on the ball with The Internet and keep in touch with developments.
Leanne: Yes, you need to keep on top of it and adding on to it and finding new products and new ideas in the market that others havenít got into yet.
Digger: Thanks Leanne. And best of luck with your development plans for the business.
Leanne: Thanks David.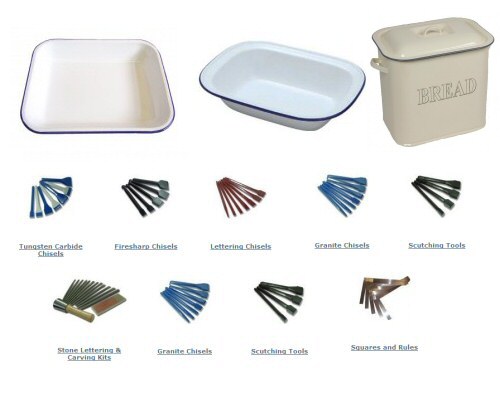 Enamelware and traditional tools
---