FORGET ORDINARY CARAVANS!!

NOW THERE'S A SUPER-COOL OPTION TO BUYING JUST ANOTHER BOX ON WHEELS ...
... Silver Bullet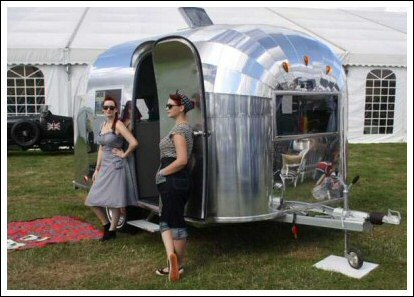 Our range of HAND-BUILT aluminium 16ft, 18ft and 20ft single-axle and 23ft twin-axle retro caravans brings a bright new face to the caravan market.

With all the looks of a classic vintage caravan, superior construction methods and materials, and amazing bespoke interior options, our carefully-built SILVER BULLETS TM are truly amazing value, starting at just £19,995 + VAT for a 16ft Grasshopper, and just £16,995 for a Grasshopper Commercial - more details in the 'Commercial' section of our website.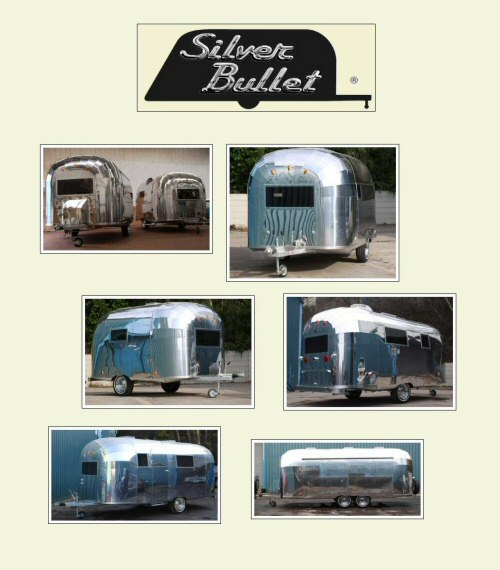 Silver Bullets are also surprisingly light and stable to tow - for example, our 16ft Grasshopper can weigh as little as 850 kgs, equipped for touring, and our 20ft Comet can tip the scales at less than 1350 kgs.

Features include:
Lightweight polished aluminium skin

TIG-welded and riveted aluminium structure

Fully galvanised steel backbone chassis

EU-compliant over-run braking system

Lambswool wall insulation

Recycled bottle underfloor insulation

LED running lights

Wide range of flooring, furniture and fabric options

The new Silver Bullet TM range of retro caravans is the result of intensive development work by our team of skilled engineers and craftsmen.

Available for holiday use and also a wide range of catering and commercial applications - specials can easily be built in our fully-equipped workshops.

CALL 01384 671902 FOR MORE DETAILS
(Overseas callers please dial 00.44.1384.671902)

---

About us
Silver Bullet Caravans Ltd was established to carry out a wide range of conversion works on vintage aluminium American caravans from the 1950's and 1960's.

Many of these vintage aluminium trailers now need large amounts of money spending on them, in order to make them usable safely in the UK and Europe in the 21st century, and we considered that a new approach was needed.

As part of our continuing research and development programme, our craftsmen have designed and produced our unique range of Silver Bullet TM caravans, hand-built using traditional methods, to capture the feel of those 1950's classics, combined with the latest technology and materials, for the best of both worlds.

Our workshops are now building Silver Bullets TM to customer order for both leisure and commercial clients - you're very welcome to come and take a look round our manufacturing facility, and discover the advantages of buying a brand new retro-styled aluminium caravan, which can be custom-built to your own specification.

We're located right at the heart of England, just off the M5/M6/M42/M40 network, so we're easy to get to!