Digger talks to Simon at Nostalgia Cars, where the classic and the modern come together to create wonderful replicas of the famous Jaguar XK and C-Type marques. These are available in component form for self-build or delivered complete and ready to drive.
Digger: Hello Simon.
Simon: Hello David.
Digger: How are you?
Simon: Fine thanks.
Digger: Please tell us about the background to Nostalgia Cars.
Simon: Both my business partner and I have worked together almost from leaving school really. And we started out at a little coach works, when they were still coach works, if you know what I mean. A bodybuilding place.
Digger: Learning all the trades?
Simon: Learning all the trades. And eventually we decided to up sticks and set up on our own doing classic car restoration, which we did. And a further development of that was when we moved into the Jaguar XK and C-Type Replicas.
Digger: Where did you get the mechanical skills from?
Simon: Well, through experience really. (Laughs)
Digger: Did you have a dad who was handy with mechanics and engines?
Simon: Not really no, it just sort of came really.
Digger: Thatís good. Itís funny how some people take to that and others donít. I open a bonnet up, say "okay" and close it again! (Both laugh)
Simon: I donít know, it was always there. Iím used to getting my hands dirty and getting involved rather than academic things. Now Iím stuck in the boring office much of the time. Chris my partner tends to keep the workshop running down there and I try to keep all the paperwork running in the right direction. And dealing with things like this.
Digger: You still get a chance to drive the cars and get your hands dirty from time to time though?
Simon: Yes, from time to time.
Digger: Good. Can you tell us what sorts of people are buying your replica cars and going for your services?
Simon: It tends to be more retired professionals or ex-business people who have retired early and want something to fill their time. Either from buying a package of parts from us and doing the build themselves or by having us build a car for them and they enjoy the use of it. So it tends to be late mid-life, I suppose.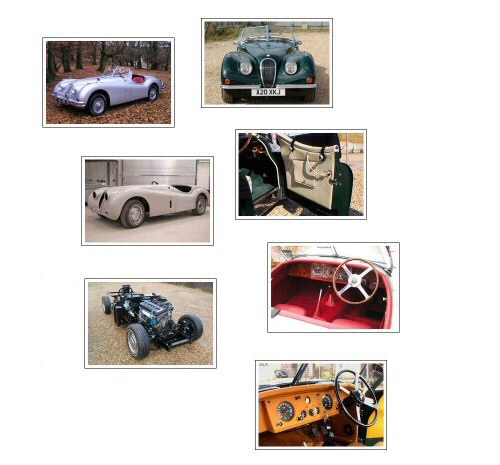 The Jaguar XK
Digger: Are these back to basics, these cars? Or do they have some of the modern niceties?
Simon: The XK's a thoroughly usable touring car really, with all the equipment and decent boot space that you can head off across Europe in. As some of our customers do. So theyíre complexly usable. The C-Type Jaguar, which is the race version of the XK that we produce as well, is a little more rough and ready. Youíve got to be willing to put up with the elements.
Digger: And the bumps.
Simon: Yes, and the lack of storage space. If youíre going away in it, youíre travelling light! (Laughs)
Digger: I had and MG for a while and if I had to pick somebody up from Heathrow with a suitcase the boot would always be open! Why is there such an interest in retro and nostalgia and in vintage vehicles in your view?
Simon: The classic car market has always been there and I donít think itís anything new. I donít think that will ever change and to a certain degree thereís always going to be the interest there. PerhapsÖ (Laughs) I donít know what todayís classics are going to be. Or possibly if theyíre going to be kept on the road in the same way because of the supposed advances in technology.
Digger: And all of the legislation?
Simon: Yes, thatís right.
Digger: In places like New Zealand theyíve got a lot of British cars from the 50s and 60s still merrily going strong on the roads.
Simon: They have.
Digger: I heard itís because they donít salt and grit the roads like we do.
Simon: I wouldnít be surprised because they donít have the extreme cold, do they?
Digger: What should people consider when looking at owning a replica car?
Simon: Practicality, I suppose. What are they going to use it for?
Digger: You have a number of options there?
Simon: Yes, standard cars and with that thereís a big list of priced options and people always want something a bit different as well. What we build for people is pretty bespoke. They get to choose engine type, colour, interior colours and various other bits and pieces in the process.
Digger: In Northampton here we have quite a car presence with Cosworth just down the road and Silverstone too and a number of the Formula One teams based around here.
Simon: Yes, thatís right.
Digger: Your cars look fantastic. What are their outstanding features?
Simon: The usability.
Digger: Is it like an extension of yourself when youíre driving it? And is it as if itís going back in time?
Simon: Yes, what we have done is take a classic or nostalgic design, the XK 120 and the C-Type. And more so with the XKs - weíve taken a timeless design but underpinned it with some modern running gear. You get a much better drive, much better handling, much better braking. This makes for reliability. All of these issues were a bit of a failing on the original and weíve overcome by using slightly more modern underpinnings.
Digger: The E-Type was famously over-subscribed, everybody wanted one and all the stars had one but it was also notorious for being unreliable. I donít know if thatís true of a lot of the earlier Jaguars?
Simon: What we have tried to do is overcome those problems with a modern Jaguar fuel-injected engine and automatic gearboxes, electronic power steering and things like that. We are keeping the nostalgia but with the modern comforts, if you like. The best of both worlds.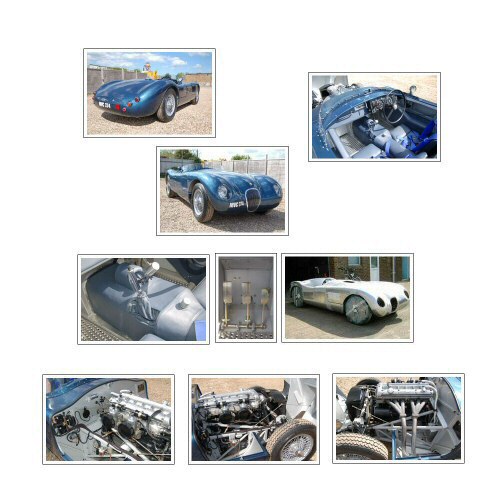 The Jaguar C-Type
Digger: Itís quite a shock to somebody whoís used to modern cars having to go back to an older one.
Simon: This is where we get some of our customers from. Weíve had people who liked the idea of owning a classic car but then couldnít cope without power steering.
Digger: ďWhat the hell is this?!Ē
Simon: Exactly. So thatís where our market is, if you like. Itís somebody who likes the idea of the classic car and the look of it but is not that bothered about 100% authenticity.
Digger: Thatís fair enough. And why not? When you get to a certain age you want comfort.
Simon: Thatís right.
Digger: How far and wide do your customers come from and what impact has The Internet had on your business?
Simon: Weíve got one in India, one in Hong Kong and a lot in the UK, of course.
Digger: Do you have many customers in the USA?
Simon: Not really, no. Each state has differing legislation and also the costs and paperwork to ship and import can make it something of a challenge.
Digger: I see. What gives you the biggest pleasure running the business?
Simon: Itís really seeing the customerís expectations coming to fruition, as it were and doing a good job in providing them with the classic car they wanted.
Digger: Can you give us an idea of the volumes?
Simon: Weíre not talking about big scale production here. Maybe three or so a year. You can imagine the amount of work that goes into one of these cars from start to finish.
Digger: Do you have any other retro passions apart from the cars?
Simon: Not really, this is what Iíve always been into.
Digger: What have you owned over the years?
Simon: Well, not as much as Iíd like.
Digger: I thought youíd reel off a list of models.
Simon: Unfortunately not.
Digger: There are these car share schemes for high-end cars where you pay £3,000 or so a year and can drive a number of classic cars through the year and even have your choice of certain weekends for the most popular cars.
Simon: Yes, Iíve seen those.
Digger: They do look good. I always wanted to try a Jensen Interceptor and an E-Type.
Simon: Maybe you should give the scheme a go.
Digger: Where do you see the Nostalgia Cars business heading in the future?
Simon: Well, weíre hoping to move into the middle east. Itís a big market there and a lot of opportunities.
Digger: Are you doing anything tangible to promote out there, like sending people over?
Simon: We have made a start. There are a lot of very rich people out there who wouldnít think twice about buying one of our cars.
Digger: It would just be pocket money wouldnít it?
Simon: Yes, and all it takes is one or two satisfied customers and word soon gets round.
Digger: Thatís right. Itís the best type of business isnít it? From referrals and recommendations.
Simon: Yes, a lot of our business comes that way.
Digger: Thatís good.
Simon: People do have high expectations though and I would expect that those in the middle east would want to see an example of what theyíre getting and thatís not really the way we operate. Also, they might struggle with the yearís wait from order to completion. So it needs a bit of planning.
Digger: People want instant gratification nowadays.
Simon: Yes, people are surprised when they canít get something immediately.
Digger: Thatís a good point actually. Well Simon, best of luck with your future plans and thank you for letting us know more about your Classic Jaguar Replicas business.
Simon: Thanks David.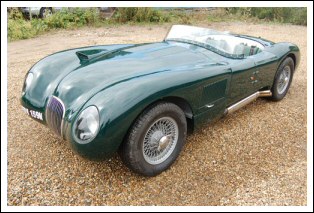 The Jaguar C-Type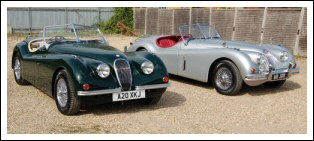 The Jaguar XK
---
Based in Taunton, Somerset, this progressive Company evolved from roots embedded in the car restoration world. Founded in 1998 specifically to design and produce quality replica Jaguar cars in component form for factory and self assembly, from the very beginning, ease of assembly, value for money and absolute quality were essential ingredients of the design remit. Nostalgia currently offers three Jaguar replicas for home assembly. The Le Mans winning C-Type and the classic Jaguar XK 120 and XK 140 from the 1950's. More recently we have developed the single donor, Mini based Nostalgia Ogle SX 1275, a replica of the Ogle SX 1000 of the 1960's which has now been developed to encompass current safety and IVA requirements whilst retaining its original character and Nostalgia's inherent quality and value for money.
Every Nostalgia Cars Chassis is supplied with a 10 year chassis anti-perforation warranty (subject to conditions), 25 year exhaust system warranty along with our standard factory warranty. In addition we offer every self build customer a 'Partnership Agreement' that guarantees our help, advice and support at every stage. Naturally this will not effect our customer's statutory rights but we hope that it will ensure that every car, whether factory built or self assembled, will provide the satisfaction and pride that will be associated with owning and driving one of our motor cars. Whether you are looking for a Factory Assembled Car Built to your specification or considering self assembly using one of our specially tailored packages. Buy with Confidence with Nostalgia Cars UK Ltd.

Units 10-11,
Creech Mills,
Industrial Estate,
Creech St Michael,
Taunton,
Somerset, TA3 5PX.

Tel: (+44) 01823 444991
Email: TheTeam@NostalgiaCars.co.uk