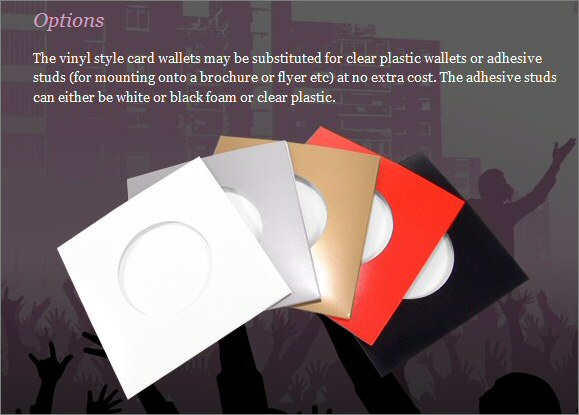 Digger: Can you tell us how Band CDs came about?
Paul: Band CDs is a site that we have created specifically to cater for small run CD duplication for musicians, DJs and bands, who form a major part of our client base at the parent company site of Wizbit Internet Services Ltd (www.wizbit.net). The Band CDs site is designed to make it much easier to find the relevant information for the key types of disc and packaging that are ordered by our musician clients, namely vinyl effect CDs, CDs in printed card wallets and CDs in printed card digipaks.
Digger: What are the key benefits of using Vinyl-effect CDS for a band or promotion?
Paul: The vinyl effect CDs look fantastic and are a very cost-effective and eye catching way of getting your music distributed. We have different colour wallets available from stock, will print your own artwork onto the central 'label' of the record and can then either add your music to the discs ourselves or can leave them blank for you to burn in any standard CD writer drive.
They are also more environmentally friendly than a CD in a digipak or jewel case as the packaging used is much less, saving on both material costs and delivery costs. We can produce any quantity for a client from 50 discs upwards and the orders all come with free courier delivery.
Digger: What sort of feedback and responses do you get from bands & customers and their end-users?
Paul: The feedback has been extremely positive, with compliments on the look of the discs and wallets, the quality of the label print and the turnaround times that we can achieve. From receipt of the contents and artwork we normally get a proof to the client the next working day and then deliver the full order within 1-2 working days from confirmation that the customer is happy with the proof.
Digger: What technical requirements should somebody consider when planning to use these Vinyl-effect CDS?
Paul: The maximum capacity of the discs is the same as standard CDs, so this works out at a 700MB capacity or 80 minutes of high quality audio. They will burn and play on any standard CD/DVD drive whether in a stereo or on a PC or Mac. We have downloadable artwork templates on our site for either Photoshop or Fireworks and the best way of getting us the contents is to post us an actual CD that we will just make exact copies from.
Digger: Who are your typical customers and what are the typical runs they do?
Paul: In general we deal directly with unsigned bands, although do produce these discs for a number of record companies as well. Typical order quantities are small runs of either 100 or 250 discs.
Digger: Why is Retro and Vintage, such as vinyl, so enduringly popular? And is it here to stay?
Paul: We have only found these discs becoming more and more popular over the past three years, particularly as awareness of these discs increases. Retro style never seems to go out of fashion, although I guess at some point in the future hardly anyone will know what traditional vinyl records used to be, although by that time CDs will also be a relic of the past!
Digger: Where is the Band CDs business developing in the future?
Paul: We are continuing to produce custom products for our clients to give us a unique position in the market. We already have our vinyl discs custom made for us in the Far East to be completely black all over and we will continue to add new colours of record-style wallets to our range to help match the customer's artwork. We will also continue to roll out new, innovative and environmentally friendly packaging options for our customers and continue to focus on our customers in the music industry who require small quantities of discs copied as it is an exciting, varied and popular market.