Be it a wedding, an anniversary, a birthday or Bar Mitzvah party, a corporate event, a piece of experiential marketing, an awards ceremony or a good old-fashioned knees-up or 'happening', a Groovybooth is an indispensable addition to your event. People love having their photos taken and they love to have fun with friends. The Groovybooth combines these elements.

They may start the evening off shy but you will be beating them back with sticks by the end of the evening!

Digger talks to Dave Rogers at Groovybooth about the booth phenomenon and what it's like to run Groovybooth.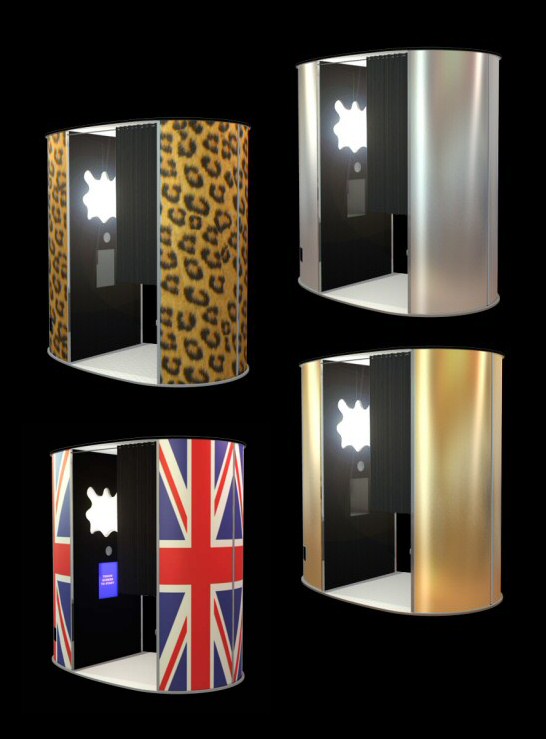 ---
Digger: Hello Dave. Please tell us about your background and the background to Groovybooth.
Dave: Iím Dave Rogers and my business partner is James Anderson. We were both wedding photographers and one day James was explaining about this idea that heíd seen in the USA. The nostalgia of it just grabbed me and it was so catchy and I thought what a fantastic idea. We soon thought of a name which was retro in itself Ė Groovybooth. We thought if we do this itís quite a niche area that we can get involved with. Itís got to be done well and itís got to be done professionally. So we built one in the garage and trialled at a couple of weddings and the first wedding just went down such a storm. It was so much fun.
Digger: I suppose a problem with weddings these days is that everyoneís got a camera and a computer and they all think they can do it themselves?
Dave: We donít replace the wedding photographer, but with the wedding entertainment in the evening, we come along and set up the booth. Our first one was wheeled in in parts and put together. But having been found by The Guardian for their awards ceremony, then they invited us back because they loved it so much. They had us back for their staff party. So we did that under Covent Garden. Then we thought we had got to build it a bit bigger and stronger so we had one properly designed for us.
Digger: How many have you got now?

Dave: We are now operating eight photo booths with the company, which are across the country. And we can stylise it in any way. We can brand and wrap. Weíve got gold and silver, black, red, leopard print and holographic, so we can put all sorts on the booth.

Digger: I suppose it appeals to peopleís sense of fun and also to their vanity? Most of us like having our photo taken, donít we?

Dave: Yes, people love it. We all do.

Digger: I can remember, this is a very nostalgic thing, as a youngster going to Liverpool Street or Fenchurch Street stations and there would be three machines actually. There was the photo booth where you would cram into it with your mates and pull faces...

Dave: Yes.

Digger: Also a machine where you could record onto a floppy piece of plastic. Youíre too young to remember that.

Dave: No, I do remember those.

Digger: They also had the milk dispenser as featured in one of The Beatlesí movies, with pyramid shaped cartons.

Dave: Iíve seen pictures of those, maybe on your site and you mentioned them there as well.

Digger: It touches a button in peopleís memories and I suppose the younger people like to try it because itís what the sixties and the seventies represent to them.

Dave: Yes, I guess so.

Digger: What sorts of people and events are booking your booths?

Dave: Itís a complete cross-section. Obviously we aimed it at the wedding market and so we are doing wedding parties, 21st birthdays, 50th birthdays, 40ths. Tomorrow weíre doing a joint 100th, as in two people who add up to a hundred and weíre doing a '170' later on in the year!

Digger: Thereís lots of Americanisms coming over here with proms and baby showers and suchlike.

Dave: Thatís exactly what I was going to say. Weíre doing proms, award ceremonies, we do office parties, festivals like a stand we did for Penguin Books at Bestival.

Digger: I suppose you do private parties for some famous people you canít talk about as well?

Dave: Yes, can I just say weíve had some celebs and even some Royals in our booths. We do Bar-Mitzvahs and Bat-Mitzvahs. We also have done some shopping malls Ė not quite the one that takes your photo, is it? So you canít quite squash in there but ours have wind machines in them that make them a lot of fun.

Digger: Whatís the wind machine for?

Dave: Thatís for the women or for those with long hair to have the glamour shot.

Digger: Iím with you.

Dave: The wind machine goes on and the hair flies in the breeze.

Digger: Some blokes will appreciate that too.

Dave: Absolutely.

Digger: Why has the demand for Retro photo booths increased so much recently?

Dave: Actually, itís the sort of entertainment that grows because itís ageless and because, at a party, young and old are there and itís such a focus at the parties. It allows everyone, if they want to, to have a bit of fun and bring out the kid in them again. Itís nostalgia in itself and with no photographer behind them so youíre on your own. For half the guests itís nostalgia because they remember Woolworths and the station booths and everybody has photos of family and friends who had them taken at Woolworths. The modern photo booths just arenít the same.

Digger: Do you then post stuff up on the web for people to see?

Dave: Because weíre now in the digital age the advantage with SLRís Ė our prints come out in fifteen seconds, no waiting around.

Digger: Not like the old days where you twiddled your thumbs for several minutes.

Dave: Thatís right. And I always say to people when they come out of the booths ďYou havenít been in one of those for a long timeĒ when theyíre shaking the photo dry. (Both laugh) But youíre exactly right, itís good entertainment and it just increases demand. I suppose those of us who used to have to go in and pay - now when they go to a party and donít have to pay a thing for it because the host is payingÖ

Digger: They used to be quite expensive.

Dave: Yes, and now theyíre £5 for just one photo multiplied four times. We do four multiple shots or six that come out at once and guests donít have to foot the bill. So our guests are the best form of marketing, really, because if youíve got 150 guests and they love the 'Wow!' of it and the nostalgia of it so the customers are doing the marketing for us.

Digger: How many staff have you got around the country?

Dave: We have a few part-timers on the books and a number of full-timers who work for us as and when we have the bookings, so itís good actually.

Digger: What feedback are you getting from clients?

Dave: ďHilarious funĒ is one of them and really the one we hear so much is ďThis is simply the best entertainment Iíve seen at a party.Ē And thatís not an exaggeration. Itís great to have that. I even had one groom and I said ďDonít repeat what you just said to me back to your bride.Ē He said ďThis is the best thing at my wedding."

(Digger laughs) How much did he have to pay you not to tell her?

Dave: Some guests who havenít jammed into a booth before, teenagers, sometimes fall out the booth in stitches and then join the back of the queue and thatís great feedback.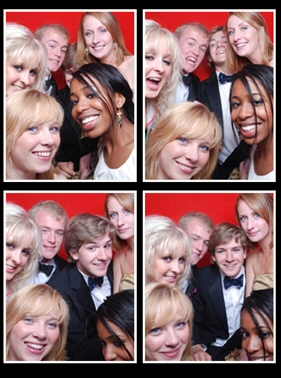 Digger: That reminds me of the seventies when we all used to cram into cars. I can remember one time there were fifteen of us crammed into a Morris Minor and a policeman came up to the stationery car and said to the driver ďYour door wasnít closed properlyĒ and closed it for her. They wouldnít do that these days! How times have changed.

Dave: The feedback we also get is families asking us back a second or third time, and a lot of times for other members of the family marking a different stage or anniversary in their life. Thereís an addictive side to Groovybooth. Thatís fun. But also companies are using us for marketing and they talk about providing experiences for clients and customers.

Digger: Yes, they call it experiential marketing.

Dave: Thatís exactly what it is and one company has invited us back seven or eight times, just to bring different departments together. It's because they love the fact that teams get together and are having the fun. Thereís also product marketing, because they realise that if the general public are beside a branded booth and enjoy the free photos and a lot of fun itís a great way of promoting their product or new service.

Digger: You should try getting the actor who plays Rab C Nesbitt for your advertising. Do you remember when he appeared in the booth for the cigar ads?

Dave: Oh, the Hamlet one?! Yes, it was brilliant. Hilarious.

Digger: I think that ad would still be in a lot of peopleís memories. Just an idea.

Dave: Iíll let you know if it works.

Digger: Why is Retro and Nostalgia so enduringly popular?



Dave: Retro and nostalgia are all about remembering the past Ė the creative, the stylish the fun. And recreating and revisiting or reliving happy and positive experiences.



Digger: Yes, human beings have this ability to remember the good times.

Dave: Itís better still to experience it and thatís why itís enduringly popular, because people want to relive the fun memories of the past. It doesnít remain in the past because itís up-to-date.

Digger: Do you think weíll be nostalgic about the nineties and the noughties?

Dave: (Laughs) I donít know. Itís difficult to know, isnít it?

Digger: What gives you the most pleasure about running Groovybooth?

Dave: Itís such a fun product and we spend all our lives at parties, which are fun anyway, so itís really seeing clients, customers, their families and friends really enjoying something so simple. Providing a really fun service and seeing the reactions. And leaving at the end of an event or party just knowing that weíve added something positive.

Digger: I donít suppose you get many weekends to yourself? I guess you have to Ďcatch upí in the week and take time off in the week if you can?

Dave: Itís definitely weighted towards the weekend. Weddings and parties, definitely, but we are getting more work midweek from corporates who are putting stuff on all the time. So we span out our weeks slightly differently.

Digger: If I was planning a party or a corporate event, what are the main things people need to know and consider when booking your booths?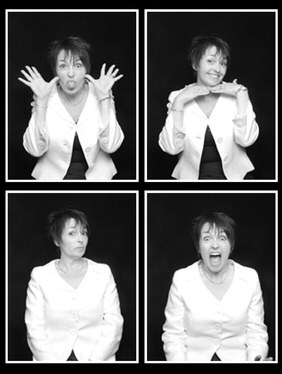 Dave: The first thing is watch out. It is such a big hit and, practically speaking, you just need to give a lot of space and think about where youíre going to put it and donít just jam a photo booth into a corner. One party that we attended in the early days was an example of how it should be Ė the party had food, a bit of music and the Groovybooth and the party just revolved around the booth. The host had invited the guests to come with props and wigs and hats and glasses and so on and she didnít tell them why. And Iíve never been to a party with so much laughter and the caterer at the end was surprised how little alcohol they needed.

Digger: Wow!


Dave: Because it was such a success.

Digger: Thatís good, isn't it?

Dave: So, yes, it is good.

Digger: I understand what you mean. I was the nominated driver at one party so I didnít drink but I still remember seeming to get drunk on the great atmosphere!

Dave: Brilliant.

Digger: Itís strange what our brains tell us.

Dave: Yes, yes, yes.

Digger: What do you see as the future for Groovybooth?

Dave: Every party is different and always gives us ideas of what we could do to add to future bookings, how we could grow Groovybooth and what we offer with new innovations. Thereís always interest in Groovybooth but it is growing, possibly four-fold over the last year and a half alone. So we already have plans to grow, consolidate and change with the times and really listen to what the customers are wanting. It is an ageless thing.

Digger: When people first see the booth, is there a hesitation to be the first person to use it?

Dave: At the beginning of an evening there sometimes is and people say ďI might come back later.Ē But once a few people have gone in, itís just a constant stream.

Digger: I was a guest at a party at a house and in one room they had a large karaoke set up. A real whizz-bang karaoke system. The room was empty at the start of the party so I thought Iíd have a go. Within an hour or two it was the busiest room and thronging with people Ďfightingí to get to have a go! The funniest thing was two girls who had said about me ďThe guy running the karaoke is very good.Ē (Both laugh)

Dave: Youíve got a bit of a voice then?

Digger: Apparently! I must have compared to the others there anyway! I surprised myself there. Dave, that's the end of the interrogation ... it's been great and thank you very much.

Dave: Thank you for that. I wish you all the best with what youíre doing.

Digger: Thanks, Iím not expecting to be a millionaire bit I am enjoying what Iím doing, like you.

Dave: When I looked at the questions you sent through it was very useful because sometimes you donít stop to look at where youíve come from, where you are and where youíre going to. So this was a useful exercise for that.

Digger: Thatís heartwarming to hear Dave. Quite a few people have said that it has been useful for them. One guy told me it would have taken him three days to summarise his business in writing and we did it in a half hour interview. Have a good weekend Dave and may the business go from strength to strength. I look forward to having a go in a Groovybooth.

Dave: Thanks very much and all the best.