The London Transport system usually takes a lot of knocks in the press and media as being antiquated and unable to cope. Yet for the oldest such system in the world, which has received relatively small investment in recent decades and handles many more people than it was designed to deal with, it copes rather well.
We should glory in and be proud of the heritage and history of our pioneering tube and bus systems, as well as in their beauty. A key ingredient in the story of London's transport has been the signage - famously Harry Beck's tube map designs have been copied on underground systems worldwide. The deco-inspired symbols on the tubes and buses are iconic pieces of British design, as is the Routemaster bus itself.
Haydn Brand has a passion for London Transport memorabilia and collectables which you can share via his website. On offer are items of original paraphernalia from the bus and tube networks and infrastructure, including station name signs and roundels, indicator boards, directional signs, bus and tube destination signs and many more.
Digger asked Haydn about the inspiration for London Transport Original Signs and found out more about what items Haydn has available.
---

Digger: Please tell us about the background to London Transport Original Signs and how and why you formed this enterprise?

Haydn: When I was about 11 or 12 a school pal took me to an abandoned sign factory he'd discovered near his house in North London. In those days there was still a lot of dereliction and bomb-sites to explore so we were spoilt for choice. There were enamel signs strewn all over the place. I later found out this was once the factory of J Bruton & Sons, one of the sign contractors to London Underground. We picked up one or two each and my hobby began. With hindsight, I should have hired a lorry! Decades passed and my collecting continued to the point that storage became a problem. Many of the items I'd accrued started to become of interest to others and at first my website was used to display them. I started to be asked if I'd part with some signs and the rest, as they say, is history.

Digger: Can you tell us a bit about the services you provide and the items on offer?

Haydn: I will supply these lovely things to anywhere in the world. Items range from bus blind destinations, temporary station signs from London Underground, Special Bus signs from London Transport through to enamel platform signs.

Digger: There is a classic iconography relating to London Tubes and Buses. The maps, the signage, the buildings, the vehicle design and so on. Can you tell us more about these?

Haydn: The history of London's Public Transport is truly fascinating. I am in awe of the Underground. To think that so much of it was dug out by hand and funded by people of great vision is remarkable in itself. London's suburbs arose around the Tube's new lines which at first often traversed open fields that were rapidly developed. The style of the London Underground map [which dates back to the 1930's, by draughtsman Harry Beck] has been copied in many countries as no-one has come up with anything more easy to read. The superb Routemaster bus was built with the knowledge gained when London Transport's workshops were turned over to making aircraft during WW2. It was the lightest, most economical bus in the world. I had the great pleasure of speaking to Colin Curtis. He was on the original design team way back then. He still keeps his hand in. He told me he was asked recently to design a fuel efficient lightweight bus. His reply "I did that over 50 years ago!"

Many Underground stations are 'listed', and rightly so due to their classic light and airy designs. The signage again is of clear and purposeful design which is recognised both in style and for their famous place names that are recognised throughout the world.

Digger: Why is retro and nostalgia so perennially popular?

Haydn: Compared to the future which is uncertain, looking back into our own history can be a warm and cosy place to dwell in for a while. In context we remember favourite places, meeting friends and lovers, happy times spent in London whether we were at work, rest or play. When people look back I'd say the majority would say that life seemed so much less complicated and slower. These signs take their new owners back to those times and create marvellous pieces of artwork and stimulate conversation.



Digger: What sort of feedback do you get about your products from customers?

Haydn: Ah now that's something that makes it all worth while. Here are some very recent quotes:
'Thank you so much! We got it the beginning of last week and it's perfect. Thank you, and thank you for being so helpful as well'. 'The blind arrived yesterday and it is fantastic. Certainly suitable for framing! My other half will be thrilled. Thanks for the prompt email responses it made the buying process a pleasure'.

'The bus blind arrived today. It looks great. Thanks for such an efficient service'. '

I meant to email you on Saturday, thank you so much for the Aldwych sign it is fantastic, even better than i expected.

It is going to be a gift for my Son for his opening night in" Oliver "the Musical in London, as his team are called " Aldwych " I thought it would be a great keepsake, cant wait to give it to him.
Thank you for your speedy delivery also.
I will recommend you to many people.
Thanx again,

And today:

Dear Haydn

I received my order today! Thank you so much! You've been such a help throughout the process, so easy to work with, nothing was too much trouble and I LOVE THEM.

Thank you, thank you, THANK YOU!

Kate

I can find many many more!

Digger: What sort of a relationship do you have with the LT museum and others?

Haydn: I enjoy the LT museum a great deal. Their achievements in preserving so many historic vehicles [and one complete 1938 tube train] is remarkable, and so much of it done by volunteers. Future generations will owe them a great debt. After all, would a modern day child really believe that bus drivers worked from an open cab with no windscreen or heater and that the stairs were also open to the elements without actually seeing an original vehicle? I also attend meetings where one can see even more superbly restored vehicles running.

Digger: What are the most enjoyable aspects of what you do?

Haydn: I get the chance to thumb through these wonderful items finding items to match customers requirements from all over the world. I hear their interesting stories and learn how a particular part of London became so special to them. In addition to that it's great to 're-home' these signs where they'll be appreciated for years to come rather than being stored. As said previously, the feedback really makes my day.

Digger: What are your best sellers and who are your 'typical' customers?

Haydn: There is no particular item that is a favourite and no 'typical' customers. Every request is different in every way. I have supplied TV personalities and newsreaders, doctors, professors, homemakers looking for something to 'set a room off', to kids looking for some signs to decorate their bedrooms and firms looking for retirement presents. I was particularly chuffed to supply an office within London Transport's H.Q. with a London Transport sign for a leaving gift! I even made a fold-up Bus Stop for a chap who used it as a prop for his one-hour stint on the 4th plinth in Trafalgar Square! That was shown on television.
Digger: What plans do you have for the future of London Transport Original Signs?

Haydn: I'll be happy to keep it running for as long as I possibly can. I've still a great deal of cataloguing to do if anyone wants to help!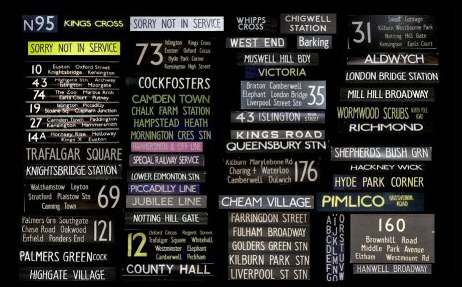 ---

London Transport Bus Blinds, Football Club Signs & Sporting Event Signs, London Tube Station Temporary Signs, London Underground Roundel, Enamel Signs & Hardware, London Transport Notices Direction Signs Old Maps, Books & Bus Interior
Posters, London Underground Train Destination Signs, London Underground Line Car Diagrams, London Transport Special Bus Signs
This site enables me to share with you the truly evocative and iconic signs from London's famous transport system that I grew up with and depended on. Then, a few real copper coins bought a bus ticket that was reeled off by hand. You entered and left a tube station passing a uniformed inspector who checked your ticket. No electronic barriers to negotiate, no cameras watching your every move and the trains bore no mindless graffiti. Self-serve ticket machines only took coins and worked via simple buttons. No 'ology' in computer science was required. Unlike now, knife-carrying passengers were almost exclusively Boy Scouts or chefs harmlessly transporting the tools of their trade.
I expect you can remember those days too, of open platform buses with conductors and tube trains with guards. These often very extrovert people gave passengers a much more secure feeling, - often with some amusing banter as they dealt with 'Joe Public'. Upstairs on a bus or in some tube train carriages you could legitimately light up a cigarette or participate in the then unrecognised dangerous sport now known as 'passive smoking' as your clothes and hair soaked up the pong of tobacco. With no ashtrays you were invited to throw cigarette ends on the floor. Now discarded free newspapers, junk food wrappers and plastic bottles have replaced them. Conversation has also been either replaced by 'leaky' earphones pumping music directly into people's heads or is interrupted by a sometimes menacing beggar thrusting a crying baby in your face.
Enjoy a trip down your own 'memory lane' with me going back to what seemed like a much simpler world.

None of these signs are in use today, many go back to the late 1960's and some of the maps way, way back to the 1920's. These make superb and entirely unique gifts that will last a lifetime.
www.londontransportoriginalsigns.co.uk