Digger: What is your background?
Liz: Founding director Liz Biddle read Music at Aberystwyth University and later gained an MA in Performance Studies at the Guildhall School of Music & Drama. She is an accomplished musician and plays bassoon, piano and guitar. She founded Upbeat Recordings in 1989 to record some of the managed artists - and this has now become firmly established as one of the leading labels for jazz in the UK.
She was joined at Upbeat in 1995 by Beryl Korman who graduated with a BA in History from Warwick University before studying singing at The Royal Academy of Music. Beryl was elected Associate in 1996 for distinguished musicianship. She still finds time to sing and her 40s tribute show Forces Sweethearts is touring extensively. The team is completed by Vicki Johnson, who keeps the books up to date, Meri who helps keep paperwork in order and Luke & Breeze – two wonderful cream coloured golden retrievers who help keep stress levels low!

Digger: Can you tell us how Upbeat started and how the company has evolved into what it is today?
Liz: Upbeat started in a small way with a few jazz and classical artists that I knew from my days as Director of Music in a Comprehensive school and has grown over the years. Artists are recommended to me and most of the people that we work with have stayed with us from the very beginning.
Digger: How have you managed to bring together such a wide catalogue of genres and styles?
Liz: Having a background in both classical and light music means that we were destined to bring together a wide range of music for our customers.
Digger: Why is retro and nostalgia so enduringly popular?
Liz: The melodies written were truly memorable, lyrics meant something and nothing brings back happy memories better than the music that was playing when they were made!
Digger: What are the best sellers?
Liz: Perennial favourites are The Temperance Seven, George Lewis. I have to say that most of our albums sell well to be honest!
Digger: What customer feedback do you get?
Liz: Customers love the friendly, personal service from our dedicated team.
Digger: Why is Upbeat different?
Liz: Small is beautiful as it means we can listen to our customers and try to bring them the CDs they want. We also endeavour to look after them and give them some decent old-fashioned service!
Digger: What are the best aspects of running Upbeat and what are your musical passions?
Liz: Being my own boss and therefore having a certain amount of flexibility is just great. I am also lucky that I can choose who I want to work with. As to my musical passions, I love opera and musicals and also the really good orchestras in the UK. My passion at the moment is my new bass guitar that was my Christmas treat. I always loved the bass lines being a bassoon player and now I'm studying tablature and riffs…..
Digger: What are your plans for Upbeat in the future?
Liz: To bring out as much music as we can to as wide an audience as possible. We're taking on new artists on the management side too…..so please all of you who are reading this, stay in touch and as they say….Watch this space!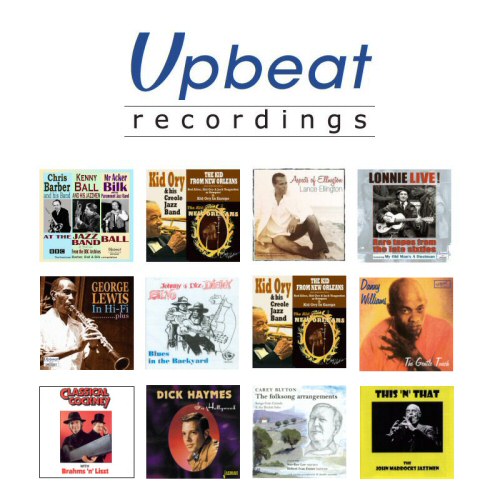 One customer recently described our site as a treasure trove of excellent CDs. I hope you find it the same too... We do our very best to get your orders processed as quickly as possible and provided we have the CDs in stock, they will be sent out the same day or at worst, the following day. Finally, our site is Merchant Bank approved and so your credit details are as safe as they can possibly be.