Digger: The I-Spy books are a vivid and happy memory of my childhood - in fact I have one here from 1964 with lots of scribbles and observations on it! I'm sure they will be just as nostalgic for many other people. Can you tell us what has prompted their return at this time?
Ian and Jana: I-Spy books had not been published for almost 10 years, and there was always a demand for them during the time that they were out of print. This demand, together with the appetite for children's educational activity books prompted the return of this iconic series.
Digger: How has the format of I-Spy altered since their inception in 1948? Do the modern books make much of a concession to children these days coming from the computer, gadget and techno age?
Ian and Jana: The appeal of the I-Spy range is that they are observation and activity based. They encourage children to explore the world around them, often alongside their parents and Grandparents. The new books have up to date photos and style, and use modern technology (internet) to register the achievement of the certificate once the 1000 points have been achieved.
Digger: There is a broad range of titles available again. Where are these available?
Ian and Jana: The I -Spy range are available from most high street bookshops and the internet suppliers, and if customers have any difficulties obtaining titles, direct from Michelin on www.ispymichelin.com
Digger: Are I-Spy books a British phenomenon or more international?
Ian and Jana: The I-Spy series is very specifically British. These books were first created in 1948 by ex headmaster Charles Warrell and have been embraced by British children ever since. It is no coincidence that Mr Warrell decided that the books would tap into the inquisitive nature of children, and help them grow and develop their minds. The subjects covered are predominantly only found here in the UK and as a result are iconically British.
Digger: Is the identity of Big Chief as closely-guarded a secret as Stig on Top Gear?!
Ian and Jana: At the moment, Big Chief I-Spy's identity is a closely guarded secret.
Digger: What do you think is the appeal that I-Spy seems to have with youngsters of all ages?
Ian and Jana: I-Spy is a timeless concept, as relevant today as it was when first launched 63 years ago. Although there are now photos rather than pencil sketches, many of the subjects covered are similar to those in the original series. They invite children to open their eyes, see what is around them and ask questions. You cannot imagine that this would not still be the case in 63 years time. Children naturally ask questions about all kinds of subjects, and I-Spy encourages this healthy exchange.
Digger: Are you hopeful that the I-Spy club will once again become as big as it was in its fifties and sixties heydays?
Ian and Jana: At present children can obtain a certificate on line once they have spotted 1000 points in their books. They can also collect tokens for a special I-Spy badge. There may be further developments of the membership as the series is re-established.
Digger: What are your plans for the development of the I-Spy range?
Ian and Jana: At present there are 24 I-Spy titles published. A further 12 should be added during 2011. It is also hoped to publish some special titles in conjunction with specific venues.
Digger: Can you please do an I-Spy book for the over 50s which covers things which we remember and grew up with and which are slowly dying out? E.g: Red phone boxes, motorbikes with sidecars, rag-and-bone men, garages that serve you the petrol, policeman on the beat, red and white barber's pole and so on.
Ian and Jana: I-Spy books are predominantly published for children, although many of the subjects covered means that there is a wide appeal to all age groups. There are no plans to publish specific adult titles, although this does not mean that this will not happens in the future.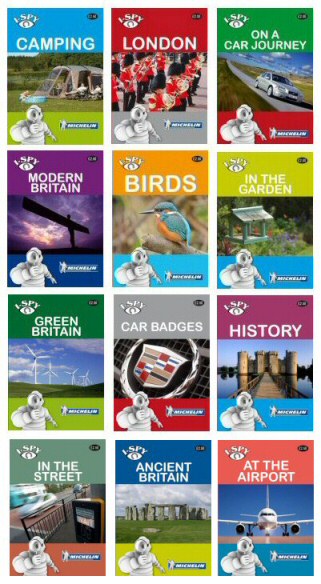 ---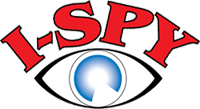 I-Spy books were founded in 1948 and with over 18 million books sold they have a unique place in British popular culture.

Millions of original I-Spy readers now have children and grandchildren of their own who can enjoy the latest I-Spy books, created specifically for today's youngsters.

With 24 titles to choose from, there are topics to excite every young person as well as those who are young at heart.

Start your collection now through our online secure shop. Each book is £2.50