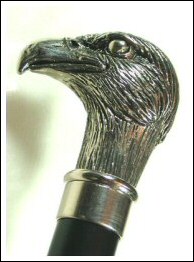 Digger talks to Dawn at Scotties Walking Sticks & Canes about her business which supplies enthusiasts, collectors and those looking for an unusual and beautiful purchase with new, vintage and antique walking sticks and canes.

---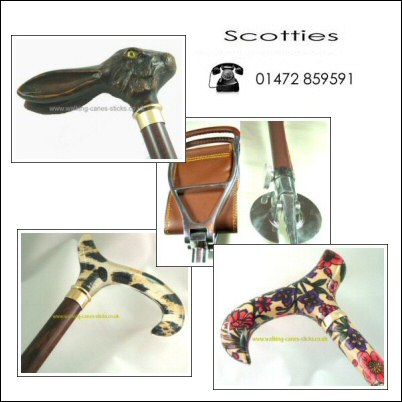 Digger: Can you please tell us a little bit about the background to Scotties Walking Sticks & Canes?

Dawn: Scotties is a business that has developed out of an interest/obsession with walking sticks. We supply fashion accessories and intriguing new, vintage & antique walking sticks rather than walking aids.

Digger: How important is it to get the measurements right for a new Stick or Cane? And what should people bear in mind when choosing one.

Dawn: For an individual that is dependant on a walking stick to aid mobility the correct length is imperative. Therefore, we strongly suggest, one seeks professional advise as to the length, style and strength of the walking stick required in relation to height and needs.
For an individual using a walking stick as a fashion accessory then the measurement is less stringent. The guidelines can be found on the Scotties Web site.

Digger: How collectable, and how good an investment, are the vintage/antique Sticks and Canes?

Dawn: Vintage and antique Walking sticks are like any other collectable item. Buy quality and the value will be maintained and increased. Buy poor quality and you may loose money. However, like any collectable the demand will rise and fall as the market changes. This is a factor in any antique & vintage item.
I do need to establish, that many individuals, buy vintage or antique cane for 'use' rather than 'collection'. A vintage cane does provide good value for money. A similar new cane for use would likely far exceed the price paid for a sterling silver cane with British hallmark.

Digger: What is the Holy Grail of antique Stick and Cane finds?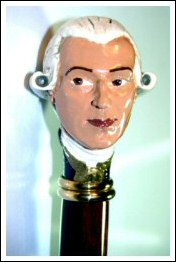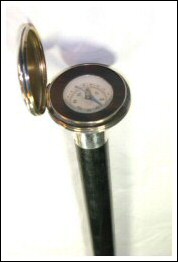 Dawn: As the field of walking sticks is so wide it is impossible to define the ultimate walking stick. The ultimate walking stick deemed by one individual, is the total reveres for another. Very often it is not the walking stick that is held as valuable but who has previously owned it. That little wangee cane owned by Charlie Chaplin achieved a price of over £47,000 at auction a few years ago.

Digger: The gadget/systems canes are particularly fascinating to me. What are the most unusual designs for these?

Dawn: There is a gadget/ systems cane for every possible need or whim. The most commonly recognised being the swordstick. The more interesting ones are without doubt, the ones that hide unusual objects, produce a tune or simply a gadget cane that is used in an individuals profession be it a funeral directors cane with a built in measuring gage, a grain sampling cane or the poachers gun cane. For the really serious gadget cane collectors I would recommend Cane Curiosa from Gun to Gadget by Catherine Dike.
Digger: Are these Sticks and Canes mainly a British phenomenon or are they also popular overseas?

Dawn: There are many individuals all over the world that collect walking sticks. In addition, walking sticks are increasingly being used as a fashion accessory. We supplied a quantity of antique walking sticks with specific colours and length for a premium fashion collection show in New York. The results seen on u-tube were brilliant.

Digger: What do you most enjoy about the business?
Dawn: Walking sticks are fascinating not only in design and formation but because they are a reflection of people. It is unlikely you will find hundreds of identical canes - all will differ in one form or another.

Digger: There are many varied and beautiful examples on your website - which are your favourites and which would be your recommendations for novices?

Dawn: I have to admit my love is primarily for the vintage/ antique walking cane. Breaking that down further and a gadget cane or a well-carved folk cane with lashings of patina has to come top in my ideal.
For a novice collector I would always advise take it slowly and benchmark with your collection objectives. Develop as a collector by experience both good and bad.

Digger: Many contemporary Walking Sticks and Canes have a traditional and vintage look and feel, don't they? Is this part of the appeal for people?

Dawn: The much of the Italian range we stock, does have a traditional look. This is ideal for the collector building up a collection as many of the designs are taken from the 18th & 19th Century. Alternatively, many customers add the new Italian collector's cane range to a stick stand to give an upmarket feel to a house or business reception.

Digger: Where do you see the future for Scotties Walking Sticks & Canes?
Dawn: The future of Scotties Walking Sticks & canes is without doubt is to keep to the objective of providing some of the most unusual walking canes at an affordable price.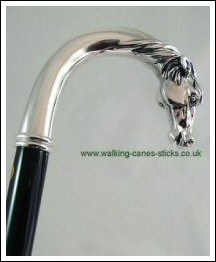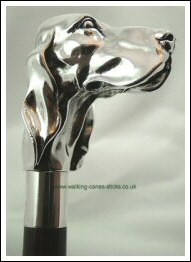 ---

Welcome to www.walking-canes-sticks.co.uk the online UK store for fashionable walking sticks, ladies walking canes & gents walking sticks, collector's walking canes, gadget walking sticks, systems collector's canes, old and antique walking sticks or a walking cane that is just a tad bit unusual. In addition, we also do a range of new & antique walking stick & umbrella stands to compliment any walking stick & cane collection or interior design theme.

All walking sticks, walking canes, tripod sticks, seat sticks, shooting sticks, walking stick accessories and walking stick stands within our website include FREE DELIVERY in the UK and are dispatched within 24 hours or same day if ordered before 1.00pm Monday to Friday & excluding Bank Holidays.

We have a large and comprehensive range of walking sticks and walking canes including, gents walking canes, ladies walking sticks, extending floral and decorated walking sticks, handbag folding walking sticks, derby handled walking sticks, silver dress canes and sticks, folding sticks, derby canes, traditional and contemporary designed shooting sticks, flipsticks, seat sticks and tripod seat sticks.

Contact us 24 hours a day , 7 days a week by email: info@walking-canes-sticks.co.uk

Contact us by phone between the hours of 9am to 5pm Monday to Friday 01472 859591