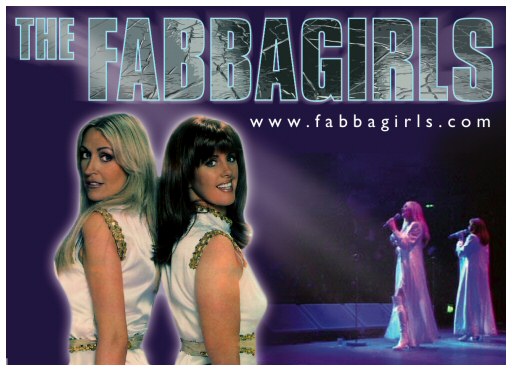 The best ABBA tribute band in the world
- THE FABBAGIRLS!
The Fabbagirls are in demand all over the world and are very much respected by their peers, as well as by their large roster of clients, for their musicianship and professionalism.
Here, Digger talks with Susie Webb about her work with Zoe Nicholas as The Fabbagirls and with The SAS (Spike's All Stars) Band...
Formerly with Bjorn Again, Susie and Zoe work regularly with Queen, Paul Young and Leo Sayer. Susie also writes alongside 10CC's Graham Gouldman who wrote many hits, including Bus Stop for The Hollies and No Milk Today for Herman's Hermits.
Susie and Zoe also provide backing vocals to a number of other household name artists, including Lionel Ritchie. Susie also performs voiceovers and soundalikes.
As far as Susie and Zoe are concerned, it's all about getting people to enjoy the music and to have a laugh as they succumb to their infectious enthusiasm and sense of fun.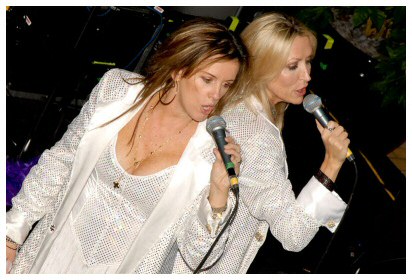 Susie Webb and Zoe Nicholas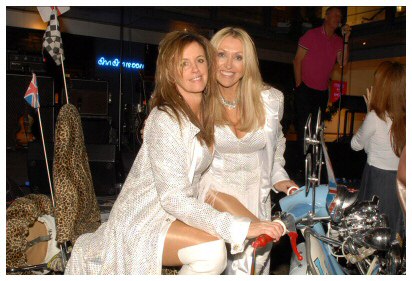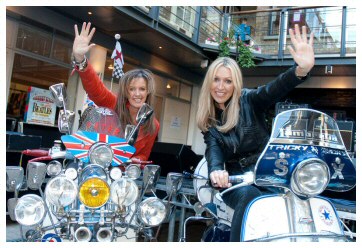 A recent event at Carnaby Street
---

Digger: Good morning Susie.
Susie: Good morning David. How are you?
Digger: I've had about five coffees now so I'm starting to wake up. I'm not a morning person.
Susie: (Laughs) I've had three so I'm catching up.
Digger: I tell my girlfriend there's about an hour's window of opportunity each day when I'm at my absolute peak.
Susie: Am I having you at your peak?
Digger: Let's hope so. I've been having a good rummage around your website, and I look at websites all the time because it's what I do – your site is very impressive. You seem to have covered every angle, haven't you?
Susie: I hope so.
Digger: It's a good site – there's bios and a gallery and sound files and gig lists and testimonials, who you have worked for and with – everything you need to know.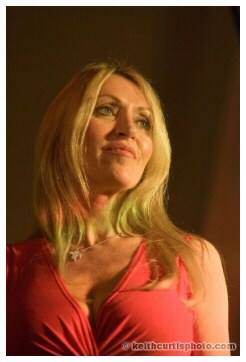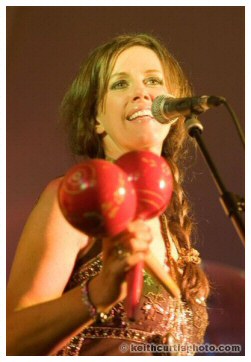 Zoe and Susie (images courtesy of and copyright Keith Curtis)
Susie: Thanks. If there's anything like that you seem to know what you're talking about so please let me know.
Digger: Can you tell us a bit about your background? I'm almost more fascinated looking at your site by the non-Abba stuff that you have done and are doing. And funnily enough, a lot of the people you have worked with are on our site.
Susie: Oh yes, funny that, but I suppose that's the way it is. We have worked with a lot of old rockers.
Digger: Would they appreciate being called old rockers?
Susie: Some probably not. We tend to work with people who are very good musicians and singers. Actually they really can do it – put a performance on and play their instruments really well rather than a more modern day performance where people do a lot more work in the studio than live. We do a lot of live work. Over the years I worked with The Who...
Digger: Loads of my heroes too like Roy Wood and Graham Gouldman.
Susie: Well I write songs with Graham.
Digger: I know, you lucky thing.
Susie: He's a friend and we know Graham through working in the SAS Band. We are doing some gigs with him at Christmas – we're doing a thing called Bisley. Maybe you can come down and I can introduce you?
Digger: That would be great.
Susie: The thing about Bisley – it's on the 3rd and 4th December. Maybe you could do something on the SAS Band?
Digger: I certainly can. What a list of names there is of people who have played in the band. Roy Wood, Paul Young, Kiki Dee, Brian May. And Leo Sayer who you are working with as well.
Susie: I had a song on Leo's album called Voice In My Head and my song was Maybe. It's a ballad.
Digger: I need to have a listen. I bought Leo's first album Silverbird as a teenager and was heavily into that at the time.
Susie: Oh did you? Leo's one of those unsung heroes – he's got a great voice and a brilliant musicality. He's a clever musician.
Digger: He's been pigeon-holed a bit and it's unfair.
Susie: Yes he has, and probably some of it is the way he is. You know, almost like he's expecting the world not to take him seriously, so he mucks around.
Digger: He does. I know people like that and I thought the same. You can tell that he's really talented – he was discovered by Adam Faith, wasn't he?
Susie: He was. And he's a brilliant singer.
Digger: But we're talking about people other than you!
Susie: I know, enough of this nonsense! (Both laugh)
Digger: So, you were in Bjorn Again and then what happened?
Susie: I joined Bjorn Again because the Frida character was leaving. So they did a big search for a new one, I got a phone call and did auditions and got that job. So I travelled with them and went all over the place – to America, Canada, all over Europe. We did some quite big events everywhere and then Zoe, my current partner who is the Agnetha character, was auditioned because her predecessor was leaving too. And we'd been working for a while beforehand anyway. And so the two of us friends were fronting Bjorn Again and we decided to leave after roughly a couple of years. Sometimes when there was a day off someone would put another show in and we'd be exhausted and knackered and travelling around the world and it would be my turn to drive the minibus for four hours. It was just a little worrying. My background was with big rock bands and theirs wasn't. I was used to staying in decent hotels and roadies driving but staying in small motels to save money and driving ourselves for four hours and then being on stage for three hours – it was all just too exhausting. And I felt like there was an accident waiting to happen to be honest. And also I wanted to go out and really enjoy what I did for a living and didn't want it all to be about money. When we were in Bjorn Again we fronted it and some of the interviews were quite witty although I sadly haven't got anything recorded. We did some funny radio and TV shows, Zoe and I.
Digger: Doing Swedish accents?
Susie: Yes (Swedish accent) Don't you love meatball stew? And all this stuff. (Both laugh) And also, Zoe and I, we'd worked with a lot of comedians as well.
Digger: For instance?
Susie: Jim Davidson.
Digger: Oh my God.
Susie: So there was that going on where we'd done loads of tours with Jim Davidson, which were quite blue but very funny and we'd be the two backing singers in the background. And he used to make out that we were Swedish backing singers and this was before I'd joined Bjorn Again.. It was really good because we used to come with Swedish slightly saucy banter with him anyway, so that was quite a good training to go into an Abba band I suppose. (Laughs)
Digger: It was a bit Carry On, was it?
Susie: It was very Carry On. We used to throw things in when Jim wasn't expecting it and it was great fun. The monotony of being on the stage and him doing his thing and then we would be a part of the band – he'd suddenly throw something into the equation to get us going. There would be 2,000 people in the theatre and Jim would say "Tonight, Susie is going to sing us a song." And I am standing there thinking "What bloody song?" And not being able to think of one song in the world that will come into my head! (Both laugh) He walked of the stage and stuck a microphone in my hand and I remember the only song that would eventually come into my head was The Lambada and it was, you know? (Both hum along) Da, da, da, da, da, da, da, da, da ,da, da, dad a-ah-ah. So I made up Spanish – just completely made up because I couldn't think of the song. I couldn't speak Spanish so I went something like "Ying tang sombrero, rohas pino grigio san-geria." And then so on ending in 'mantequilla' which is Spanish for butter!
Digger: (Laughs) I bet that shut Jim Davidson up. You should have tried "Donde estan los bocadillos?" which means where are the sandwiches? (Both laugh)
Susie: It was all that sort of stuff.
Digger: Jim was suitably shocked I hope?
Susie: Yes, he loved it because he got a bit of interest on stage.
Digger: Rather than being on auto-pilot.
Susie: He liked not sticking to the script and humour prevailed is what I am trying to say.
Digger: Good. One question I've got, and not so much a question but more of a statement really and I'd be interested if you agree. There's a lot of cross-pollination between the tribute bands and the, what shall I call them? – orthodox bands. What I'm trying to say is that tribute bands are taken very seriously in this country by the public and by their peers in the industry. Would you agree?
Susie: Well, they are and they aren't. Some people take them seriously. I mean, I fell into it because I kept getting phone calls to join a band and I ended up going along to see what it was all about, went for auditions and got this job. I said "Do you want me or don't you? I'm moving on." And they used me, but some people who don't know about tribute bands or just haven't seen a good one. They just think "Oh, they're copying people." And it's frustrating, because we try to make it fun and don't take ourselves seriously – we don't think we're Abba. We completely see the fun side of it. Having said that, we get the music as accurate as we can and have some very good musicians in our band. Sometimes we've used Spike and Jamie who worked with Queen and we sing backing vocals a lot with Queen. And I just think the standard is high but we're all different and have a laugh. It's party night and party time and sometimes we go down better when we're on the stage with some famous acts – rock and pop stars where we're on the same bill – we go down ultimately better.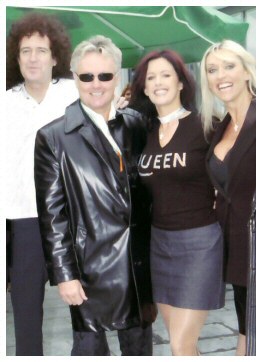 Zoe and Susie with Brian May and Roger Taylor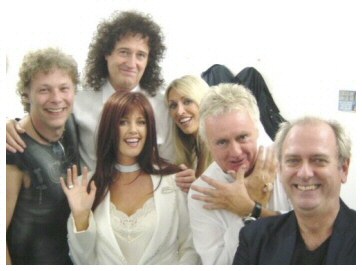 Zoe and Susie with Queen
Digger: Some of them have booked you for their own private parties, haven't they?
Susie: Yes. Because they see the joke, we often do rock gigs because they get to know us and some of them know us anyway, these rock people. The whole quirky funniness of it, our chorography and the fact that we've been working together for over ten years. It's spot on and quite funny.
Digger: How do you cope with the harmonies because there are some quite sophisticated harmonies going on there aren't there?
Susie: Well, it is what we do and I think Zoe and I have worked together more than any other two girls in rock music. I don't mean doing backing vocals - a load of people work together, but they end up falling out or they move on and do their separate things. But we have stuck together on so many different projects and we're just about to do that thing with Paul Young. We've done lots of things with him in the past.
Digger: There's a nice photo of you and Zoe with Kiki Dee.
Susie: Yes, that's quite nice. So everyone knows we both get on well and it's easy and they don't have to worry about us learning the stuff –our harmonies are what we're good at. If it's okay to say that?
Digger: What about the chaps in the band? How does that work?
Susie: The blokes sing as well – we have a guitarist and a keyboard player and what we do is shows either with us two girls, or the front four which is the keyboard player and the guitarist as well and they also sing – the Benny and Bjorn characters, and then we have a bass player and a drummer if we do the full band which we do quite a lot. So we give people options. We did some backing tracks – Brian May cut us some in the studio a few years ago which was very kind of him, when we were working with him. So we've some amazing backing tracks for when we do shows without the full band.
Digger: This is probably an obvious question. Why do you think Abba are so continually big?
Susie: I don't think it's an obvious question actually. Because, for a long time, Abba weren't doing very much. When I was in Bjorn Again and when we then split away from Bjorn Again to form another band to give them a run for their money and then there were two. So Zoe and I did that but now there's hundreds of them and now every function band go "Let's be an Abba band, that's where the money is." And I don't think it is for most people. I think Abba's popularity comes from… I have to say tribute bands have had a little bit of help with it having a quirky retro feel and that gave it a lease of life. Everywhere we went around the world then Abba sales would go up and that came from their record company – and they weren't selling huge amounts for quite a few years.
Digger: There was a time, and I can remember, when they really weren't trendy and you didn't admit that you were an Abba fan.
Susie: No, exactly and I remember that time and neither was Kylie and she reinvented herself as so many people do and you forget when they are back on track and really cool and trendy. It's a whole PR thing.
Digger: Isn't it great that there's no snobbery anymore? I suppose there still is some but I don't feel guilty about liking Matt Monro just as I wouldn't feel guilty about liking Led Zeppelin.
Susie: It's great and I think it's opened the doors. Tribute bands put bums on seats if they're good, and with Abba you've got the big pink pound gay audience who love Abba and that's a big slice of your audience sometimes. When we did Pride this year we were on the main stage at Trafalgar Square and, in fact, we were pretty much the main act. We were right up there at the end and when we did Dancing Queen they just went mad.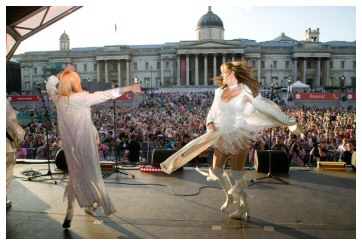 Pride
Digger: That's an amazing anthem.
Susie: An amazing anthem and it just made everyone happy whatever your background or gender. They just loved it.
Digger: What are your musical passions? How did you get into the music scene?
Susie: I had my own band.
Digger: How did that come about though?
Susie: I used to listen to people like Annie Lennox and Pat Benatar, Debbie Harry and I loved Queen.
Digger: I saw them first in the very early seventies at Southend's Kursal – they were a relatively unknown support act to Mott The Hoople.
Susie: I loved quite a few rock bands – Rainbow and AC/DC over the years. I got Bruce Dickinson to come and play when we did a big Queen show. It was ten years since Freddie Mercury had died and they did their first show as Queen without him.
Digger: That was quite a milestone.
Susie: It was somewhere in Hackney – the Oxygen or somewhere and they did that and wanted a couple of guests and I said "What about Bruce Dickinson, who I know a bit?" And they did that and that was quite a good thing - he went down brilliantly. So my background is that I love music but I love all sorts of music. I don't listen to too much classical music although I do like it now and again.
Digger: Funnily enough they say Abba's music has a lot of influences on the melodies and structures from classical music.
Susie: They were properly trained musicians and so that comes out in their piano playing.
Digger: Yes, definitely.
Susie: Even Roy Wood says they were influenced by him.
Digger: Roy had that 'wall of sound' going on that he in turn 'borrowed' from Phil Spector.
Susie: He's a very clever man. Wizzard and ELO and The Move.
Digger: Have you heard of The Idle Race?
Susie: No.
Digger: They were a great Birmingham band that Roy and Jeff Lynne had involvement with in the pre ELO and Wizzard days. There was a big Brumbeat scene. I'll send you a link to some of their stuff. You can hear the ELO sound in its early form with The Idle Race.
Susie: I love ELO as well and The New World Record album, and Fleetwood Mac with Stevie Nicks and Christine McVee. I loved their voices. Another thing that I do is quite a lot of TV commercials and voice overs because I have quite a versatile voice.
Digger: Examples?
Susie: I'm with Hobsons agency for singing and with SVMK for my voiceovers – Joanna Lumley and Anne Robinson.
Digger: Give me a bit of Anne Robinson:
Susie: (Robinson voice) You are the weakest link. Goodbye.
Digger: (Laughs)

Susie: It takes a while to really get into the voice. And I do Stevie Nicks and Madonna and I get used to doing all sorts of singers. Alanis Morrisette – sometimes they want an exact copy for some reason, maybe because it's cheaper than using the original artist.
Digger: Can we divert off of Abba and ask you about the SAS Band?
Susie: The SAS Band is Spike's All Stars Band and Spike Edney is the keyboard player with Queen and he's almost like the extra member really. He was always with Queen in the background, sometimes offstage. Roger Taylor has recently just got married again and we were performing at a festival for that in his grounds.
Digger: There's just an impressive list of names on that site.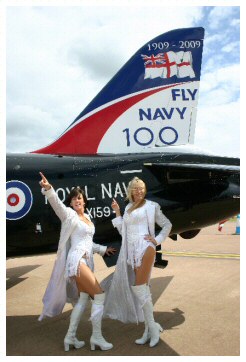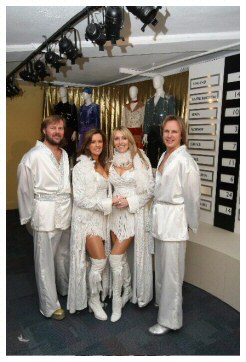 Susie: On the stage was us, Roger Daltrey, Roger Taylor, Brian May who sang with me on my microphone, Joe Elliott, the lead of The Jersey Boys Ryan Molloy, Bob Geldof and all sorts of people. But in the SAS Band all of those people have sung plus Kiki Dee, Chris Thomson from Manfred Mann, Madeline Bell, Leo Sayer, Graham Gouldman, Chaka Khan and you don't know who's going to come along. And also this band has been the base band for Party in the Park over the years where various people come on and do their thing. And for the Nelson Mandela concerts as well. So Spike has his fingers in all of those pies and it's lovely.
Digger: So when you're not involved with Spike and working with Fabbagirls, what's this collaboration you're doing with Graham?
Susie: Well, because I'm a songwriter and I like to write songs – it's my passion, so I've always written songs although I haven't had huge hits with them I have to say. I'm still waiting for that moment. I'm talking to some publishers at the moment. I sometimes spend years writing songs and then don't get them out there. But I write with Graham Gouldman because I know him and I say "Come on, come and write a song with me, please!"
Digger: You ask him for the winning formula and he says "I don't know."
Susie: "Please take me to the Ivor Novello awards, please Graham, please." And he says "When you've had a hit."
Digger: I suppose all the hits he wrote, like Bus Stop and No Milk Today are his pension?
Susie: I really don't know. He writes and writes and writes and also performs with 10CC all over the world, Japan and Germany. They've got a great singer working with them, Mick Wilson, and you should go and see them actually. The voice he's got – you couldn't get better.
Digger: 10CC are overlooked and underrated.
Susie: They are – Squeeze and 10CC and Crowded House – I would put those three bands into a bowl and say they're all quirky and clever.
Digger: They get forgotten don't they?
Susie: They do. I love all three of those bands because they dared to do different things. Queen as well. Clever lyrics and also all of their songs were different.
Digger: Yes, very different. Particularly 10CC, I think of Dreadlock Holiday and Wall Street Shuffle and I'm Mandy Fly Me – they're all very different genres.
Susie: And very good songs, aren't they?
Digger: Yes. And I'm Not In Love, of course.
Susie: Well that's one of the biggest ever all-time songs. So that must be a pension and a half. He doesn't sit back and he's always working, always writing.
Digger: Susie that was terrific. I look forward to your gig on 4th December.
Susie: I'll put you on a list.
Digger: Thank you. That's much appreciated.
Susie: A pleasure.
Digger: Look Susie thanks very much for that.
Susie: That's alright. It was lovely to talk to you.
Digger: And to you. Take care. Bye.
Susie: Thanks David. Bye.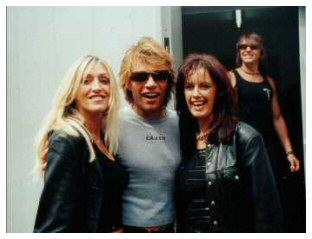 Zoe and Susie with John Bon Jovi
---

The best ABBA tribute band in the world
- THE FABBAGIRLS!
THE FABBAGIRLS are quite simply the best Abba tribute band in the business…. which is why they are regulars at The Royal Albert Hall. They are now recognised as the best Abba Tribute band in the business. Their saucy sense of humour and fabulous vocals, coupled with stunning costumes and choreography puts them right at the top of their game!
After fronting Abba tribute band Bjorn Again, they decided to form a band of their own. Along with their 'world class' band, this Abba tribute band have performed all over the world; In USA for Microsoft on numerous occasions, Marrakesh for an amazing 40th birthday, Trinidad for the Islanders, on a yacht in Sardinia – for Royalty, on beaches in the Caribbean & South of France and in Sweden, where they dressed up as nuns before ripping off their habits to reveal their saucy white satin costumes!
Since its inception, THE FABBAGIRLS – fronted by Susie Webb and Zoe Nicholas, has become the No.1 Abba tribute band. It has been hugely successful with the girls either singing alone, or with their 'world-class' band, giving clients a choice to suit the stage size and budget. The PARTY ANIMALS is their other band, which is the same musicians, changing costume and performing songs of the 60's up to the present day hits…they are rocking!! Both can be booked on the same night as the same musicians perform in both bands!
As two of London's most established vocalists and away from THE FABBAGIRLS .COM, Susie and Zoe have worked together with QUEEN, LIONEL RITCHIE, THE WHO, BILLY IDOL, WILL YOUNG, PHIL COLLINS, PAVAROTTI and many more of the greatest rock/pop bands in the world . They are always in the studio with various artists and their singing and speaking voices can be heard on TV commercials for PEPSI, MACDONALDS, FISHER PRICE, CALGON, WOOLWORTHS and many more……….
Susie and Zoe have performed at PARTY IN THE PARK on numerous occasions to audiences of hundreds of thousands and they were given the honour to sing with 'QUEEN' at Buckingham Palace for the Queen's Golden Jubilee concert, where BRIAN MAY played his legendary guitar on the roof. Here, they sung alongside all artistes including STING, THE BEACH BOYS and WILL YOUNG. The girls were then invited to Medina, Italy with QUEEN, to perform in the home town of the great PAVAROTTI, for a special concert 'PAVAROTTI & FRIENDS' singing with ERIC CLAPTON, BONO, ANDREA BOCELLI, LIONEL RITCHIE and other great performers from around the world.
Susie and Zoe spend much of their time travelling the world to perform as THE FABBAGIRLS at private parties, launches, corporate events and charities see recent shows.
THE FABBAGIRLS are a great team and have a brilliant sense of humour, which derives from having worked with many of the great British comedians. The girls are always open to fun and funky suggestions…hence the nuns outfits, the Swedish accents and the infamous spanking fish! They are also longstanding members of the SAS BAND (Spike's All Stars) with whom they perform on a regular basis.
00 44 208 748 1929