William Lennon and Co Ltd
- Footwear Manufacturers since 1899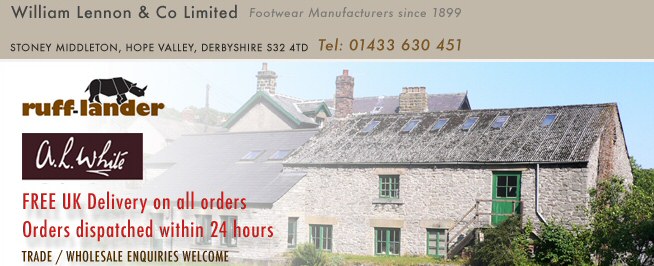 Digger talks to Dan at William Lennon, the traditional men's boot makers. William Lennon are manufacturers and distributors of men's industrial, agricultural and country footwear. With an extensive range of steel toe cap, safety boots, safety shoes, work boots and rigger boots, including some specialist items such as large sizes, vegetarian and vegan styles and lightweight composite toe boots.
The firm started in the1890's and continues to this day very much in its original form.
---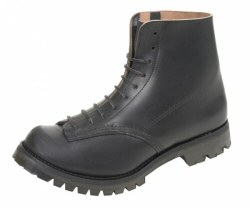 Fell Boots
Digger: Hello Dan.
Dan: Hello there David.
Digger: Are you keeping busy?
Dan: Yes, very busy thanks.
Digger: That's good. Can you please tell us a bit about the background to William Lennon?

Dan: William Lennon started in 1899 manufacturing work boots for the local industry which was quarrying. These were heavy men's boots. And it has carried on from there really.
Digger: You've got quite a range now. Vegan and vegetarian boots, safety boots and so on.
Dan: Yes, we did specialise in the safety work boots but now we're diversifying back to what we did 80 years ago.
Digger: What are the best sellers from the range?
Dan: They all sell really well.
Digger: Do you do military boots as well?
Dan: No.
Digger: Are there any cults that have latched onto these boots, like they did with Cuban heels and Dr Martens for example, or are these only used by nitty gritty industry and trades?
Dan: We do the World War I type army boots for re-enactments and so on. And they're very popular with the re-enactors.
Digger: What about World War II?
Dan: We do a World War II boot but it's not mentioned on the website at present.
Digger: What has contributed to Lennon's success, having thrived since the 1890's? Have there been many competitors over the years?
Dan: Yes, we are the only one left making them in England.
Digger: You've seen all the others off have you?
Dan: (Laughs) Yes, but we're only a small company really.
Digger: I am in the middle of Northampton here and, as you know, we used to be the shoe and boot capital of the Empire.
Dan: Yes, you were definitely.
Digger: There's hardly any manufacturers left here now and they've all been turned into flats and developments. All that remains is the nickname of the football team - The Cobblers.
Dan: Yes, there's still one or two left there, but they tend to be the high-end ones.

Digger: What are the most unusual items you produce?
Dan: We produce some large sizes which go up to size eighteen.
Digger: What gives you most pleasure about working at Lennon's?
Dan: We just like making traditional footwear to the best of our abilities.
Digger: It's a very picture postcard setting.
Dan: It's a lovely location in the middle of the Peak District.
Digger: Do the people who work there tend to stick with you for a long time?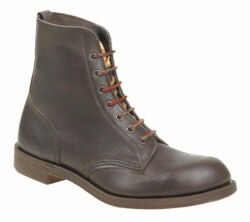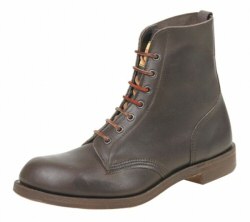 Hobnail Boots
Dan: Yes, we have one lady who has been with us for over fifty years.
Digger: I hope she has got some good long service awards.
Dan: She just appreciates coming I think.
Digger: (Laughs) You might even get round to paying her one day?
Dan: Yes.
Digger: Obviously you've lasted for 100 years – what are your plans for continuing for another 100 years? Are you going to stick at the winning formula or do you feel the need to try some new things?
Dan: We will stick to what we know. I think that's the name of the game. We're hoping to build the brand, really, and be known for quality English-made boots.
Digger: Yes, a lot of British industry went overseas, didn't it? And what happened then was they realised that we had the skills and expertise for the niche and specialist production. So it's alright having mass-produced items made in China but we can produce the quality and heritage and specialist products here.
Dan: Yes, I had a man in from Wedgwood, who are based in Stoke-on-Trent, earlier on, and they were considering shifting their manufacturing to Indonesia. A Japanese customer said "If you ship it to Indonesia we won't be buying from you."
Digger: Good for them.
Dan: They want English Wedgwood.
Digger: You see brand names and think they couldn't be more quintessentially British and when you delve a bit you see they are owned by an Italian/German conglomerate.
Dan: Yes. Well we're as British as you can be.
Digger: Well thanks Dan. I'd like to wish you luck with your plans for the future.
Dan: Thanks David. Brilliant, I'll send you some images of our boots. Bye.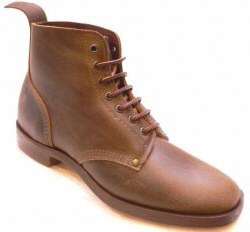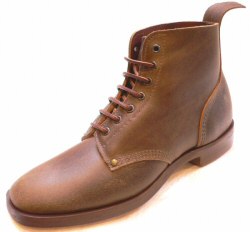 World War I Boots
---
Big Boots Size 14+, Chemical Resistant Footwear, Composite Toe Boots, Dewalt Boots, External Toe Cap Boots, Foundry Boots & Specialist, Industrial Boots - Welted, Metal Free Safety Boots, Quality Cheap Safety Boots, Rigger Boots, Safety Dealer Boots, Safety Footwear - Rugged, Safety Shoes & Trainers, Steel Toe Boots - Contractor, U Power Safety Footwear, Vegetarian Safety Shoes, Wide Fit Safety Boots, Safety Boots - Modern Styles, Cycle Shoes, Equestrian Footwear, Farmers Boots, Gents Dealer Boots, Shepherds Boots, Solovair Boots and Shoes, Town & Country Specials, Tug Of War Boots, World War 1 B5 Boot

Established in 1899 and based in the Derbyshire Peak District we are manufacturers and distributors of men's industrial, agricultural and country footwear. We have an extensive range of steel toe cap, safety boots, safety shoes, Safety Boots and rigger boots, including some specialist items such as large sizes, vegetarian and vegan styles and lightweight composite toe boots. As well as the occupational footwear we run a range of dealer boots, shepherds boots and Solovair boots and shoes. Our prices are very competitive and include free P & P.
Our fourth generation family company was established in 1899 to service the then burgeoning local quarrying and lead mining industries with quality Safety Boots.
We have been manufacturing our 'ruff-lander' and 'A L White' branded footwear in our current Peak District premises since 1904 and we are now the only remaining heavy duty safety, foundry and agricultural boot manufacturer in the UK.
To compliment our own footwear we are also stockists and distributors of many other footwear brands and styles.
With our extensive history we have gathered a vast knowledge of 'all things footwear', so if you have any questions please do not hesitate to contact us.

Tel: 01433 630451