Digger: This may be a daft question, but who are your customers? Is it everybody?
Rupert: My customers generally split into two types of people. There's the car buffs and race fans and the people who own the historic cars and so on who want a painting or a poster that features a race or a car that they own or have had or aspire to. But also, if they're fans, then many of the images will appeal just because they like the image. The other sorts of people who are buying are art collectors who aren't particularly bothered about the cars and don't know much about them - they just love the image and want to buy it because it's a painting that they love.
Digger: Apart from landscapes and the human form I think that transport can be one of the most beautiful images - classic planes, trains and cars just have those wonderful lines.
Rupert: Yes, and we try to have artists with different styles and approaches rather than all the same. There might be one or two whose style I might personally favour but having that diversity allows for the varying tastes of the clients. So long as the standard is high enough. Although you might appreciate a piece of work and the execution you might not necessarily want it on your wall, which is why having that choice of styles is so important.
Digger: What are the best things about what you do?
Rupert: I love art in general and have a small personal art collection which is not just motoring-related - I have a few vintage posters in the house. But I like handling the art, working with the artists. I like seeing paintings and artworks being created and I love handling the vintage posters and finding things that you've never seen before and sourcing stuff. That's a big challenge, sourcing posters, because they're getting harder and harder to find all the time. And I like meeting people.
Digger: There's a lot of variety in what you do.
Rupert: Yes, there is.
Digger: A good move from pharmacy to art, then?
Rupert: Yes, I enjoy it more. This is what I really like doing.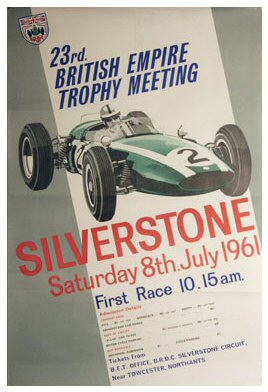 British: Empire Trophy Meeting Silverstone 1961 Poster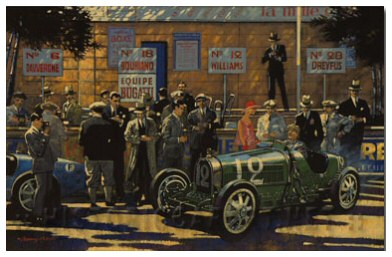 The Bugatti Pits - Monaco 1929 by Barry Rowe (Williams Monaco)
Digger: What's the future then Rupert?
Rupert: To keep doing what we're doing, I think. The business is growing year on year, even in these tough times. So if we can get through the next few years with this so-called downturn then it should be strong coming through the other side.
Digger: Tony over at Automobilia Planet said they were number one for Automobilia and car mascots and so on. And it looks as though you have established yourself in pole position for car art?
Rupert: Yes, I think we have already. So it's just a question of building on that. I think we'll probably do one or two bigger exhibitions, maybe in London and Paris as these are the places that spring to mind, over the coming years. But other than that there's always a few ideas one has up one's sleeve to try and complement the business with something slightly different. But as we said at the start, it's finding time to do all these things, isn't it?
Digger: It certainly is. Well Rupert, well done for what you've achieved in six years and thanks for letting us know more about Historic Car Art.
Rupert: Thank you David.