Richard: Pretty good. Just very, very busy. It doesn't seem to stop
Digger: Why do you think you're so busy?
Richard: Lots of people finding out about us. It just seems that the whole world, or at least the UK, seems to have found out about our photobooths in the last few months.
Digger: It certainly seems that they are very much in fashion at the moment.
Richard: Very much so.
Digger: And let's hope it stays that way.
Richard: I hope so.
Digger: Can you tell us about your background and the background to the business?
Richard: Yes. I am a wedding photographer and have been for most of my working life. About three years ago a photographer friend of mine over in Florida was telling me that he'd been running photo booths and how much business he'd been doing. And I thought "Hmm, that sounds interesting." Within two months we had one of our own. We covered our first Photobooth for a wedding I was already shooting back in December 2007.
Digger: How much has that business changed over the last few years with digital technology?
Richard: It's completely transformed it and there's is really no comparison to how it was. Everything is almost instant now and you don't have to worry about darkrooms or colour labs.
Digger: You can encourage people to go online now - friends and family, and choose what they want too?
Richard: That's right. Everything has totally changed.
Digger: I can remember the long wait from when the photos had been taken to when they were ready. If you were lucky and they could process the photos quickly, they'd be shown at the wedding reception in the evening on a couple of easels.
Richard: We used to do that with the customers I had back in the 1980s and that is the way we used to sell our wedding photographs.
Digger: Why do you think there's been this resurgence in booths?
Richard: There's no photographer involved and nobody standing behind a camera saying "Smile." The booth is private and people can actually see themselves on a screen in front of them. It's just a relationship between themselves and the image of themselves on the screen in front of them.
Digger: Can you tell us a bit about some of the options you've got on offer?
Richard: We have various different kinds of packages on offer according to the type of function we do. For example, we found very early on that Bar Mitzvahs and Bat Mitzvahs were far more demanding than, say, a wedding. With a wedding, we can turn up about an hour beforehand and get everything set up and then we'll run the photo booth for three straight hours and then our job is essentially done. We provide a guest book for the bride and groom and present it to them and then we're basically finished. With Bar Mitzvahs, for example, historically I was covering Bar Mitzvahs but only providing keyrings. So, as a photographer, I would go round and photograph all the youngsters and a very few of the adults and we'd go away to another part of the hall and print out their pictures and pop them in keyrings. That was what we used to offer. When the photo booths came along I wanted to incorporate the keyrings into what we offered for Bar Mitzvahs and we were getting clients that had used us before or had been recommended to us and they wanted the keyrings as well. When it comes to the guestbook, it's not just an option anymore, it's already part of the package that we offer to weddings or parties for individuals. For me the Guestbook is the very essence of the Photobooth.
A corporate function, for example, they will almost never require a guestbook as the party is rarely for an individual. We usually include a disc of the images from the Photobooth in the package that we offer to corporate clients.
Digger: How does that look, the guestbook?
Richard: Our guestbooks do look very, very good. We have everything handmade - even the pages we make ourselves. They're black and people write on them depending on whether their photos are black and white or colour in gold pens or silver pens. The covers - we have them made by our bookbinder who will make the books up in a colour, or colours that our client has chosen and block their names on the front cover. Every album we do is personalised.
Digger: That's a nice memory - we didn't have that in my day.
Richard: Absolutely not.
Digger: What sort of feedback are you getting from the clients?
Richard: We can expect to get three jobs from every one that we cover.
Digger: Wow. That's the best sort of feedback you can hope for really.
Richard: It certainly is.
Digger: Why is retro so popular?
Richard: I don't know. But if you're talking specifically about photo booths, they have been around for close on a hundred years.
Digger: I didn't realise it was that long.
Richard: Yes, there's a couple of websites I found when I was doing my research. These sites cover a history of photo booths. Andy Warhol was using them back in the sixties to create some of his art.
Digger: I can remember them as a young boy back in the sixties at railway stations. There was usually a milk machine, with milk pyramid-shaped cartons, a photo booth and even a machine where you could record your voice onto a floppy record.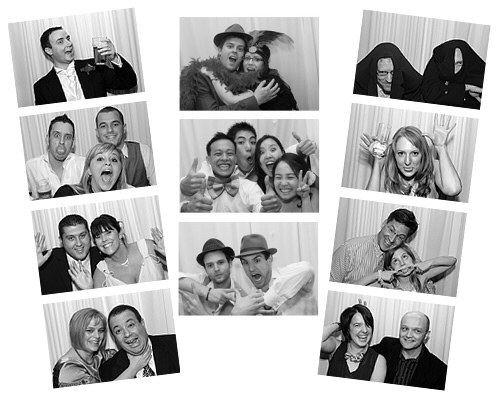 Richard: We must be the same sort of age.
Digger: What plans have you got for the future of the business?
Richard: In the end, we are probably the busiest photo booth company in the UK and last weekend we covered twelve functions over a single weekend.
Digger: You must have a lot of staff?
Richard: Yes, we have a quite a few part-time staff. We now have four photo booths, soon to be five. The photo booths are not the issue - reliable and quality staff are the issue. We tend to use people we know and they have proved to be more reliable.
Digger: Have you split the UK into different chunks with a person covering each chunk?
Richard: We haven't worked that way, although we now do a form of franchise where we have offices in Melbourne, Australia, the north-west of England, South Wales and soon to be in Northern Ireland, Scotland and the north-east. That will cover essentially the whole of the UK and the only piece missing will be the south-west. We don't get that many enquiries from the south-west. When we do, it's such a distance to travel that the price of the Photobooth has to be higher. We would like an office down that way. When we get to five photo booths based from my office here in London we will stop there.
The next thing is staying ahead of the game and offering products that go with the photobooth that nobody else can offer. We have some very, very nice new products that we will be offering very soon.
Digger: I suppose it's difficult to predict how the technology's going to move ahead. You can only plan so far because we don't know how things are going to look, do we?
Richard: It is true, but in the end the technology side is the thing that gives us the medium to create all these things. Having said that, all of our end product has nothing to do with technology. There are a couple of ideas that we have bubbling in the pot where somebody will be able to tap in their mobile phone number just before they go into the photobooth and their images will be sent by text straight to their phone.
Digger: Impressive. Do you find that people want a physical print, as it were?
Richard: Yes, they do and we found this out very early on. We give away a lot of prints.
Digger: Does it mean that you're not doing the traditional photography at ceremonies and parties anymore and focusing on the booths?
Richard: Pretty much so. We still shoot weddings - a lot of people would regard wedding photography as being very overpaid for working on a single day. What many don't realise is that from the moment we arrive to shoot a wedding to the completion and delivery of the wedding album it will take a whole weeks work. With a photobooth, by the end of the night, apart from creating a web gallery and possibly a couple of extras like thank you cards - the job is finished and complete.
Digger: Once people got digital cameras and computers they all became instant experts in photography and graphic design.
Richard: Yes, it's true and the number of wedding photographers in the UK has probably doubled in the last five years but the number of weddings has gone down. A client who booked a Photobooth yesterday will be using a wedding photographer who has never shot a wedding before... I fear for the quality of their wedding photographs and they may be regretting it for a long, long time.
Digger: That's right, you only get one chance to record a big day like that.
Richard: Yes. It is a one off occasion that cannot be repeated.
Digger: When I hear someone say "I know a chap down the road who does..." I always think they're going to end up with something second rate.
Richard: Yes.
Digger: Well Richard, that's great. Thanks for letting us know about the Photobooth boom!
Richard: Thank you David.

If you are looking for something new, different and fun for your wedding reception, corporate event, senior prom, exhibition stand or party come in and take a look.

How many of us went to Woolworths when we were teenagers and spent a few minutes having fun in the passport kiosk and then waited, what seemed like ages, to see the results?

Our Photobooths are a digital, faster, fresher and much better quality alternative to the original passport photo kiosks. One thing we can absolutely guarantee is the fun and laughter that comes with every Photobooth. It is as much a part of the evening's entertainment as well as creating great mementoes of the event for you and your guests.

Telephone: 01895 468858

West Drayton
Middlesex
UK

Email: info@rentabooth.co.uk