Margaret: Yes, they are. It works both ways. If you do very well for your clients then they have this massive grapevine going round all the societies so they will recommend you left, right and centre. Equally, if you don't live up to what you say you will do then, quite rightly, they will spread the word round to other societies not to use you basically. So you've got to keep on your toes with them and make sure that you do your best.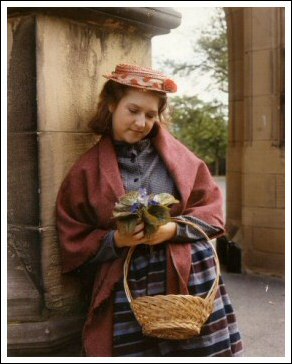 My Fair Lady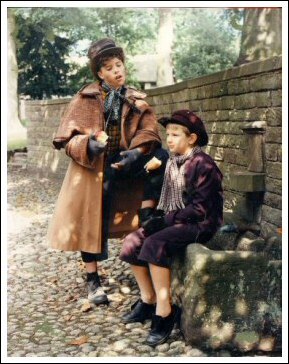 Oliver
Digger: That's answered my question about the feedback you are getting - obviously positive feedback generally?
Margaret: Yes.
Digger: And is it equally catering for these theatrical groups but also the general public as well?
Margaret: Yes, we have two sides to the business. The main one is the theatre side and we've just done The Hairy Bikers, for example. They are doing - in their coming series, a thing about Pavlovas and obviously the meringue Pavlova is based on Anna Pavlova and her ballet costume. So The BBC in Birmingham rang us up to see if we could provide them with a white ballet costume for one of the Hairy Bikers. Which we did and it's just come back into stock, so I'm looking forward to seeing that on television. And we did Coronation Street last year - they had a pantomime in the Rover's Return at Christmas and we costumed that. The theatre side is mainly amateur stuff - there are huge, huge numbers of amateur societies all over the country and very good societies as well, so we do that and we do some professional work as well. But then we do have a fancy dress shop up here in Barnoldswick which is separate from our theatrical warehouse. And that is very busy all the time with fancy dress and make-up and things like that.
Digger: You said it was very seasonal before...
Margaret: Yes, now it's all year round.
Digger: How did that transpire?
Margaret: Well, you get a lot of murder mystery parties these days.
Digger: Yes. And festivals?
Margaret: Yes, festivals.
Digger: I was just at Bestival and I don't know whether this was official but they said they were going to appear in The Guinness Book Of Records as the biggest fancy dress event because over 50,000 people had dressed up.
Margaret: We do lot of that sort of thing and we did some work for Goodwood this year - their Vintage Revival. Gamers we're always busy with.
Digger: Is the forties very popular?
Margaret: Yes, extremely popular. Our lady who works here specialising in that area is a very active member and does forties dancing and attends the forties weekends.
Digger: You've got that Haworth weekend, of course.
Margaret: Yes, Pickering and a number of others. We do have some original forties stuff like a battledress and I think some people would be surprised at how small some of this stuff is. It just makes you realise - these young lads who went in and lied about their age, how small they were.
Digger: And also how big we are these days. (Both laugh)
Margaret: Let's not go there.
Digger: I know it's a challenge for anyone doing costumes. I was talking to a gentleman this morning who runs a Historical Events company and this includes chain mail and he says yes we have changed size in that time and it all depends on our diet. But, ironically, now we've got access to better quality food a lot of people are eating bad food.
Margaret: They are and I think it's right across the board. Because we do a lot of schools and colleges and you're always going to get small schoolchildren but even some of the schoolchildren nowadays are really, really big. It's quite scary. With my other hat on which has nothing to do with this I run a slimming world group.
Digger: Oh yes?
Margaret: Because in this last year I've managed to shed six stone.
Digger: My word. Well done!
Margaret: So I'm nice and slim now. You learn as you go on - Marks and Spencer are now providing an outsize school uniform online and I think the biggest size they do for girls is something like a 46" bust. For a school uniform that's scary.
42nd Street
Brigadoon
Digger: It's like Peggy Mount or Hattie Jacques size.
Margaret: Yes, exactly.
Digger: The only good thing now is that people used to call me fatty at school but these days they wouldn't call me fatty because I'm just average sized. (Laughs) But well done you for losing all that weight. That's a great achievement. Did you get loads of people doing double takes and not recognising you?
Margaret: Yes, and there are quite a few people who haven't seen me before at the slimming group and I show them a before and after photograph and they say "Sorry, this isn't you." And I say "Yes it is. That was me last year."
Digger: Why do you think Retro and Nostalgia in all its forms is so enduring Margaret?
Margaret: I think there's something missing these days. I can remember going to a forties do - I'm not particularly into the forties, but I went to display some costumes at a do at Rolls Royce here in Barnoldswick a couple of years ago. It was a sunny afternoon and they'd arranged a fly-past of one of the old Lancasters. And it came over several times, dipping its wings, and the whole place was silent and the atmosphere was absolutely fantastic. We're in a very throwaway society these days and I look at the clothing - I go to Primark and I go to Matalan and I know that stuff lasts as it lasts and then you throw it out. But, I mean, I have some beautiful original 1960s dresses hanging on my rails that are just to die for. And it's fairly straightforward stuff, not designer stuff, it's brands like Jean Allen and Susan Small aimed at the middle range of people that couldn't afford the designer stuff but wanted nice cocktail dresses or whatever. It's an art form - they are just beautiful and still in absolutely fantastic condition and I know a lot of people actually buy them and hang them on the wall as works of art. And the community that was around then. My own daughter is around fifteen and she spends her entire evening on Facebook, not communicating with anybody other than over The Internet.
Digger: Yes, trying to satiate that human need for the community thing which doesn't exist properly anymore.
Margaret: That's right. So, when you go to these forties and sixties do's it recreates the sort of feeling that was around at the time. And with the clothing, people haven't seen that sort of clothing before. The reaction I get when people see some of our sixties stuff that we have - my own daughter thinks it's wonderful and she's quite artistic.
Digger: Does she wear it?
Margaret: She hasn't quite got to that stage but she probably will.
Digger: You have to have a bit of guts to go out in it.
Margaret: I think so. I know a lot of college students do. A lot of this stuff is very small as well so it doesn't fit a lot of people these days. Unfortunately, it's hanging on our rails and people can't admire it as much as I would like. But I think it's a case of people... particularly with a lot of things on television now, when there's Heartbeat and George Gently and Foyle's War and that sort of thing on ... modern people are watching these and looking back and saying "I wish it was still like that."
Digger: Retro is a big part of my life although it doesn't mean I don't look forward or enjoy the now, but my girlfriend will go out of the room and come back in a bit later and the TV will have gone from a modern programme to a history channel or an old film and she always says "The telly's broken again, the colour has gone." The British seem to be obsessed with the forties and it seems to be on TV all of the time - documentaries, movies and retrospectives. Even the news is always commemorating some wartime anniversary.
Margaret: I'm sure if you lived trough it that it was a time of extreme hardship and you wouldn't want to go back to it. But it's nice to play at it for a while and then come back to modern life.
Digger: Yes, you're right, it's like having the grandkids round for a couple of hours but not wanting to have them all of the time.
Margaret: Just the feel of some of these costumes. I pick up one of these sixties costumes and it's beaded, it's heavy and it has a tactile quality that you just can't feel anymore. And the history behind it - I wish it could tell me where it's been.
Digger: What genres and eras are the favourites for your clients?
Margaret: Number one is the forties, then sixties and seventies are always very popular and then nudging into the eighties now. They've started to come in now, but that tends to be film and TV series rather than actual outfits because, again, by the eighties we were getting into this throw-away thing.
Digger: Does that mean you're having to make acquisitions all of the time and slowly roll forward in time with your stock?
Margaret: Yes. People turn up on our doorstep and say "I was clearing out mum's wardrobe" because she's sadly died and "We found this and they don't want it at the charity shop these days - is it any good for you?" And we get the most fantastic stuff given to us, which is beautiful and if I can use it... We do the costumes for the musical Sweet Charity, which is, of course, set in the sixties and if I can use original stuff then I will do, size permitting. And it's nice to see the costumes out and about. We acquired, early on, the old Black and White Minstrel costumes.
Digger: That's a name from the past.
Margaret: Yes, isn't it just? I remember my parents watching The Black and White Minstrels Show and, in fact, when we were on holiday in Scarborough we did go and see them at The Floral Hall and it was a fantastic night of entertainment. But we fell over an advert for some costumes and went along to see and it and it turned out to be the guy who was the stage manager for The Black and White Minstrels. He'd ended up with a lot of their costumes. So we have a lot of their costumes, some of which I have sold on to a collector. And some of which I thought was quite nice - we had a call from a collector who'd managed to track us down as having some of these Black and White Minstrel things. He was mounting a sort of reunion tour with Margaret Savage and one or two others who were originally part of The Black and White Minstrels. So we let him have some costumes. And in a way they had gone full circle. Back to the people who had originally worn them. And I think they're still on tour as we speak. They tour up and down the country and do a tribute.
Digger: Are they allowed to black up still?
Margaret: No, they're not. We have this with Showboat too which used to be a very popular musical show but, because it has a black chorus, nobody does it anymore because unless you can find an entire chorus of black people these days then you can't do it. Which is a bit sad really because that show, and The Black and White Minstrels, were making colour into a fun thing but you've got to be politically correct these days. And we've lost things that were good.
Digger: What impact has The Internet had on your business?
Margaret: It's had a lot of impact. We've always costumed up and down the country, that's never been a problem with all our connections with the theatres, but certainly on the fancy dress side we now have an interactive website and we just started with an e-fulfillment package with our supplier on fancy dress. That means that anybody can come onto our website and they have access to over 6,000 costumes and accessories to buy. They go on there, they purchase what they like and it's with them within two working days. It's actually sent by our supplier which means we don't have the expense of having massive stocks here.
Digger: That's good.
Margaret: We sound out to America and all over the world. Once we've got Halloween and Christmas/New Year out of the way, which are obviously our busiest times, we'll be able to assess that a bit more.
Digger: So what about the future?
Margaret: I don't really know. More of the same, I suppose. We're moving on quite nicely with the shows, the amateur market I think will continue. The only problem now is that whereas they were doing two shows a year they're sadly only able to do one in this climate, because of costs and the fact that they can't charge the prices that professionals charge. So they are very aware of budgets.
Digger: I've been to several professional shows in the last couple of months and they weren't more than half full.
Margaret: Yes, but they keep going, which is good. And hopefully our Internet business will build up and we get professional work from the BBC and ITV so hopefully that will keep coming in. And I shall keep collecting - mind you, we are thinking of maybe selling some of our retro stuff off simply because it needs a good home. It's a shame for it to be sitting on our rails here when someone could be appreciating it. I have a fantastic fifties Harvey Nicks dress with the original labels and it's just beautiful and it's sitting here on a rail - it's sad to see it. I really do want to shift this stuff on.
Digger: I'll see if I can get some people interested Margaret. I have one or two ideas. Many thanks for taking the time to tell us about your costume hire business. I know you're very busy.
Margaret: Thanks David. That's lovely.