Celebrating Britishness
Digger talks to Graham Stuart Johnson who runs Union Jack Wear. Here, not only is it possible to get just about every conceivable item emblazoned with a Union Jack (yes, even flags!) Graham also offers a number of other options for the patriotic Welsh, Irish, Scots and English among us.
If your ironing board needs to show where its allegiances lie, if you want your curtains to make a patriotic statement, if your toilet seat needs a display of national pride then Union Jack Wear is the place to come...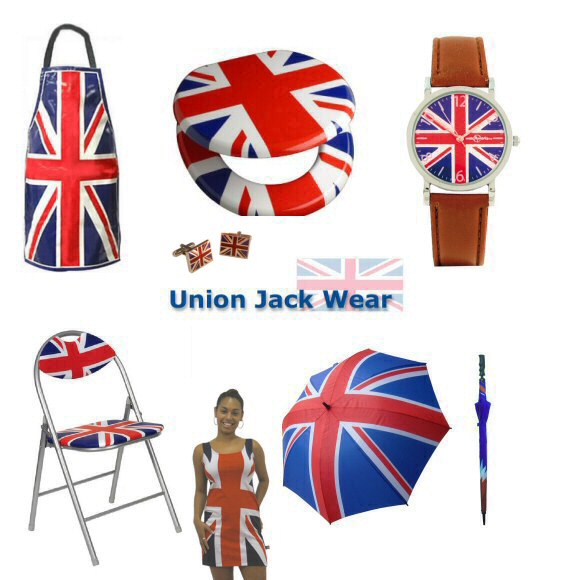 Digger: Good morning Graham. How are you?
Graham: Good morning David. Busy again, it's The Ryder Cup, you see.
Digger: Oh I see, so there's lots of patriotism going on?
Digger: It's a European team, of course. Do you sell a lot of Euro flags?
Graham: We sell a lot of European bunting and so on, yes. Especially when it's The Eurovision Song Contest. So it's all good stuff.
Digger: Can you tell us your background and the background to Union Jack Wear?
Graham: I've been in the IT business for over twenty years now.
Digger: Ah! Doing what sort of stuff?
Graham: Computer operating and implementation.
Digger: The same sort of background as me, Graham. I was in charge of a team of programmers at the old Lloyds international until I decided to work for myself.
Graham: We had an ICL 2905.
Graham: It goes back a bit, doesn't it?
Digger: It certainly does, the old tape servos and removable disks and punched cards.
Graham: It was all good stuff - very Dr Who-ish.
Digger: That's what got me into computers in the first place. I saw some operators carrying some discs in the 70s and thought it looked very sci-fi and exciting so decided I wanted to get into computers.
Graham: I was working for WH Smith at the time and The Internet was in its infancy when I started. I think it was a cousin of mine in America who wanted some Union Jack products, which isn't a major thing in Keighley. Because I was in the London area, I was able to find some items and it started off as a little hobby and it's just grown and grown really.
Digger: So what do you stock in the Union Jack line? - it's a very wide range you've got there.
Graham: We started off just selling the main things such as T-shirts and flags and hats and so on and now we have seamstresses who make certain items for ourselves, such as the plus fours and the waistcoats and dressing gowns and things like that.
Digger: What's the most unusual items you've got on there?
Graham: There's so many. One of the things is a hat with a golf course and a ball on top with some plus fours.
Digger: Who are your customers?
Graham: Everybody and anybody. Ex-pats buy them from abroad and people who are going on business overseas buy them. If they go to an event, say, in America, then they want to show that they're British.
Digger: Yes, and there is a bit of a cache and kudos with being British in some places.
Graham: I suppose so. And because there are events and national anniversaries always happening, people buy because of those.
Digger: When I went on business to Japan, I took some Fortnum and Mason's marmalade and teas to my host and he was overwhelmed by my simple gift. He couldn't do enough for me during my stay and took me to restaurants and places of interest - the Japanese love British stuff and the history. So what sort of feedback are you getting?
Graham: Well, people seem to like unusual items. They like the things that you can't get anywhere else, so that's what we try to aim more for.
Digger: What are your retro passions?
Graham: I like a lot of eighties music.
Digger: That's your era, is it?
Graham: Yes, is it yours?
Digger: I'm a child of the sixties but grew up in the seventies. I love the eighties electropop and The Jam, The Police, Squeeze and so on.
Graham: I suppose when you think that we used to listen to Pick Of The Pops and now realise it was thirty years ago. It really doesn't seem that long ago.
Digger: We used to tape the top twenty and try not to get the talking bits in between, didn't we? There must have been millions of us all doing the same thing.
Graham: And the doors slamming in the background.
Digger: That's right, and your mum shouting that your tea's ready? (Both laugh) What are your plans for the future of the business?
Graham: I'm hoping to carry on growing and obviously we're gearing up for The Olympics in 2012.
Digger: Yes, is The Commonwealth Games having an impact on you?
Graham: We've had quite a few orders as a result.
Digger: I suppose things like The World Cup are more different because it's not a Union Jack thing, it's the four teams...
Graham: We sell a great deal of Saint George stuff and Welsh Dragon stuff and so on.
Digger: Do you get customers looking for Irish, Scottish, Welsh and English items too?
Graham: Yes, they're from all over looking for British stuff and stuff that reflects the individual countries of the UK. The Union Jack is obviously made up of several country's flags anyway. It's The Queen's Diamond Jubilee in 2012...
Digger: That's a good thing about your business. There's always some anniversary or event that will prompt people to shop with you. You couldn't ask for a better promotional and marketing tool.
Graham: When we were just starting this business it was the time of the Golden Jubilee.
Digger: I remember the Silver one in '77 when Virginia Wade won Wimbledon.
Graham: Quite big events aren't they?
Digger: Yes, and there's been a lot of coverage of The Battle of Britain anniversaries and other WWII anniversaries. That must generate a lot of business for you. A lot of my clients are in the forties community - I imagine they are good customers of yours with the bunting and the flags and so on?
Graham: The Forces Weekend organisations often come to us for items. There's a big one up at Haworth, which is just up the road from us. That's a big event.
Digger: Yes, you're very close to Haworth. I was surprised how close it was to the big towns because I was expecting it to be out in the middle of nowhere on the moors.
Graham: It's about four miles.
Digger: Well, Graham, thank you......
Graham: Thanks. You've got a good site there actually.
Digger: Oh, thanks for that.
Graham: You have some interesting and expensive items of memorabilia for sale on there.
Digger: Yes, I am selling them on behalf of a dealer and he will give me 10% for any sales. We have things like one of Marilyn Monroe's bras and a comb and scissors used to cut Neil Armstrong's hair. Are you interested?
Graham: I think they're amazing. So they're not yours?
Digger: No, I am just acting as an agent. It's a much better way to invest your money in these strange times buying memorabilia than investing in shares or a pension.
Graham: They can only go up in value.
Digger: Exactly.
Graham: You've got a nice little interesting job there, haven't you?
Digger: Yes, and I'd say you have too. We're both doing something for ourselves that started as a passion or interest and is now making us a living. It's great fun. I couldn't work for someone else anymore, could you?
Graham: No, I don't think I could. I wouldn't like to go back to a job where I thought "Oh dear, it's Monday morning."
Digger: We're unemployable Graham! A good job that your business is doing so well. Many thanks for that and best of luck for the future. Keep busy.
Graham: Thanks David.

Celebrating Britishness
Aprons, Baby Wear, Badges/Pins, Bags, Balloons, Bandana/Zandana, Baseball Caps, Bears/Toys/Gifts, Blanket, Braces, Brit Kits, Buckles, Bunting, Car Flags, Cufflinks, Cushions, Curtains, Duvets, Fabric and Ribbons, Face Masks, Fancy Dress, Flag Poles, Flags, Gloves, Handkerchiefs, Hats, Inflatables, Jackets, Jewellery, Keyrings, Kids Clothes, Kitchen/BBQ Wear, Labels, Packing Tape, Stickers, Luggage Tags, Magic Towels, Magnets, Mens Shirts and T- shirts, Money Box, Mousemats, Mugs, Party Wear, Patriotic Pub Gifts, Poncho, Pyjamas and Nightwear, Rubber Duck, Rugs, Scarves, Shower, Curtains, Ski Hats, Skirts/Dresses, Socks, Stationery, Stockings, Suits, Sunglasses, Sweatshirts, Swimwear, Table Flag, Tattoos, Tax Disc Holders, Ties, Bow Ties - Formal, Ties, , Bow Ties - Party, Toilet Seat, Towels, Trousers/Dungarees, Umbrellas, Underwear, Waistcoats, Wallets and Purses, Watches and Clocks, Wigs, Women's T- shirts, Wristbands and more!

Celebrating Britishness, and with the largest selection of Union Jack products online, Union Jack Wear is Britain's Favourite Union Jack Store.
Exclusive Designer Union Jack products available with new Patriotic items arriving every month. Simply the Largest selection of Union Jack clothing and Gifts available on the web. Cool Britannia.

Union Jack Wear
Mantra House
South Street
Keighley
West Yorkshire
BD21 1SX
Tel: 01535 607101
Fax: 01535 608028
Email : admin@unionjackwear.co.uk
---