Ian: Exactly.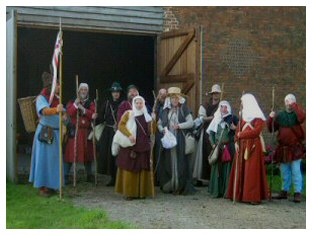 Pilgrims at Foulsham
Saxon village crafts
Digger: One thing that always fascinated me was about the wedge formation of the Roman soldiers when they were in battle. That was so effective so that no matter how people were coming at them they could break through with maximum impact and minimum losses. And it retained the integrity of the formation to drive through anything.
Ian: Pretty much, yes.
Digger: What sort of feedback do you get from your clients?
Ian: Usually very positive. I can't think of a situation where I've put on a poor show or a bad show and where we haven't been gratefully received. There are testimonials on the website as I'm sure you've seen and they fairly reflect the quality and diversity of what we offer.
Digger: That doesn't mean that you're complacent. You're always looking at new things to do and ways to improve or enhance?
Ian: Yes, that's absolutely right. Going on from my passions that we were discussing, I'm constantly developing new characters as you've probably gathered. The eighteenth century humanitarians are something that I'm getting interested in right now, people like Wilberforce and Howard. I'm fascinated by them and their anti-slavery and prison reform work. Their work is probably under sung and I'm quite interested in them and brining those two to life. Nineteenth century scientists, archaeologists - I played Fox Talbot this year down at his home at Laycock Abbey and it was fantastic. We were doing photographic pioneering shows and a colleague from Wales come over with all his original and repro Victorian-style full plate cameras so we were doing wet collodion and pinhole camera techniques. But I really enjoy playing my World War II pilot and I'm a big Mosquito enthusiast - the De Haviland DH 98 is by far the greatest plane of World War II - (Laughs) I will put my neck on the block there and it's so under sung. You can quote me on that and I'll wait for the flak!
Digger: What are the best things about running Black Knight Historical?
Ian: That I wake up each morning knowing that the day ahead is going to be fun. It's a great life, it's a hard life and it's not a career that's going to make me a rich man.
Digger: You must spend a lot of time in hotels or camping?
Ian: Yes, we do spend a lot of time under canvas. During the course of the year I would think fifty days under canvas a year. The company now has ten tents or so of different sizes and shapes and historical periods. We keep adding to and expanding that and the range of costumes and props keeps growing. I have just been asked to do an Anglo-Saxon school day for the first time so I'm looking at getting ninth century clothing and artefacts together.
Digger: And as you said earlier there are now a lot of companies who make these sorts of things now.
Ian: I've got a number of companies now who supply me with bespoke historical costumes, and I don't like the word 'costumes' - historical reproduction clothes, I suppose, because costume still has a tendency to be seen in the pantomime sense.
Digger: Almost fancy dress?
Ian: Absolutely, so I don't like using the word 'costume' for that reason. But it's important to describe what we do although at the same item it's almost the antithesis of what we do. The word is just not good enough to describe the level of research and quality and attention to detail that goes into many of these outfits. The bespoke tailoring and getting people to make correct patterns and to use the authentic fabrics - silks, velvets and furs. Or even something as simple as the most historically accurate thing that I posses, which is a fourteenth century shirt and breeches. These are basically long drawers, which are made from east European hand-spun, hand woven linen that is nearly 100 years old. It had never been used and was still up on the loom in the roll. I managed to buy some of that from an antique seller and have now made something that is the closest facsimile I've got. Because this east European loom was almost the same as a mediŠval one would have been.
Digger: Does all this mean that you're probably living at the best time, the best era that you could possibly be?
Ian: Absolutely.
Digger: Yes, because we've got all this technology and the capability and The Internet now.
Ian: That's why more and more people are exploring their past and doing reconstructions.
Digger: And with DNA as well...
Ian: Exactly, yes.
Digger: ... It's almost as if the past is coming closer to us now that at any other time.
Ian: Yes. We've obviously, if we wanted to, got more than 2,000 years of history to explore and I probably will one day develop a Neolithic persona and wander around going "Ug" with a big club.
Digger: Like on The Armstrong and Miller Show?
Ian: Have you seen their RAF pilots?
Digger: Yes, they're great. They've also got the Neolithics as well where they are trying to communicate the birth of modern ideas and concepts in Neolithic-speak.
Ian: The RAF pilots they do are an absolute hoot and the standard of the sets and props - they really are in well-dressed form and this common Chav-speak that they use.
Digger: Very funny and Monty Python used to do that a lot where there's the juxtaposition of things.
Ian: I hark back to Monty Python and The Holy Grail which is a classic in its own right. Films like that, and the series Robin of Sherwood which is has been shown again on TV, these were inspirations for me. I despair with most Robin Hood films and TV series - the one with Michael Praed has pretty much nurtured my interest in that mediŠval dressing up thing. Looking back on it that was almost 25 years ago when that came out.
Digger: What about Braveheart? Or is that a rude question!
Ian: Ooh! It's a great film but it's not historically accurate and very few of them are. In terms of accuracy, one of my favourite films is Master and Commander with Russell Crowe as Nelson's navy captain. That is a really nice film and you get a good idea of what it was like and, yet again, I'm developing a Nelson's navy captain as one of my costume personas.
Dynamo evacuees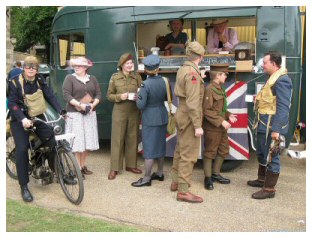 Wartime reenactment - Peterborough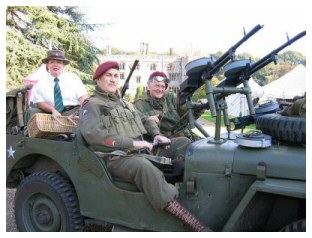 Airborne jeep crew
Digger: What of the future for Black Knight Historical?
Ian: Lots of new personas coming out all of the time...
Digger: You're the historical equivalent of Madonna, Ian. (Laughs)
Ian: For the future - what do I see? Things I will invest in personally for me - more quality costumes and artefacts so I can carry on developing my own range of costumed interpretational characters and for ones to use in schools. For the business - well I hope all the clients who I work for currently are happy enough with me that they want to carry on using our services ad infinitum and also adding and developing new ones. It's always very pleasant, of course, to get a call or an email from a new prospective client - a historic house or a castle or a college or a school that I haven't been to before. And to see where that's going to lead and follow that one to a successful conclusion. You never know where these things are going to lead and at the moment I'm negotiating with Blickling Hall here in Norfolk for a Tudor Pageant weekend for the first time next year. There are so many wonderful historic buildings - I'm hoping to get across to The mediŠval centre in Denmark next year. Also, hopefully, to the ChÔteau Chillon in Switzerland, which is one of the most beautiful looking castles in the world on the shore of Lake LÚman in Switzerland. And, believe it or not, even with all this history as a job I still enjoy doing it on occasions purely for the hobby side of it. I am member of The Company of St George which is a Swiss-based international top level living history group that portrays a Burgundian Artillery Company of the Swiss Burgundian Wars of 1475/'76. They totally immerse themselves in it 24/7. So, unlike me who is doing a show over here which requires 10 o'clock to 5 o'clock and then at 5 o'clock the costume comes off.
Digger: And down the pub!
Ian: Well, no, I normally find that sort of thing doesn't appeal. Yes, I enjoy a drink as much as the next man, but I feel too attached to the presentation - usually there's tents involved and normally I'll stay on site for my own security and rather than leave that responsibility to someone else.
Digger: It's been fascinating Ian, so thanks very much for that and for the great images as well. I am looking forward to seeing you on 15th/16th October.
Ian: Thanks David. As I mentioned, it's free admission for children, so bring them along and see you then.
Digger: Thank you Ian.
Ian: No. Thank you.
Digger: Take care. Bye.
Ian: See you soon. Bye now.
---
16th-17th October Mannington Hall, Norfolk. The 4th Annual Norfolk Living History Fayre