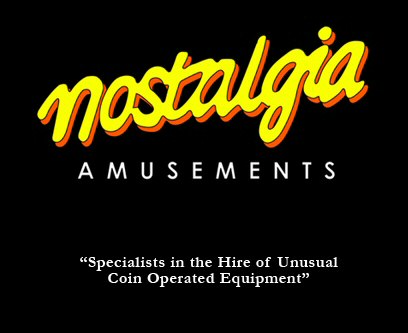 Digger talks to Brian Davey who runs Nostalgia Amusements. The TV and Film industries and a large number of corporate clients and events rely on Brian and his vintage amusements equipment company to help make their productions go with a flourish and to provide that authentic vintage look. All of his machines are in full working order. You will certainly have seen Brian's slot machines, juke boxes and amusements on a number of TV productions over the years.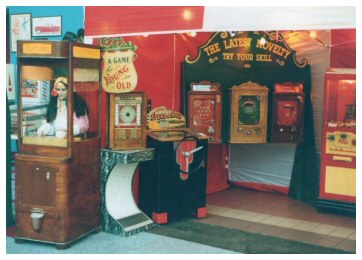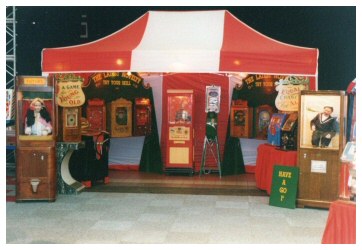 ---
Digger: Hello Brian.
Brian: Hello David.
Digger: Can I ask you about your background and that of the business?
Brian: I suppose the route I took was as a collector. I started off collecting slot machines.
Digger: When was that?
Brian: I started with my first machine when I was seventeen.
Digger: So, back in the late 90s? (Both laugh)
Brian: You had me going there. You said it so seriously.
Digger: They were probably out of fashion in those days, weren't they?
Brian: It was in the sixties and I was doing some work on a Saturday in an amusement arcade in Shepherd's Bush.
Digger: Where all the rag-and-bone men were supposed to be?
Brian: Supposedly, yes. And there was an arcade with an old slot machine under a bench which I thought looked interesting . And I think I bought it for £2 and ten shillings (£2.50)
Digger: Did you keep it or get rid of it?
Brian: I sold it to buy other equipment a few years later and I sold it for about £1,200.
Digger: Wow, what a return! Well done.
Brian: That was a good investment. I didn't sell it for money, I sold it in exchange for some other equipment. But I'd been quite interested in memorabilia of all kinds. And, over the years, I went from slot machines, picking up other items of memorabilia and then I thought to myself. "Hold on now, with all this equipment of various shapes and forms and types that I have, somebody must be interested in it." So I thought there must be some way for it to earn its keep.
Digger: Do you see yourself as something of a custodian?
Brian: I suppose, initially I did. Because a lot of these were being destroyed - back in the early seventies these things were being thrown off the end of piers and at certain points I was just there to collect them before they were thrown over. People thought that they just weren't going to be worth anything.
Digger: How difficult are they to maintain?
Brian: They're not so difficult, but if you haven't got a mechanical inclination then it's not exactly a minefield, but it does require some know-how. You've got a mechanical unit - say with a mechanical slot machine - you put your coin in at the top and in that second where it goes into the place where you can pull the handle it's then measured for its weight and metal content. Then after that in that same second it goes into an escalator which allows it to move along and again it has to have certain timings. So, in reality, if you don't know too much about the mechanics it's going to be a difficult job.
Digger: There's no instructions booklet these days!
Brian: No. So for me, I was interested anyway, so it wasn't too difficult to learn. But I'm always getting calls from people with problems with slot machines and try to help them over the phone. It's sometimes a matter of how long's a piece of string. To try to get them into working order is not the easiest thing but for me it's never been that difficult.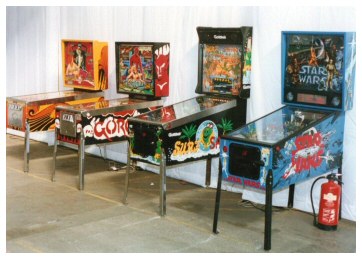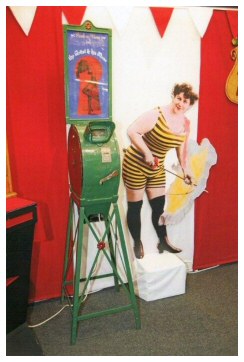 Digger: Are there many of these machines left? And are they hard to source?
Brian: There's still a number of them around - there are collectors and people who buy them, sell them and maintain them.
Digger: Who are these people?
Brian: People who are interested in mechanical things. I think it's a real cross section of people - like with most collecting passions, you see something that grabs your attention and you want to take it a stage further. There aren't any categories of people that collect them - some people have got one in their house and some have got dozens in their house.
Digger: I love the petrol pumps and also the automatons such as the laughing sailor and laughing policeman.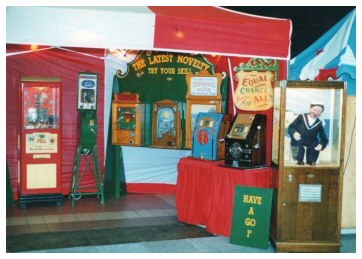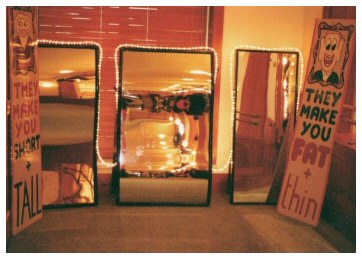 Brian: Yes, the laughing sailor is a classic example of amusement arcade pieces.
Digger: Who's hiring these items and what feedback are you getting?
Brian: I do a lot of work for TV, film and corporate entertainment. I just did a job for a company in Hertfordshire and they wanted the amusement arcade where there's about 14 machines - it was a family fun day with a Victorian theme. They had carousel horses and we went out and we gave out the old pennies to the people who come up and they put them in the slots. There was a What The Butler Saw machine there, where you drop your coin in and there's a reel of photographs basically.
Digger: Hmm, they flip don't they?
Brian: Just like you'd do as a schoolboy and drew three or four images on paper and then flicked through them. That then gives the appearance of movement - these were the first moving pictures really.
Digger: I can remember they always used to run out before anything too exciting happened! (Both laugh)
Brian: The one I have is an artist and he's semi-undressing the model and as soon as something naughty appears, he covers it back up again. I think maybe you see a bottom cheek, but that's not guaranteed. Again, hundreds of individually photographed pictures and then, as you turn the handle, it gives the impression of movement. Often, with the younger people, they haven't seen the old pennies and wonder what they are and for the people who know what they are that's great but why would a youngster know how to operate a 1930s machine?
Digger: Strange isn't it? We are familiar with them but it's just the same as the youngsters being at home with a computer game and us possibly needing to be guided.
Brian: That's the truth.
Digger: I was having a conversation with my girlfriend's grandchildren at the weekend and I asked the to try and guess what wasn't around when we were young and they said "Electricity?" which aged me a little bit. They know we didn't have mobiles or PCs so I suppose electricity isn't that odd a suggestion.
Brian: People come up and play our machines and it's fun because it's all old pennies. They're given out which is part of the experience of playing these machines. And we have the old-fashioned crane where you have swizzle lollies and Barrett's sherbet fountains and that machine always goes well - you get queues of children and 'big children' queuing up to put their penny in the slot. You aim the claw where you think you're going to pick up some sweets and with a bit of luck and a prevailing wind you'll get yourself a packet of sweets.
Digger: They make electronic versions of those these days and I'm sure the grabbers are made to have no grip at all.
Brian: With the modern equipment, the grabbers are set so that they can make money but ensure at the same time that things come out from time to time. People are quite wise and if slot machines don't pay out or grabbers don't deliver a soft toy - if they don't see that, then they will not play. That's the truth, so what they must do is put their coin in and somewhere along the line someone has got to win, otherwise the machine doesn't get played. What they do now is calibrate the machine for the first five goes so that it will go through the motions of getting a grip on the prize and lift it without much power and it will drop it. That's so the player thinks "Sugar! I missed that one." And they have another go. But what happens on the sixth go is that you get full power so the coin goes in, the grabber takes the prize and will drop it down. It gives the operator control to judge how much money he's going to make on that machine. It's clever stuff and the player doesn't know that. When you're playing these machines, and I've watched a lot of people at funfairs, all they have in their minds is "Nearly." Famous last phrase - you get three bars on a slot machine and one drops down and the player says "Nearly. Maybe next time." And that makes them put in another coin.
Digger: That says something about human nature. Why do you think we are so nostalgic?
Brian: I think people want to look back. Even when we hire our juke boxes for parties, the client will ask for mainly sixties and seventies. It all depends on the age of the person, of course, but if it's a 30 year-old then they'll want the 1990s and a fifty year-old will want the 60s and 70s and they will specify that. "Will you please make sure there's some 1970s music on there?" It takes them back to their youth and a few tracks on a juke box allows them to look back. I think that's real - people look back to when they were happiest or when they were going out with certain people.
Digger: Or at least they know what has happened whereas the future is unpredictable.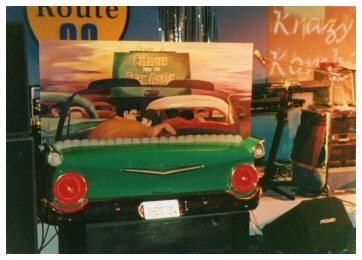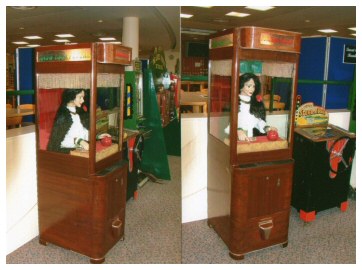 Brian: Absolutely.
Digger: It's good for us.
Brian: It is good for us. Nostalgia is a big thing. I went to the Jukebox Madness exhibition at Kempton at the weekend and it was packed. There were dresses, furniture, TV, vinyl and CDs - all types of memorabilia from the 50s and 60s. It was very busy and showed that there's a big market for retro.
Digger: What's the future for Nostalgia Hire?
Brian: I think , as far as we're concerned, we're supplying a need for props and ultimately that's what we are - a working prop house and people will always want props. Over the years, we've done a lot of work for Heartbeat, so working memorabilia is quite important.
Digger: Do you make props as well?
Brian: I don't, only because the space and storage is difficult and you can't have every prop. There are prop houses that have thousands of items.
Digger: Yes, I think they exist because the BBC and other TV companies don't want to have the expense of running props departments like they used to.
Brian: Yes, so the BBC and commercial companies come to people like me. I'm quite unusual because I have items that are fully working, whereas years ago people had a juke box stuck in the corner and it might light up and work but it might not. Because all my kit is operational. They're now going for a second series of the Only Fools And Horses spin-off showing them when they were younger and they're just getting the production sorted out now, but I'll be involved in that too. So the future of nostalgia is looking good!
Digger: (Laughs) You know what my favourite juke box is? It's the one with the platter that goes up to meet the record rather than the other way around.
Brian: I had one of those. It was a Wurlitzer 1100, but again, very spectacular to look at and ideal for TV and film work. It's not just pressing a button but you can see something's happening. That's the key.
Digger: Often with modern electronics you don't even know if something is on or working.
Brian: No, that's very true. I've got equipment like that, but that's what they want because they can put their own music on over the recording. I've supplied the series Two Pints Of Lager And A Packet Of Crisps and the juke box, the pinball and so on - we've done about three or four series of that. I've got Space Invaders machines too. I keep a database of what goes in and what goes out. Sometimes I think about getting rid of some items and then someone books them!
Digger: What are the most popular items?
Brian: There isn't a most popular. From juke boxes to slot machines and everything in between, there isn't any rhyme or reason. That also applies to when you might be busy during the year. Which makes it challenging. Obviously, Christmastime is particularly busy because of the parties, but it's difficult to know when during the rest of the year people will be looking for items and what items they'll want. A lot depends on the productions that are being made.
Digger: Makes life interesting.
Brian: Definitely, that's what is nice about it. You can't look back and say "I was busy at this time last year so this year it will also be busy now." because it doesn't follow. Sometimes, these days, companies will decide whether or not to have a party or a promotional event and the themes of these will change each time - last year it was 1950s but this year it will be Punk. There is no way of knowing that which makes it interesting but difficult to predict and plan what items I should have ready and what I might get rid of.
Digger: Brian - thanks very much for that. It's been good talking to you and a fascinating look at the world of vintage amusements.
Brian: Lovely, bye for now David.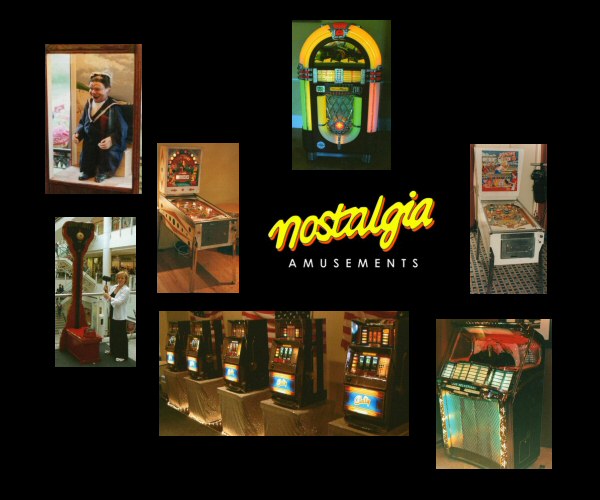 ---
Nostalgia Amusements - Specialists in the Hire of Unusual Coin Operated Equipment


Also for hire is an assortment of video & pub games including space invaders, asteroids and football tables. All of the machines that Nostalgia Amusements supply are delivered in full working order with a 24 hour service back-up at all times. Tokens, pre-decimal and American coinage is provided where needed. All machines are available for daily, weekend, weekly and monthly rental.
Slot machines and one-arm bandits
Jukeboxes
Pinball
Miscellaneous (Cash registers, Petrol pumps, wall-mounted phones, wall-mounted dispensers, laughing policemen, laughing sailors)
Email: bdavey@globalnet.co.uk Tel: 0208 398 2141 Mobile: 07973 506 869
---