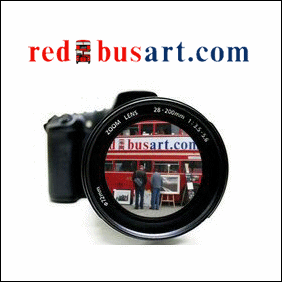 Welcome to redbusart.com - a truly unique and exciting art gallery dedicated to introducing up-and-coming artists and promoting the work of outstanding creative talent.
We provide a unique platform for artists to exhibit their works, in the form of routemaster double decker buses. The buses will be fully mobile, and will be exhibiting at a wide variety of venues, as detailed in our News and Events section.
Focusing on iconic portraiture, pop art and a range of memorabilia we aim to introduce previously unseen artists to you, that you can enjoy in the comfort of your own home or workplace.
We have a range of Limited Edition works available including a range of Wedgwood ceramic tiles, depicting Beatles Album covers - see the 60's Memorabilia section for details. Other artists we are delighted to work with include Peter Goodfellow (Original Artwork), Sarah Hood (Original Artwork and Iconic Portraiture), David Gerstein (Original Artwork) as well as the legendary photographer Tom Murray (Beatles Photography).
Iconic Portraiture and Original Artwork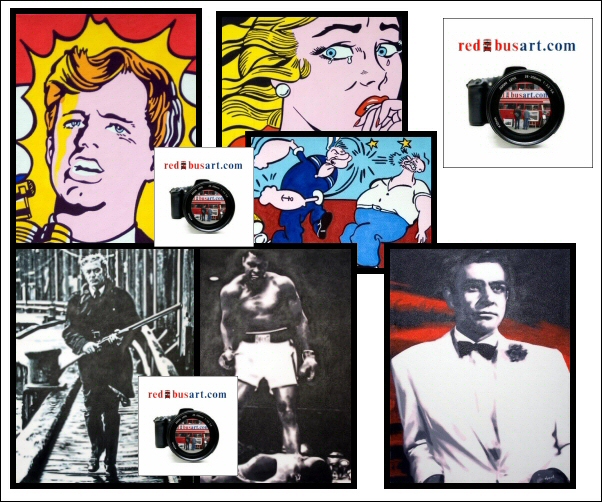 Iconic portraiture delivers a very precise and defined image, and the range of works offered by redbusart.com capture the very essence of starts of today and of yester-year.
The images are magical and painted with true passion for the subject and include figures from the worlds of film, sport and the performing arts. Shown above are Michael Caine, Cassius Clay and Sean Connery.
Original artworks shown above include Popeye, Study of Lichtenstein's Crying Girl, Robert capturing RFKall by the artist Sarah Hood.
Beatles 'Mad' Day prints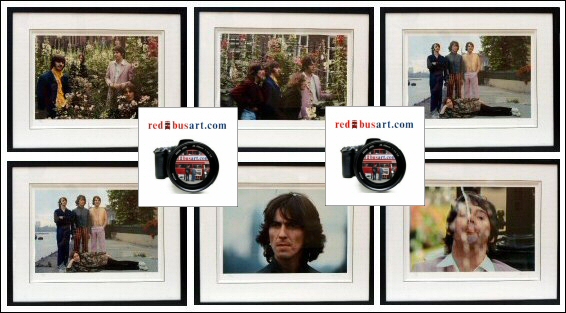 23 stunning prints from photographer Tom Murray.
Tom Murray, LBIPP, was asked to join a photo shoot for a popular rock-and-roll band on summer's day back in 1968.

The invitation turned to out be a shoot for none other than The Beatles! They spent a very hectic day travelling around London where some of the most iconic shots of the band were taken. This truly memorable day became known as The Mad Day: Summer of '68.

The following day the band recorded Hey Jude for The White Album.

From the day some 23 photographs survive and redbusart.com is delighted to offer both limited editions and artist proofs.

This is your chance to own a piece of history………
Memorabilia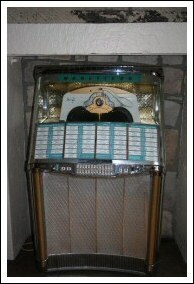 Wall/Pole Post Box and Wurlitzer Juke Box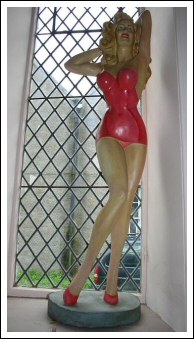 Swimsuit Lady
Memorabilia is classified as any object that is valued for the connection with historical events, culture, or entertainment.
At redbusart.com the memorabilia we offer is designed to give you the opportunity to purchase items that will transport you back in time, whether your preference is antique pieces including ship telegraphs and vintage petrol pumps, motoring memorabilia, or collectible pieces including an exquisite swimsuit figurine from circa 1940's/1950's.
Sixties memorabilia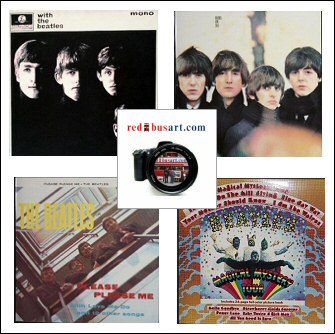 BEATLES ALBUM COVERS by Wedgwood - Limited Edition, full colour reproduction of Beatles album covers on Wedgwood tiles. Supplied in Apple box complete with Authenticity Certificate.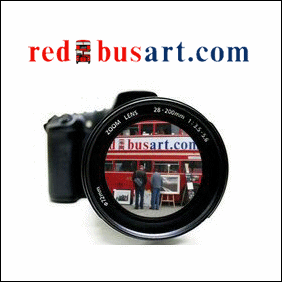 redbusart.com | Carwinshoch Cottage | Carrick Hills | Ayr | Ayrshire | KA7 4LD | Scotland

Tel: +44 (0)1292 500 015