Pineapple Ice Bucket Retro - An eclectic mix of funky things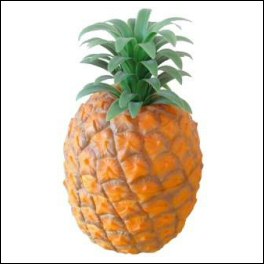 Not only is Pineapple Ice Bucket Retro the home of pineapple ice buckets (and many other variations) but also all sorts of home ware, vintage fashion and accessories. Digger asks Sophie Crocket at Pineapple Ice Bucket Retro some questions.
---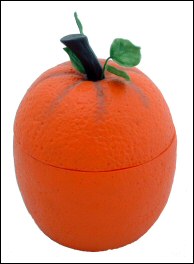 A rare Orange Ice Bucket
Digger: Please tell us about your background and the background to Pineapple Ice Bucket.

Sophie: I started in business selling my own vintage clothing and accessories on eBay back in 2005, which proved successful. So I started to buy more pieces to sell on, which then developed into textiles and homeware. Shortly after, I set up my own website, whilst also having a small room in my mum's antique shop (known as 'the retro room')

Three months ago, after a lot of hard work, I opened up my own shop which has created quite a buzz with tourists and locals around the sleepy village of Brockenhurst, Hampshire.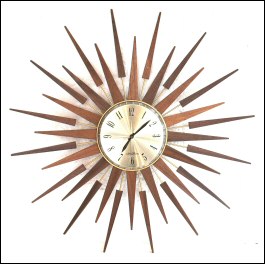 Stunning Star Burst clock

Digger: What are some of the most popular products in your range?

Sophie: As my website name suggests, the pineapple ice bucket is my most popular item in stock, as are the other fruit shaped ice buckets which are attracting collectors who aim for the whole fruit bowl selection to display!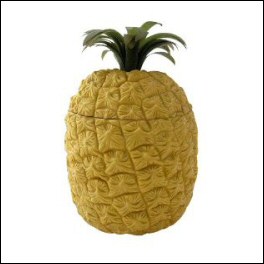 Another Pineapple Ice Bucket

The great thing about my line of business is being able to supply quirky, fun pieces to brighten up the modern home. Vintage can easily be mixed with newer items as so much on the high street copies original design anyway.
But of course buying original vintage items means you are not only being green by recycling, but in most cases you will make money in the future too. I would say that naff B&Q vase won't get you far, but then a certain tableware design once retailed by Woolworths may have proved that incorrect?

Digger: So, what sort of feedback do you get about your products from customers? And where is the product range developing in the future and what sorts of requests have you had for new products?

Sophie: More than anything, what I get asked for in my shop is a range of men's vintage clothing and accessories. My 1950s dresses are very popular with ladies, young and old, and although possibly not quite as common. I think guys want the same vintage choice? Sadly I just cannot find anything, but continue to try my hardest.

Digger: What are the most enjoyable aspects of what you do?

Sophie: I love shopping, basically, so therefore buying goodies for my site and shop is great fun. I am very lucky that I don't have to buy anything I don't like, which seems to work, as I get many nice compliments about my little shop.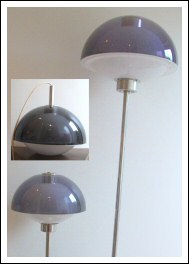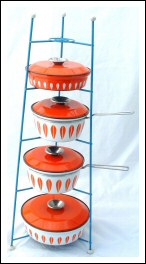 Lumitron lights and Catherine Holm Casseroles


Digger: What are your plans for Pineapple Ice Bucket?

Sophie: Sadly my shop only has a 3 year contract as the building is being demolished after that. So I literally have to make plenty of dough, to be able to move onto different premises after, which is a real shame. But Pineapple Retro shall not be beaten!

Digger: What is your retro passion?

Sophie: Personally I am attracted to brightly coloured, vintage plastics, be it furniture and lighting or the lovely, tactile range of crayonne items, once retailed by Habitat. Specifically the 'input' range of storage jars and containers. I also collect vintage Habitat catalogues, which prove very good for research and a real treat to flick through.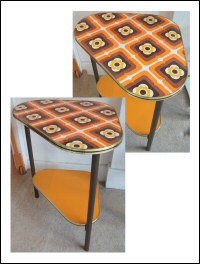 1960s Corner Table
---
Here at Pineapple Ice Bucket you will find an eclectic mix of funky things dating from the 1950s right up to the 1980s.

Not only is this the home of pineapple ice buckets (and many other variations) but also all sorts of home ware, vintage fashion and accessories (updated weekly).

I am also happy to source items for you, just drop me a line; email, phone or carrier pigeon and I'll see what I can do.

Email me at retro_pineapple@msn.com

Call Sophie direct- 07753747297

Or you can call my shop- 01590 624429

Pineapple Retro, Lyndhurst Road, Brockenhurst, Hampshire, SO42 7RH