Here, Digger talks to Mike Berman at Leicester-based Vintage Years about his Costume Hire business. Vintage Years was established in the 1970s and is going even stronger today as a result of The Internet.

---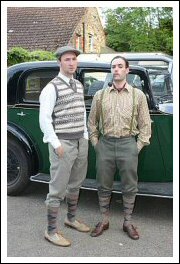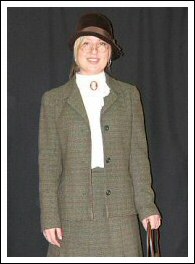 The 1920s and 1930s
Digger: Can you tell us a bit about the background to Costume Hire's business?
Mike: Originally I used to design and build racing cars – prestigious ones like Ferrari and Aston Martin. And I had a garage in Leicester city centre. At that time there were two resident theatres there, The Phoenix and The Haymarket and I used to deal with all their cars and visiting celebrities.
Digger: Are they still there?
Mike: One is – The Phoenix and now they've built a new theatre called The Curve where The Haymarket was. One of the chaps I met was Micky O'Donoghue who married to Tommy Steele's sister. This was in 1976 and he'd had a similar business up in Leeds called Yorkshire Stage but he'd sold most of it. He still had a few pieces left and he said "Why don't you bring it down here and try it out down here?" And I said "Oh... shall I, shan't I?" So I brought what was left down and I advertised in the local paper, washed my hands at lunchtime when people came in for fancy dress and that sort of stuff and it just got busier and busier. And then we started going to theatres that had closed down, to their auctions and bought up their stuff. So we started getting even busier. We went to the old rag mills and bought up all the old Victorian velvet curtains and cotton prints.
Digger: Was this in the days when people weren't still quite aware of the value of these?
Mike: Yes, definitely. And then I got a girl to make fashions for us – we made bat wing jackets and overalls in velvet and she cut the cotton prints into squares and she made dresses and all sorts of things. We opened up this boutique upstairs called The Apples and Pears (as in cockney slang for stairs) and we painted the front white and a tree with apples and pears on it. Anyway, it took off and we started getting much busier and I couldn't run both businesses efficiently, so in 1980, because I wasn't making much money with the garage because I was 'wasting' it on motor racing! This became full-time from then. And I still do it.
Digger: And you're still enjoying it?
Mike: Yes.
Digger: It sounds as though you came into it almost by accident?
Mike: Well almost. It's ironic that my father manufactured ladies clothes in the war. I had always had a career in cars and motor cycles. My dad was a tailor, so we never went short of anything.
Digger: But you never expected to follow in his footsteps?
Mike: No, I'm sure he'd be quite pleased if he could see me now. He died when I was thirteen so I never really got to know him..
Digger: That's sad. I lost my dad at 43 when I was sixteen and it was the same – you don't really get a chance to know each other at that age or have a proper relationship.
Mike: Absolutely right.
Digger: Hopefully, like me, you inherited all the best bits of your dad so he's still around in that sense.
Mike: Yes.
Digger: What sort of feedback do you get from your customers?
Mike: It's pretty positive really because we've been in business for 34 years and we're quite well established. We send stuff all over the country, Europe, The Falkland Islands and everywhere.
Digger: Is that via The Internet?
Mike: A lot of it is, yes. I don't know how The Falkland Islands got hold of us, but they were doing 'Allo 'Allo and so the RAF flew it down to them.
Digger: I saw 'Allo 'Allo and Dad's Army on your site.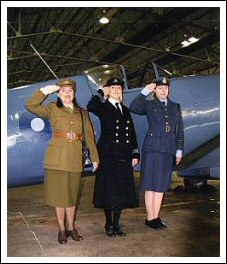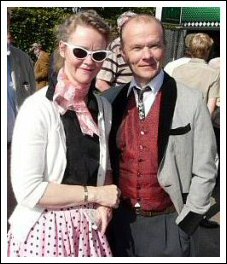 The 1940s and 1950s
Mike: We do those just about every month. We've just done a two-month stint for the Stafford Shakespeare Theatre – they alternate it with their Shakespeare plays. It's the largest open air theatre in Europe and maybe the world and the audience is under cover but the stage isn't. They do Shakespearian plays in the season – it's a gorgeous place and you can have picnics outside and so on. Last year they decided to do something other than Shakespeare on alternate weeks so they asked us to do Oliver Twist – the serious version not the musical. So we did that for them. This year they decided to do Dad's Army.
Digger: They're certainly trying different stuff.
Mike: Absolutely. The trouble is they've only got a resident company and two of the guys there have 52 inch waists. In the end I had to get replicas of the uniforms made in India.
Digger: Who were they playing?
Mike: Mainwairing and Cheeseman. And the Colonel was a big guy as well. So they had the stuff for two months.
Digger: Did you go and see the performance?
Mike: I did – and last year. We were given a box to sit in.
Digger: Walker, Pike and so on?
Mike: Yes, a very slick company. They had beautiful programmes made and everybody who was in the TV show was in their version. And they played them very well. Pike was just like Pike, Jones was just like Jones.
Digger: Was the relationship between Mainwairing and Wilson the same as well?
Mike: Mainwairing took a bit of getting used to because he's one of the big guys and we'd seen him last year as The Beadle in Oliver Twist so I had to get my head round that.
Digger: I know what you mean but it's funny people's capacity to make that leap of belief, isn't it?
Mike: Yes, and it was very enjoyable. We've got about six more productions of Dad's Army to do this year and 'Allo 'Allo, although we obviously do other ones as well.
Digger: Why do you think Retro and Nostalgia in all its forms is so enduring?
Mike: It's such a miserable world we're living in one way or another, I think people like to look back and see the things that they enjoyed in the past.
Digger: We only remember the good, don't we?
Mike: Absolutely. You see all the repeats on telly, but they still go down well.
Digger: It's funny when people from the wartime community say "Those were the good old days" when we had rationing and the Luftwaffe trying to bomb the wotsit out of us. We only remember the good stuff.
Mike: Yes, there was a community spirit.
Digger: What are the best things about what you do?
Mike: I should have retired a while ago but I always said while I continue to enjoy what I do I'll carry on and I still do. Every day is different and I like a challenge so if we get somebody who is an unusual size or has an unusual request we do our very best to sort it out.
Digger: Have you ever had one that you weren't able to do?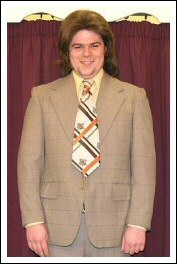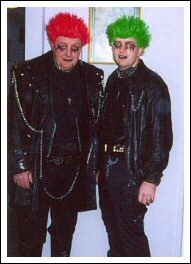 The 1970s and 1980s
Mike: In all honesty I don't think there is really. Given time we can do anything. One of our mottos is "Last minute panics no problem". It's a total lie, but it's what we tell people! (Both laugh) And we get a lot of last-minute requests where people have been let down or decide at short notice. And we've got a book on the counter that people can add their comments to and it's massive and thick and there are comments and little letters in there and so on. Every one of them is positive and I'm really pleased about that.
Digger: And you get a lot of repeat business?
Mike: Oh, all of the time. We do a lot of corporate stuff where they have seminars that have a theme. I think it's really to make themselves a bit different.
Digger: They've shown these call centres on telly where they all dress up to make it more interesting.
Mike: That's right. Another thing we do is period weddings. Forties is the favourite but we do a lot of medieval ones – Coombe Abbey is near here and they cater for receptions and so on. It is an interesting business I have to say. It's not boring.
Digger: What genres and eras are particularly popular?
Mike: I have to say, at the moment it's 1940s, although we do all sorts as you've realised. The Wild West is popular. We are trying to drop the fancy dress stuff because there's other fancy dress shops out there and our stuff is very good quality. We don't do much passing trade now like we used to do so people come to us because they want to and not just because they're passing by or curious. We lose a bit of trade from being off the beaten track but we know that anybody who walks in is probably going to have something.
Digger: You make a distinction between fancy dress and costumiers then do you?
Mike: Yes, if you read our bumph on the website you'll see that we say we're costumiers, not fancy dress, although we do still do some. One of the chaps we do is called Chris Barltop and he's in charge of all the circuses on the continent and here and every year he's asked to go to France and do something typically British over there. So he's been a pearly king, a policeman, John Bull. All sorts of British characters, you know. He's a very nice chap – he's the one who when they have a go about circuses and live animals he's the one who will appear on television pointing out that they're well looked after.
Digger: Zoos are, ironically, keeping a lot of these species alive with breeding programmes and so on... What would you like to achieve in the future with Costume Hire?


Mike: D'you know - I just don't know.
Digger: That's a very honest answer! (Laughs)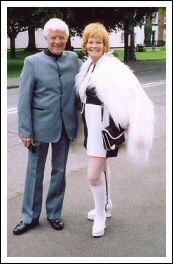 The 1960s
Mike: We've just moved into these premises in April and we've got a five-year lease here and my idea was possibly in two or three years I might sell it as a going concern or sell the stock – I don't know what.
Digger: Did you get hold of the stock from the Northampton Derngate when they refurbished the theatre and closed the costume hire side?
Mike: I'm not sure we did from there. We have bought in several things from the past. There's lots of amateur dramatic societies and we get some of their stock when they don't get the support – some is good and some is rubbish. Over the years I grabbed things when I can really. I went to New York in 2000 and was trolling around the secondhand shops there and I found five dresses – I couldn't afford any more - 1940s dresses and I brought them back with me. It's just nice to find these things. There was an auction in Bristol years ago and we bought an original second officer Wren's outfit, totally original and it's paid for itself over and over again. We've got rails of Wren's outfits, of course.
Digger: There's a lot of forties re-enactments take place around the country. I'm going to Sywell aerodrome next weekend for a 1940s day. So there'll be lots of people dressed up there I should imagine.
Mike: You're not too far from here – you'll have to come up and have a look round. We have a Victorian section, Edwardian, Medieval and Military. 1960s, 1970s, 1920s and rails and rails of all sorts and then boxes and boxes of accessories and everything you can think of. In 1989, we had an arson attack in the premises we were then in. We lost everything and had to start from scratch effectively. We switched on the TV one night feeling very sorry for ourselves and the Hillsborough disaster was being shown and that put it into perspective for us. It could have been worse and we calmed down after that. All our contacts at the time were really kind to us. We were given lots of things by a lot of theatres we dealt with and Saatchi and Saatchi, with whom we'd done some work on commercials, helped us out and it was really nice. I went to the Shaftesbury Theatre and the man in charge there said "The cast comes and goes, take all those dresses downstairs. Have them." I gave him £50 as a gesture because that's all I could afford. I was so touched I was crying and he didn't even want to take that. I could go on all day talking about the way people helped us.
Digger: That's fantastic.
Mike: Lovely people. I owe them forever now.
Digger: It sounds like a great business Mike and I'm glad you're enjoying it. It's been fascinating talking to you. I will grab some images from your website...
Mike: It's quite a good site actually. I'm pleased with the website. It brings us in a lot of work.
Digger: The Internet must have changed your business complexly, otherwise it would be passing trade, word of mouth and local clients mostly?
Mike: Yes. If you go to Google and type in Costume Hire or variations then we're always number one or two.
Digger: Is that by design?
Mike: When I first did the website I incorporated keywords into everything. Every picture has got keywords in it and if you type 1920s Costume Hire or 1940s or Medieval any of those then we're there. We've just done a Home Guard thing for the BBC. We have done the story of the last duel in Britain for ITV – in 1852 there was a Frenchman living here and he was a bit of a knowall and if he had any arguments he just challenged them to a duel and obviously shot them. He got involved with this Bill Sykes type character and challenged him to a duel, as usual, but he turned tail and he got shot dead. So that was the last official duel in Britain, because they then decided to ban it. We have done the story of The Marie Celeste, the story of Dennis Nielsen the serial killer and Peter Sutcliffe The Yorkshire Ripper. All very interesting and I love stuff like that if it's researched properly.
Digger: A good way of learning your history as well.
Mike: Yes. I wasn't interested in any of this when I was at school.
Digger: It sounds like you were the same as me. I started learning the day I left school as soon as I didn't HAVE to!
Mike: That's exactly the same as me, David. I hated school and with no dad, of course, I went off the rails a bit. I could tell you some stories!
Digger: (Both laugh) Same here. We'll have to catch up and swap stories.
Mike: Yes, please do.
Digger: But we came back onto the rails in our own time didn't we Mike?
Mike: That's right.
Digger: Well, thanks again for that Mike. Fascinating stuff. Take care.
Mike: Cheers David. Bye for now.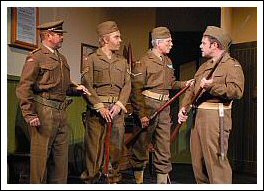 Dad's Army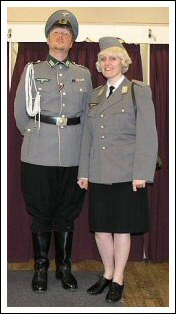 'Allo 'Allo
---

1920s, 1930s, 1940s & Wartime, 1950s, 1960s, 1970s, 1980s, Allo Allo and Dad's Army, ALTERNATIVE UNIFORMS, Ancient Greek Roman Egyptian, Animals, Children & School Productions, Fairytale & Nursery Rhyme, Film, TV and Productions, Fun Stuff, Horror & Halloween, Medieval, miscellaneous, National Dress, Regency and 18c, Sci-Fi and superheroes, Victorian / Edwardian, Wild West
Established in 1976 COSTUME HIRE by Vintage Years was soon serving the people of Leicester and surrounding districts in their needs for fancy dress.

It was quickly realised by the founder Mike Berman that there was a much greater need for proper high quality professional costumes to a much wider variety of clientele. These included amateur dramatic and musical societies and a growing number of businesses who wanted costumes and properties for advertising, training, promotional and other purposes.

Now many years later COSTUME HIRE by Vintage Years have become probably the most comprehensive suppliers of costumes and accessories in the Midlands.

Costume Hire by VINTAGE YEARS
7-15 Palmer Street (off Talbot Street)
Leicester
LE4 5PT
0116 266 2823
---