These regular size Classic John Lennon Sunglasses come in a choice of ten lens and frame colour combinations and are suitable for most adults. They have the standard 45mm (1¾") lenses with 130mm (5⅛") long temples.
They are supplied complete with a microfibre cleaning cloth and a press stud rigid case to help you protect your glasses. The sunglasses carry a 12 months limited warranty from the date of purchase against manufacturing defects.
John Lennon Sunglasses.com also have a range of Classic Small and Polarised Regular Sunglasses.
---
Digger: Please tell us about the background to johnlennonsunglasses.com and how and why you formed this enterprise.
Steve: We started up a UK based online sunglasses business many years ago motivated by the lack of choice of affordable good quality sunglasses in a market dominated by premium designer sunglasses brands. From the outset it was clear that there was a large demand for round John Lennon style sunglasses but we struggled to find good quality products we could sell at affordable prices. We were limited to either low quality products, usually sold through costume suppliers, or very expensive high end designer products. Having a passion for such sunglasses ourselves we decided to do something about it and so JohnLennonSunglasses.com was born. All our products are purchased exclusively by us directly from our supplier and manufactured to our own specification. This has allowed us to produce a high quality product whilst keeping our prices affordable.
Digger: What do you think is the enduring appeal of these glasses?
Steve: Sunglasses formed by two circular lenses mounted in a wire frame were originally known as "Teashades". They first became popular in the 1960's inspired by Lennon's fondness for them, rockers such as Mick Jagger and Jerry Garcia also wore them in that era. Their enduring appeal has been driven by prominent members of the music business who continue to wear them to this day. Heavy Metal God Ozzy Osbourne still wears these circular shades, as does Liam Gallagher of Oasis who first wore them in the famous Wonderwall video and more recently at the Brit Awards in 2010 when he infamously threw his award into the audience. The glasses worn by Seraph in the Matrix Reloaded are Teashades. And most recently, Mary-Kate Olsen and "Gossip Girl" Taylor Momsen have revived the fashion industry's interest in them by frequently wearing classic John Lennon sunglasses.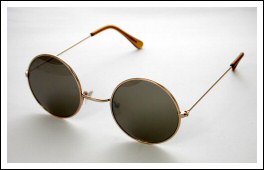 Gold Coloured Frame, Brown Mirrored Lenses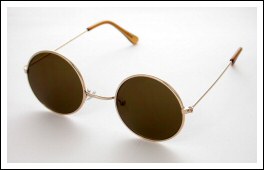 Gold Coloured Frame, Brown Lenses
Digger: You have a surprising variety of models available of the same basic design with differing combinations of lenses and frames. What are the most popular?
Steve: The classic black frame with black lenses, gold frame with brown lenses, silver frame with black lenses followed by the silver frame with polarised copper lenses.
Digger: What sort of feedback do you get about your products from customers?
Steve: Very positive in particular regarding the quality provided versus the price. We get many repeat purchase from customers all over the world.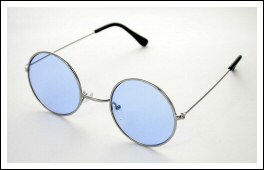 Silver Frame, Pale Blue Lenses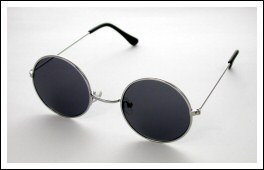 Silver Frame, Black Lenses
Digger: What are the most enjoyable aspects of what you do?
Steve: Identifying new variants of this same basic design and bringing them to market.
Digger: Are you developing any new models or ranges?
Steve: Yes, in August we will be launching a number of new colour variants, a new Elite range with up-rated frames and a range of new optical frames.
Digger: What plans do you have for the future of johnlennonsunglasses.com?
Steve: Continue to expand the product range and enhance the quality of all products.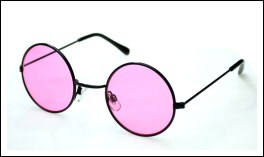 Shiny Black Frame, Pale Pink Lenses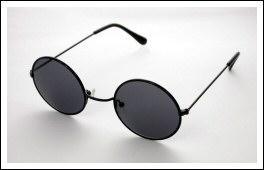 Shiny Black Frame, Black Lenses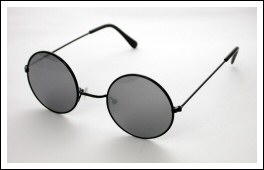 Shiny Black Frame, Black Mirrored Lenses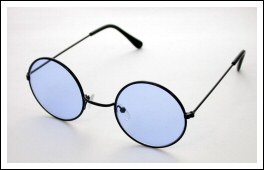 Shiny Black Frame, Pale Blue Lenses
---

www.JohnLennonSunglasses.com
We started up a UK based online sunglasses business many years ago motivated by the lack of choice of affordable good quality sunglasses in a market dominated by premium designer sunglasses brands. From the outset it was clear that there was a large demand for round John Lennon style sunglasses but we struggled to find good quality products we could sell at affordable prices.
We were limited to either low quality products, usually sold through costume suppliers, or very expensive high end designer products. Having a passion for such sunglasses ourselves we decided to do something about it.
And so JohnLennonSunglasses.com was born. All our products are purchased exclusively by us directly from our supplier and manufactured to our own specification. This has allowed us to produce a high quality product whilst keeping our prices affordable.
The John Lennon Sunglasses Collection offers a wide range high quality round shades. The Classic designs come in two sizes and in a choice of twelve lens and frame colour combinations, our unique Polarised designs have four options.

JohnLennonSunglasses.com
c/o i-sunglasses Limited
Weldbank House
257 Pall Mall
Chorley
Lancashire
PR7 3ND
England
United Kingdom

Telephone
Monday to Friday - 10am to 4pm GMT
Land Line: +44 (0)1257 269615
VoIP: +44 (0)560 116 3403 (UK calls charged at local rate by most service providers, mobile rates may vary)