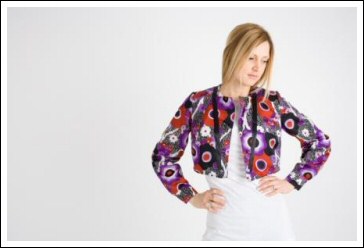 ---

Digger: Can you tell us how Corina Corina came about?
Ella: It's a dream for me. I've always been interested in fashion, in particular vintage and recycled fabric and garments, and I was in a position with my career where I was yearning for a change but needed to make the jump. I worked in marketing and communications for a huge multinational and hit hard by the recession I was offered a voluntary redundancy which I jumped at as I was able to use the time – and some cash! - to set up Corina Corina.

Digger: You have a sourcing service for items and a rental service for client's garments. Do these extra services set you apart from other Vintage Clothing suppliers?

Ella: I think so, and although those are the services that I advertise I offer a personal service to my customers in lots of different ways, I've even hand delivered things in time for a party. I take pride in my business and I think great customer service is the one thing every business owner can and should offer. And it pays off. I have lovely regular customers who trust my advice, are loyal to the store and have become friends as well as customers. I even get bought lunch and flowers on occasion which is just lovely!

We also have a made to measure 1940's collection which is pretty unique, and we rescue and re-work vintage items to create unique, wearable one-off garments with a twist, so I think all these elements set us apart from a regular vintage or secondhand store.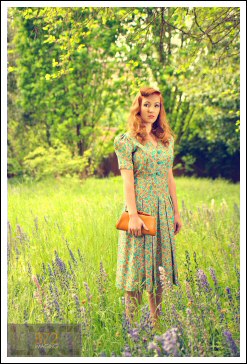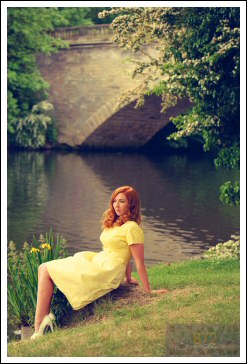 Digger: What are your most popular lines?

Ella: At the moment 1950's day dresses and pretty tea dresses are really popular, although good quality and classic styles never really go out of fashion – which is why so many of us love vintage, I suppose!

Digger: Would you say that Retro is, relatively-speaking, recession-poof?
Ella: I honestly don't think that any market is recession proof, but I do feel that at a time when it's almost fashionable to be a bit more frugal and also to recycle things, then retro and vintage can enjoy a bit of a revival. Of course, there always will be real vintage nuts who will buy vintage no matter the fashion, but yes, it also becoming more popular with a new market now too for lots of reasons, including value.

Digger: Vintage items are environmentally-friendly, good-looking and individual, better value than modern clothes and a good investment too. Have you noticed that more people are becoming aware of these facts?
Ella: Exactly, those are the main factors why vintage aficionados have and always will buy vintage, and these facts are also filtering through to the mainstream now too. We shouldn't forget the massive impact that celebrity's wearing vintage also have on the general public too and their perception of buying secondhand clothes, it's considered pretty cool now in many circles – finally!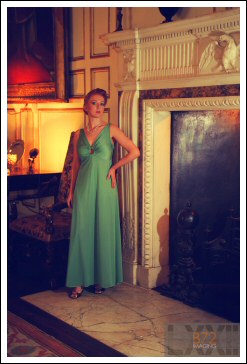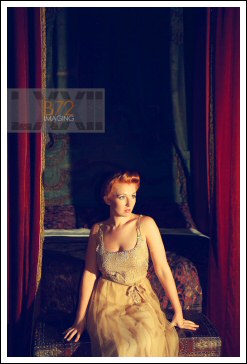 Digger: How does The Internet impact on what you do?
Ella: Oh massively, lots of vintage sellers are only based on-line so there's huge competition there, and of course eBay is awash with all sorts of items which are about 5 minutes old being sold as vintage! But on the plus side, there are realms of wonderful information available and tonnes of experts and forums to get involved with which is really useful for learning and researching items. Our next major task at Corina Corina is to develop our website to enable us to sell more items online too.

Digger: What gives you most pleasure about what you are doing?
Ella: I think just helping someone feel great, perhaps trying something they never would have thought of wearing and finding it really suits them, or finding them just the thing they've been searching for or dreaming of for ages. That's a real feel-good moment.

Digger: What sort of feedback do you get from customers?
Ella: Mainly that people love the shop because it feels like a treasure trove and people love to find something unique and interesting. We really go out of our way with customer service too so we get lots of personal recommendations and happy customers sending cards and even flowers sometimes!
Digger: Where is the Corina Corina business developing in the future?

Ella: My next step for this year is to expand the website and get a really cool useable shop up and running online. The long-term plan is to expand the Corina Corina brand into 'Cool' and 'Classic' streams to include menswear, bridal, collectable vintage. And to expand the Re-worked Vintage range to include and on-sight workshop and studio so the customer can really get involved in the process if they want to.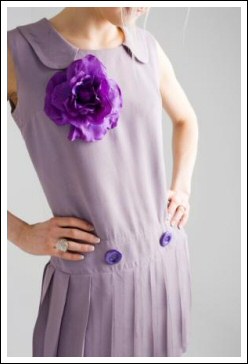 ---

Corina Corina - The Midlands' most chic dress agency. Vintage and pre-loved designer fashion to buy, sell and hire
Reworked Vintage . 1940s made-to-measure . Buy . Sell . Hire

We're focused on fashion. Astounding pre-loved designer garments, extraordinarily well-cared for footwear and accessories, and unique vintage finds, available to buy, sell or hire.
Vintage Collection - The real deal from 60's shifts to 70's cheesecloths, 80's cocktail dresses & even original cowboy boots!
Find-It Service - Looking for something special? Give us your wish-list and we'll find you the perfect outfit.
Flexible Agency Terms - Can't bear to part with your treasured garments just yet? We'll hire them out for you.

Corina Corina
37 Smith Street
Warwick
West Midlands
CV34 4JA

TEL: 01926 400 087