Valuemystuffnow.com is an Internet service that values your art and antiques online. Their team of experts values items in over 30 specialist categories, and has valued over 15,000 since the launch of the business in Autumn 2009, attracting over 9,000 customers. Their experts all come from the main auction houses and typically have thirty years of experience in their fields.
Here, Digger talks to Patrick van der Vorst about this fantastic new service that is going to revolutionise the way we look at and evaluate our heirlooms and valuables.
---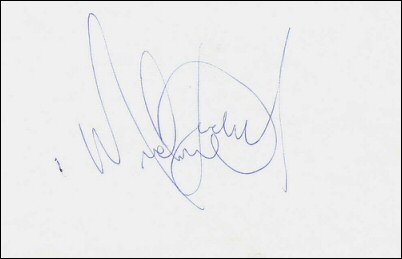 Michael Jackson autograph.
Height: 4 inches, Width: 6 inches
1985.
£250 - £300
Don't believe everything you read at the moment about the value of Michael Jackson items. Since his untimely death, a huge amount of memorabilia has appeared on the market, including autographs.
The value of autograph items varies widely, depending on the item that has been signed and the condition of it.
A 'standard' autograph like this, i.e. in an autograph book, which is a little worn, is at the lower end of the value spectrum. However, it's a nice extra detail in knowing when and where the autograph was obtained.
---
Digger: Hello Patrick.

Patrick: Hi David. How are you?

Digger: I'm diving back into work after a Retro weekend! You must be busy at the moment?

Patrick: It is, but slightly calming down for the summer.

Digger: That was an impressive figure you gave me the other day. 15,000 valuations online since you launched in the Autumn.

Patrick: I know. We have just gone over 9,000 customers that have used our service. Over the weekend, which is great.

Digger: And once you have a new customer then they carry on, I suppose?

Patrick: Yes, we have about a third repeat custom, which is good. I was told that, apparently, over The Internet traffic goes right down in July and August.

Digger: Of course, you have to build all that into your business model and plan your holidays and revamping of the site and so on at that time, I suppose?

Patrick: Yes, exactly.

Digger: I should imagine one of the busiest times is December?

Patrick: Autumn Ė September, October, November and then the first half of December. The actual Christmas period is quiet because people have other things on their mind.

---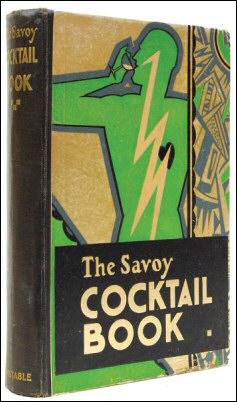 Harry Craddock, The Savoy Cocktail Book, One Volume, Limited Edition, Signed by the Author
1930
£800-1,200
With colour illustrations and decorations by Gilbert Rumbold and the original art deco binding of decorated cloth with top edge gilt. The design of this classic work was intended to complement the art deco of the American Bar at the Savoy. The author, the most famous cocktail barman of the twenties and thirties, was an American who had come to London in 1920 to escape from Prohibition. This appears to be one of the limited edition of 750 copies in the original high art deco binding and thus very rare. This could be an important book which should be checked first hand by a book specialist.
---

Digger: A good time to invade Britain. Everybody sitting comatose in front of the telly with a swollen belly. (Both laugh) To the questions. Please tell us a bit about the background to Value My Stuff Now.

Patrick: The background is sort of tied in to my background more or less, when I was working at Sotheby's heading up the furniture department. I did notice that a lot of people feel intimidated to pick up the phone to an auction house or to a dealer and simply ask what their item is or how much itís worth. So, I noticed a very basic need to come up with something very simple for people to use Ė something that wasnít intimidating. And thatís where the idea of the website came from.

Digger: Itís amazing and beautiful in its simplicity. Iím surprised it hasnít been done before.

Patrick: There are sites that do jewellery valuations, silver valuations, painting valuations but thereís not a one-stop place that does the sort of valuations at the level that we do.

Digger: People need it to be a really simple approach, donít they?

Patrick: I think so, yes.

Digger: I like your 1, 2, 3 approach which is reminiscent of the companies that send out DVDs.

Patrick: Oh yes.

Digger: That sort of format works in peopleís heads.

Patrick: Yes, yes, yes, exactly.

Digger: They donít want it to be complicated and they want to do it all at one time and place.

Patrick: Because I think thereís always a bit of a myth around the antiques world that itís untransparent and people donít know quite whatís happening. And are the auction houses really honest and always good, and the same goes for the dealers. And we sort of take all these misconceptions away and make the whole process transparent.

Digger: The good thing for you is that antiques are very much in the public consciousness by virtue of the many programmes there are about them on telly. Thatís a great advert for you.

Patrick: Itís true.

Digger: I wonder if itís more in this country than other countries?

Patrick: I would imagine so, yes, with the possible exception of the USA.

Digger: I go to Ireland a lot and you donít quite get the same as here. The same in many European countries. A lot of the objects and heritage seems to get recycled and doesnít seem to filter through the generations. We seem to hoard and pass down things more here. So, can you go through the mechanism for valuations for us?

Patrick: You upload at least one, or preferably a few more photographs of your item. The better the photos the more accurate, of course, we can be with our valuation. And then you provide us with any text or information you have about the item, like if you know any provenance, even if you know who executed the piece or where you might have got if from, when and how much it cost you. Or what your grandparents said about it, or whatever. And then you pay the flat fee, which is starting from £3.89 per item. That is if you buy ten credits, otherwise for one item itís just £4.99. And then you submit it, so itís a very simple process.

Digger: Then itís valued? And if you canít value it for whatever reason then you give a refund?

Patrick: Yes.

Digger: Have you had any feedback from people when theyíve had it valued as to how accurate you were when they subsequently sold an item?

Patrick: Very positive, to be perfectly honest. In the nine months weíve been trading we have only had two complaints as regards to value itself and that was mainly that we valued it slightly lower than they sold it at. I think one was that we valued it at £400-£600 and then they sold it at £1,100, but then thatís also market forces because it happened at auction. It can double or triple if you just get the right people in the right auction bidding against each other.

Digger: You've done 15,000 valuations so far?

Patrick: Yes, with 9,000 customers.
---
A British Dominions 'Empire' Motor Policy enamel advertising sign
"Authorised Service Agent - Eagle Star & "British Dominions" Insurance Company", enamelled in colours and depicting a racing car at high speed and worded to front "Empire Motor Policy", in rope pattern borders, the lower section worded "Free Towing, Instant Repairs, Assets Exceed 17,000,000"
Height: 5 feet, Width: 3.5 feet
circa 1910
£800 - £1,200
This is a lovely and very collectable advertising sign, very popular with car memorabilia collectors.
Unfortunately your sign is not in great condition: chips to the enamels, the worn edge, the rust patches and overall surface wear.
Hence our estimate had to take this into account and reflects this condition issue. That said, it is a very smart piece and still would do well at auction.
---


Digger: Wow. Where are the experts from?

Patrick: Theyíve all worked for Sothebyís, Christies or Bonhams.

Digger: Well, you canít say fairer than that, can you?

Patrick: At the end of the day, itís like any other world I should imagine, with quite a tight network of people and most of them are in their late 50s, early 60s and theyíve just retired or taken early retirement. Then itís ideal, because they can work from home and for me itís great because theyíve got literally 25 or 30 years of experience under their belts.

Digger: Itís brilliant. Ití so simple and itís working well so I congratulate you on that.

Patrick: Thank you.

Digger: I was talking to a dealer the other day who said he gets a lot of calls asking for valuations and assessments which he canít deal with. Is that the sort if referral youíd like?

Patrick: Yes, definitely.

Digger: Iíll mention that to some of my contacts as well.

Patrick: Sothebyís are actually forwarding business to us as well.

Digger: Thatís good.

Patrick: Because they donít want to get involved anymore with items below £3,000.

Digger: Did you ever bump into Stephen Maycock?

Patrick: Oh yes.

Digger: I chatted with him when he was the Rock and Roll auctions expert at Sothebyís, because my main passion is sixties music.

Patrick: Well, being honest he actually works on the site. He does our pop memorabilia.

Digger: Thatís nice to know. He was thinking of retiring.

Patrick: He still works for Bonhams as a consultant. A very nice chap.

Digger: What are the most enjoyable aspects of what you do?

Patrick: Itís seeing a flow of different items every day.

Digger: It must be great fun because you donít know whatís coming next and youíre making people happy. Because people like to know that their items are worth something.

Patrick: Sometimes itís interesting when we get things that we donít know anything about. Over the weekend, we got an American 1920s cash register. And suddenly you find out that could be worth $800. You do learn a heck of a lot with every day that goes by.

Digger: What's the most expensive item you've valued?

Patrick: The most expensive item was a painting that we valued three weeks ago. It was a Claude Monet.

Digger: Wow. Someone sent you photos of a Monet?!

Patrick: I know! They knew what it was and we valued that at £1million to £1,500,000.

Digger: Wonderful. And you charged them £4 odd for the valuation?

---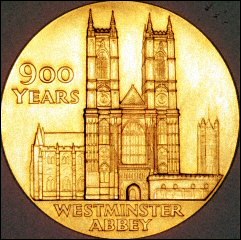 22 Carat Gold 1965 Westminister Abbey 900th Anniversary Commemoration Medallion designed by Michael Rizzelo, 127g, In Original Case with Certificate
1965
£2,200 - £2,600
Precious metals, as you realise, can fluctuate wildly, and present markets although high can alter dramatically and so it is difficult to value this long term.
Many of these types of medallions were issued as investments, and some have proved to be investments only because gold prices have risen.
There are companies which buy gold as scrap, but this will appeal more to coin and medallion collectors as a cased medal and therefore realise more in a specialist auction.
---

Patrick: Yes, but, to be perfectly honest, our experts said it was easier to value than a lot of the smaller artists.

Digger: But it would be interesting if you were on an eBay-type business model and you were on a commission for that one?!

Patrick: Yes, but the reason we valued that was because the customer had already valued ten or fifteen things with us before. And he didnít want to go to one of the auction houses to get it valued because he said ďIf I had my Monet valued there then I know that every few months theyíd be on the phone to me to see if I want to sell it or do a proposal for me.Ē He knew that once weíd valued it then thatís it.

Digger: Can it be anonymous in that way?

Patrick: It is completely anonymous. Because we donít ask for the address. We do ask for a first name and surname. I know that, even so, some people use dummy names on there.

Digger: How much does the service typically cost?

Patrick: £4.99 for a single item and cheaper per item if you go for bundles we offer.

Digger: Thatís a good rate. How did you come up with that?

Patrick: Itís difficult to pitch it at the right level but I think a fiver is where it should sit. More, then people might be a bit hesitant or try to find the answer themselves which wouldnít always be accurate or satisfactory.

Digger: That price is key. Itís affordable and good value and so youíll get lots of people going for it. Never mind having a few high-end customers, your model will get you many customers and repeat customers as well.

Patrick: Then hopefully what will happen down the line is that we can keep those prices but we can have other revenue streams on the side like advertising or whatever.

Digger: What plans do you have for the future of Value My Stuff Now?

Patrick: To move into different countries. So we launched in the USA a month ago and thatís already 40% of our customer base.

Digger: Have you got a physical presence there?

Patrick: No, itís all based here. We donít need one.

Digger: Thatís great, you can run your empire from Victoria! (Both laugh) I think itís a real winner.

Patrick: Letís hope so.

Digger: Will we be seeing you advertising like the confused people or the compare people or the Meerkat people?

Patrick: Who knows? (Laughs) I think maybe one can do those things after two years. Two years of experience and with everything running smoothly, the experts are happy, the customers are happy. Then we can go for the big things.

Digger: Itís a great model. Iím just launching a new online venture too so I hope weíll be able to meet up in a yearís time and compare notes. At some posh west end hotel (Both laugh)

Patrick: Drinks on me or you?

Digger: On me, definitely. You can buy the meal. I look forward to it. Your model is great, people send photos, a description and any background and they get a valuation back. Itís simple for people to understand and use. And if your experts donít know, they say they donít know. But the vast majority of the time they do know. Itís just a fiver.

Patrick: Thatís true.

Digger: You just have to keep your overheads down, I suppose?

Patrick: Itís sort of a balance really, because you have to keep pushing it. So every penny we make goes back into the business.

Digger: Best of luck and Iím really excited about what youíre doing and you sound very relaxed. (Both laugh) But thereís obviously a lot going on there. I think youíre going to do really well out of this.

Patrick: Letís hope so.

Digger: The British are so into their antiques and the Americans to an extent.

Patrick: I think itís a matter of credibility. I think once people know that they can take us seriously and that the expertise they get back is very serious, then I think it could really take off.
Digger: What would be ideal was if you could get a reference or an accreditation on one of the main antiques shows on TV. On British TV they don't do that sort of thing, of course.
Patrick: Maybe we can advertise on one of the channels one day, who knows? If ever you're in London, do drop me a line and we'll get together.
Digger: Yes, we'll sort something out. It sounds good. I am a Londoner originally, coming from Chelsea, so I do go back there from time to time. Great talking to you.
Patrick: And you.
Digger: And thanks for the images. Iíll include those in the feature. And we'll catch up face-to-face. Take care.
Patrick: Thank you David. Bye bye.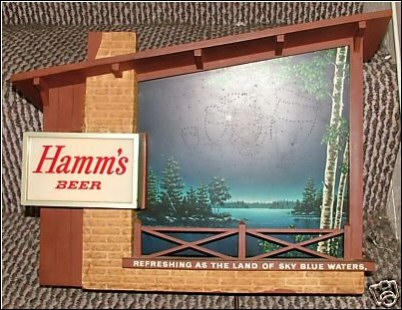 Hamm's Beer starry sky motion lighted sign Numbered 742
Alternatively twinkling and displaying frosty mugs and the word "Hamm's"
Height: 16" inches, Width: 20" inches, Depth: 4" inches
1960's
$400 - $600
Hamm's Brewery was established in 1865 in Saint Paul, Minnesota. They created many inventive products to advertise their beer.
These vintage items are quite popular among collectors. Yours seems to be in mint condition and is quite collectable. Similar examples sold for $300 to $500 over the last few months.
If the lighting works properly, I would expect it to fetch the $400 mark at auction.
---

We value your art and antiques online. Our team of experts values items in over 30 specialist categories:

Ceramics, Furniture, Sports Memorabilia, Paintings, Oriental Art, Sculpture, Silver, Pop & Film Memorabilia, 20th Century Design, Toys & Dolls, Coins, Arms, Armour & Militaria, Medals, Jewellery, Carpets & Rugs, Clocks & Watches, Classic Cars, Contemporary Art, Books, Glass, Drawings, Postcards, Tribal Art, Musical Instruments, Photography, Prints, Wine, Scientific Instruments, Tapestries & Textiles, Stamps, Other

Our aim is to provide you with a professional and informed valuation of your items. We value items which we have divided into 28 categories and for each collecting field there is a dedicated expert, in some cases, more than one. All our experts are based in England and have worked for Sotheby's, Christie's or one of the other major London auction houses. As well as our expert team we have many contacts covering various areas of expertise which enables us to provide you with an accurate identification of your objects and a valuation based on their experience and knowledge of current auction prices. As we don't buy or sell any items, nor advise as to where to buy or sell your collectables, our valuations are completely unbiased and objective. Rest assured, all data and images that you send to us will be kept securely and treated with the utmost discretion and confidentiality.

It's quick and easy to get an expert valuation...

1. You upload a photo
You upload the photos of your item and add any information you have.

2. We assign an expert
We assign your item to the appropriate expert from our experienced team.

3. You receive a valuation
Within 48 hours you will receive a full valuation report or your money back.

You can call us on (+44) 207 869 51 37
You can also send your letter to:

Value My Stuff Now Ltd.
Portland House
19th Floor
Stag Place
London
SW1E 5RS