Here, Digger talks to Gordon Ayres who has been photographing the British and Continental 1930s, 40s, 50s retro scene for over 20 years. Using techniques culled from the classic Hollywood period, Ayres finds inspiration in both the studio glamour photographers of the time, and the grainy reportage style of the dime newspaper reporters.
With the use of quality vintage lens and studio lamps he creates the exact feel of the look of the 20s to the 50s- for whatever the occasion.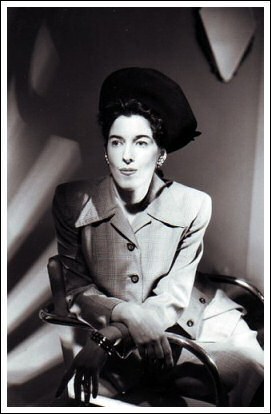 Vogue-style seated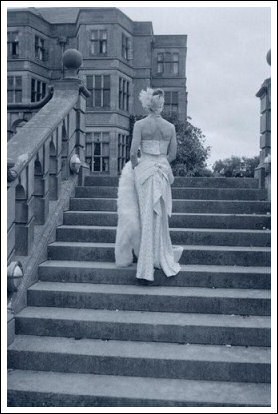 Vogue-style on steps
Digger: Gordon. Youíve had some film people at your house today. Why was that?
Gordon: My house has a vintage interior, so two TV programmes have been filmed here in the past. First, the BBC and then a programme called Ration Book Britain. Which, apparently went to top of the ratings.

Digger: Was it one of those extra BBC3 or 4 channels?

Gordon: Yes, something like that.

Digger: I like the stuff they show on those channels. Thereís always something fascinating on there.

Gordon: Yes, I thought the second programme was done very well. The first one was about food, eating and dietary fashions through different periods of history. There was a comical couple.

Digger: Yes, I remember that one and I couldnít watch because Iím a vegetarian and they were doing all sorts of disgusting things with meat.

Gordon: Right. The couple were quite amusing. The TV people wanted my house to be a fifties interior. It was actually built just after the war, because there was a major Blitz incident here. But although the house is very modest, with very plain lines, it actually echoed the thirties modernist look. The exteriors are very plain council but the insides are good design. I was surprised when I brought my furniture in how well it sat. Because I have a lot of thirties, very low-key furniture. Thereís no point in me going high-end Art Deco. It would look irrelevant. But it sits very well here and I can dress it up and dress it down.

Digger: And word has got around. What was this latest programme about?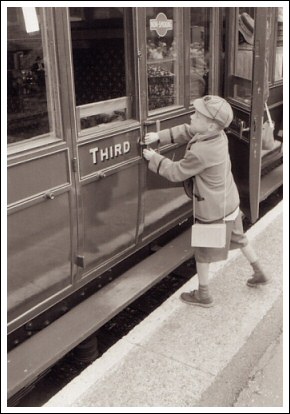 An Evacuee


Gordon: Well, they wanted to interview an original Eastender who had been an evacuee, and who had experienced life during the war. This in a vintage setting. Although heíd been a young lad rather than a grown adult because so many of them are passing away now.
Digger: They should have spoken to my mate Jim. He is 81 now and has so many stories to tell about living around there. He grew up on the Isle of Dogs and got up to all sorts of mischief. As a grown up, he worked on the docks when they were still the biggest in the world. He spends hours telling people hilarious stories about what they all got up to. A lovely guy. He can remember Mudchute when thatís what it was and not just a station. He knew all the characters.

Gordon: Gosh. Well, this man was a Bethnal Green resident and he just, by seconds, missed being in the Bethnal Green disaster.

Digger: That was so tragic. The people there were running for shelter, ironically from our own anti-aircraft guns rather than a German raid, and they all got trampled and crushed, didnít they?

Gordon: Yes. Very sad. But he was really nice and we chatted between takes. They took him through his reminiscences. The programmes will be on BBC3 or 4.

Digger: Iíll look out for it.

Gordon: They also interveiwed somebody associated with The Queen Mother. But this year thereís a lot of interest in the war years.

Digger: Itís the anniversary of The Battle of Britain, of course.

Gordon: And I donít have a telly. Itís broken, but actually I donít care because Iím doing rather well without one.
Digger: Iíve heard of people coping without a TV. I couldnít manage, not because Iím a TV addict, but I find so much there to interest and entertain me... So, to the reason for my call... What was and is your inspiration for the vintage photography that you do?
Gordon: Firstly, Iíve always been inspired by the vintage movies. Really, it started when I was a youngster. Something clicked inside me when I first started seeing the vintage movies being re-scheduled on TV.

Digger: You were a youngster where and when?

Gordon: I was born in the 1950s, and in New Zealand where I come from, television didnít start broadcasting until the sixties. So, in my earlier childhood, going to the cinema was something I remember with great affection. Every Saturday, I took my brother and sister and we went to see the cinema matinee. Our local theatre was the Mecca for all the kids in town. I can still see it now and, to me, it was like going to an Aladdin's cave and it just sparked something inside me in my imagination.

Digger: Can you name a couple of movies that stand out from your childhood?

Gordon: I recall the weekly cliff-hanging serials mainly - Hopalong Cassidy, The Lone Ranger, Jungle Jim, Dick Tracey, Zorro, Mandrake the Magician... which had all the kids at the cinema jumping up and down with excitement only to end at a thrilling dangerous moment to entice us back next week. Of course, the cartoons - Disney - Donald Duck, Mickey Mouse, Goofy etc. Tom and Jerry, Woody Woodpecker had the entire theatre howling with fun. The main features tended to be when mum took us to the Grand Cinemas in the city - the big 1920s and 30s picture palaces, to see the latest Disney release. Or an old re-release like The Wizard of Oz or The Thief of Baghdad, new films like Swiss Family Robinson or High Wind in Jamaica. Westerns were a big attraction to little boys - Shane with Alan Ladd, I recall, and The Searchers - two classic movies I saw as a kid. Pirate movies as well - Tyrone Power in The Black Swan, Errol Flynn as Robin Hood. We all gathered to re-enact the tales every weekend, inspired by the big screen, chatting about the dramas and action on our way home to our New Zealand bungalows on sunny Saturday afternoons. Our imaginations all keyed up for the rest of the week, bragging about which actor we were and how many pirates/Indians we were going to slaughter before bedtime.
I recall the newsreels as well. But as kids, we were less interested in the news. Fox, Movietone, Pathe... I can't recall much except a flurry of images of politics, war, fashion... until I do distinctly recall the planes lined-up for confrontation with the U.S.S.R. over Cuba in the early 1960s on the big screen.

Digger: Did America seem like a different planet to you?

Gordon: I never gave it a thought as a kid. Possibly New Zealand looked like the US in some points due to its still developing economy and the farmlands and wilderness, which still perhaps had slightly the look of the frontier.

Digger: I think you said that when you went to California that you felt at home because of the architecture?

Gordon: Yes, everywhere there were bungalows with verandahs and big gardens. It looked like the town my mother was born in. New Zealand had a curious blend of English tradition - looking back to the Motherland of Britain and at the same time the American way of life was arriving. Typical in these post colonial nations not long after the Second World War.

Digger: Maybe you were a bit in advance of the Mother country in terms of consumerism there, because I can remember here up until the early seventies it wasn't the norm for people to have cars. Many didnít have phones. A lot of the gadgets were only just becoming the norm. What we saw on American TV programmes Ė the big fridges and big cars for kids who were only sixteen and so on were mainly beyond our reach until then. It just didnít happen here.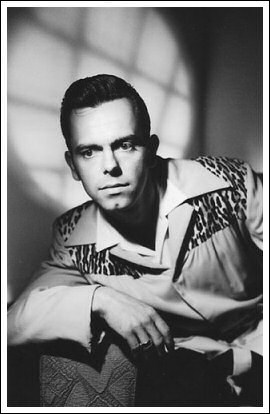 American fifties look


Gordon: Youíre absolutely right. In fact, in our small town which was on the edge of the main city Auckland, I can remember there was a woman who was a war widow not far up the street from us and she had four sons. They were always working on their big American car out at the front near our house, wearing jeans. And it was probably the classic American fifties image.

Digger: The greased back hair?

Gordon: Yes. Kind of James Dean. And there was a young lady who looked the spitting image of Elizabeth Taylor who would go past on her way to work in neat little suits each day. I recall my mother and the other ladies remarking. I seem to have snapshot recall for some reason.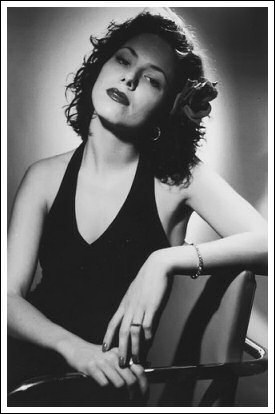 Elizabeth Taylor look

Digger: Thatís good, isn't it?

Gordon: It might be to do with the way memory registers. I used to draw a great deal as a child... that might explain a lot!

Digger: When did you get into photography?
Gordon: That came much later, but I was given a camera at a very young age. Later I bought one in the 1960s. I began to notice the changes in society, technology, people, fashion... as you do, I suppose, if you are visually alert... through a camera lens. Looking at books, as I often did - I saw the sudden passing of a world that I had been privileged to witness.
Mid-twentieth century life still had people who had been alive in the reign of Queen Victoria, King Edward, the First World War. I moved among them. I was fascinated by all of it...
Television had commenced broadcasting - and began to open up knowledge and discovery for me - especially vintage movies and documentaries as well. But I was saddened to see the old world being ruthlessly destroyed as our cities were being demolished over the following decades.
Our little art deco cinema closed and was demolished, followed by the post office, the 19th century school buildings, the old shops and library. All to be replaced by a giant shopping mall surrounded by areas of asphalt for car parking. It looked characterless to me. Now it itself is semi boarded up, by-passed by bigger and uglier places. The grand theatres and cinemas of the 20s, 30s in the city of Auckland went under the demolition hammer, accompanied by the old department stores and little businesses which gave character to a city. Most of Victorian, Edwardian, Art Deco Auckland exists only in books now. Everywhere looks 'identikit' shopping parades now. I left in 1981 - frustrated and angry.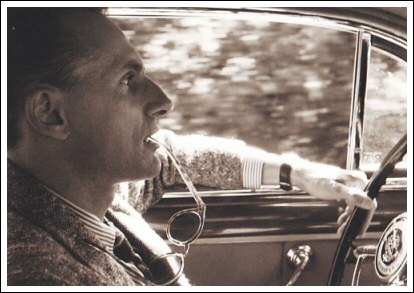 Mid-20th century automobile lifestyle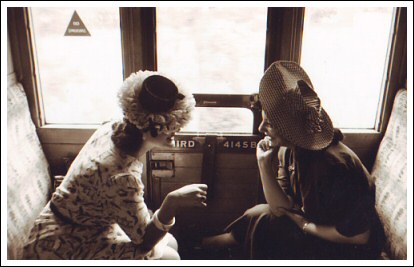 Mid-20th century chatting on the train
Digger: What a waste. It sounds exactly the same as happened here. It seems to have accelerated in several generations.

Gordon: I have an impression that I caught the swansong of the first half of the 20th century (as a little boy - but I still seem to have strong fleeting impressions that remain with me.) Born in the early 1950s, I can recall daily life having the threads of what mid-20th century life contained in a fragmenting way, I suppose - albeit through the viewfinder of a little boy. Things like the sound of a steam train charging past the junction; the flick of a cinder into an eye from the train smoke; forgotten sensations - the clickety clack of the Singer sewing machine; the hum and crackle of the valve radio tuning in to the Palmolive Radio Show; the smell of leather car seats on a warm day... the sound of an old airliner as I travelled on a Dakota in 1960 as a child.

Digger: What is that is so special about the look and fashions of the thirties, forties and fifties?

Gordon: The chic and elegance of those eras is terrific. Generally it had great style. The deconstructing of fashion away from the rules of the past was possibly liberating - but it has led to chaos with people today looking a mess. A very good looking person can wear a 'sack' and look 'cool'. Fashion in the past led people with rules about tailoring, colour etc... they looked chic and simple, charming... the tailoring and cut covered people's lack of perfection brilliantly. It applied to the not wealthy as well. My parents look great in their snapshots taken in the austerity years of rationing and shortages after the war and even as a young family my mother made all her suits and dresses herself and looked chic. They were confident and proud in themselves and liked to pose for a snapshot as well. I love the family albums.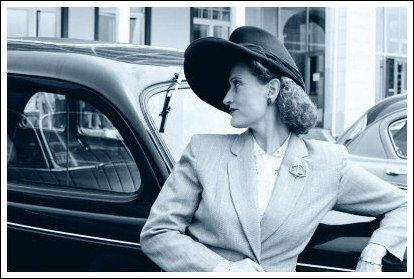 Lady by auto thirties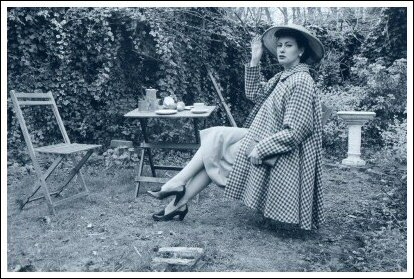 Afternoon tea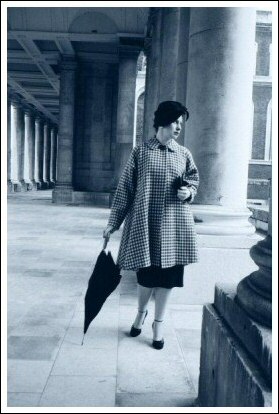 Prepared for rain
Digger: Can you tell us about your passion for film noir and what is film noir? A look, a type of script, a type of lighting or direction? Is it all of those things?

Gordon: It was a movie genre which emerged in the 1940s with a perceptibly different set of tones to it. The war and its aftermath left a broken world with people less ready to accept the bright tinseltown view presented by Hollywood. People had seen too much. Noir showed the darker side of human nature in a set of moods expressed by lighting. This lighting was already in use for portraiture- Clarence Sinclair, Laszlo Willinger and other of Hollywood's studio photographers used a lot of shadow and pools of light to good effect in the 30s. Horst, Hoyninguen-Huene, Steichen at Vogue were doing photography fashion in a magnificent way - creating deep mysterious atmospheres for their fashion settings. The stories of noir are like 1940s Greek Tragedy Dramas in a modern language - people almost mask-like - but I love them... ill-fated love affairs and betrayals - secrets and tales of the human condition that are still rattling around today.

Digger: With titles like Touch of Evil, Act of Violence, The Killer, Out of the Past, This Gun for Hire, Farewell My Lovely and Gilda.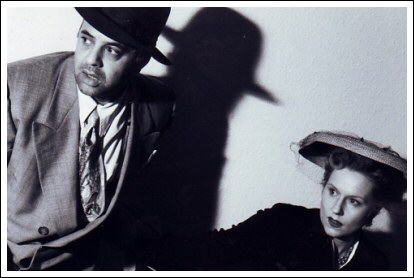 Tense shot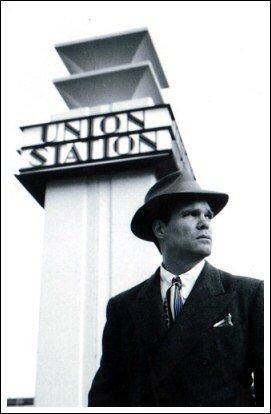 Man at station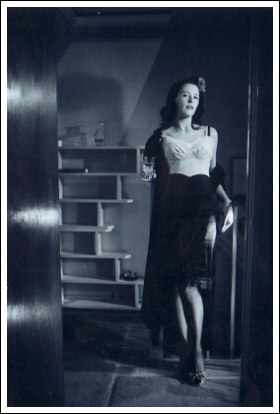 Lady in negligee

Gordon: Yes. The first influences apparently emerged from Germany and France. Directors and cameramen who had fled the Nazis taking ideas from the continent to Hollywood. Some of it was simply economy - like myself. No space or money to play with - to rent grand studio spaces. Thus disguising smalls spaces with lighting or sets used previously. It created a mood of sombre elegance and brooding... a series of directing styles by different men but it created the genre. Fritz Lang, Hitchcock, Tourneur, Billy Wilder, Edward Demetryk etc.
I first recall seeing Double Indemnity starring Barbara Stanwyck when I was about 15 and being struck by its presence without knowing why. But I always enjoyed a good comedy, musical, melodrama from these times.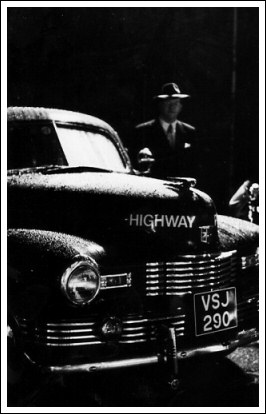 Moody shot in the rain

Digger: Did England inspire you or did you mature into it?

Gordon: Yes it did. The history everywhere is an inspiration to me, especially for my photography. I think of movies like The Third Man, It Always rains On Sunday, The Fallen Idol, Night And The City - great post-war classic films. The Ealing comedies... The architecture makes grand possibilities, even low-key work in alleys and areas of terraced housing. But Hitchcock's Shadow Of A Doubt reminds me of my small town in New Zealand in a way. It's true that in New Zealand there was no parallel culture that could have explained this passion of mine. I felt like a closet freak even liking old movies and 30s dance band music. When I came to England in 1984, I discovered a post-punk rockabilly scene in Camden - that was beginning to mutate into real vintage wearing. That accelerated in the mid 80s and matured into a classic vintage underworld through the 90s. Suddenly, I was seeing people not just in jeans and T-shirts but Robert Mitchum suits on guys circa 1951. With dames who looked like Gloria Grahame circa 1949 in Hollywood-cut outfits head to toe! The Rock and Roll and R 'n B scene of the UK was so authentic.
I initially took snaps, thinking it might be a passing fad, but as it grew and matured. I took more and more care how I framed the shots. Later, I tried a few studio shots ad hoc in my flat with friends with a few nice results. I kept trying to capture the classic shots of those eras.

Digger: Is it a bit like the Mother country drawing a lot of people from the entertainment business from Australia and New Zealand who came here to widen their opportunities and horizons and ended up staying here? Clive James, Barry Humphries, Rolf Harris and so on?

Gordon: Yes, I think itís true of any smaller place. There is creative talent in New Zealand and Australia but it reaches a ceiling if the subject is too niche-based. The artist etc. is forced to look elsewhere. I had not left to become a photographer - I actually work as a social worker. I am most likely too niche-related to earn a living in the UK, but the vintage scene appears to have grown more than I had realised actually today.
Digger: Typically, how long will a photo shoot last and how much will it cost?

Gordon: It varies to time; films used; subject and what they require. I have individuals wanting Portrait, Hollywood Glamour, Musician photos - full length then backdrops need changing and costumes need draping and arranging re: lighting.

Digger: How long did this shoot the other day take?

Gordon: Six hours.

Digger: What sort of cost was it for that amount of time and work?

Gordon: The costs are best discussed by telephone as I cannot set a figure due to continually rising costs of films/printing and development. But for an average, lets says £120 for one film of 36 shots plus cost of printing and development and extras. So that would be circa £150 in total. I can negotiate for a discount if somebody wants an extra film. The usual length of a session is between 3 to 6 hours, depending on costume, hair etc.

Digger: How do you prepare somebody for a photo session and what, apart from themselves, should they bring along?

Gordon: Most people have a good idea from the website of the styles I create - they will bring their own outfits. I can provide some clothing, subject to fitting and so on.

Digger: Makeup?

Gordon: Most women prefer to do their own makeup I have found.
Digger: I wasn't sure if modern makeup would look different in vintage-style photos?

Gordon: That can depend on the person. Some who wish that tend to already know how to do it... otherwise they should seek a stylist. I can recommend several. I have techniques of photography in a simple but stylish way that resembles early Vogue photographs. Hats are great to cover modern hairstyles and I have a big 30s, 40s and 50s collection of very elegant ladies hats. Often a very simple hairstyle looks very classic. Some styles require very little really - clips work wonders and lighting does the trick!
Digger: Do you do glamour?
Gordon: Of course, but Classic Vintage Elegant Glamour in the Hollywood Glamour style. Actresses like Carol Lombard, Jane Russell, Marilyn Monroe and Rita Hayworth. I can do pin-up but classic vintage style.
Digger: Why does vintage remain so popular?
Gordon: I'm not sure. It seems to have an evergreen quality about it in fashion, furniture, architectural references, music, dance, art; and to photograph it in as relevant and connected a way as possible is my aim.
I wish I could get some more custom as times are pretty hard these days. It's as if my website has vanished in the loop somehow. I must admit, since I have had a computer - one year ago now, and since I have experienced YouTube, I can see an absolutely massive world out there interested in this field. It is what I do. Look at my website.
Digger: Itís a huge market. Believe me, it is huge. And there's a lot of people making a living out of all areas of vintage, retro and nostalgia.

Gordon: Recently I was made aware by a very happy customer that she had come across the website by accident. She said "Where have you been hiding?"
Digger: Thatís the thing. You can have a fantastic offering but people need to know about it and thatís what marketing is all about.

Gordon: Iím quite open to fresh ideas. But people need to understand what I offer. It is a VINTAGE APPROACH, which can be open to all sorts of interpretations as, indeed, that is what creativity is all about. From High Glamour to Pin-up to street style. I have even photographed various modern Techno bands who wanted a vintage image for publicity - even a RAP band!
Digger: The cameras and equipment you use are traditional aren't they?

Gordon: Yes. The cameras, mainly old lenses. The lights are more recent as any vintage lights studio lights disintegrated finally a few years ago. I needed lights that wouldn't break up mid-shoot.

Digger: You have created a niche there.

Gordon: There are a few other photographers who are doing this with the interest in vintage.

Digger: If you were able to travel and effectively take your studio, your setup with you to Aberdeen or Cardiff or wherever that might open it up even more.

Gordon: It has so far proven untested territory. I can't drive due to an accident injury so I can't transport equipment very far without a vehicle. I travel to the Rhythm Riot each November to run a studio there.

Digger: Vintage Goodwood would be a great Ďgigí for you too.
Gordon: Past experiences of events leave me cautious. To produce quality portraits involves a lot of work and attention to detail. At events like these, one is apt to get people expecting a £10 seaside picture and all the work and effort is not appreciated. I haven't experienced Goodwood, but it sounds interesting nonetheless.

Digger: Are there any other problems?

Gordon: Weather can really set you back. Rain and mud or a scorcher of a heatwave. Not very easy in daytime. There can be nowhere to erect any sort of studio!
Digger: You need to know your market and target the right people who appreciate what it is youíd doing and the value of the product. And you need to be positioned right on The Internet.

Gordon: Presently - it can be a pleasant day at my house being made to feel like Rita Hayworth , or Tyrone Power, having your portrait done. Just about every lady who has had he portrait done with me has found it relaxing and felt truly glamorous for the day. Time to dress up in elegant outfits and accessories and pampering herself. They enjoy the dressing up - perhaps it's almost like being a little girl again or imagining that they are a star for the afternoon. Though it's under lights and having to hold positions etc. I seem to have a gentle and civilised way to coax the best from them making them seem poised and elegant in the way the Paris models used to stand or sit. Or Ava Gardner or Norma Shearer used to pose for their portrait or publicity stills all those years ago. Surprisingly after 5, 6 or 7 hours they don't seem exhausted and say how much they have enjoyed it. Usually they love their photos - "Exquisite" was the last quote I received after a set done by a young lady. It can be a lot simpler for a gut - a classic studio shot.

Digger: Do the youngsters get what you're doing?

Gordon: Many young people are discovering vintage music, clothing, dance as fresh and exciting and ignoring the magazines and trends.
Digger: And theyíre going for the authentic?

Gordon: Yes. They are younger and younger and seem to be opting out of mainstream. And it could almost be a good look for the future if weíre talking about the environment. Itís actually a stylish way to recycle. I have been wearing vintage clothes for thirty years. They look great and are really well made and long-lasting. And environmentally friendly too.
Digger: Vintage scores on all fronts. Itís cheaper than buying modern, itís greener plus you get something that's probably a lot better made.

Gordon: Iím sending you some photos of an event I went to in Switzerland. I went to a hotel party up in the alps and I got some very elegant photos there.

Digger: Well, Gordon, many thanks for letting us know about your Vintage photography and I hope it goes from strength to strength.


---
Hollywood Glamour, Vogue, Musician, Burlesque, Film Noir, Vintage, World War II, Travel in the 30s and 40s, English Country House

Gordon Ayres has been photographing the British and Continental 1930s, 40s, 50s retro scene for over 20 years, following the people who have created a unique look and sound - from the bands and dancers, to the fans who populate this stylish, secretive underworld movement.

Using techniques culled from the classic Hollywood period, Ayres finds inspiration in both the studio glamour photographers of the time, and the grainy reportage style of the dime newspaper reporters.

Film Noir is an inspiration for scene set shots, and similar lighting suits the exotic allure of Burlesque ,and smoky night-club musician photographs.

By contrast the elegance of Vogue-magazine-style portraits of ladies with hats and gloves at a Paris cafe, or snaps of people in evening clothes at a Swiss hotel in the thirties-give an impression of a bygone era.

Use of quality vintage lens and studio lamps create the exact feel of the look of the 20s to the 50s- for whatever the occasion.
Mail@gordonayresphotographer.com

Phone: 02083141911