Digger: What is it that makes Buddy Holly and Billy Fury continually so popular?
Tony: Well, Buddy Holly is known as the master of the three chord trick and basically any band that you've heard from the sixties and seventies would say they were influenced by Buddy Holly. Conversely, Billy Fury is known as the James Dean of rock and roll. At a lot of our shows we get a lot of women and they're absolutely entranced. When Steve starts singing you can hear a pin drop when he's doing the Billy Fury tribute.
Digger: Have you got a partner?
Tony: Yes, my wife comes along to all of the gigs. She always says she wishes she were born in the fifties.
Digger: I was born in '57 but would like to have been a mod so was probably born ten years too late. I ended up living through all the Glam Rock which was, as you know, pretty dire in terms of the fashion.
Tony: That's right, the clothing was dire in that period – the music wasn't too bad though. T. Rex – Bolan was pretty good.
Digger: Bowie and Roxy Music. So what are the best things about doing what you do?
Tony: I think it's quite a multifaceted show, so when we do a show it's not purely a Buddy Holly and Billy Fury tribute. We link it to other fifties nostalgia, you know, like the Larry Parnes connection.
Digger: Vince Eager and so on…
Tony: Yes, Dickie Pride, Georgie Fame, Marty Wilde. It's reminiscent of the fifties Oh Boy! show and the singers that were part of the Larry Parnes stable. And then we bring in the instrumental side of things with The Tornados. We do Telstar in the Billy Fury spot.
Digger: Did you enjoy the Telstar movie?
Tony: Oh yes. I thought it was brilliant.
Digger: It was. I couldn't fault it actually.
Tony: Excellent.
Digger: They got the period detail just right, didn't they?
Tony: They did yes, it was very close. So we've got quite a lot of different facets to it. And with the Buddy Holly it's the same – we link it to The Big Bopper.
Digger: And Eddie Cochran?
Tony: Eddie Cochran – that comes in at the last spot where we have a tribute to all the rock and roll greats in the final set. Because we've got two sets of Billy Fury and Buddy Holly and then we have the final spot where we put everything in it – Chuck Berry, Jerry Lee, Elvis, Gene Vincent, Eddie Cochran, Johnny Kidd, Little Richard and it goes on and on.
Digger: Are Cliff Richard and The Shadows cool enough for your show?
Tony: We do Cliff Richard and The Shadows. The thing is, so many people bought his records, otherwise he wouldn't be as big as he is today. That is one of the things, when we do a Cliff and The Shadows spot, we actually get into the audience - because they were so big and are still very popular.
Digger: The groups of the sixties and seventies – in fact everybody who made British pop culture, cite a few influences don't they? Elvis, Lonnie Donegan, Hank and The Shadows, Billy Fury and Buddy Holly.
Tony: One of the best of them all was Joe Brown. One of the finest guitarists going.
Digger: He's still touring.
Tony: He is. I sort of half met him one day in a shop in Hull.
Digger: He doesn't come too far from you, you know? People think of him a typical cockney but he was actually born in Lincolnshire, although he did move to the East End very young.
Tony: I'm not sure. I saw him with his band and I didn't get a chance to talk to him, but I think Joe Brown and The Bruvvers were excellent.
Digger: Do you think Billy Fury is valued enough in the UK?
Tony: We did a show a year or so ago and one of the audience said to me "I know Buddy Holly but I don't know Billy Fury." She was quite young and was a teacher who taught young kids, but at the end of the night she said "I've never heard Billy Fury before but the next time I hear there's a Billy Fury show I shall go and see it."
Digger: Hopefully she'd buy a CD and goes for some downloads.
Tony: That's right, I mean when people come up to me when I'm doing a solo Billy Fury number, which people haven't heard before, and they say "Who sang that?" and I explain it to them, then they actually start looking into him. I think when I started looking Billy Fury up on the Internet a few years ago I couldn't actually find a lot of information on him. And then I put in 'Balladeer' followed by 'Rockabilly' and he came straight up.
Digger: There can't be many that fall into that category. He was very well respected by his peers, wasn't he?
Tony: He still is. His stage shows were quite something else according to those who have seen him. I spoke to a few people who actually saw him live and they said he was one of the nicest people you could hope to meet.
Digger: Nice to hear he was a decent bloke.
Tony: I was talking to someone who met him and he said his favourite release was Billy's first one called Margo and it was unusual that someone knew this particular song. Only true Billy Fury fans tend to know it. Steve Conran who, does Billy Fury, has got a marvellously velvety voice.
Digger: I heard one of the sound files on the website and he definitely has got a smooth voice.
Tony: They are recorded live and just ran straight into a minidisk recorder and so it gives you an idea of the quality of his voice. In a professional studio you'd get an even better result.
Digger: What does the Internet do for generating business for you?
Tony: We do get out of town work from the Internet. Having said that we do get quite a lot of people from the Hull district going on to the site to see what's happening next. We get quite a bit of work from it.
Digger: How far do you travel?
Tony: We go as far as the work is. The furthest we've actually gone is Great Yarmouth and Nottingham.
Digger: Did you get to Yarmouth by boat or drive around The Wash?!
Tony: We drove down. It's tantalizingly close but travelling a sea mile isn't as good as travelling by car.
Digger: You get lot of youngsters at the shows and not just The Blue Rinse Brigade?
Tony: We do tend to get a mix. There's that much variety in the shows and so we actually get quite a good mixed audience and it's not just the older generation. We know this to be true because we're actually working on a Cliff and The Shadows tribute at the moment and from the interest we've received not all are from what you would call The Blue Rinse Brigade!
Digger: When I saw the We'll Meet Again show a few weeks ago, I was by far the youngest there and I am fifty two! (Both laugh) That said, it was packed.
Tony: We've been to Hemsby and we're going to a Jazz and Swing/Glenn Miller weekend shortly and the thing is you find that there are lots of young people there. Also at the rock and roll events – we go to them because we like to see other acts perform because there's always something you haven't seen before. And we tend to go quite a bit. It's people from as young as ten upwards into their sixties.
Digger: Well, Tony. It's been great talking to you and best of luck, not only with the Billy Fury and Buddy Holly show but also with the new Cliff and The Shadows show.
Tony: Thanks David. Absolutely superb.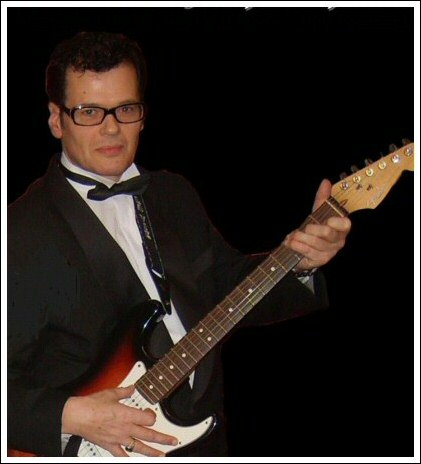 Tony Davey as Buddy Holly