Digger at www.retrosellers.com talks to Phil Harris about his Vintage and Specialist Musical Instrument and Equipment Hire business, Harris Hire.
The 1950s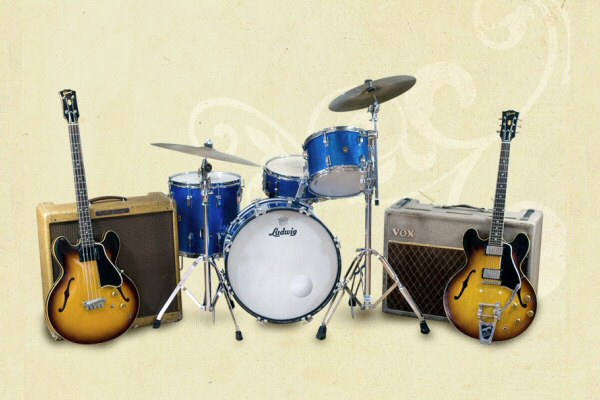 Digger: Hello Phil how are you doing?
Phil: I'm alright thanks, how are you?
Digger: I'm great thanks. Shall we fire away with the questions?
Phil: Yes please. I'm ready to go.
Digger: Can you tell me a little of the background to Harris Hire?
Phil: Harris Hire is a specialist and Vintage Guitar company. We've been around for twenty five years now. We've hired to a lot of top names. Richard Ashcroft and The Verve, Oasis, Madonna, Paul Weller, Razorlight, The Kooks, Robbie Williams, Mark Knopfler…. The Beatles – we did the publicity work for the Anthology. All the props and the Vintage Beatle equipment, - that was ours. With the Beatles Anthology, Jeff Lynne overdubbed a lot of stuff – George was still alive then and what we actually did was a lot of the instruments and amps that they didn't have for the overdubs. We supplied them. We also did the equipment for the anniversary of Buddy Holly's death.
Digger: Is there much competition for what you do?
Phil: Well, not really because there are general hire companies and they just do what they do, you know? They're generic and if they want anything specialist they keep a very small stock of it, usually just a couple of main pieces and anything else they come to us. But they don't know the equipment like we do. I'm an ex-musician and I've been a consultant for Christies for their vintage Instrument auctions.
Digger: It keeps you busy.
Phil: A little bit, yeah.
Digger: I see that you're passing the business on to your son.
Phil: That's right, Chris knows a lot about it. Dave my youngest son's not involved in the company, but one day he may be and when he does he's also a musician and he knows all about the equipment .
Digger: That's great news that the business is carrying on through the generations.
Phil: Yes. For something like consultancy, if someone says "I want an old echo unit" you've got to know what they're trying to get from it and what's the suitable piece for the job. And sometimes, especially with acoustic guitars, it's a matter of taste and we've got over sixty vintage acoustics. What we tend to do if someone's not entirely sure what sound they're looking for is we send in quite a few to them and we only charge for the ones that are kept. So they can get the right piece they want to use.
Digger: That's very helpful. I bet people appreciate that sort of level of attention.
Phil: We do a lot of Vintage keyboards too. Mellotron, Hammonds, Vox Continental organs. We've got some of the early analogue synths, we've got mini-Moogs, Prophets and all that sort of thing. And the same thing with drums, we've got a lot of vintage drum kits. We've got the late John Bonham's snare drum that he actually owned and played. We hire that out. We've got a sister kit to Ringo's Beatle kit. There were three kits, one went to a jazz drummer and two kits were supplied to The Beatles.
Digger: A Ludwig?
Phil: Yes, champagne oyster colour they call it. All sorts of things - vintage cymbals. And if we're doing video work we've got vintage microphones and mike stands. All the original props you can think of. We have guitar straps and even original leads. We've done quite a lot of video and film work. We did The Life And Times Of Peter Sellers. Strange Fruit with Jimmy Nail and Timothy Spall on the drums. Quite a lot of famous videos, for Iggy Pop, Inxs and Michael Hutchence. Gibson Everly Brothers acoustic. We worked on the soundtrack side for Godley and Creme rather than for their videos. We retailed to Graham Gouldman and to Eric Stewart. I've known Eric Stewart since the 10cc days.
Digger: Eric's a passionate collector isn't he? Cars too.
Phil: Yeah, but I don't know what he's still got though. He had a cull at one time. I sold him quite a lot of things- a 1956 Birdland, a 1951 Telecaster with a matching deluxe twin amp…
Digger: There's a good argument to say once you've had it for a while, then to pass it on.
Phil: If you're not going to use it then it comes to that point. That was the reason for my Hire Company. It was a glorified reason to keep a massive guitar and amp collection. But now things have refined themselves over the years and a lot of young musicians are inquisitive and want to use specialist stuff and know about it. Johnny Borrell on one of the Razorlight sessions used a 1931 OM28 Martin which is a very rare guitar. He liked the guitar, so much so that I ended up selling him not guitars of that stature but certainly he's got some nice old-ish Martins. It's educating people. Even Jarvis Cocker, he wound up using our 1947 D28 to the point that he wanted us to change the machine heads for him. These guitars and amplifiers are obviously kept to originality. But they're not behind a glass screen – they have to work and be ready. That's the difference between Harris Hire and a retail store. They may take something off the wall and say "Do you want to hire it?" but it's not been set up, it's not got the right strings, it's not had the electrics cleaned out. Ours are ready to race and rally.
The 1960s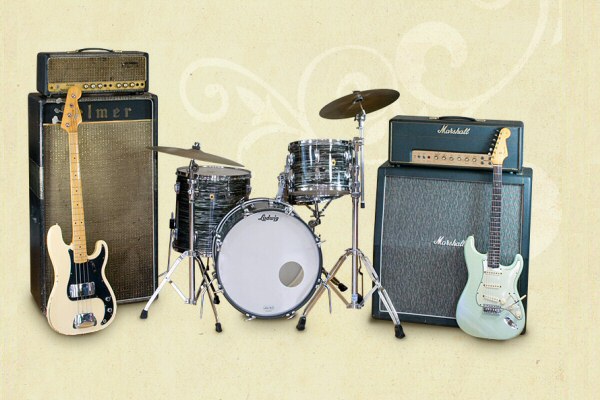 Digger: The customer pays for insurance?
Phil: They do. Insurance liability from the second it's collected into the client. But 99% of our work is delivery so things are safe because our vans are all carpeted on the inside.
Digger: Is it mainly UK?
Phil: We've done some stuff abroad, like for Stephen Segal when he was making a film in Berlin with Wycliffe Jean. We took some original Fenders over there for him. Clapton when he did the Pavarotti thing we sent a Tweed Twin over to Eric. We do bits and pieces, Morrissey when he went to France for his recent album and also U2 when they went to record abroad and they've also used us a lot in the UK as well.
Digger: You must have a big Christmas card list?
Phil: Yeah. I don't tend to meet them so it's a one way street. They're always under the heading of 'very busy' and I'm always sitting here doing nothing all day!
Digger: Yes, as I've noticed when I've been trying to get hold of you for the past few days! So, sourcing of the gear, is it getting to be more difficult?
Phil: All of the equipment we bought many, many years ago, over thirty odd years ago. Obviously the fashions change, so that, for example, these days everybody goes crazy about the Tele Deluxe, the neck Humbucker, the later Tele Custom like Keith Richards had. So we have to buy in things subject to fashion. When the acoustic bass guitars hit the scene, what we tend to do is we go to the top of the tree. If there's a new instrument we'll go and buy the 'best of'. In the late 80s we hired out acoustic bass guitars and a good friend of mine, Benny Gallagher, he leant me his Samitis, but it wasn't very fair me hiring it out and wotnot. So, eventually I went and bough a top of the range Martin. You must buy the best new instruments. And we do, so that when the Coral Sitar guitar became big I bought a lovely one - the Coral Sitar guitar I've now got I bought many years ago from Graham Gouldman and it was the one he used on all his sixties hits.
Digger: He wrote some fantastic stuff.
Phil: A very talented writer and producer as well as musician. So a lot of the equipment we've got has been around for many years and they're established pieces of the musical instrument field. The most coveted and prestigious item is a 1958-1960 Les Paul, which changes hands for £150,000 and above.
Digger: Did you ever meet him?
Phil: I could have done, but no. I write my own column in Guitar and Bass magazine and I write a column called Hooked On Classics and when Les Paul died I was asked to do my personal appraisal of his life and what his achievements were. With his name being on one of the most iconic instruments ever. The most expensive production guitar on this earth. I hope I did him some justice – if not he'll come and haunt me but he hasn't done so yet.
Digger: He was doing some incredible stuff from the forties onwards wasn't he from his garage and the back of his car?
Phil: He was an innovator. Double tracking, he had the first headless guitar. He had the first solid body guitar. What you've got to bear in mind and I know Les Paul didn't come on the scene until 1952 and Leo Fender beat him by some two and a half years. But Les Paul was around in the mid-forties and if Gibson had been a bit quicker on the uptake then Gibson would have beaten Fender to the finishing line for the first solid body guitar. They just thought he was a bit of a loony with this weird old thing that you had to clip on – semi acoustic sides. Not only did this make the Les Paul which is one of the most beautiful guitars ever made but also that idea has been used on 335s,345s, 355s with the solid wood through the middle and then the acoustic wings off. The EXACT idea was not only made into a solid guitar but it was also made into a semi acoustic guitar.
Digger: What's the biggest buzz you get out of this business?
Phil: Well, I like to see things. It's always nice when I pull an amp or a guitar out that I haven't seen for a long while and I open up the case. It never ceases to amaze me the ingenuity of how these things were made and what they are.
Digger: Do you get invited to see them being used?
Phil: I do. There's a new distribution called Lazy J and they're built on the theme of the late 50s Tweed Fender but that's where the similarity ends. But they're built on original specification and original ideals brought through to a 2010 conclusion. They're amazing and Pete Townshend bought a complete rig off me before the Albert Hall gig. If you go on YouTube and type in Lazy J Albert Hall... Eric Clapton's used them and Clapton's producer who also plays in The Archangels. Eric Clapton in particular does his own thing musically and couldn't give a flying ferret for anyone else. We actually customised his Fender amps and we put a valve tremolo unit in it and Lazy J conversion in the Fenders and they're now saying they're going to make an Eric Clapton amp based on our idea.
Digger: People like to copy their heroes.
Phil: if you take a Lazy J amp the way it works with the ambience and the harmonic response, Fender have never made an amplifier like that, not from 1948 to 2010. They made some great amps but the Lazy J – people go crazy about it. It's another level. It takes Fender in their original guise and actually beats them at their game.
Digger: The technology doesn't seem to change that much.
Phil: No, point to point wired, the reverb unit is a reverb tape, a proper pre-amp in there with a valve and its own little transformer. The tremolo is a valve tremolo. Everything is using original ideas but there's certain things people don't realise. On the amp it's got an attenuator and people think that's a speaker attenuator. It's not, it's an amplifier attenuator and it works on the amp side and you can lower from a Lazy 20, which is our most popular model which is a twenty watt 1x12. It lowers from twenty watts to five. You still get the ambience, the tone, the harmonics at five watts. With a regular speaker attenuator it just chokes it like a road traffic accident and what comes out the other end is like a strangled cat, at best.
The 1970s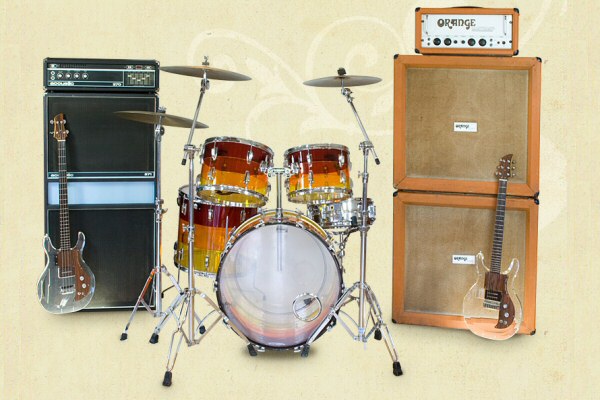 Digger: Where's the business going?
Phil: We've got the hire side, it's now opened up to the retail side and in the last year we've really opened up some nice retail. We've sold some high-end guitars, amplifiers, effects pedals and so on, percussion and keyboards. Everything we hire we now try to trade in. Now we're actively looking to buy product to sell product. On our website it's still only a shortlist – you can't update it every day or every week because things are coming and going all the time. We did some work recently for Jimmy Page – he asked me to go out and find something and it's not on my list. I'm every collector's mate, because having a hire company means I'm not worried about a cheap deal and I'll pay anything for the right item. So the collectors love me. And I don't run a store so I haven't got the overheads, so someone can come to the office here and try something out. We've got no sound problems here and we're not paying for staff or a place in Denmark Street. They're getting instruments that are superior to Denmark Street. And a service that is superior with me or with Chris. Denmark Street is a tourist money pit. Tourists who come there have to buy a plectrum and others who buy there are being extorted and not every time are they even getting what they think they're buying. I won't and can't plead ignorance so when I sell something it comes with a complete thumbs up – this is exactly what it says on the box. I pride myself that people can buy from me with confidence. The other thing now is Lazy J – it was weird because I'm pro vintage but also pro-specialist but vintage was my first love. And when these amps were first introduced about two years ago being made as one-offs, I saw one and the guy who makes them Jessie Hoff, is an old buddy of mine. He brought one to my house and said "have a go on it Phil" and I thought how you always feel when you listen to a friend's tape – you have to be polite don't you?! So I plugged into this thing and it was a very early version of what me make now and I was so bowled over it was like that guy with the Remington shaver. I bought the company.
Digger: Victor Kiam!
Phil: That's the man, not that I bought the company but certainly I'm in charge of sales and distribution and he makes a pedal called a Cruiser which is an outrageous pre-amp that doesn't work on the basis of all the other pre-amps around. Everything he makes is in its own direction. The other thing that I'm very pleased about is that people who have some nice instruments – these days you get a lot of producers and we work with a lot of them – Steve Robson, Juice, Pete Davis – a lot of big artists are through those people. These people did amass bits and pieces in the 80s and 90s and I was specking to Jimmy Hogarth who is a very good record producer who has just done work with James Blunt and James Morrison. He said "Everything I've got they go and buy" and I said "That's great, tell them to call me!" What's happened is that all the producers are now giving me their equipment – guitars, amps, effects because now they want a really special eye to get them working to the top of their game. They're not interested in looking at them, they're playing them. Mark Knopfler, who is one of the fussiest, used to send his guitar to the States and I said "What's the point of sending it to America? By the time it's back it's moved again and you're back to square one." So he gave us his guitar tentatively to work on and he was so impressed the next one we got was his famous Penta Suhr, the one he used for all the Dire Straits work he did. This was followed by the Sultans of Swing red strap which he had us re-spray and restore which is the ultimate accolade. He trusts us. So we have an amazing guitar repair guy and our amp repair guy used to work at Vox in the sixties – you don't get any better than that. He's actually writing a book at the moment on Vox and because Harris Hire has a massive Vox collection he has a free hand to use those for reference and pictures for the book.
Digger: Vox and Marshall are iconic brands.
Phil: I knew Terry Marshall, Jim Marshall's son, years ago. It's now gone back to the fold.
Digger: Thanks Phil for that detailed look into the Vintage Musical Instruments business. It was fascinating. Sounds like a great business you've got there.
Phil: Thanks Digger. It's a passion, a pleasure and a living

Guitars, Basses, Mandolins, Backline & Effects, Keyboards, Microphones, Drums & Percussion

Phil and Sue Harris have been meeting the demand for vintage and specialist musical instruments for over 25 years, joined by their son Chris in 1993. Musicians and bands who have used their extensive catalog of instruments include The Beatles, Madonna, U2, Razorlight, Oasis, Paul Weller, Richard Ashcroft, White Stripes and many more..
Harris Hire built its reputation on the best equipment, good custom and a more personal customer relationship. In recent years we have expanded to hire an extended range of vintage and modern equipment.

Phil at Harris Hire is available not just to supply equipment but also to advise on which piece is right for the job. All Harris Hire instruments are delivered to you in the best condition, whether old original pieces or recent models. All our amplification and effects are maintained to the highest standards. We hope that our site will be of benefit to all your musical requirements.
We at Harris Hire have a repair service that includes guitar customisation, restoration, refinishing, refrets, set-ups, etc. We also offer a complete electronics service that includes amp repair, restoration and modification, speaker recones, etc, with expert advice on all repair work carried out. A complete sales service is also available on request.
We are always happy to talk about any aspect of our business, so if you have any questions or just want to say hello, please get in touch:
EMAIL:
info@harris-hire.co.uk
TEL + 44 (0) 20 8663 1807 | FAX + 44 (0) 20 8658 2803
MOB 07860 449 480 or 07785 240 240
OPEN 24 HOURS A DAY - 7 DAYS A WEEK