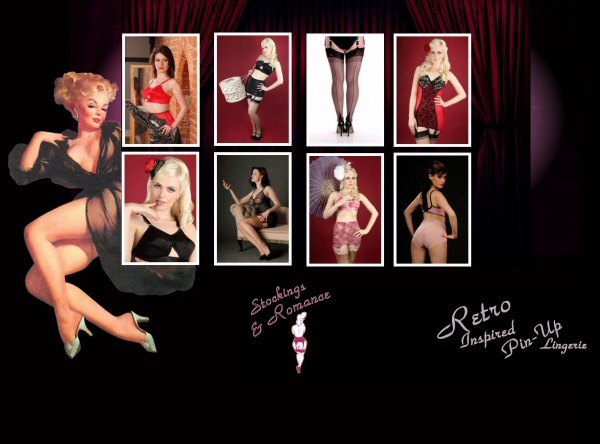 AN INTERVIEW WITH ANDREW FROST, FOUNDER OF STOCKINGS AND ROMANCE
The new brand of lingerie combining Burlesque and Pin Up lingerie with Retro and Vintage Styles.
Q How did the company start up?
A After purchasing suspender belts for my wife, I found that some of the garments were of such poor quality that I decided to produce my own range. We started initially with a retail site, but it soon became apparent that there was a gap in the market for wholesale trading. That was the way forward for us.
Q What were you doing before Stockings and Romance?
A Believe it or not, I was a football coach! I was the founder and owner of Goalside Sports Ltd, coaching football squads and managing the football leagues. 10 years of racing around football pitches in the middle of winter is enough for anyone. It was time for a change, and time to focus on something completely different.
Q Why launch Stockings and Romance during a recession?
A I have had various jobs within the industry in my time, from designing and pattern cutting in the UK, to tailoring and the production of outerwear abroad.
Q What prompted you launch Stockings and Romance during a recession?
A. During the early stages of setting up the company, the recession was looming, but hadn't quite hit us. I was too far down the line with setting everything up to back out. Once the recession took hold, it was clear that lingerie companies were bucking the trend. Instead of job cuts and a decline in sales, the reverse was in fact true. So for me the gamble paid off.
Q The lingerie is 40's-50's influenced, what is it about those eras style & fashion that appeals to you?
A The ultimate feminine look a lady gets when wearing figure hugging girdles and nylon stockings. It makes them feel glamorous, looks sexy and gives a nice hourglass shape. Seamed Stockings have always accentuated legs and the modern day equivalents are good, if not better than their vintage counterparts.
Q Do you design your lingerie from any reproduction vintage patterns for Authentic styles & cuts?
A We design from authentic patterns. We follow vintage designs and research the 40' & 50's era for inspiration for new ideas all the time. We also design from scratch, ensuring that our garments are not just made and sold, but they actually fit correctly when the customer receives them.
Q How do you adapt vintage styles to fit a more modern figure?
A Adapting old style shapes and patterns to fit modern day shapes is not easy. We use modern day stretch fabrics which are more adaptable than older styles giving more flexibility when worn.
Q Your garments come in a variety of sizes, do you also do custom sizing for smaller or larger sizes than those available on the site?
A Yes, we can custom sizing to all the lingerie in our range, although there is a small surcharge for this service.
Q Are there any new designs in the pipeline?
A We are always designing new styles using new shapes and new fabrics. Our latest designs are an 8 strap deep panel suspender belt, and 3 girdles that will be available from the end of June 2010.
Q Do you have any particular favourites from your ranges?
A Our whirlpool bras are very special! We have taken the old style design and modernised it. It has proved to very popular with 'Pin Up' models and 'Burlesque Performers', as well as our customers!
Q For newcomers to vintage inspired lingerie what pieces do you recommend to try first?
A We would recommend a suspender belt and a pair of nylons for those that have never worn vintage style lingerie. Once the wearer is used to them, and is comfortable in them, then try a corsellete body shaper.
Q What items would you recommend to flatter smaller, & fuller figures?
A Once again a suspender belt would be a good starting place, maybe a sexy sheer lightweight girdle which is very flattering for smaller figures.
Q What is your vision for Stockings and Romance in five years from now?
My vision is for us to be market leaders within the industry. Someone in every household will own a piece of Stockings and Romance lingerie. We will be a household name!
Q Where else can we find your lingerie ranges of sale in the UK?
A At our Stockist section of on site at www.stockingsandromance.co.uk You will find us on the high street at carefully selected boutiques and online at one of our many stockists.
Q Why does vintage lingerie remain so popular?
A Our style of lingerie appeals to all ages: the young wear it clubbing, the forty something's want elegance and sexiness, whilst the older generation remember it the first time round and stick to what they know!
Q How do you manage to get such a diverse range?
A With plenty of good quality fabrics on the market and combined with original vintage patterns, we have managed, and are still managing to design good quality garments that everyone can wear. We also receive information from our customers of garments that they like to wear and ask us to recreate it.