The Sounds of Burt Bacharach, a musical spectacular by Chris Dean
As a session musician Chris has received acclaim from many of the music industryís top performers. He has recorded with Frank Sinatra, Quincy Jones, Nelson Riddle, George Shearing, Bob Farnon, Angela Morley, Henry Mancini, Michel Legrand, Barbara Streisand, Natalie Cole, Liza Minelli, Mel Torme and Shirley Bassey. Film work for Composers such as Jerry Goldsmith and John Williams has included the soundtracks for the films Superman, Out of Africa, Basic Instinct, Never Say Never Again, The Living Daylights and Batman to name but a few. He has also played with Orchestras such as the LSO and RPO and performed on Pop Albums for the likes of Eric Clapton, Westlife, Wet Wet Wet and Queen as well as being featured in TV shows such as The Benny Hill Show, Stars in Their Eyes and several Royal Variety Shows.
Digger talked to Chris, the Musical Director of the famous Syd Lawrence Orchestra, who is currently touring the UK with a Burt Bacharach Spectacular.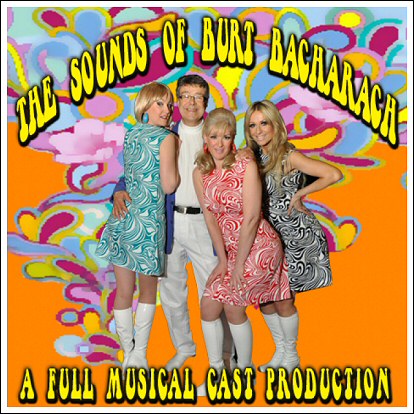 Digger: What was the inspiration for the Bacharach show?

Chris: Funnily enough, an album of his music was bought for me and it reminded me how much I enjoyed his music. Iíd worked with Bacharach in the 90s, and actually in the late 70s, and Iíd always enjoyed his music. But Iíd kind of forgotten about it because I was involved in other things. And when I started listening to the album I just found that I really did enjoy it and I said to Angie ďThereís a show here. I don't think anyone else is doing it. Letís do it and letís do it properly."

Digger: Do you have to get special permissions to play the songs?

Chris: No, you don't have to get permissions to do other peopleís material. You just make sure that you fill in PRS forms.

Digger: What was the album that inspired you?

Chris: It was just a big compilation of all of the Burt Bacharach tunes.

Digger: Yes, Iíve got a double CD of his work and thereís obviously something that makes a tune a Bacharach tune and yet thereís a diversity there.

Chris: Yes, he comes from a different angle to most pop writers Ė the first thing is that heís clever and you donít get your normal three chord trick and the normal shape to a song. They surprise you, which is rather nice.

Digger: How hard is it to reproduce such an authentic Bacharach sound?

Chris: Not madly hard. I got the best writer around, Trevor Brown, who did the most beautiful arrangements. And what we did, because obviously weíre doing it with a slightly smaller band, so we adapted it and kept the core things together like the use of the trumpet and flugel horn. So we got really good players and a great trombone player. Then we made sure we got the right guitar sound and the keyboard added depth and you can have lots of different sounds with that. So Trevor worked on those arrangements. Having four vocalists weíve kept the vocal sound as authentic as possible.

Digger: Thatís quite a strength actually having the four vocalists because Iíve been to shows where they struggle to get the variety but you had an abundance of riches there.

Chris: The skill is in the arranging which is why I got Trevor to do it because heís been a top TV arranger for many years. I knew that when he was going to come up with the ideas it was going to be perfect.

Digger: The standard of musicianship and vocals is high in the show. How did you choose the musicians and singers, how much rehearsal has there been and are you keeping the same ensemble for all venues?

Chris: Yes, we are keeping the same ensemble for all venues apart from the M.D. Trevor who lives in Madeira so he will be doing some and Richard Weedon, who is our second keyboard player and who is very talented, moves up. And we keep the same vocalists Ė there was a lot of vocal rehearsal beforehand as obviously everything has to be learnt from memory.

Digger: It was funny because when I was in the audience I noticed that several people of a certain age were saying things like ďOoh, this oneís my favouriteĒ and ďI like this oneĒ and humming and tapping along. Itís all a part of our consciousness isnít it, this soundtrack?

Chris: Yes, it is.

Digger: Like when you received that album and said ďWow, Iíd forgotten how much I liked all of these songs.Ē

Chris: Thatís right, because youíd be surprised just how much Bacharach is played in general life. You go into a restaurant and thereís a Bacharach tune. You can go into a launderette, not that I have done recently, and thereís always a Bacharach tune.

Digger: Thatís handy that if you fancy a bit of Bacharach you can just pop into a launderette!

Chris: Exactly.

Digger: Why is retro perennially so popular?

Chris: Because it generally inspires memories of when you were having a good time in your youth or early thirties. You always tend to look back and think those were the good days. A lot of the time they werenít particularly good days. I mean, for example, a lot of the Glen Miller stuff came out in some of the most shocking days you could have gone through Ė the Blitz and things like that, yet they look back on it as ďOh, we were all together and we did this and did that.Ē

Digger: And we could leave our front door unlocked.

Chris: I doubt if you really wanted to leave your door open.

Digger: How would you describe Bacharach as a songwriter and what are your personal favourites of his compositions?

Chris: I love a song that he wrote called One Less Bell To Answer. Thereís another one called Making Love. Theyíre generally the more obscure ones because you hear the other ones a lot. And then something will come where he completely surprises you. I like the way youíll be listening to a very simple set of two 8-Bar phrases and then the tune just disappears into a whole lot of different keys and just meanders around and then comes back. Itís just very clever stuff and well thought out. As a result of that I enjoy most of the tunes anyway. I like Promises Promises and thatís another clever one that I enjoy.
Digger: Yes, youíve got the key and tempo changes that heís famous for and the extremes that other writers wouldnít dare do.

Chris: A House Is Not A Home has also been taken on by the jazz fraternity as well. Generally when a songís serious you get all the jazz musicians wanting to play it too. Bill Evans Ė I had this recording of his playing A House Is Not A Home and itís just so beautiful it has stayed with me.

Digger: Is there any possibility we'll see the show at bigger venues with a bigger cast?

Chris: I donít know what is going to happen to the show. Weíre doing this test tour which is twenty dates. Weíve done nine so far. Itís all set-up for a larger cast and Iíve got it arranged that I can add anything upto twenty strings and some woodwinds, so itís all there ready for a larger cast depending on how the actual show is doing. Now, I wonít go any larger than four singers because that works perfectly.

Digger: Yes, it does.
Chris: But to add strings would give it a very lush feeling.

Digger: Is the current climate effecting the business?

Chris: The current climate is effecting every business and itís a case of just keeping your head down and driving through it. I donít think anyone is escaping this apart from if youíre an engineer and you rebuild engines then you might be experiencing better things at the moment as people arenít buying new cars but getting them fixed. Thereís always a spin-off somewhere.

Digger: People seem to be spending more at the supermarkets.

Chris: Yes, so they say. People still like to be entertained and they like to go out but I think they have to be more selective about what they do. Thereís a lot of stuff out there and youíll probably find thereís less people to go round.

Digger: There are some unusual time signatures and tempo changes on Bacharach's work. How challenging are these?

Chris: They're very challenging for the rhythm section and they took a lot of getting together. They can still catch you out so itís definitely an eyes down every night.

Digger: What happens if a mistake is made Ė you just soldier on?

Chris: Solider on and try not to draw any attention to it.

Digger: Do you have any other retro-themed shows in the pipeline or in your head?

Chris: No, not at the moment. Obviously I run the Syd Lawrence Orchestra which is very retro and I do a lot of shows with them. And Iíve got Big Band Leaders and the Great American Songbook and all those kinds of retro things but Iím going to stick with this for a while and see how this goes. I always think if I want to do something then Iíll do it whether it's successful or not Ė it will be great musically and Iíll make sure itís right musically. Whether it appeals to an audience, it would be nice if it does but if it doesnít then you put it away on the shelf for when itís needed again and get on with something else. Bacharach was something I really wanted to have a go at. The other sixties things, such as Buddy Holly or Elvis Presley shows donít appeal to me. Thereís not enough music in those kinds of things, for me.

Digger: With your show, I donít know how many songs it must have been that were played, maybe fifty, but there were still quite a few that I could think of that were really well known that werenít performed. You just run out of time.

Chris: Yes, we put some of them into medleys to give the thing some flow, but there was Trains and Boats and Planes and Message To Michael. I could just reel them off the ones that we couldnít do. Because we just couldnít physically fit them in within the time.

Digger: Well, itís a great show which I thoroughly enjoyed. And thanks for that Chris and good luck with the remaining eleven and with your future plans.
Chris: Thanks David.
---
For more information go to:
The Sounds of Burt Bacharach, a musical spectacular by Chris Dean. Upcoming Gigs: http://www.paulripleymusic.co.uk/Gigs.html