Welcome to the Forties where you can get to know our talents as The Forces Sweethearts

Louise graduated from Mountview Theatre School in 1996. After making her professional debut playing Heather, in the BBC sitcom, 'Grown Ups', she went to appear in 'Peak Practice', 'Band of Gold' (series 3) and Brookside. Louise has also made numerous TV Commercials.
Her theatre credits include the D'oyly Carte Opera Company's West End productions of the 'Mikado' and 'The Pirates of Penzance'. She has appeared in the 'Little Shop of Horrors', 'Escape from Pterodactyl Island', 'Yee Haw' and 'Trial by Jury', all in London.
Louise also appeared for a season with the G & S Opera Company for the Buxton Opera House, and a very successful run as a tap dancing cow in 'Jack and the Beanstalk' at the Salisbury Playhouse.

Deborah graduated from Mountview Theatre School in 1996. She made her professional debut in 'Les Miserables' at the Palace Theatre in London's West End.
Her other West End credits include, 'A Midsummer Nights Dream', 'Troilus and Cressida' and 'Gentleman prefer Blondes'. She also had a leading role in 'Forbidden Broadway' at the Albery Theatre, London, where her Barbera Streisand impersonation is still talked about today!
Deborah has worked extensively in regional theatre, appearing in 'The Magic Flute', 'The Mikado', 'Toad of Toad Hall' and 'Pirates of Penzance'. She was also lucky enough to tour internationally with 'Midsummer Nights Dream' to Abu Dhabi and Dubai..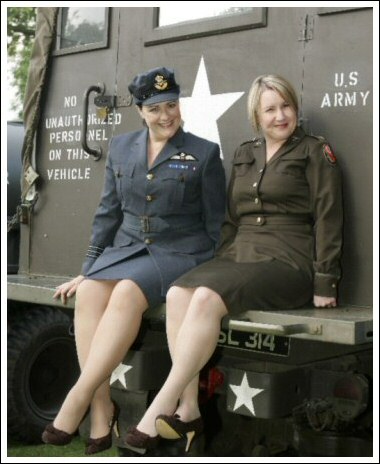 Louise and Deborah - The Forces Sweethearts
---
Digger of www.retrosellers.com talks to Louise Van De Bours about her shows, The West End Girls and Forces Sweethearts

Digger: Hello Louise.

Louise: Hello David.

Digger: Being a forties performer, youíve got to watch out for Dr Who this weekend because itís got the Daleks and itís set in WWII with Churchill calling the Doctor for help!

Louise: (Laughs) I love Matt Smith. I havenít watched the second episode yet. It should be hilarious. Iíve got a friend who writes for Dr Who and we used to get a lot of the scripts from charity auctions. Mark Gatiss Ė he was in The League of Gentlemen. He played the mad butcher and was the mad scientist in one of the Dr Who episodes. A very aged scientist who reversed the ageing process. He also wrote a couple, including The Idiotís Lantern, which featured David Tenant set in the 1950s where people were brainwashed through the TV.

Digger: Ah yes, Maureen Lipman.

Louise: Thatís right.

Digger: Iíve got a good memory for trivia but can't remember why I walked into a room.

Louise: Theyíve got brilliant writers on there. I really enjoyed the first episode and my girls did. I like Matt Smith based on other things heís done so I think heíll be really good.

Digger: Iím just looking forward to the day when Dr Who is a lady.

Louise: Well, will that ever happen?

Digger: Yes it will. Joanna Lumley played the Doctor in a Comic Relief sketch. There was a funny bit where she woke up and was reincarnated and had Madonna-style prominent ladybumps and she compared them to the bumps on a Dalek.

Louise: I think the day will come when they're brave enough.

Digger: If we can have a lady Prime MinisterÖ

Louise: We can have a lady Dr Who.

Digger: Can you tell me the background to The West End Girls and Forcesí Sweethearts?

Louise: Deborah and I met at drama school. Mountview Theatre School in London and graduated in 1996. After that we then went on to appear in most of the musicals in the West End. Between us I think weíve done about fifteen, things like Les Miserables, Chicago. I was in the D'oyly Carte Opera Company for three years in residence at The Savoy in London... The Mikado, Gentlemen Prefer Blondes, Pirates of Penzance, Trial By Jury.

Digger: Every genre.

Louise: Yes, literally across the board, which is really fascinating and interesting, so we were very lucky. And then in 2000 we decided Debbie wanted a little break, as did I, so she went travelling and went to live in Australia for a year and I had my two daughters. When she came back we thought ďWhat are we gonna do?Ē We didnít really want to go back into the West End anymore, we wanted to work for ourselves, so we formed West End Girls. At first we based the act on the musicals that weíd appeared in.

Digger: Itís a great name. You were very canny and very lucky that it hadnít already been used.

Louise: I know, weren't we just? We put a show together based on what we knew and our experiences in the West End, and in part of that show we did a little medley of Glen Miller. And it was at one show we were doing, I canít remember who it was so I canít credit this to them, but she said ďI love that Glen Miller stuff, did you know thereís a massive 1940s scene Ė you should really think about doing something for that.Ē She put the idea in our heads and basically we did a bit of research and Iíd always been into the Big Band Sound. But Debbie knew absolutely nothing about it at all. We listened to a lot of The Andrews Sisters and a lot of the Big Band stuff and we thought ďRight, letís do it.Ē So we gave the show a name Ė The Forcesí Sweethearts and I put a 1940s show together. And since then itís been absolutely crazy.

Digger: I didnít realise this until quite recently that the forties thing is bigger than all of the other decades for some reason.

Louise: Absolutely, itís huge. I think itís because thereís that whole sense of nostalgia. When you go to these events they take all the good bits of that era Ė the fashion, the camaraderie. That is what makes the events spectacular.

Digger: And the flag waving.

Louise: Yes, and I think thatís wonderful and itís fantastic to be patriotic. And when you do these big events and you have the Pomp and Circumstance-type endings the people love that and it gives them a reason to be patriotic.

Digger: Do you go to Scotland and Wales?

Louise: Weíve been to Wales a few times.

Digger: I just wondered what the impact would be there.

Louise: In Wales it was exactly the same. Lots of flag waving and we had a really great time.

Digger: Not Scotland yet.

Louise: Thatís right David, not yet! But thatís how it all came together.

Digger: Would you call yourself a tribute act?

Louise: I suppose we would. A unique one to The Andrews Sisters and Vera Lynn really. And very unique, because thereís only two of us, obviously. Weíre starting work on May 8th with something called The Spitfire Ball and weíre touring around the UK. With that tour itís interesting that rather than it being one or two artists covering many different things, they've got acts coming to do what they do best. So weíre coming to do The Andrews Sisters and thereís another female singer coming along to do the Vera Lynn singalong type of stuff. A 1940s comedian and a band all under the umbrella of The Spitfire Ball. I think that works better.

Digger: Are people encouraged to dress up in forties gear?

Louise: 1940s costume encouraged. Not compulsory Ė lots of people at these events do dress up and get into the spirit of things which is great fun.

Digger: What are the best aspects of doing what you do?

Louise: The music. Definitely, for me, because I am a great fan of the music. Actually having sung with The John Miller Orchestra - that was absolutely amazing. And just the people that you meet. Because the scene is so massive but also in some ways itís a little bit insular and you get a lot of the same people at different events. So you actually make friends and then theyíll come up to you at the next event.

Digger: Groupies?

Louise: I donít know whether Iíd call them groupies exactly (Laughs) but certainly people who are pleased to see us again and itís always lovely to recognise people and they have a dance when we sing. Lots of the events that we do have dance floors and again itís encouraged. Weíve had forties DJís and bands where they demonstrate dances and they are fantastic fun.

Digger: Lindy Hop?

Louise: Yes, Ian Hartley and his wife do GI Jive and itís quite brilliant and they have their own dances. When weíre singing and theyíre dancing I get absolutely carried away.

Digger: Do you have a live band or a backing track?

Louise: Both I would say, when weíre booked on our own we have a backing track. We work very closely with a guy in the studio and the reason why we love our backing tracks is because all the instruments are recorded separately. So it's not like singing to a karaoke track. We love them, and because we do them ourselves we put together medleys and things that other people haven't got. We get a lot of artists and singers saying "Ooh, can we have a copy of that?"
Digger: Stars on 45, but from the forties.

Louise: Exactly, but we never give them away because we spent good money on them. It's things that people haven't heard put together before. And artistically we can put our own kind of slant on things harmony-wise and be really creative which is what we really love to do. We also play with bands backing us at other events.

Digger: Do you sell CDs after the show?

Louise: Yes, although I have to go and get another big bunch of them now, actually, because we've just sold the last one at the weekend. The CDs we have at the moment are half and half - half is 'West End' and half is 1940s stuff.
Digger: What are your future plans?

Louise: We're recording a new CD next month which will be purely the 1940s stuff and it will be a live CD, exciting because we're recording it at one of the shows we will be doing at The Spitfire Ball.

Digger: Do you know which one it's going to be?

Louise: They'll record a few shows and then mix it and edit it together in the studio. We want to put together a new West End CD as well with tracks we've just learned.
And it's basically just busy this summer because the 1940s season kicks off big-style with the East Lancs Railway on the May Bank Holiday. So we're headlining at that event and that will start the season off for us throughout the summer. Everybody welcome and a superb event. It goes over three days - Saturday to Monday. We'll be there on the Sunday and Monday at Bury Station all day on Sunday and then on Monday we're at Ramsbottom Station in the morning. Which is fantastic because there's a massive platform so you get lots of dancing. And then, in the afternoon, it's at the cathedral in the town and there's a big concert with the Fairey Brass Band who won Britain's best brass band. Me and Deb with the band and it has a last night of the proms-type finale.

Digger: How many people do you expect to that event?

Louise: Usually the church is packed, standing room, because it's free as well. People are charged for their rail tickets but the entertainment and reenactments and concerts are all free. It's literally like stepping back in time when you go into the stations and the steam trains are coming in and you're singing We'll Meet Again or I'll Be Seeing You and with people dressed-up. It's really evocative of the period. It's one of our favourite gigs.





For Bookings, information or Demo CD, please contact
Louise on 01260 - 290802 or email us at info@thewestendgirls.co.uk