Digger talked to Tony Barclay-Walker about Automobilia Planet, a company and website he set-up to merchandise all varieties of automobilia and motoring collectables and ephemera.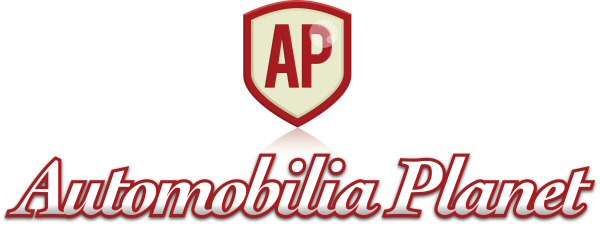 DIGGER: How are you Tony?

TONY: Hectic. We have builders in and theyíre working on several rooms!

DIGGER: Make sure they put up dust curtains otherwise youíll be covered in dust for months. Well, letís rattle through the questions, shall we? Can you tell us about the background to the business?

TONY: Automobilia Planet started when I was talking to somebody and they said ďOh, youíve got a lot of car badges, Iíd like to buy some.Ē And that was the initial start point. Itís just escalated since then. Without sounding blasť, itís typical of me because now I donít run it, itís running me. Weíve turned into a world leader and IĎm driven by that.

DIGGER: Youíre not like Reggie Perrin, are you? Once it gets successful then you want it all to implode so that you can start something else?

TONY: No. I like to get to the top of the mountain and stay there and think thatís it.

DIGGER: I notice there are one or two smaller players in automobilia who seem to be running their businesses from their garage?

TONY: The thing about automobilia is that itís a part of social history and itís non-repeatable shall we say? So thereís a lot of it around and there are some people with deceased estates or collectors who want to streamline their collection and it starts to circulate. But not so much now, because people are hanging onto them as investments.

DIGGER: Whatís your collecting passion?

TONY: Iíve got many passions, but if you asked me what intrigues and interests me, anything thatís quirky or different but certainly I have a massive passion for car badges. And mascots and motor racing ephemera of the earlier stages of motor racing.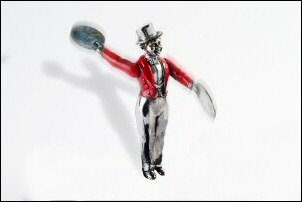 DIGGER: Have you ever got involved Ė I mean driving an F1 or one of those experience days?

TONY: (Laughs) I havenít had the luxury or the madness of driving an F1, but I have done a bit of club racing in the past and some testing in a very limited capacity. I managed to terrify myself. I console myself by occasionally driving some of my own horseless carriages on a test day for my own amusement. I donít think Iím qualified to be a racing driver.

DIGGER: Thereís a huge range of items on the website. Where would be the best place to start be if someone was looking for a present for a car enthusiast?

TONY: The best thingÖ I get asked this quite often, I always say that if you want to buy a present for somebody then obviously you know this person. So youíve got to find out what he or she is particularly interested in. It might be an E-Type Jaguar or they might have an Alvis car or an Aston. Or they have a passion for collecting pin badges, car badges, racing programmes. Also youíve got to find out what they have and havenít got.

DIGGER: Itís difficult to do that. Iím very easy to buy for and have several interests and passions but people never know what Iíve already got.

TONY: What usually happens and we get a lot of this, particularly from ladies; They put up with their husbands or partners being petrol-heads and they basically know what lights them up. And they come onto the site and see something. For example, Iíve just sold, last week, a Saddler teapot, and Saddlerís a very good pottery name. Itís a teapot thatís made to look like a retro racing car and it was in extremely good condition and theyíre difficult to find. This lady bought it for her husband as a birthday present and she wrote a lovely letter to me saying ďYouíve made an old man very happy.Ē Weíre only talking about £90 here, but he was over the moon. Youíve got to find out what they want and marry the two things up.

DIGGER: Do a little bit of research and a little bit of rummaging?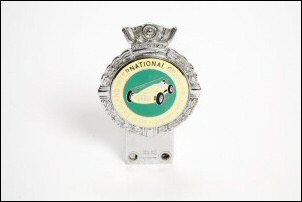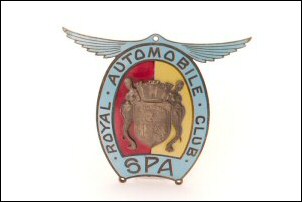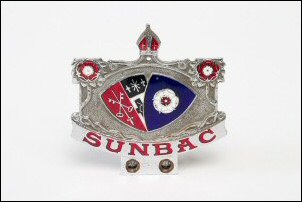 TONY: Yes. Then, obviously, the best thing to do is to have a word with somebody like me who knows about these things who can guide you through the maze and suggest whatís a good idea and what isnít.

DIGGER: What are the rare and more expensive items, what are the best value and what in your view are the best investments?

TONY: In these turbulent fiscal times that we live in, frankly to have money in the bank you might as well just plaster the walls with it, itís absolutely useless. But tangible assets, and Iíve noticed this when we attend auctions, people are genuinely wanting to invest into tangible items. Itís almost like feudal days ďIíve got seven cows.Ē Well now theyíve got seven vintage cars or seven items of automobilia.

DIGGER: Itís good because they were talking about this phenomenon before but it wasnít really happening. Now it is.

TONY: For sure, in my opinion good investments which are always rock solid, should we say Ďmainline and hardcoreí, are car badges. Theyíre always a good investment as they escalate in value and hold their price very well, providing they are good. Condition is everything in this business. And authenticity. Reproductions - youíve just got to absolutely avoid them like the plague and be warned there is a lot of it about, particularly coming in from China. And some if itís so good, to the untrained eye you think youíve got the right thing, whereas when you take it to an expert theyíll take one look at it and say ďItís worth a ham sandwich.Ē

DIGGER: Thatís a drawback of the web.

TONY: Yes, the big trouble with the web is you canít feel the stuff and thatís why our photographs are pretty concise and also we do describe things to the best of our ability. And, more importantly, if there are any minor flaws or whatever then we bring that to peopleís attention immediately. But when youíre dealing with a car badge that say is eighty years old; So, itís either been in a cabinet and thus it will be fine or itís been hurled through the atmosphere so itís going to have some patina. But you can tell these sorts of things. Mascots, again, are absolutely fabulous investments, particularly the rarer ones. They hold their value and increase massively, especially the stamped mascots. We sold quite a lot of exclusive mascots and to get over £1,000 is not out of the question. But automobilia is such a wide spectrum and we try to cover what we can. As a small example, Le Mans programmes Ė I saw one the other day and it was quite a rare 24 Hour Le Mans one, I think it was 1952/3/4. I canít quite remember. This French gentleman had it for sale at £250 which, quite frankly, was what it was worth. But a modern programme would cost you maybe £10 - £15. The older and the more known an event is, itís absolutely going to increase it in value. I have a big saying Ė ďIf itís good, itís gone.Ē And ďFind me another one.Ē Ė these pieces were not produced en-masse so youíre buying a piece of social history and condition is everything. Itís the same with antiques and itís the same with automobilia Ė a good collector knows good condition means the value is considerably increased. You could give me £2,000 now and say ďTony, go and buy me some marvellous badges.Ē And I might come back with six or seven that are really fantastic and Iíd just say ďIíll tell you what to do, lock them in a cupboard and in five yearís time who knows? Itís going to be a lot though!Ē

Digger: How long have you been in the business?

TONY: Iíve been interested in motor racing ever since I was eight when I saw Jim Clarke win in the Lotus at Aintree when my mother and father took me. Itís been in my blood since, in fact I met Jim and Graham Hill at the Blossomís Hotel after the race.

DIGGER: Thatís a memory. One article I have in the pipeline for Retrosellers is the impressive record that British drivers and teams have in motor racing. Weíve had a lot of fantastic personalities over the years.

TONY: Fantastic personalities like Mike Hawthorne, Jimmy Clarke, Jackie Stewart who I know reasonably well and he is just the most magnificent ambassador of the sport.

DIGGER: His family had a garage, didnít they?

TONY: Yes, in Scotland. His mother always refused to accept that he was a racing driver. I send him and Lady Helen stuff that I donít need because she has a massive scrapbook collection and heís kind enough to autograph a few things for me. Jackieís done extremely well and such a nice person. He was in a period of racing that was very difficult because it went from an era of death cars to safety cars. He was responsible for bringing the safety element to the fore when his very close friend Francoise Cevert tragically was killed in a horrible accident.

DIGGER: The drivers effectively went on strike didnít they?

TONY: He just got out of the car and never sat in another racing car again. He said heíd had enough, he was disgusted and quite rightly so.

DIGGER: My dad worked for Gilbarco as an engineer in the sixties, so Iím interested in petroliana for that reason. How popular and collectable are vintage pumps and road signs?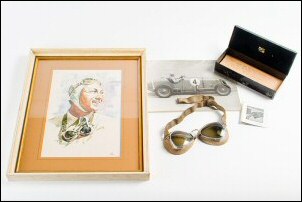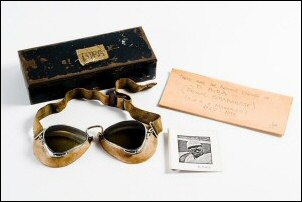 TONY: Very popular. Vintage pumps go for big money, providing theyíve got all the bits. But even if they havenít got all the bits people can get hold of the bits that are missing and they can command thousands of pounds.

DIGGER: One can go into these old garages and see these beautiful AA enamel road maps and signs.

TONY: Enamel signs have gone absolutely ballistic over the last two or three years. And, really the strange things about signs, of which weíve got some pretty good ones ourselves, are theyíre: a) Very difficult to get hold of. And b) The surprising thing about signs is the more tired looking they are with a patina Ė some of them look like theyíve been to Beirut with a lot of rust. Yet they still absolutely command massive prices. There are some enamel signs Ė thereís three that I know of and theyíve got the Union Jack on Ė I canít remember the name, something like Motorsport or something like that. Theyíre worth £26,000 - £28,000 and there are very few in the world - I know two that went for those sorts of figures. But your good average sign thatís pucker and of interest youíre talking anything from £200 - £400. Of course you can pay whatever you want.

DIGGER: I hope the gentleman who owns the Motor museum up in Bourton is well insured.

TONY: They are very popular and theyíre very pleasing to the eye. When you decorate your garage yourself, as I have, they do look fantastic.

DIGGER: Car mascots have a reputation as valuable and rarities. You have some rarities on the website but also a lot which seem to be very affordable. Is this a good collecting area to get into?

TONY: Yes it is. The thing with mascots is some of them are run-of-the-mill and you want to stay clear of them, some are not top-listers. But the thing with our site is you can go on and buy something for a tenner or you can spend £4,000. So we like to think thereís something for everybody. You just price things accordingly. As an example, we have a very rare mascot which is about £1,200 and itís a band leader and when it goes through the air the arms go round and around.

DIGGER: Wonderful. How many of those would have been made?

TONY: Iíve never seen that one ever. Itís probably been made to order. The Spirit Of Ecstasy is the Rolls Royce mascot, The Flying Bee is the Bentley mascot, but then you come across certain mascots that you canít find in the books. What are they? We sold one to a chap in Guernsey a couple of months ago and it was a signed French mascot over the £1,000 mark. A lovely patina and chrome on it and it was one of two Charleston-esque dancing people and heís put it on one of his vintage cars for wedding hire because itís symbolic of that genre. But Iím pretty certain that the one-off mascots were made to order. Other ones are synonymous with the market. Like the Alvis and the hare.

DIGGER: Why is vintage automobilia in all its forms so popular?

TONY: It is popular but itís a narrow market. If you stopped 100 people in the high street and said ďDo you know what automobilia is?Ē I dare say only ten or twelve would know because itís a narrow market. But the astonishing thing is that when you got to a big show like the Race Retro at Stonely or Beulieu or Goodwood, a very good vintage rally, youíd be staggered at how many people are there and their knowledge. It is exceptionally popular Ė even with younger people as well which quite surprises me.

DIGGER: I wonder whether itís their parents bringing them through as enthusiasts?

TONY: Thereís a bit of that Ė if dadís got an old car then they tend to get the bug. But, Of course, weíre in an interesting period because todayís classic cars as we call them, not vintage, will eventually become vintage cars when you wonít even be able to get hold of petrol. I keep using this expression that itís social history youíre buying.

DIGGER: Itís a very short period they cover and thereís a very small window of collecting opportunity really.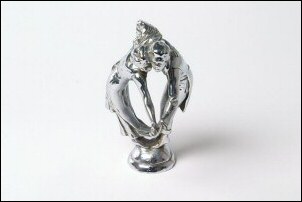 TONY: Very, the thing is that people who want automobilia and who deal in automobilia are highly knowledgeable and they know their subject backwards. But itís a vast area and some people specialise in just very obscure minor areas of it.

DIGGER: Or certain marques?

TONY: Yes, whereas we tend to take a broad spectrum look at the whole thing.

DIGGER: Where do you see the business heading?

TONY: Well, to be honest with you, weíve reached the top and I reckon we reached the top about a year ago. So, what weíre doing now is that weíre just about to launch a massive state-of-the-art website. This will almost be an Oscar nomination in terms of web design. Iíve seen the rushes and design briefs and Iím just staggered myself and will be very proud when this one goes live, which should be in about two or three monthsí time. Because thereís a lot of work involved there. At the moment, my philosophy for the business is: Weíve got it right, itís been well accepted, weíre world leaders, so now all weíve got to do is constantly feed it with exceptionally fine items of automobilia and Ďtweakí it. Just add little bits on and improve certain areas. A lot of people think our siteís pretty damn good to start off with, which it is, but the new one is going to be literally awesome and itís a massive leap forward. It will be a world leader and thereís nothing you can compare it to. So weíre pretty proud of this, but itís a lot of hard work.

DIGGER: Is it the technology or the functionality that makes it special?

TONY: I think a bit of everything. My web designerís are phenomenally gifted people and I just give them a free reign and they just come up with everything and I say ďYes, thatís great.Ē I jokingly call them spooks, but Iíd like to emphasise that every product thatís ever been on my site or thatís going to go on it has to come through me personally. So I have to see it, assess it and has it has to go through quality control and it has to be priced correctly, not ridiculously. If I looked at fifty items in a day, maybe nineteen or twenty would qualify and I could narrow that down more if I was to be picky. I look at it from the other personís point of view, not my point of view. The other day somebody said to me ďWho do you thinkís going to buy that obscure badge?Ē And I said ďWell, somebody will think their birthdayís come Ďcos itís that obscure, and I couldnít believe it because it sold within about two days of it going live on the site. The client was doing handstands and he said ďI canít believe it. Iíve looked for years, for decades for this and here it is.Ē He was absolutely thrilled and I think he would have paid £1 million for it. It was only about £110, I think. He was over the moon. Good to feel youíre doing somebody a favour, as well.

DIGGER: Well, Tony, it looks as though youíre succeeding on all fronts. Business is booming, youíre doing something you really enjoy and youíre making people happy at the same time. Thatís not bad.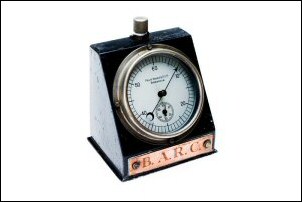 TONY: I use the same principle whether Iím buying a suit, a car, furniture or whatever it is. If I look at it and it leaps out at me and says something to me and all my brain cells light up with a buzz, which is commonly called the wow factor, I think this has got to be good. If I try to talk myself into it, then itís not a good idea.

DIGGER: Thereís a rule I use which is, if you see something you like and can afford then you should go for it, because it might not be there the next time you look in the shop window and youíll be disappointed you didnít go for it.

TONY: We used to do shows when I first started this and I had to go on the road every weekend up and down the country and in Europe. That was hard work, very hard, but I did it for three years to get the name promoted. The brand awareness for Automobilia Planet. Now I go to shows and people say ďWhy arenít you exhibiting?Ē and I say ďGo on our website.Ē But I used to say to people ďIf you donít buy it, someone else will and if itís good itís gone. When you come back thereís a box of Kleenex here because it wonít be here. Donít cry over my stock.Ē Iíve done it myself, Iíve been to a show like Beaulieu, thought ďI quite like that and Iíll come back later.Ē And then I canít find the stall later and if I can they say ďOh, I just sold that an hour ago.Ē And youíre so infuriated. If you see it and like it, if it lights you up and everythingís okay, do the deal. Buy it, Ďcos you can always re-sell it if you donít want it.

DIGGER: Thanks Tony. I now understand a whole lot more about automobilia and what to look for and Iím looking forward to seeing the new website.

TONY: Thank you David. If you can just put this in as a final thought. Iím a retired property consultant and we used to use this as one of our slogans and it applies equally to Automobilia Planet. Itís simply: Informed, Efficient, Effective. And thatís what we aspire to be and hope that we achieve.


Please click the banner for more information: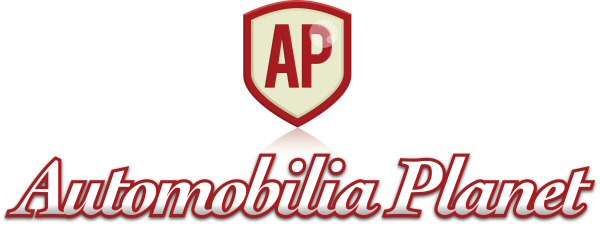 ---