Dennis Alexander, the founding member of Chickenshop.co.uk Ltd, has been in the fancy dress and party business for over 15 years. The web site www.chickenshop.co.uk has been going now for more than ten years which means that it is one of the oldest fancy dress and party supply sites on the Internet. They can satisfy customer orders from their shop and from their well-stocked warehouse. As a company they are large enough to carry a wide range of merchandise but still small enough to care about each and every customer.
In his 15 years in the business, Dennis Alexander has seen many changes in the industry. In the early days most costumes went out as hire. In those days there was not a great deal of choice for those who wanted to buy a budget costume. Quality tended to be low and most costumes came in one size to fit all. This was achieved by using elastic or ties for the waist, arms and back. Today fancy dress and fashion go hand in hand. Costumes come in a wide range of sizes and at prices that are comparable with the cost of hire. The biggest event in the fancy dress calendar is obviously Halloween but retro parties are a year long favourite with customers.
Retro 20ís - 30ís: This was a time when woman gained more rights and a freer lifestyle and ladies known as Flappers characterised those changes. Prohibition in America saw an increase in organised crime and the image of the Chicago gangster was born. Through film and television the gangster has become a romanticised figure and names from this period like Al Capone and Elliot Ness have become legendary. Relive this flamboyant time with a range of ladies flapper outfits and menís gangster costumes.




Retro 40ís Ė 50ís: The 1940ís and the 1950ís see us move from the war and the big band era to the birth of rock Ďní roll. The 40ís are a much-neglected decade in terms of fancy dress costumes but manufacturers are addressing this shortfall in their 2010 catalogues. The same shortfall is not evident in costumes from the fifties. Chickenshop has lots of choice for both ladies and men. For men dressing up for a 50ís party this is the decade of Teddy Boys and Greasers, Elvis and Buddy Holly. For ladies fifties dressing up ideas they have bopper girls with their poodle and polka dot dresses. The 40ís/50ís represents the golden age of Hollywood so the ladies have the opportunity to dress as Marilyn Monroe.


Retro 60ís Ė 70ís: The sixties and seventies are by far the most popular decades to recreate as a theme party. The result of this is that each year there is always a new selection of colourful ladies 60ís/70ís costumes and menís 60ís/70ís costumes. They have such a variety of outfits for those two decades including hippie flower power costumes, shift dresses, mod styles, disco outfits, flares and pimp costumes. Celebrity fancy dress for the period includes the Beatles, Abba, Elvis, Kiss and the Village People.
Retro 80ís - 90ís and Beyond: Celebrity culture gripped us as we travelled through the 80ís and 90ís and into the noughties. The fancy dress available reflects this obsession we have with celebrities and the way they dress. Our retro ladies can dress up as Madonna, Kylie Minogue, Spice Girl Geri Halliwell, punk or disco ra ra. Our retro men can get dancing with Rod Stewart outfits, Michael Jackson, Adam Ant and Freddy Mercury.




Period Costumes: Going further back in time Chickenshop sell a range of ladies historical costumes and menís historical costumes. You can dress up as characters from the ancient world, Rome , Greece and Egypt . Medieval costumes are popular during the summer months for medieval fairs and medieval theme weddings.
To look the part and get into character Chickenshop offers a range of retro accessories including retro shoes, character shoes, retro jewellery, retro wigs, character wigs and celebrity wigs. Chickenshopís catalogue of costumes and accessories is always changing and is always growing. Whatever the theme of your party or event look in on their web site www.chickenshop.co.uk or give them a call on 01592 642377. I am sure they can help.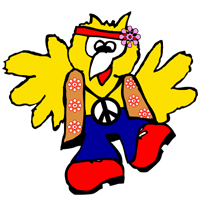 ---