We look at London Boots.com.

The UK's number one retailer of rock 'n roll clothing, rock n roll footwear, retro clothing, baseball jackets, bowling shirts and all stage wear.
We spoke to Gavan O'Neill, one of the Directors at London Boots/Skye Brand...
---
Digger: Can you tell us about the history of London Boots?
Gavan: London Boots has over 20 years experience in the rock 'n roll and retro scene and has always been a specialist company. We are a family run company which means that we all want the business to go in the same direction and are all very dedicated to this in every way. The bonus is we all thoroughly enjoy what we do and over the years have made some fantastic friends along the way.
Our base is in Nottingham where we have a substantial size showroom that is open to the public and the kettle is always on!
We have been attending the likes of the Americana show for over 15 years with our 'travelling shop' and attend many other flagship events such as Hemsby Rock n Roll weekenders, Twinwoods Events and many many more.
Last year, 2009, London Boots launched their very own brand of clothing and footwear all under the name Skye Footwear and Clothing Brand. It is fast becoming the most well known brand in the retro and rock 'n roll scene. There is a reason for the name Skye....It is my daughters name and she already at just 8 is asking for royalties!
The Skye Brand now has official agents in Italy, Iceland, Spain and Holland, even the USA and most recently has taken on a great UK company to be the exclusive distributor to Universities of our famous Skye Baseball Jackets. These jackets have already been supplied to Nottingham Panthers and Sheffield Steelers Ice Hockey Teams and the biggest coup was the use of them to launch the worldwide teen hit High School Musical! That shows how far we have come.
We tailor-make drapes, box jackets, have a fantastic range of bowling shirts, creeper shoes, winklepickers, Gatsby shoes and Jam Shoes, all manufactured under the Skye Brand Label.
Now London Boots have been given the rights to sell the Official Americana International Clothing which we have manufactured and also the Hemsby Rock n Roll weekender clothing. Trust indeed that we know what we are doing.
Many of the bands from the scene trust us to make their stage outfits and we are always proud when we see our tailor made outfits receive such great comments.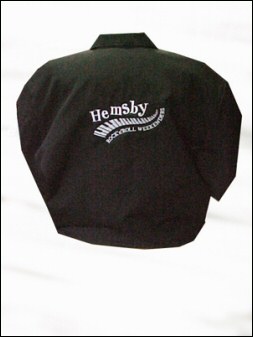 NOW AVAILABLE THE OFFICIAL HEMSBY
ROCK n ROLL WEEKENDER CLOTHING!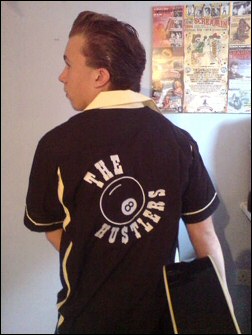 THE HUSTLERS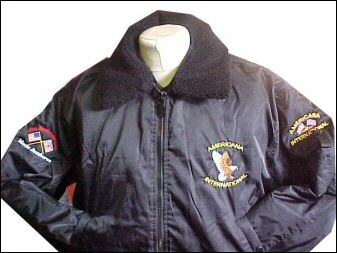 AMERICANA INTERNATIONAL FLEECE JACKETS,
SWEATSHIRTS AND POLO SHIRTS NOW IN STOCK!


Digger: You stock a diverse range of shoes, boots and clothing, catering for a number of different movements, genres and styles from pop culture. What areas of this involvement give you most pleasure?
Gavan: To be honest it would be hard to say which gives us most pleasure as each event we go to is always great fun. The Americana, for example, has a cross section of country, rock, rock 'n roll and Celtic music and it is the best event of them all. Hemsby Rock n Roll weekenders are all about rock 'n roll and they an amazing weekend event with everyone ready to party. Then we have Twinwoods Events which is a very swing music event again though we love it and the people are always great.
Digger: What are the strongest sellers?
Gavan: Our Skye Footwear and Clothing is the flagship of the company and we sell this in a very big way. We cater for all different areas and produce bespoke clothing for clubs, individuals and teams alike. When we attend festivals everyone is fully aware of the Skye Brand and the fact we are always well priced without reducing quality. This is because of the sheer bulk we order in, which we have to do because we also have to have stock ready for our European agents.
Digger: Why do you think Retro is as popular as ever?
Gavan: The scene has never really changed over the years and the great thing about it is that there is always the young generation involved in it too. Kids of the adults who are in the scene seem to follow in and this means the scene will never die. The events are always full of ages from 5- 100! The people are all so nice as well which makes it a great environment for the younger generation to be involved in. I just cannot see this scene dwindling at all.
Digger: Where do you see London Boots heading in the next few years?
Gavan: London Boots are going to continue pushing the Skye Brand and developing new ranges all the time. We will continue looking for new agents to represent the brand throughout Europe and the aim, with a lot of hard work is to make it the brand that everyone wants and everyone knows about.

Your friendly London Boots team
Come and visit us at:

www.skyeclothingandfootwear.com
London Boots / Skye Clothing and Footwear
Kustom Shack
Unit 3 Ground Floor
4 Castle Boulevard
Nottingham
NG7 1FB
Tel- 01159 476063
Fax- 01159 799234
---