Lime Shop is the web identity of Lime Marketing.co.uk Ltd.
The Company is run by husband and wife team Mike & Lynda Osborne. Established by Mike in the garage at home in the year 2000, we have seen the Company grow to a staff of 11 and warehousing space of 3,400 sq ft.
It is quite surreal from our point of view to see how we have taken off especially in the competitive world of internet selling. Our products can also be found on Amazon, eBay UK (over 60,000 feedbacks), Pixmania, eDirectory, eBay Germany and Google.
Apart from being a general merchandiser selling all sorts of ranges and items, we also sell a number of Retro-related products, such as Telephones, Jukeboxes, Music Centres, Radios and a lot more
Here. 'Digger' Barnes at Retrosellers.com discusses the business, life and everything with Internet Entrepreneur Mike Osborne...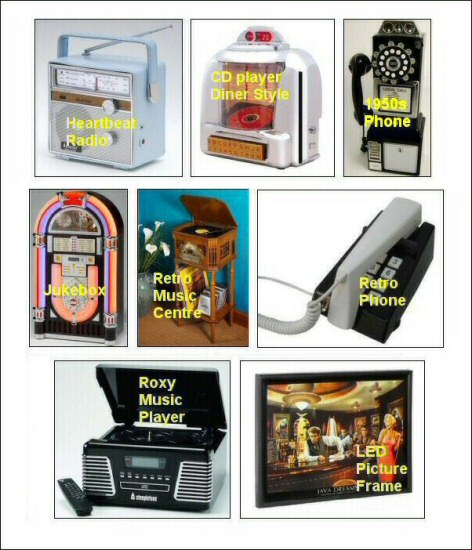 Mike: Hello David.

Digger: Hello Mike. How are things going at Lime?

Mike: We're not breaking any records from a margin point of view, but I don't think anybody will. Margin is on the decline for online business and it won't get any different because there are too many people trying to sell the same, or similar, products online. I was looking at some figures for the increase in turnover for my company and the increase year-on-year has been phenomenal but I've got nothing to show for it.

Digger: There are so many companies coming at the same stuff from slightly different angles.

Mike: For sure, and it's not necessarily similar stuff. On the Amazon forum it's the same stuff and the same product listing.

Digger: If I'm looking for a book or a DVD on Amazon, there are lots of the same item available to choose from but the price range is outrageous for the same item. Several hundred percent mark-up on some of them.

Mike: Amazon is all about getting what they call the 'Buy Bar', because most people who go onto Amazon to buy something will just click the item. So they'll search 'record player', see a list of all the record players and then they'll click the picture. If you've got the Buy Bar then eight times out of ten you'll get the order. You've got the Buy Bar because you're the cheapest. Most of the products we have on Amazon I have the Buy Bar on there ... "Oh, there's a pop-up just came on my screen saying 'David Barnes - now"

Digger: If I could just have that on everybody in the world's screen that would be a good bit of promotion! (Both laugh) Reminds me of that daft pop-up that came up from Microsoft recently for the browser choice. I thought it was a virus so just deleted it! I think 99% of people still use Internet Explorer still anyway.

Mike: I do, for the most part.

Digger: What is the history of the business?

Mike: The background prior to the business... I was a sales director for quite a large engineering company in Birmingham and I think I got to forty and thought "What am I doing this for?" So I just got up and left. I moved to the north of England with Lynda, the lady I'm married to now. And I suppose the 220 mile each-way trip to the office was just too much so I then was very fortunate to become a consultant for three companies in the same sort of business. But consultancy life is, by its nature, short-lived. Principally because if you do the job correctly and turn the company around then you either do it in twelve moths or the company goes bust. All three of the companies didn't go bust, so I was doing something right but out of a job within twelve months.

Digger: You can command a good income while you're doing it?

Mike: Yes, one company paid me for seven days in the month, another paid me on a similar basis and another on a commission basis. So then I started trying several business ventures and the online selling was purely by accident. To name but a few, setting people's websites up, selling replacement inkjets but on a stand at the corner shops, I became a marketing trainer with Business Link. And, just by absolute chance, a friend of mine put me in touch with someone who sold redundant stock and I visited his place and bought forty Coca Cola clocks. These were thin Perspex, about 4 mil thick, twenty of each style, a Coke bottle, a Coke cup. I arranged to sell them to a friend of mine who gives gifts away in his business but he didn't want them. Somebody suggested I put them on eBay and for 75 pence each clock for the purchase price each one made £10 inside a week. And I thought this is quite a good way of making money.

Digger: It certainly is. A 900% + return.

Mike: So I looked at this and despite people's advice saying "What are you messing around with eBay for?" I started putting a couple of items on every now and again between business ventures I was trying to do something with. It really wasn't long before I decided this was so successful that I had to do something with it on a more sensible scale.

Digger: Thank God you did.

Mike: Yes.

Digger: And you're enjoying it?

Mike: Today was tedious because even when you work for a company at a high level there are people that will do jobs and there are fifteen people here but it still seems as though I'm micro-managing it. Having said that, I guess the day will come when I don't have to. The advice from huge business gurus is "Employ somebody better than yourself." But, of course, it's difficult to do that and to be able to afford it. They do assure me in the long term that does actually work.

Digger: Looking after staff and dealing with staff is the hardest thing.

Mike: This business is family and friends, so you think "Good." But actually it does have its drawbacks. Of course it does, because it becomes more personal. And one of my key parts of business is that personal and business don't ever mix, or it starts to get personal.

Digger: If Gerry Robinson came in he could find a few things to sort out?

Mike: Oh yes, I would think so. I can, it's just that there things that you tolerate. At the very beginning when I decided I was going to go down this route, Lynda was contracting for a sales and marketing dept. for a large company that sells gadgets and gizmos and so I had instant access to about 100 products from the company Lynda worked for. It was a fantastic start and because I was the only person selling that product at the time on eBay it commanded great profit margins. HUGE profit margins at first.

Digger: What are your biggest lines now?

Mike: Of the different categories, it's got to be the Steepletone retro record players and daft penguin shower radios which got such a slating in the Sunday Mail - "The worst presents you could buy." And instantly sales went up by about 700%.

Digger: So the British public were being very ironic there? (Both laugh)

Mike: I don't think there's such a thing as bad advertising.

Digger: No. Unless your name is Gerald Ratner.

Mike: Ah, well, he did get it completely wrong. But if you look at some of the campaigns, like the Benetton one back in the 80s, they were quite scary but you remembered it. We have just gone back on to one of the old favourites, which is why I was booted out of the house to go and actually get some proper business premises all those years ago. Grandfather clocks, reproduction ones obviously, and they're not weight-driven but clockwork-driven and they have a clockwork chiming system as well.

Digger: What do they retail for?

Mike: At the moment between £159 and £200.

Digger: If you go into an antiques shop for an original you're probably looking at £3,000 to £5,000 minimum.

Mike: Absolutely, but these don't look anything like those. Once you would have seen these in Ratners - the exact one we sell. Now if you go into a jeweller's shop, the same thing coming out of the same factory in the far east sells for £400-£500. You can't command that price online because it's so massively competitive. Lynda arrived home from her contracted job that day and unfortunately I had a delivery of 55 grandfather clocks and these weren't flat-packed or anything. So these stood just under two metres high and the only place I could put them was in the kitchen. I really didn't understand why she was upset, there were only 55 of them. They were funny days - parcels waiting all the way down the hall for the carrier to collect them
and parcels at the back of the local pub which was only two doors away 'cos I rented his double garage and parcels in the shed at the side of the house. That was my stores.

Digger: What does the Internet mean to Lime's business?

Mike: Everything because Internet sales, be it by third party or direct sales off our own website represent about 95% of all business.

Digger: What's the other 5%?

Mike: We do from time to time manage to sell premium products, like when we can obtain 40,000 umbrellas at 25 pence and we know clients that will take that sort of quantity because he gives an umbrella away with every sale he does through his mail order. The old-style catalogue through the front door with a free gift. And we are going to develop that side of the business more and a couple of other sides. Also, reader offers in the national press, which used to represent about 10% of our business, but it's becoming increasingly difficult to advertise something in one of the national papers. You have to give them 30% of the product cost and with what's left you've got to pay for it, ship it and pay for the fulfillment house to take the order because they are open 24/7.

Digger: We can't predict what's going to happen with Internet and other technology. We're locked into to Internet now and that's how our businesses work. I wonder where it's going?

Mike: This is becoming an increasingly larger cost of sales for us because you fight between a third party seller and our own site - Amazon, eBay and several others are the main third parties we use and it's dominated so much purely and simply because we have such a vast product range. If we were more product-specific we'd probably concentrate more on the website. We probably already spend in excess of £1,000 per month on clicks just to get people to our website. And I anticipate that figure's got to be multiplied by four or five. And so it becomes expensive.

Digger: I've got this theory that where there were a number of websites so eventually evolution means that one becomes the leading one. Amazon, eBay, Youtube, Google and so on, all dominating of course, but this also applies to various other business models. I tend to use just a handful and the same websites on a regular basis, even though I do research and view dozens more on an ad-hoc basis for the business.

Mike: If I was going to buy something, I would be aware of lots of websites because one of the most effective ways of buying or selling something online is using comparative shopping. Again you pay for a click but it's not quite as expensive or extreme as paying for Google clicks. Probably one website if I was buying something - I buy maybe two or three times a week on the Net. I guess I must visit eight or ten websites a week but from a business point of view, like you, we're looking at hundreds because we're checking out the competition and so on.

Digger: What are the best aspects of running Lime?

Mike: You can't beat being your own boss no matter what anybody says.

Digger: What are the customers like?

Mike: We don't get to speak to them very often because it's an online business. If a customer comes on the 'phone it's generally because they're not over happy, but I've got four people who deal with customer service.

Digger: That's an opportunity to turn a negative into a positive experience.

Mike: Yes, they need to make the customer happy because, particularly third parties, they are feedback-driven and the less good feedback you get the less sales you're going to get. Everybody knows what.

Digger: Whys is retro so big in people's lives?

Mike: I have no idea, but I just know it's there. The reason I know is because I'm interested myself - it started off with my passion for vinyl singles and LPs. I've got thousands and thousands and thousands.

Digger: I hope you've got reinforced floors?

Mike: They are on pallet racking in my warehouse a the moment! And I bought an old-fashioned jukebox and my interest was there and this can be quite dangerous in business, people do try to sell things they like. Not necessarily the most viable option because what I like may not be what others like. So we were very fortunate to get a Steepletone agency. I guess they buy it because it's not available everywhere and I believe people love nostalgia.

Digger: Everything becomes retro and various retro themes are always popular or in fashion.

Mike: We did have dedicated website called Nostalgia4U, and it didn't work as well as we thought or we weren't prepared to throw a huge marketing budget at it, so all the stock there got absorbed into the main site. We still manage to sell lot of retro items via third parties and the main site. As it's not broke I'm not going to try and fix it at the moment.

Digger: People didn't know the website was there.

Mike: Absolutely, people can say to you "I'll develop you the best website in the world." But it's no good to you if nobody visits it.

Digger: It's like the Bates Motel, isn't it?

Mike: (Laughs) That's right.

Digger: What are your plans?

Mike: I don't have a get-out plan, which I should have in business. But my plans are that I've taken the business to stage four; I started off with the kitchen, (Both laugh) I then went on to a single 2,000 square foot warehouse, I then bought an identical warehouse next door and this time last year we vacated the office side of that and moved into 1,000 square feet of offices and it expanded so quickly in terms of volume of sales. I say I don't plan to move again but it's just such an upheaval. But, to be honest, if we carry on with the growth that we've got and make some sensible profit... I'm looking over the warehouse as I speak and it looks like we're two thirds full.

Digger: One third empty.

Mike: Yes, so therefore in reality I can grow the business by that proportion.

Digger: And finding this wonderful person who doesn't demand a huge salary but is much better than you and doesn't rub your nose in it about it?

Mike: I'm now quite fortunate that I spend 100 days maybe a year in Tenerife. I still work when I'm out there. It really is not like going on holiday any longer. But it's very inspirational because you get a chance to think about the next part of the plan.

Digger: With the Net you can work from anywhere so you could visit lots of different places.

Mike: Yes, but I actually own a place in Tenerife.

Digger: Yes, I understand.

Mike: But you're right, anywhere with broadband which is most hotels around the world now. Going back to my plan I'm already in the process of shaping the company into a highly professional level and our motto is to under-promise and over-deliver. And the sales and marketing line is to beat customer's expectations, because customers online are more demanding these days. It's very hard to exceed somebody's expectations, but that's got to be the way to make them come back. And I have every intention this year to have all of our customers having that feeling.

Digger: Consumers are very sophisticated these days. Online they are, like me, impatient in that they'll only wait a few seconds, they want to get through in one click to where they want to be, they want to be able to understand what's going on in a website quickly and they expect a response from an email within half a day maximum.

Mike: I am seriously impatient and I wonder what customer's expectations are for a return from an email.

Digger: Not like these government departments, that's for sure, who say they will respond to emails within 10 working days and still don't! These are civil servants, salaried people who don't have the same drivers and motivations as us in business.

Mike: I have a soap box under my desk and I'm going to get on it in a minute. I can summarise this in one short phrase. If I couldn't do my job correctly then I would go out of business. If the local council screw up during the year they just add that to the taxation bill that everybody has to pay. Why don't the monopolies commission have a go at the council? In fact, why is there only one monopolies commission?

Digger: Good point!

Mike: We're going to go with better quality products - not saying we have poor quality products! It all comes out of China these days anyway. I'm dropping products that we consistently have some form of problem with and by the time I'm 55 I only want to be the chairman of the company. And I think Lynda's planning on retiring when she's 55 which is five years for me but only two years for her.

Digger: Well, best of luck with your plans and it's been very educational.

Mike: Thanks David. It's been good talking to you.