Vintage Movie Posters Ltd is a privately run business owned by movie poster enthusiast Mark Hochman for other movie poster enthusiasts.

As a keen collector of movie memorabilia and in particular movie posters for many years, I decided to turn my hobby into a livelihood. With a passion for collecting that started in my teens with American Superhero comics it progressed to movie memorabilia, movie posters and sports memorabilia, and over the years I built up what would probably be called an impressive collection.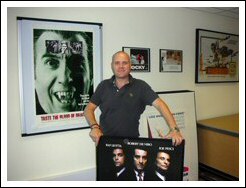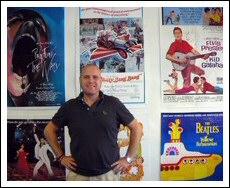 Mark Hochman at Vintage Movie Posters



The bulk of my comic collection was sold off to purchase my first house although I still kept some key books. Please Sam Raimi make Morbius the next villain in the Spiderman movies as I officially have what has been officially classed as the BEST COPY of the Spiderman comic issue 101.

As well as key top grade issues of the key Marvel and DC titles I have collected match worn and football shirts including Paul Gascoigne, Diego Maradona and from 1963 an unwashed match worn England BOBBY MOORE shirt. But it is with my collection of movie posters that I have decided to try and earn an honest living with.

I boast a good knowledge of the subject and have provided advice to friends and colleagues on the best posters to buy for investment purposes. I have also acted as an unofficial adviser to major auction houses. I believe I will be offering a personal unrivaled service to anyone looking for posters for pleasure or investment and believe the website is currently the best available in the UK which I aim to update on a daily basis. If you do not find the poster you are looking for on the website I am happy to try and source it for you.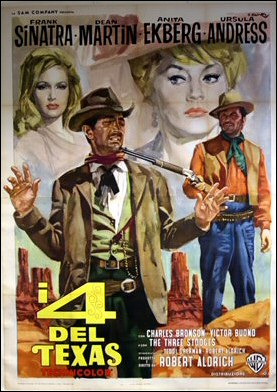 Mark's personal favourite movie poster

We are always looking to buy posters and related film memorabilia (whether a whole collection or a single item) and will always offer a fair price for your items.

Based in AMERSHAM, BUCKINGHAMSHIRE we are easily accessible by road and have a METROPOLITAN TUBE STATION 5 minutes walk away. We are 15 minutes drive away from either Junction 16 or Junction 17 of the M25 and 10 minutes from Junction 2 of the M40. We are happy to open by appointment and there is nearly always someone available in our gallery between 10-5 on a daily basis (Weekdays).
Some examples of our posters in stock...
If you cannot make your mind up after viewing the website we are happy to bring a selection of posters to your home for you to see first hand.

I look forward to hearing from you, please enjoy the site and don't forget to bookmark the blog.

Many thanks
Mark Hochman
Director
Vintage Movie Posters Ltd

The Original Movie Poster Specialists

Phone number: 01494 432 816


Trade Address
14 Chiltern Business Centre
63-65 Woodside Rd
Amersham, Bucks
HP6 6AA


Email: shop@vintagemovieposters.co.uk