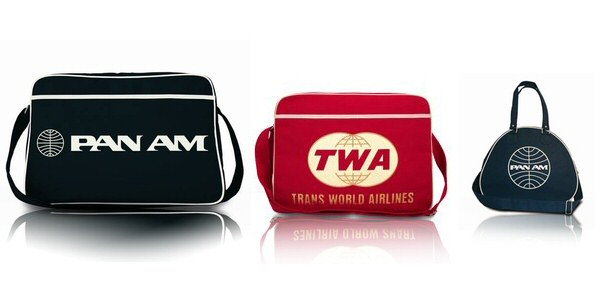 B.O.A.C*; Pan Am, B.E.A**; T.W.A*** - these are all acronyms from a bygone age. A time when Jason King, James Bond or Simon Templar would be seen boarding a flight for Geneva, Rome or Tangiers - certainly somewhere exotic. A time when air travel was exciting and aspirational and even coined a new term - The Jet Set.

Although these airlines have long been confined to the departure lounge of history, their logos and marques live on. This is as a result of the efforts of pilot and aviation enthusiast Patrick Nandu, who has put out a range of Retro style Airline Bags. These faithfully reproduce the look and feel of the must-have accessories that would have been provided to regular passengers and which were used as hand luggage on flights with these airlines. In fact, The Beatles thought these Airline Bags were so cool they even had some made with B.E.A.T.L.E.S. inscribed on them.
We caught up with Patrick on his busy globe-trotting schedule and asked him a few questions about his passion for Retro Airline Bags which he has now turned into a thriving business...
---


Digger: Can you please tell us about your background?

Patrick: As far back as I can remember Iíve always and only ever been interested in Aviation. Where it began I have no idea as noone in my family to my knowledge has ever been involved in this area. So back in 1993 at the tender age of eighteen I obtained my Private Pilot's Licence from Oxford Aviation Academy in the UK. Whilst enjoying the privileges of flying light aircraft for fun I decided to take it a step further and make it my profession, so after leaving University I went on to gain my Commercial Pilot's Licence from Flightsafety Academy in the USA. As with every newly-qualified Pilot, it was then off to do some time building and experience, which was mainly done in the USA and eventually the Caribbean. I flew a mixture of light single engine and multi-engined aircraft. I did this for a number of years, after which I went on to qualify on the technologically advanced Airbus 320, which I am currently on.

Digger: What inspired you to produce these Retro Airline Bags?

Patrick: The Retro bags idea came to me whilst I was doing a clear-out at home. I came across some old original bags my father had collected from his globetrotting days, and couldnít believe he hadnít re-used them. Some were still in good condition and I thought in this day and age, looked quite cool and retro. I began to use them on my travels to carry documents like tickets, passport, iPod, and shaving equipment. A lot of people approached me and asked where I had purchased them from, and were quite disappointed to find that they were simply retrieved from my attic. It became so frequent that the idea to reproduce them was a no-brainer. With technology being so advanced now, the quality of the bags are so much better whilst maintaining an authentic look, and the strength now enables you to even carry a laptop without the shoulder strap snapping.

Digger: How did you achieve such an authentic-looking product?

Patrick: Not all the bags sold on retro-jet are my reproductions, however replicating them requires a bit of investigation, but being in the possession of the original examples as a reference does help. The major difficulty however is ensuring that the copyrights and patents arenít breached.

Digger: What marques are available, where can people obtain them and what sort of price do they go for?

Patrick: I am currently only selling them online on my website www.retro-jet.com and will continue to sell it this way to individuals. All the bags are priced at £29.99.

Digger: Are there any other Retro Airline Bags planned for the future?

Patrick: Yes, I eventually plan to cover other logos such as BOAC, BEA, BCAL, UTA, Sabena, Laker Airways, Eastern, and CP etc.., but all this takes a little while. I also will expand from just the bags to other items which I believe will prove to be desirable collectables.

Digger: What sort of people buy your Retro Airline Bags?

Patrick: The audience is very diverse, but I would say itís predominantly aviation enthusiasts, however there has been an upsurge of interest from a more generic retro audience.
Airbay Aviation Ltd
Suite 404
4th Floor Albany House
324/326 Regent Street
London W1B 3HH
Cell: + 44 (0) 7967 383 702
info@retro-jet.com
---
* British Overseas Airways Corporation
** British European Airways
*** Trans World Airways