The Beat Magazine - covering mainly 50s, 60s, and 70s rock & roll, R&B, blues and some country music and jazz.
Here Digger talks to David Parker at Kingsley House Publishers who produce the magazine.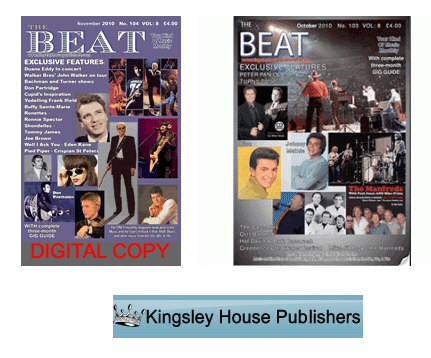 Digger: Please tell us about your background David.
David: I became a freelance journalist in 1976 after spending many months recovering and recuperating from a near fatal road accident in 1974 when I hit a 10-tonne lorry at an estimated 74mph and sheared its front axle. I had just returned from Brazil the day before where I was on assignment for a national weekly news magazine.
Digger: What have been The Beat magazine's biggest stories, achievements and coups to-date?
David: We have had many scoops in the 60s arena, including forecasting a reunion of Cliff and The Shadows and Sandie Shaw performing again in 2010 at Goodwood, after many years in the dark.
Digger: Why is Retro and Nostalgia in all its forms, including music, so enduringly popular?
David: Our music in the 50s and 60s was original and amateurish at first before the electronic age of PAs, mixing desks and electric guitars.
Digger: Do you find that youngsters have an interest in, and a knowledge of, the fifties and sixties music and artists that The Beat magazine covers?
David: Not many can name or recognise the original artists' names or photos, sadly, but there is a gathering bandwagon of youngsters attending live shows by originals.
Digger: What are the most enjoyable aspects of what you do David?
David: Creativity and helping to keep the music live by promoting the artists, tours and shows.
Digger: How would you compare the music scene today with that of the past?
David: One word, mostly rubbish with a shining star emerging occasionally for a short time - nothing enduring.
Digger: If you could create a dream edition of The Beat magazine, what would it contain?
David: I would like to have interviewed Buddy Holly, Rick Nelson, Elvis, of course, and Gene Vincent. Better still, I would have liked to report a meeting of all of them in one room all at one time.
Digger: Where do you see the future for The Beat magazine?
David: The Beat is under threat as the musicians and artists inevitably face their fate, as do the devoted fans. Although many attempts are made to keep the music live, it can't happen without the originals as we have experienced from those who died young. Obviously, I am old as well facing the only certainty of life ...
Modern youth have their gadgets and toys and everything is easy. We grew up in a period of austerity after a second world war. We used our brains and our hands and our ingenuity, commonsense and disciplines. Ordinary young fans were not flower people joining in the sex, drugs and Rock'n'Roll which seemed to be come part of many rock stars lives.
Nowadays, when I talk to the stars of the sixties, they are mainly cuddly grand-dads and grandmas who enjoy the present and an exciting influential past. Not many people can say that!


---
The Beat's own CD compilation of 22 hits from the 60s called 'Going Back'. It is on special offer at £5.95 including post and pack.
Track list:
1 Dave Dee Dozy Beaky Mick & Tich - Hold Tight (2. 49)
2 Billie Davis & Jet Harris ft Alan Lovell - Back In Our RockíníRoll Days
3 Dakotas ft Mike Maxfield - Trains and Boats and Planes (2.41)
4 Baron Knights - California Girls [2 .33)
5 Dave Berry - Never Be Anyone Else But You (3. 10)
6 Jess Conrad - Johnny B Goode (5 .29)
7 Keith Potger (The Seekers) - Good Friends (2. 59)
8 Peter Sarstedt - Europa (3.41)
9 Dave Berry and Brian Poole - To Love Somebody (3.29)
10 John Walker (Walker Brothers)-Iím Not Gonna Be The One
11 Dakotas ft Mike Maxfield - Iím Gonna Be Strong )
12 Mike Berry - Country Roads (3. 07)
13 John Walker (Walker Brothers) - Never Too Far From That Dream
14 Jess Conrad - Halfway To Paradise (4.17)
15 Mike Berry - Freight Train (3.31)
16 Peter Sarstedt - Where Do You Go To My Lovely (5. 03)
17 Eddie Mooney - Waterloo Sunset
18 Rip Chords - Hey Little Cobra (2.11)
19 Peter Williams - Canít Help Falling In Love (2. 59)
20 John Leyton - Bye Bye Love (2.15)
21 Barren Knights - Full Circle (3.23)
22 Dave Berry - Going Back (3.41)